Draymond Green Shouting at Kevin Durant Gets the Meme Treatment
He doesn't hold back.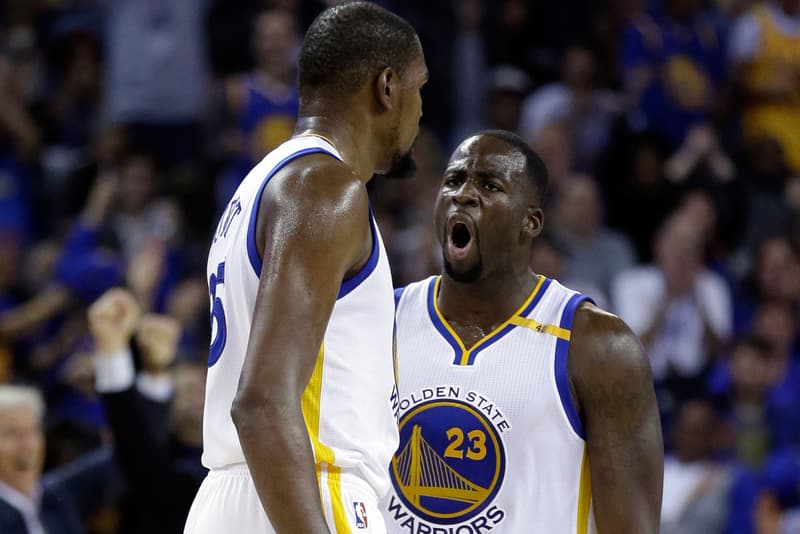 The Golden State Warriors journeyed into the first round of the Playoffs against the Portland Trail Blazers on Sunday. Coming out on top, the Warriors won Game 1 with a score of 121-109 leading the series 1-0. During the match, Draymond Green was spotted yelling at teammate Kevin Durant. Though it's unsure what exactly Draymond was screaming, he was up close and personal, shouting right at the side of Durant's face. Unsurprisingly, Twitter took notice and the moment became the current joke of the web. Check out the gif and memes below.
Earlier this month, Draymond Green was caught roasting Drake, Steph Curry and Kevin Durant for their fashion choices.
When you're tryna turn up & someone gives you the "I fuck with your vision let's build" speech pic.twitter.com/ubpPCSlM4w

— Shennessy. (@ShenaeCurry) April 17, 2017
When your boy gets too lit and cheats on his girl and you're trying to convince him that it wasn't really him it was the Hennessy. pic.twitter.com/OkoeUxLOx8

— Dulce De Mani (@SaintBishopK) April 17, 2017
when ur boy is on mad drugs telling u about the streetwear line he's going to launch pic.twitter.com/R8eJIr84Gb

— Four Pins (@Four_Pins) April 17, 2017
This really how your drunk self be talking to your self when you're in the bathroom at a party pic.twitter.com/XQyyaPT3Zt

— Bayless B ??ツ (@BDenson50) April 17, 2017
When you're the MC at church, and they're telling you the list of announcements during praise and worship. pic.twitter.com/bkUoth609w

— S'DUH (@_sdumisile) April 17, 2017
Draymond-" listen here, touch my Hot Cheetos again and we gonna have a problem" pic.twitter.com/N1yVDztQTa

— D.Neal (@y_evon) April 17, 2017
"Ok, put the drink down. Where was you last night?"
"…strip club."
"NO! Bible Study! Bible Study! BIBLE STUDY!" pic.twitter.com/QlqGtjqUux

— X (@XLNB) April 17, 2017