A Day in the Life: Liam Hodges
We talk to the designer about making clothing for Drake, disliking Gucci and going against fashion's ideals.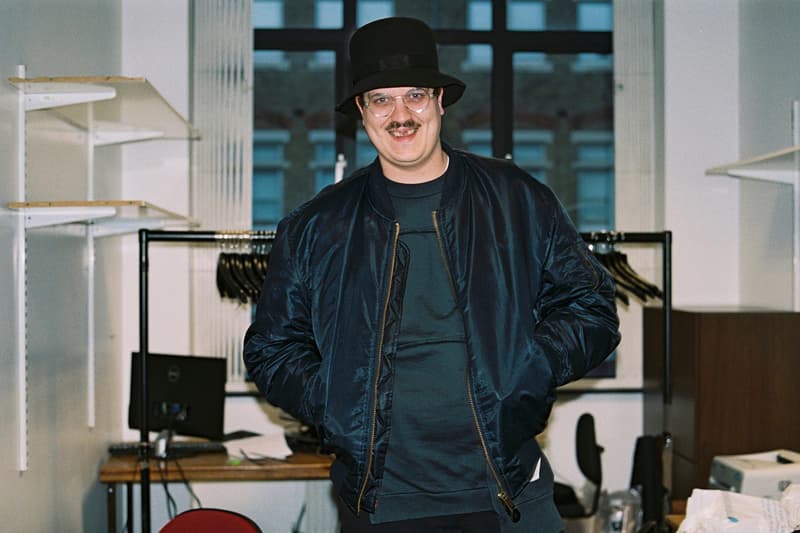 1 of 12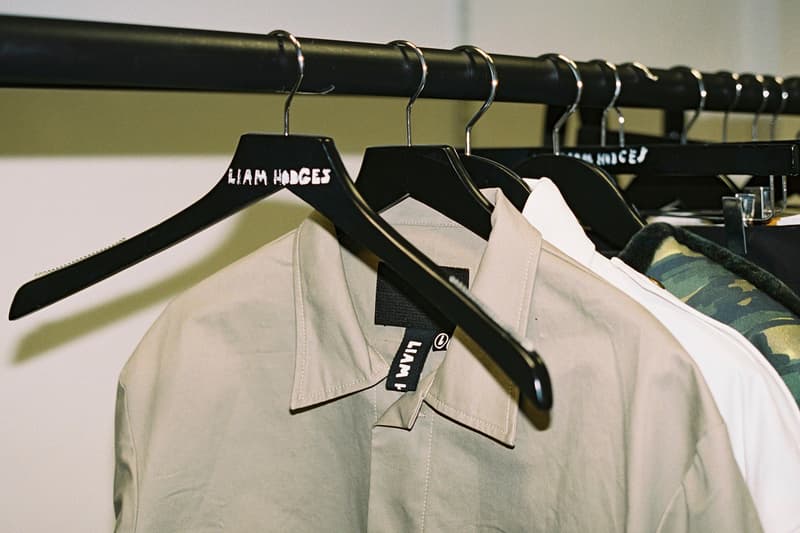 2 of 12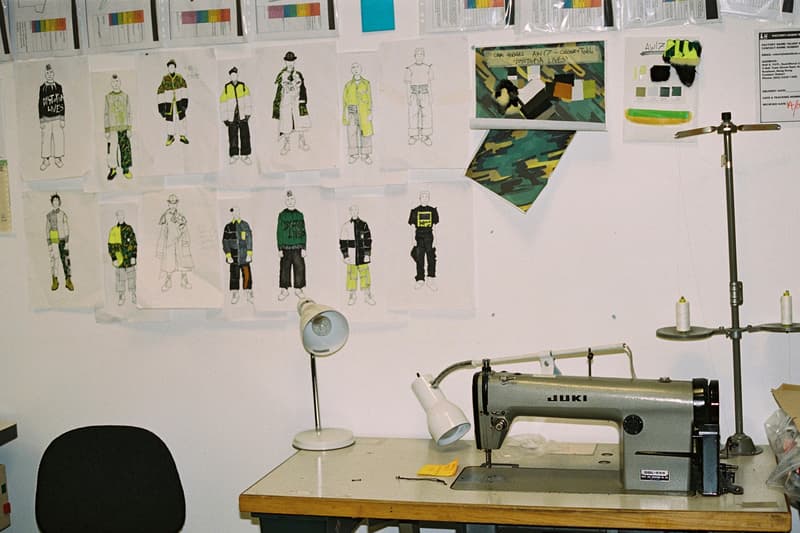 3 of 12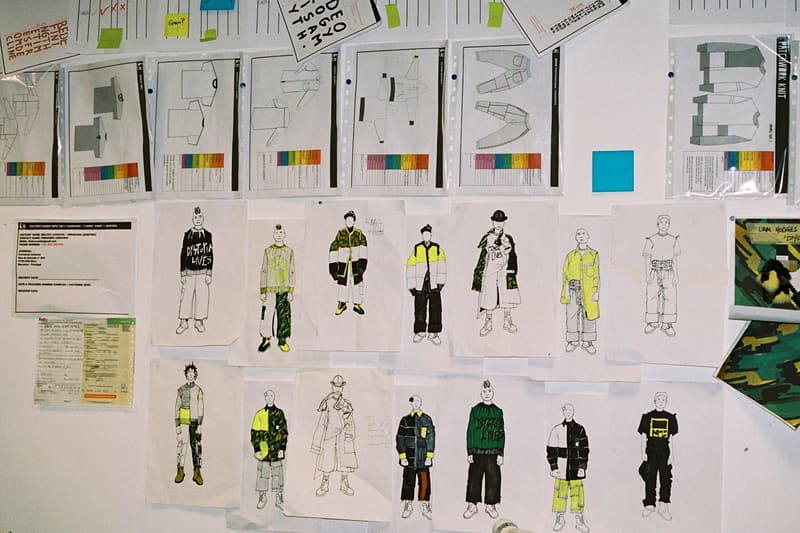 4 of 12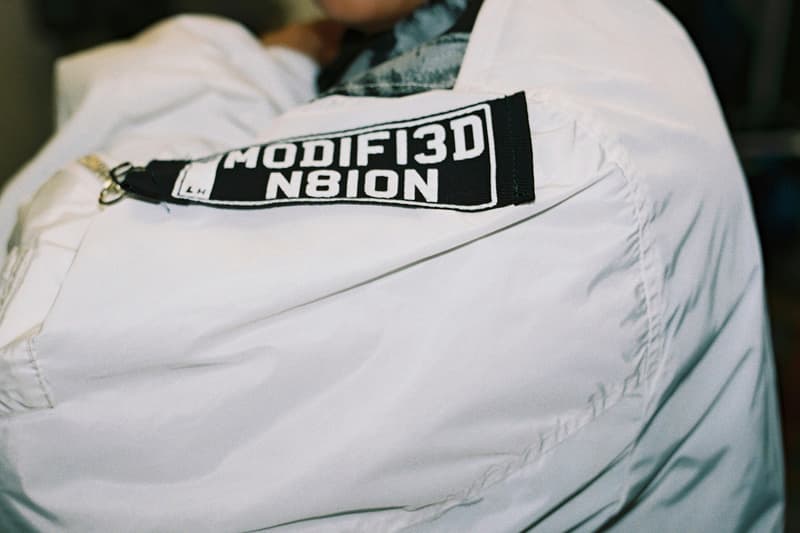 5 of 12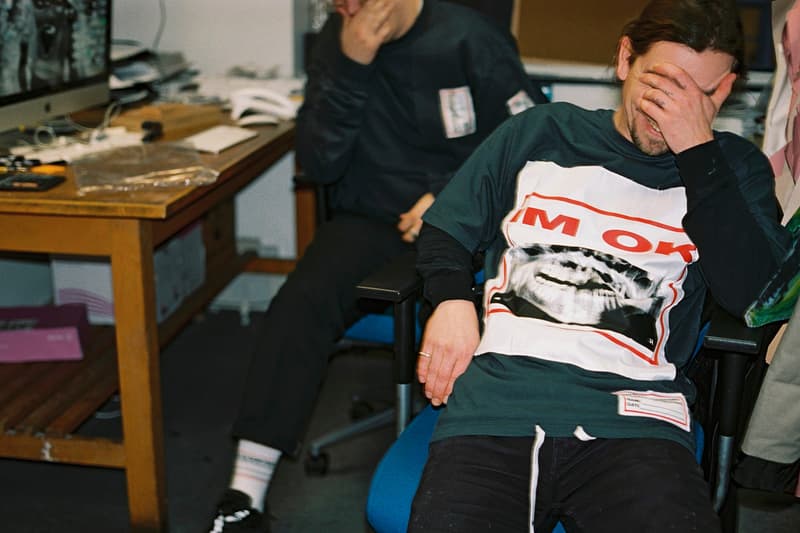 6 of 12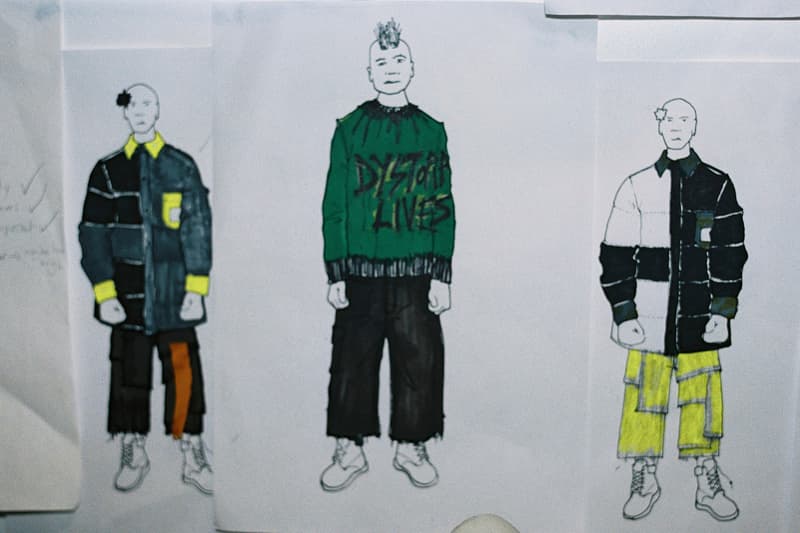 7 of 12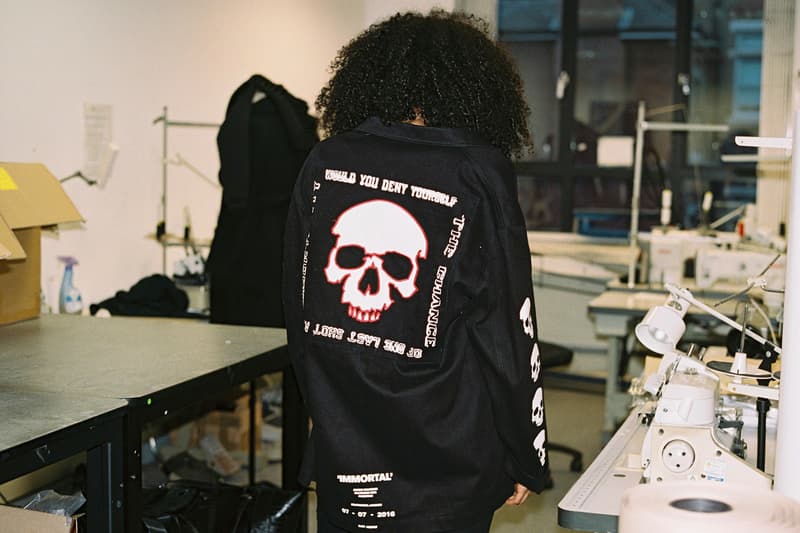 8 of 12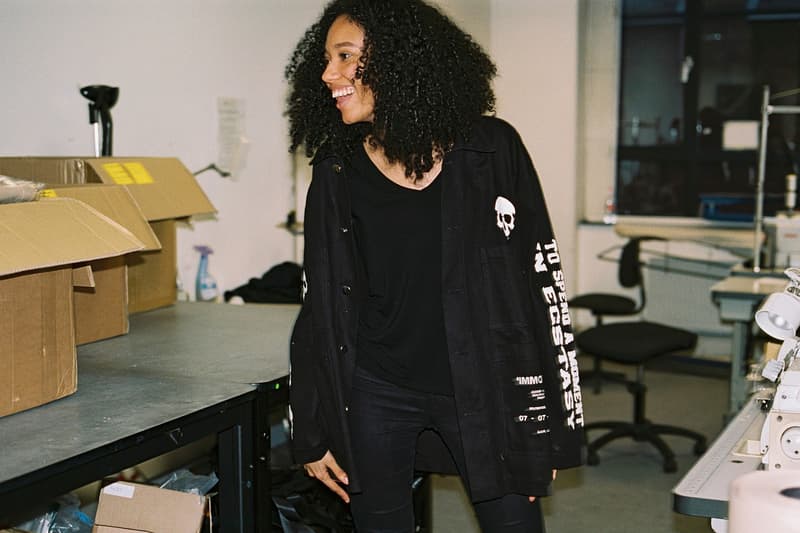 9 of 12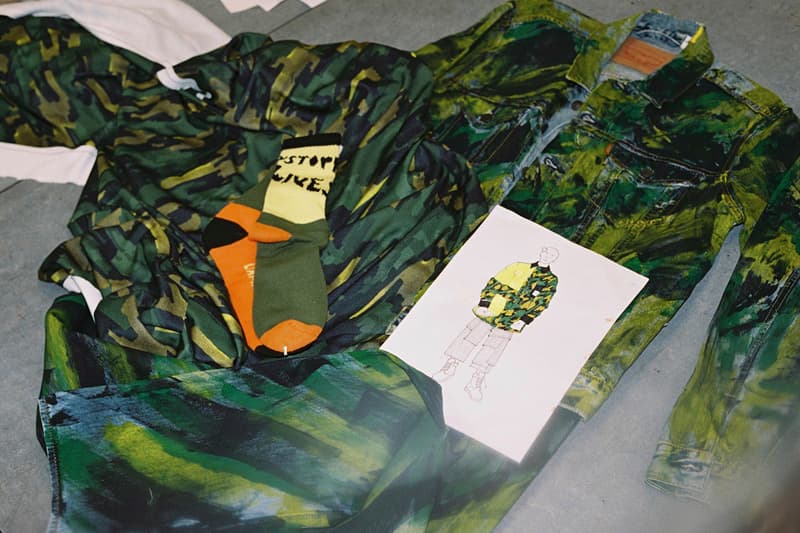 10 of 12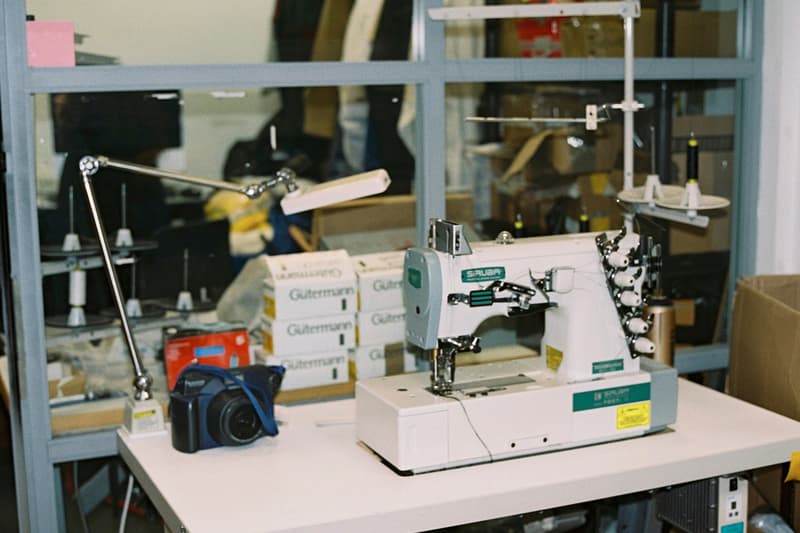 11 of 12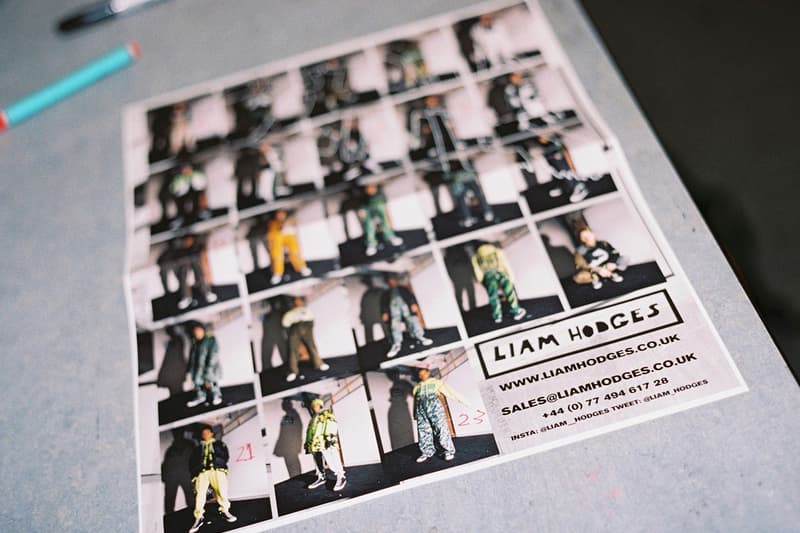 12 of 12
Breathing fresh life into an industry best known for rigid hierarchies and structures, 28-year-old RCA graduate Liam Hodges is the menswear designer who creates industrial runway-ready clothes. Inspired by British council estate culture and invigorated by the challenge of realigning the fashion world's stagnant aesthetic standards, Liam now regularly files his street-cast model army down each season's catwalk, decked out in multi-layered, oversized outfits. Showing his first official capsule collection as part of Lulu Kennedy's infamous, breakthrough young designer initiative 'Fashion East' for SS14, Liam has since taken part in Topshop's MAN collaborative runway project and is now stocked internationally from Dover Street Market to PRIMITIVE London and GR8 in Tokyo.
Consciously appointing a tribe of masculine, non-elitist men who represent the off-kilter demographic of regular lads who love style but aren't involved in high fashion, Liam is the physical embodiment of his work. Moving about his much-loved, long-lived turfs of East London, mainly by the midnight hour – when he isn't in the office/studio – Liam's purist love of self-expression, art, hedonism, and fashion come alive via his friends and self imposed freedom. Still tight with fellow graduates, including illustrator Tom Baxter and womenswear designer Molly McCutcheon, Liam's day-to-day isn't about fame and name dropping. He previously managed the local Shoreditch dive bar Catch. Working most weekends and evenings to earn beer money and buy textiles, after each shift he wasted no time rebalancing out the work/life ratio. Clambering up onto his fixie to pedal up Kingsland road at full pelt, confronting traffic at a fast pace, Liam once lost his teeth when he went under a 149 bus, a trait he has proudly made a feature of his look. Always eager to hang with his pals, to draw, drink and discuss their shared passion for design – a Peter Pan mentality – effortlessly gels himself and his tight-knit crew. Creating clothes has never been a part-time ambition of Liams.
Experiencing life as a truly laid back personality, naturally inquisitive and inherently accepting, he finds beauty in the less obvious, quiet places. Sexuality, race, age, social stature and gender are all non-divisive concepts which Liam celebrates via his outlandish aesthetic. He endeavors to design uniforms which are affordable, durable and distinctive. Drake, Big Sean and A$AP Rocky are all fans of the label. Stormzy can be seen wearing some Liam Hodges looks in his "Big For Your Boots" video. Where some young brands struggle for recognition, cutting corners on quality to produce higher units and drive down overheads, Liam takes a hit financially, making up to 50% financial losses to ensure the final product he creates, cares for the wearer as much he does. Liam's attitude to ethical fashion and compassion for his audience is an extension of how he approaches people on an everyday basis. His sense of humor; insatiable appetite for poetry, art, books, film; combined with his appreciation for both the mundane and aspirational has given birth to a label which actualizes outside of the realms of his fellow, breakthrough designer cohort. A talent and a gentleman, Liam is an important personality defining the future of fashion.
What was the turning point, do you think, that allowed for you to pick up speed?
I think it's just one of those things. The first couple of seasons, we were just doing presentations so it was quite hard for stores to buy into the label. After doing the catwalk show, we saw a big jump in the amount of people the label reached and everything. When we designed for Drake and had the clothes featured in music videos all of these things helped build the brand, it's not like it's all happened overnight; it's been building for the past three years, slowly but surely. I guess it's one of those things that sort of, in theory, grows exponentially. You know, you tell one mate about something, they tell three mates about it, those three mates tell three mates, and so it grows quicker that way.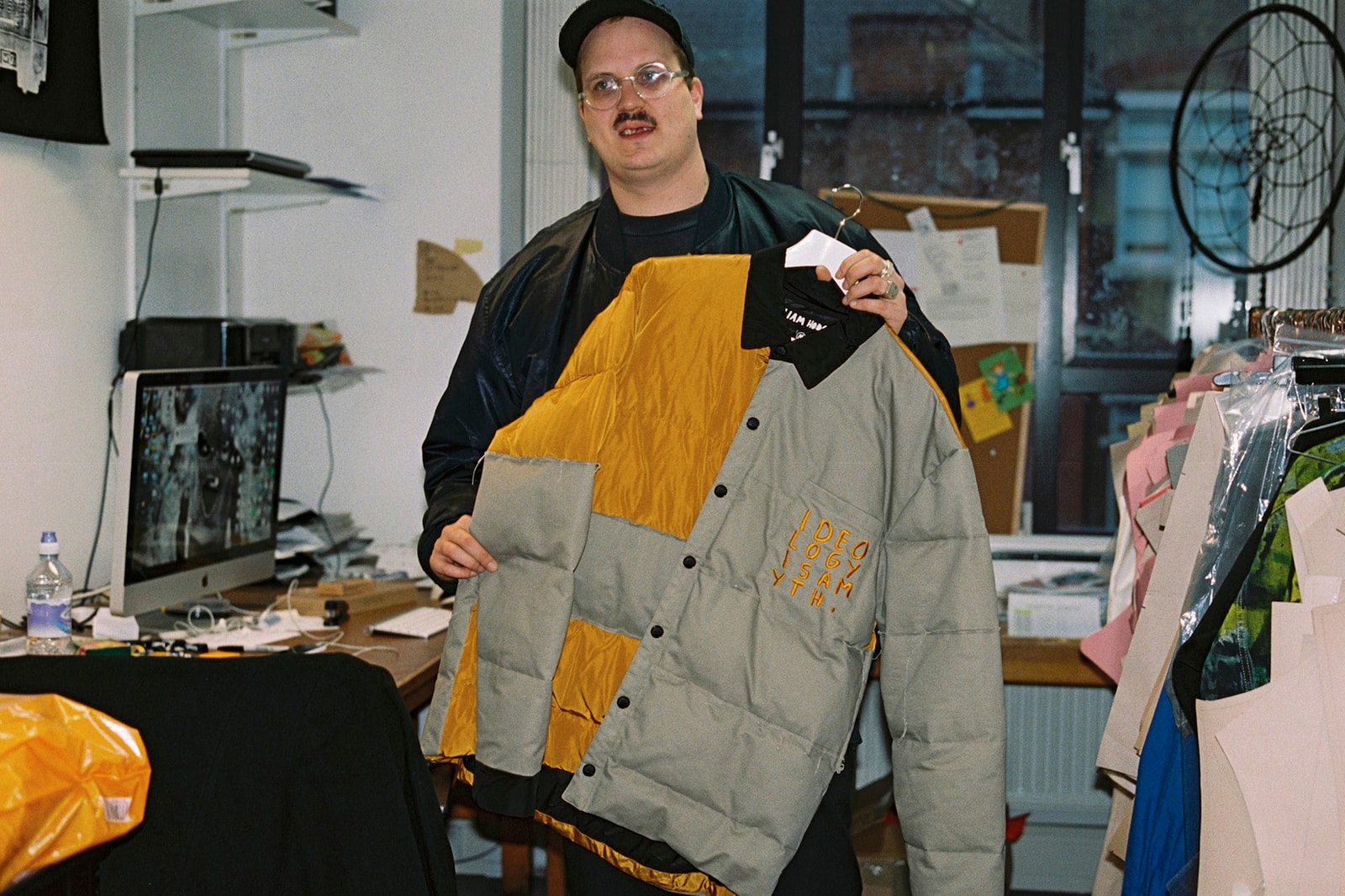 How did Drake come into contact with the label initially?
That was the second season, when we did stuff for his tour and were picked up through his stylist at the time seeing the show and the presentation we did with Fashion East. I got an email the day after the show saying, "Can we have this for Drake to maybe try on and wear?" He ended up really liking it all and so borrowed some more outfits for the tour and then we made him a couple of jackets. At the time, what Drake was wearing wasn't actually available in stores because his stylist pulled looks literally just straight after the show. But one thing leads to another and the next season we did definitely see a pickup in the stores and stuff.
With your clothing line now widely available in international stores, you're designing for people who are more challenging to dress than your average person. Does that alter your decision to be more garish with some of the design features?
It all kind of goes back a lot to when I was a student, when I first got interested in fashion at art college. So started, 2007, when Cassette Playa and Walter Van Beirendonck first became popular, I became aware of their stuff and what they was doing. Until then I always thought fashion was blokes in Gucci suits with expensive leather bags getting out of Lamborghinis. I didn't really ever liken anything to that. There were always clothes that didn't fit me properly, that I wanted or thought I wanted and now I just design clothes that I really want. Does that make sense?
It does and with regards to day dot, from when you were at university to now, what references have always been on the mood board when you are designing?
It's always the same sort of cultural references of a youthful, urban, modern bloke, really. I design what I know. The way I've designed and built the brand is all about me and how I know myself for what I am. I'm not the mood board but my experiences are. A lot of the collections, aspects of them, are quite either reactionary to the world around me, or they reference things I know. I've never thought 'let's do a collection' about something I don't know anything about.
I think your label goes against the typical ideals that are promoted in fashion.
Yeah, and again it goes back to what I was saying about when I was at college. I'd look at Gucci adverts and that and think, "I don't want this." Brands often describe themselves as aspirational, but I'd look at the Gucci campaigns when I was younger, I'd look at them and think, "I don't wanna be that person." They look uptight, uncomfortable and bland. I like a normality, but then I guess I'm not normal either.
"Brands often describe themselves as aspirational, but I'd look at the Gucci campaigns when I was younger and think, 'I don't wanna be that person.'"
You've cut out the elitism from your own aesthetic, which is different. The Liam Hodges look is about raw attitude.
I'm trying to present a society, a generation, that's all-encompassing of people, generally. It's not defined by boundaries of wealth, sex, sexuality, class or race. My label is aspirational in the sense that it's about people doing what they wanna do, and being themselves. It's an attitude and a point of view that I have that obviously feeds into the clothes, and I guess that's the cornerstone of the brand. It's not a specific thing, it's more just about a feeling or an emotion.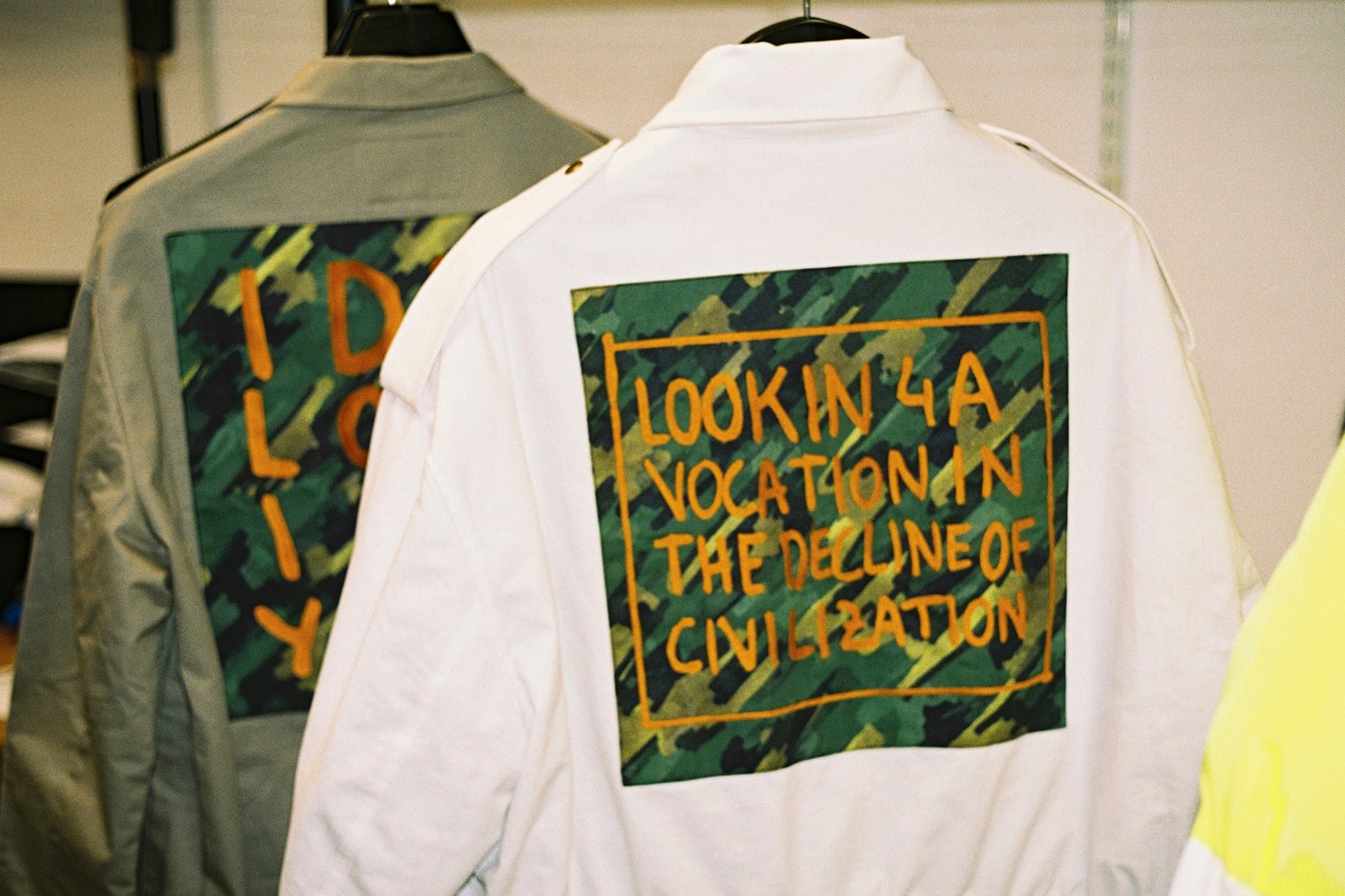 How do you marry that attitude with marketing your brand and having to set price points which are above what you would be comfortable paying when you were the age of your audience?
I think the process have come down a lot over the last few seasons. My pricing is really honest. If anyone who runs a fashion business has an idea of the numbers and the quality of fabric I use, and works backward, they'd see that half the time I'm making less money than I should make because that's something I always think about the people I want to wear the label fairly.
Your approach to quality is intelligent, why is the production of the product so important to you?
We talk about the people buying the label, but l am my audience; I don't have much money. I've always shopped in charity shops and bought plain white T-shirts and then invested in one single piece. I remember saving up for my first BAPE T-shirt for like my 17th birthday. All the other clothes I owned at that time were just cheap. If you want to buy the whole Liam Hodges wardrobe, it's elitist, but maybe that's another person again. I think there's a lot of different consumers buying in high fashion now, but people who buy into a brand because they love it, and they'll buy, for example, one of my patchwork jumpers, that'll be their big purchase for the season.
"People who run a fashion business can see that half the time I'm making less money than I should make because I always think about the people I want to wear the label"
Where do you do most of your designing?
It varies. I mean, it depends what kind of mood I'm in. Sometimes I go sit in an art gallery, sometimes I sit in a coffee shop, sometimes I just have a night in and get really pissed, smoke loads of weed and just write stuff down, ideas and thoughts. At some point it's all about gathering all these ideas, notes and stuff and trying to work out what I was trying to tell myself.
Are you saving up for any specific garms right now?
You know what? There's a pair of Salomon trainers that I've been after for ages. I just got the re-editions of the Nike Air Uptempos. It was like the last pair at Selfridges that just happened to be my size. I had them when I was in a kid and I just had to get them.
What are the tracks and albums that are always playing in your studio?
"Tuesday" – ILoveMakonnen, "Brick in Yo Face" – Stitches, "Bikeage" – Descendents, Danny Brown's Atrocity Exhibition album, Pink Flag by Wire and anything by Wu-Tang Clan.