Madsaki on His Debut Solo Exhibit at Galerie Perrotin Seoul
He talks Murakami, Virgil and learning English through racism.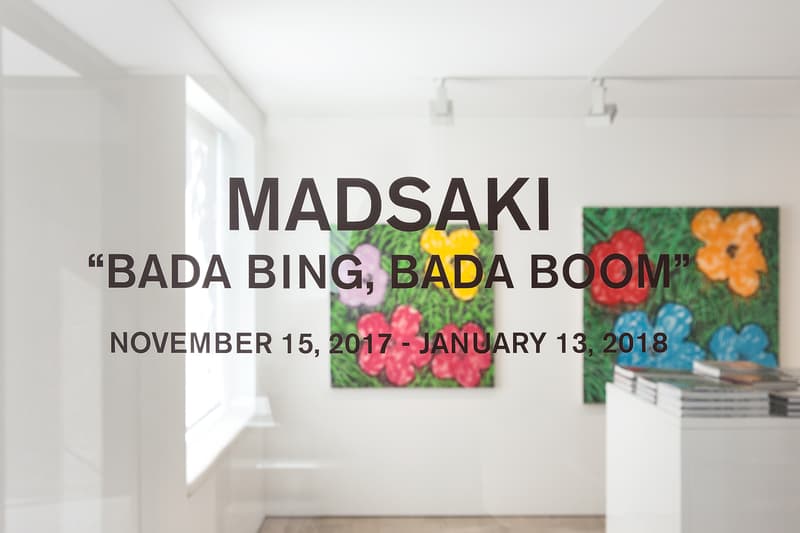 1 of 5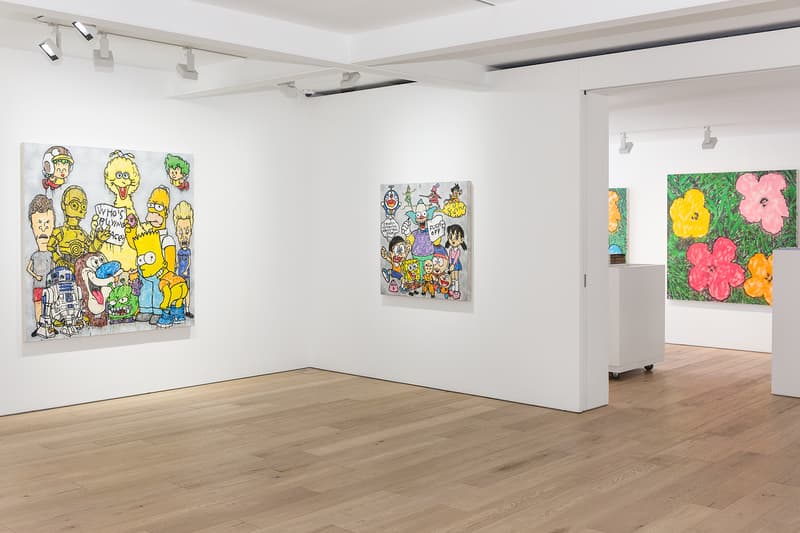 2 of 5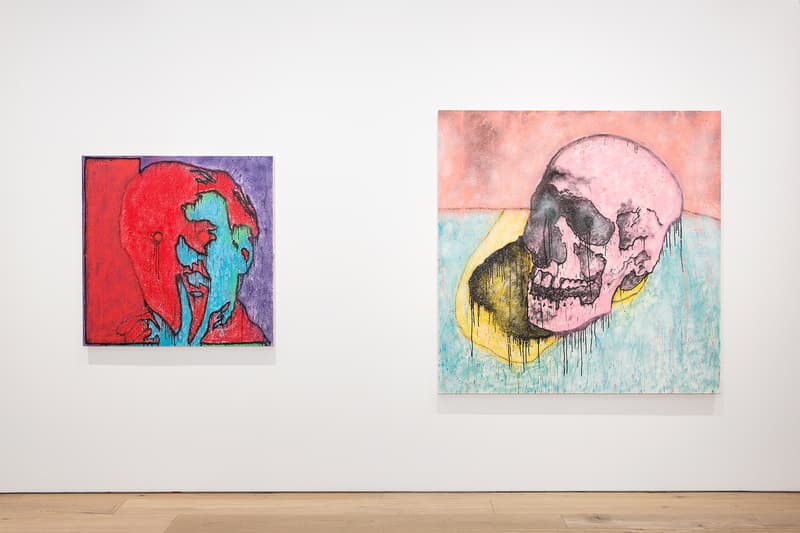 3 of 5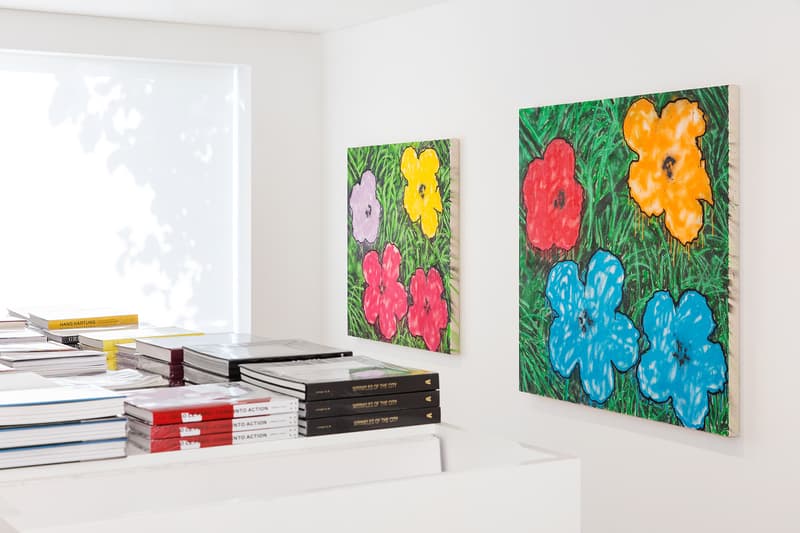 4 of 5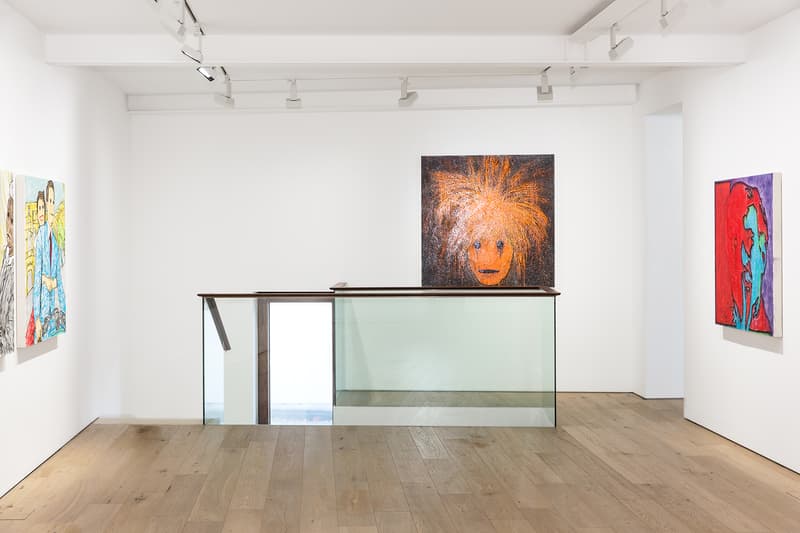 5 of 5
"Imitator," "wannabe." These are some of the labels attached to artist Madsaki. After having been discovered by Takashi Murakami through Instagram, he joined Kaikai Kiki Co., a Tokyo-based gallery that also represents the likes of KAWS. Shortly after a collaborative Juxtapoz mural which was exhibited in Vancouver, Madsaki won the support of influencers like Virgil Abloh and Dr. Romanelli, quickly becoming one of the most sought-after artists in the realm of street. For his debut solo exhibition, he chose Galerie Perrotin, where his "Bada Bing, Bada Boom" exhibit showcases his "Andy Warhol Flower Series" as well as a new movie character series commissioned exclusively by Perrotin. "He's my everything," Madsaki says of his mentor Murakami, showing off his custom Dr. Romanelli coat he was gifted the week before in Los Angeles. Read on to find out his thoughts on Virgil, studying fine art as a street artist, and learning English from his most avid haters.
What is the meaning of "Madsaki"?
I got the name when I was working as a messenger in New York. My friends would call me after work and say, "Let's go drink mad sake." That's how I got my name.
The name of the exhibit is "Bada Bing, Bada Boom," a phrase from The Godfather. What was the thought behind the naming decision?
I didn't even know it was from The Godfather. I love The Godfather. But my favorite movie is Goodfellas. I watched it more than 322 times.
Tony Soprano's club in The Sopranos is also called Bada Bing Bada Boom.
Everything makes sense now. 
For the classic movie series, you've sourced from Sound of Music, Gone with the Wind and Indiana Jones. What made you refer to these movies?
I have a personal story behind every movie. Sound of Music, for instance, my parents always loved watching since I was little. But one day in high school, I was watching it all alone tripped out listening to Slayer on my Walkman. The fragment of my memory is in every piece.
You've mentioned that you're not one to draw perfectly or beautifully, yet you've majored in Fine Art at Parsons in New York — one of the most prestigious schools in the world. Do you find this ironic?
What was good about Parsons was that I was able to study art history for four years. The funny thing is, when I first entered Parsons, my professor said, "Even if you graduate from Parsons, you won't ever make it in the art world. That is the reality. If you don't want to waste your money, just leave today." I'm doing what all the professors at Parsons told me not to do. That is how I got here. They wouldn't recognize my work as art.
What is the importance of art history to a street artist?
If you don't know the foundation, you can't fuck it up. If you don't know how a painting was made and are just copying it or fucking it up, it's just on the surface and doesn't touch the people. If you know the history, it becomes more interesting.
Pupils are often symbolic of the soul, but your characters only have dots as eyes. Sometimes it even looks like they're crying because of the paint drips, but they're always smiling like a robot or flat emoji. There is emotion, but there is no emotion at the same time. 
That is like our generation. I just thought it was funny.
How has your childhood in Japan and your upbringing influenced you as an artist? As a person?
I went to the States when I was six in 1980. I was the only Asian kid in school, and I was raised in a white neighborhood. I was in the culture, I was raised the same way as an American kid. But everywhere I went, I was Japanese. At the same time, I wasn't Japanese. It was a battle throughout my childhood. I didn't know who I was, where my country was. I watched Looney Toons, I watched Japanese manga. That "double culture" always comes out in my work.
These characters from Dragon Ball or Peter Pan are intended for kids. What motivates you to strip away the innocence?
That's how I was raised. The first English phrase I learned was "Pearl Harbor." Every time I stepped out of the house, all these old men and teenage boys started throwing rocks at me, saying "Go home, Pearl Harbor. You fucking Jap!" I was six. I loved Eddie Murphy's stand-up comedy. That's how I learned my English. It's funny because you can't say the words "fuck" or "shit" in school. Why would you make a word you can't use? I was innocent when I was a kid watching cartoon, but when I stepped out the door, I got "Pearl Harbor" and "fuck you." Cursing is just part of my character now.
How would you explain these curse words to your children?
They don't understand yet. They don't even know English. But it's okay if they understand. My dad was a typical salaryman, so he only speaks professional English. Every day he would come home for dinner and say, "Teach me a new slang." He made a rule that I couldn't speak English at home so I wouldn't forget Japanese, but the only time I could speak English was when I was teaching him slangs and swear words. Those were fun days.
Takashi Murakami is credited for discovering you. How has he influenced you?
He is my boss, my master, my everything.
Are there any artists that you would like to shed light on now that you are more famous?
I'm not at that point yet. I'm still Mr. No One.
Describe these friends in one each each.
Virgil Abloh: Big.
Dr. Romanelli: Love.
Takashi Murakami: Army general.
Madsaki's "Bada Bing, Bada Boom" is on view at Galerie Perrotin Seoul from now through January 13th, 2018.
Galerie Perrotin Seoul
Jongro-gu, Palpan-gil 5
Seoul, South Korea