Juun.J on the Past, Present and Future of Korean Design Culture
And how the military and Korean "masculinity" influence his designs.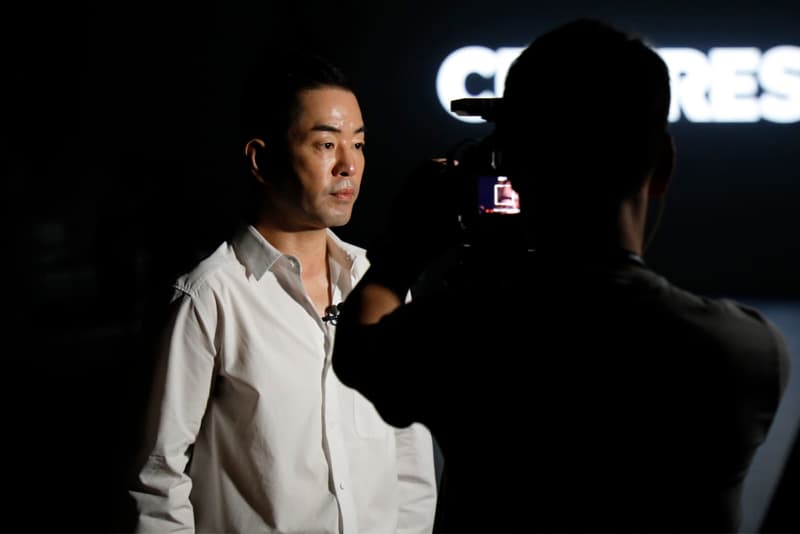 Since debuting his first Paris show in 2007, South Korean designer Juun.J has made waves on the global fashion scene. In less than a decade, the Seoul-born-and-raised designer has collected more notches on his belt than seasons – he's secured a spot as guest designer at Pitti Uomo 89, commanded the attention of several Paris Fashion Weeks and peddled collaborations with some of the world's biggest names such as adidas, Reebok and Big Bang's G-Dragon and Taeyang. Now making his way to Hong Kong for the first time, there seems to be no barrier in the world that Juun.J can't cross.
Though Juun.J's designs tick all of the boxes of today's fashion mode, his forward-looking aesthetic has influences strongly rooted in traditional Korean heritage. His latest Spring/Summer 2018 collection reimagined classic menswear pieces with a graceful, genderless angle, and conveyed a spirit that fused avant-gardism with romanticism. But between the ample layers of fabric, this season's theme was a nod to Korea's long tradition of wearing white clothes, or Baeg-Uiminijog.
After several seasons of interpreting traditional elements for contemporary attitudes, Juun.J has not only established a signature style known for its overflowing proportions and sculptural silhouettes, but also a legacy that has set the standard of — if not pioneered — the new wave of Korean designers. We recently spoke with Juun.J during his visit to Hong Kong for the CENTRESTAGE ELITES showcase to learn more about his latest collection and how Korea's ever-evolving style and culture weaves itself into the designer's world.
Your SS18 collection features a lot of white. What's the story behind the collection and how did it play in this season's theme?
In Korean it's known as Baeg-Uiminijog, the literal translation is "white people," but this has been a nickname of Korean People derived from a long tradition of wearing white clothes and admiring white — purity. The white color has been presented in various ways through this season's theme "EXPAND.CONTRACT."
Do you find your Korean cultural background influences how you see gender in your design now, especially since men in Korea are more comfortable wearing make-up, using beauty products and embracing more effeminate styles?
Korea, being a country with influences from Confucianism in the past and also a country with military service obligations, I believe there was a stereotype for men as being 'masculine'. However, as you know, Korea is a country that absorbs the trend faster than any other country, which also knows how to transform the trend into their own culture. From these influences, Korean men started the take in the idea of 'masculine' with more flexibility. As I've mentioned before, I get lots of inspiration from observing people on the street. I cannot deny I wasn't influenced at all.
What's the current fashion scene in South Korea?
Seoul, Korea is a city that amalgamates the past, present and future. It does not hesitate to take in or transform any new cultures rapidly. It's a city that the newest technology gets applied very first. Due to these changes in the past 10 years, the quality and quantity of Korean fashion industry could develop dramatically.
You've described your collection debut in Paris in 2007 as a turning point in your career. What's your relationship with the city? Has it changed over the years? What are some other cities you draw inspiration from?
Paris is a city that acknowledges a designer's identity and creativity regardless of age, sex, or country. Therefore, the preparation period of time before I entered Paris was a period of time of establishment of "something of my own." I believe Paris will remain the same like yesterday, today or tomorrow, as a city of creation, since it is a city where people like me, who want to create and present their own identity. I really like the modern-ness of Tokyo and the energy of New York, but Paris still remains as the most inspirational city to me.
In Asian cultures, it's still uncommon for parents to encourage their children to pursue creative professions. Even though your parents were in the fashion industry, you've expressed difficulty finding the resources — e.g. education — in Korea to help you build your design career. Do you think that is changing?
Yes, it's changing. Although the education system itself still remains basically the same, the various information that we can observe nowadays give people the opportunity to take in "the different types of life." I believe the changes will influence more designers in the future.
Military-inspired designs have played a role in your collections, did your time in the Korean military influence your work?
Of course, every Korean man serves. My collection involves pieces with many military elements. During my military service, I've realized the practicality of uniforms and slowly got interested in the history, which later influenced my collection and still remains.