Design Brand WorkOf Gave HYPEBEAST's New York Lounge a Modernized Makeover
Simple, clean and functional.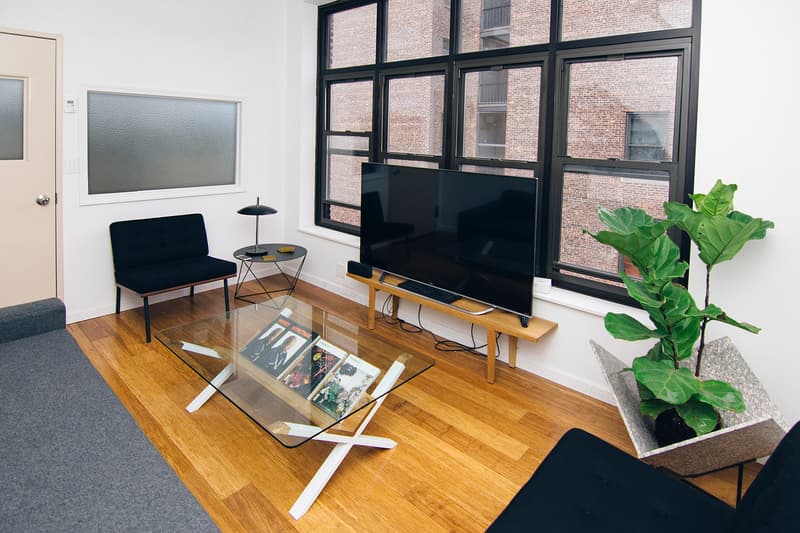 1 of 4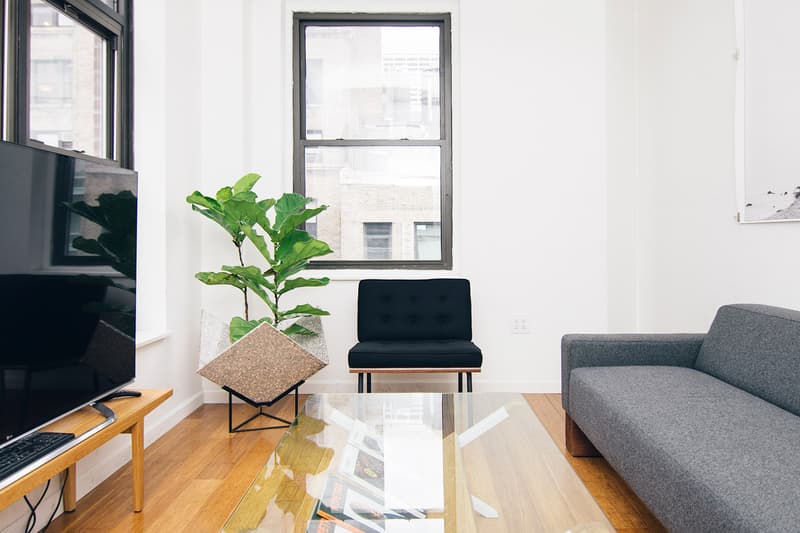 2 of 4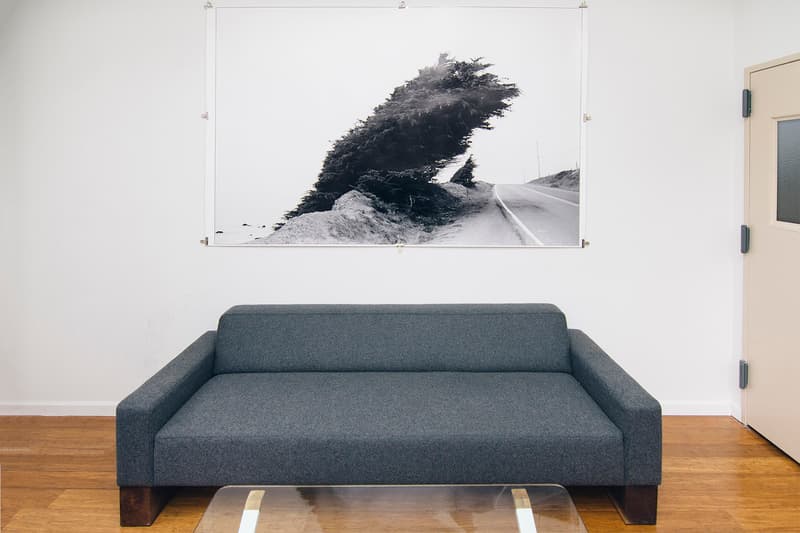 3 of 4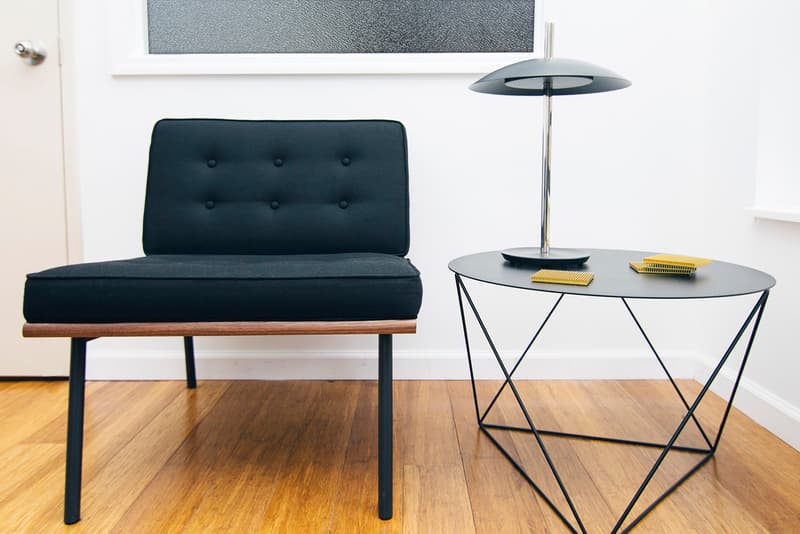 4 of 4
All it takes is an outside perspective to really set things off — this was the case for our modestly-sized lounge here at HYPEBEAST's New York office. Since a trained eye was needed to give it an upgrade, we invited design brand WorkOf to come by and give our chill room a bit of a makeover, from the storage box- and equipment-filled "closet" it once was. The end result is a smarter utilization of the small area — one that takes into account the ample sunlight the room receives from its western-facing windows and accentuates the 4K TV thats needed when taking a break from the daily grind. Additionally, our team wanted something simple and modern but with enough space to work if needed, and with company if possible — the main sofa is large enough for conference calls, and the guest chairs are large enough for long chats with clients or short private emails. Coordination-wise, the narrow Engel Shelf matches our floor quite well, while the cleverly designed Octahedron Side Table along with the table lamp and gold coasters that resemble heatsinks give the side corner a bit of flair and pop. Thus, the room is both calm and functional from a worker's prospective, and allows for further decoration should it deemed necessary in the future.
WorkOf wanted to express themselves a bit through their curation of the furniture and layout, so we sat them down to hear what they had to say about their eye towards independent brands, their future projects and a bit more on the new HYPEBEAST lounge.
A central part of the WorkOf ethos is a dedication to supporting independent design brands. Can you elaborate on the community that you represent and the importance of a platform like WorkOf?
There's a real movement happening right now with the rise of independent industrial design and manufacturing brands. These are professionals leaving more "traditional" paths to start their own companies and producing exceptional work. It's all very similar to what has happened in fashion with the increasing prominence of independent labels in recent years.
All that said, when it comes to accessing contemporary design within the home furnishing space, it's still incredibly difficult to find these new brands. WorkOf is the aggregated platform that facilitates easy discovery and purchasing from this community. We want to give consumers, whether they are design professionals or simply enthusiasts, access to these products and the design community behind them.
What would your advice be for up and coming studios looking to make their mark in design? Given the availability of information and tools in 2016 do you think breaking into the industry is more or less difficult than it once was?
Even though young designers can create visibility for their products more easily than ever before, it's still just as difficult today to break into the industry as it ever was. If anything, the opportunities created by new tools and information has made the industry more saturated and competitive overall, which, in the interest of good design is the best thing that can happen.
More than anything when it comes to design and making your mark it's about having a point of view, knowing how to execute and having the perseverance to see it all through. All of the brands that we work with have spent years working and refining their practice, and the products they design are all a reflection this level of dedication. None of that comes easily.
There's a real movement happening right now with the rise of independent industrial design and manufacturing brands.
Working with a growing network of designers across the US, WorkOf seems to cover a broad range of styles. How would you describe the overall aesthetic captured across the site? Is there a common thread that guides your brand? 
Before we even jump into aesthetics first word that we use in qualifying the community that we work with and their designs is contemporary. It's an important qualifier because more than representing a singular aesthetic, WorkOf is a platform for what is truly a new design movement.
WorkOf is a curated space that is really intended to represent the best contemporary brands producing the highest quality work, which is why we say it's "where design lives."
The HYPEBEAST lounge feels like a perfect fit for our brand. Can you describe your creative approach in terms of product selection and what you knew about HYPEBEAST that informed your design decisions?
We're definitely fans of the HYPEBEAST site, and with brands whose identities have been built online you're always looking for moments to inform how you physicalize that identity.
For us, that moment came after an early meeting and having the opportunity to check out the first edition of HYPETRAK. In reading articles like the conversation between Kendrick and Quincy Jones, we really began to develop of clear vision for the lounge.
The vision centers on designing a space that is an extension of the HB culture; a space to read the magazine, converse and listen to tunes. Whether it's staff doing an interview or VIP's stopping by the office, it was important that the pieces we selected echo the aesthetics and provide an experience that was undoubtedly HYPEBEAST.
It was important that the pieces we selected echo the aesthetics and provide an experience that was undoubtedly HYPEBEAST.
Looking at the completed HYPEBEAST lounge which pieces you are most excited about and can you give a bit more detail about each of them?
The layout was built around the X Coffee Table by Sean Woolsey. With a glass top and steel and wood frame, it's a beautiful design that allows you to showcase print without cluttering the table surface.
Other pieces that were super exciting to see in the space were the Third Eye Vessel from Chen & Kai that we used as a large planter, the custom matching lounge chairs by David Gaynor and the Beam Sofa by Shimna.
This all said, the finishing touch on the space that really brought it all together was hanging the amazing large format print contributed by our friend, photographer Emily Johnston.
Looking to the future what's next for WorkOf? What projects are you most excited about in 2016?
There's so much to look forward to! We have some amazing new partnerships that will be announced in the coming months, and the new WorkOf site will be launching in May with a bunch of new brands, products and original content. Later that same month we're working with Wanted Design on an immersive product installation that will open during NYCxDESIGN, which everyone should definitely come by and checkout.
That only gets us through the next several months so we suggest that everyone stay tuned for 2016.