Barneys Madison Avenue's Windows Come Alive With Hood By Air
Prepare to be seriously creeped out.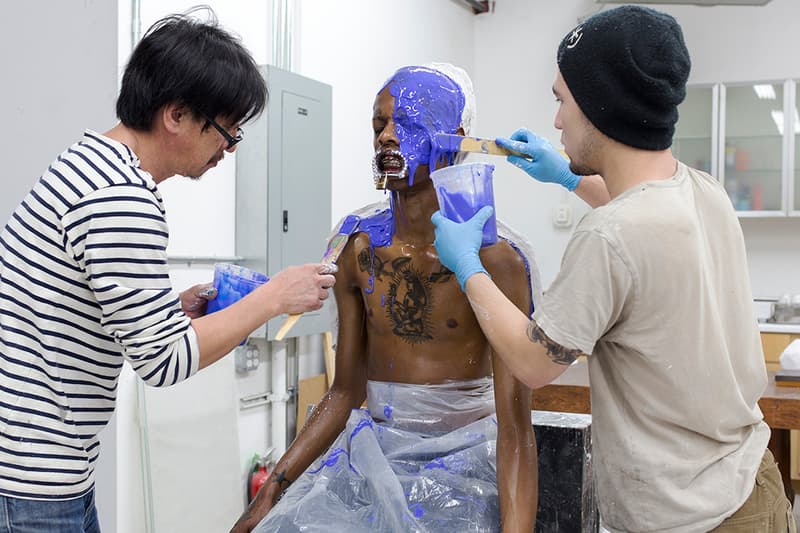 1 of 6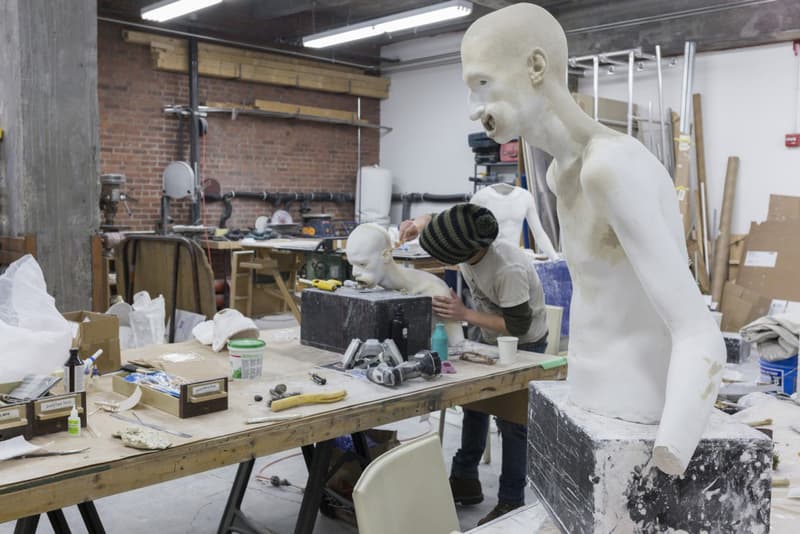 2 of 6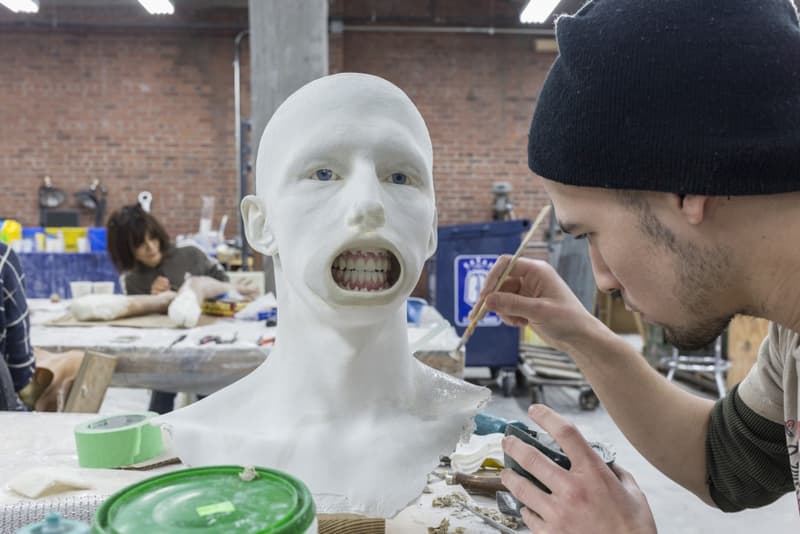 3 of 6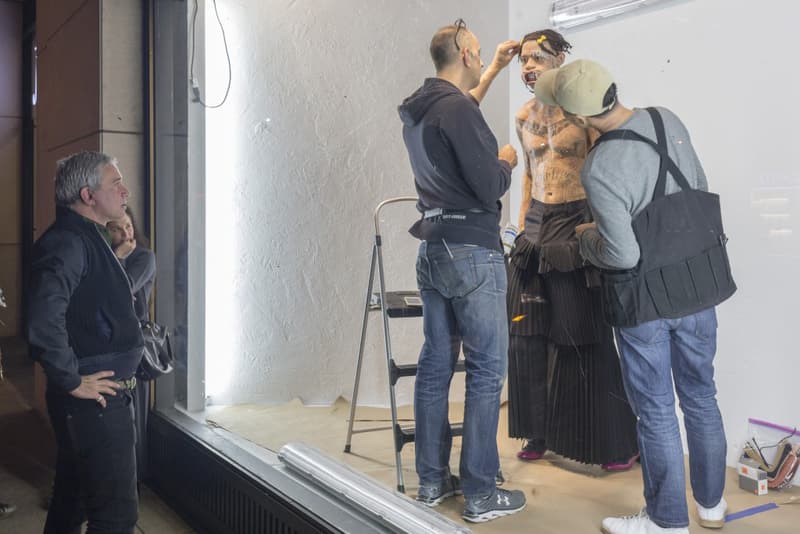 4 of 6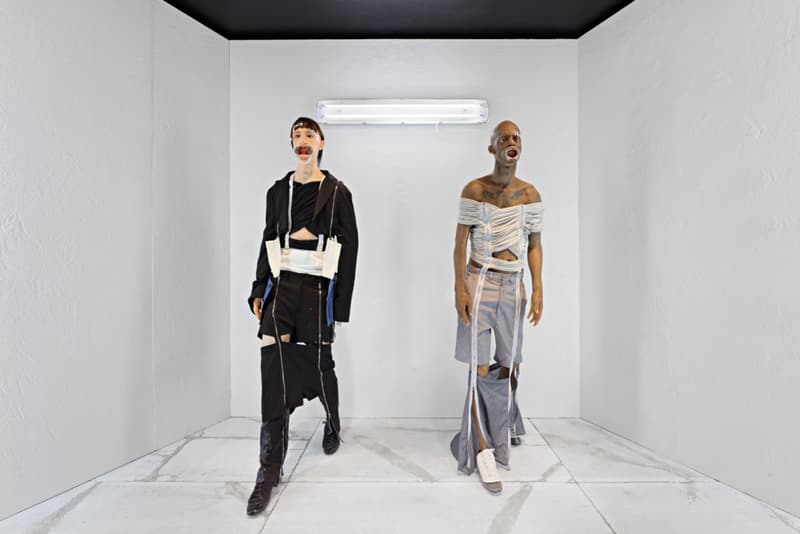 5 of 6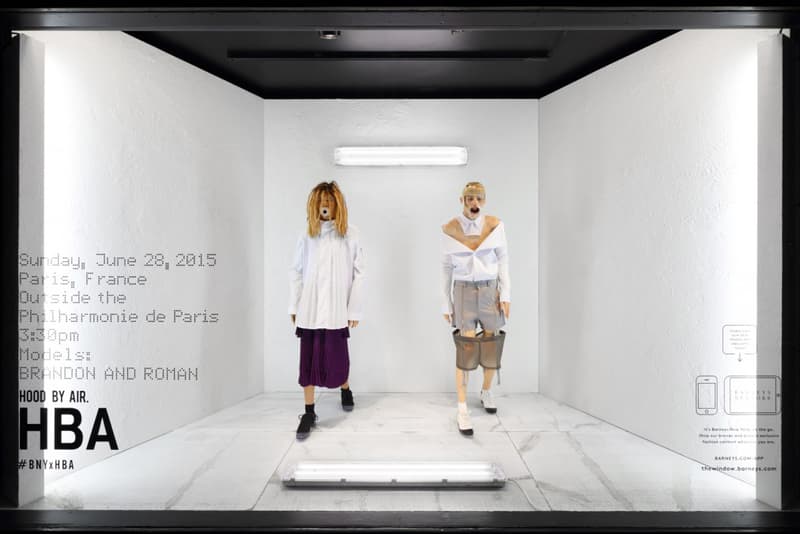 6 of 6
Barneys New York has teamed up with controversial designer Shayne Oliver and his Hood By Air brand, outfitting the legendary retail store's Madison Avenue windows with hyper-realistic custom mannequins. Comprised of six models inspired by Hood By Air's Spring/Summer 2016 show in Paris, the mannequins were made by custom fabricator Yuji Yoshimoto of Studio UG. Made to perfectly emulate its human counterparts, the mannequins are bold and eerie, staring out of the shop windows. The process to create these mannequins took a total of two months, involving 3D body scans, silicon tints, real hair applied strand by strand, as well as customized dentures and glass eyeballs. Looks were completed with painted tattoos, wigs and mouthpieces created by Dolly Cohen. Barneys also spoke to the designer about his inspirations for this season. Read an excerpt below and check out the full interview here.
Tell us about the concept behind the SS16 show. You used the term infantile glamour—what does that mean to you?
Shayne Oliver: It was really just my way of commenting on situations that people project onto me, and sort of making fun of that by pushing them back out. I was exploring things in a very naive way and having that commentary of other people's perceptions play into it. I was also playing with new cuts and dealing with garments outside the idea of ready-to-wear, so there was a sense of a learning process. Trying new things out is very empowering for me. There's an ongoing play with silhouettes, like all the sleeves are very long. It all comes down to what I think is interesting at the time, like my actual experience as a designer, with this sort of backhanded retort as well.

The pastel colors, pearl and crystal embellishments, and little girl barrettes all played with gender perceptions. Was there a commentary or dialogue you were suggesting?
A lot of silhouettes come from that L.A. culture that was heavily influenced by guys wearing barrettes and people wearing baby accessories as fashion. It was happening in the '90s in L.A. I don't think it's a commentary; it's more so a part of the DNA of what I do. It's just that this is my point of view: Some days I feel more masculine than others; some days I feel more feminine than others. It just depends on what makes me get out of bed to feel my best.

The mouthpieces conjured up an odd mix of children, dentistry, and S&M. Why did you choose to use them the way that you did?

I was thinking about the basic idea of pacifiers as fetishizing. The orthodonture comes into play from the idea of holding the mouth open. It has a lot to do with willingness and naivety—always having your mouth open; always being accepting.

Are you portraying that as a negative or positive thing?
I think it's positive. I think people can take what they want from it. For me, I did this because it was something I needed to express and showcase. Whether it's bad or good is up to how people feel. I do what feels natural.

The show, and now our Madison Avenue windows, have a diverse mix of models. How important is the casting process for you?
We have a casting director named Walter Pearce. We have it in-house because it is such an important part of the creative process for me. I need to know exactly who is going to be wearing what I'm making. I'm making these things specifically for people who I think are out there, and these guys help me know that they exist. I think casting is less reliant on the hot person of the moment—which is still something I like to engage in and do find interesting—but I'm also manipulating that world and flipping it around a bit. The casting for the windows were people that we found who embody the energy that the brand evokes. These guys are people who actually live the look or attitude of the clothes. They are all real characters and are what, to me, supermodels back in the day used to be—people with charisma, personality, and who know how to make clothes look good.

What drew you to these six guys in particular?
None of these guys come from a super fashion background. They are people that Walter found, whom I then fell in love with. I do like to keep a distance form them, so that they can be themselves and not be influenced by my process. I want them to be able to observe what I'm doing and not assume. I find that's a better way of working with talent than just forcing yourself onto them and making them your puppet. I give them space to observe me so that they can get what it's about and choose how they want to engage. They can choose how much of themselves to give to HBA, and how much they want to keep for themselves.