These Are the Must Buy Items from the Supreme 2016 Spring/Summer Collection
In store and online, you can expect these to go quick.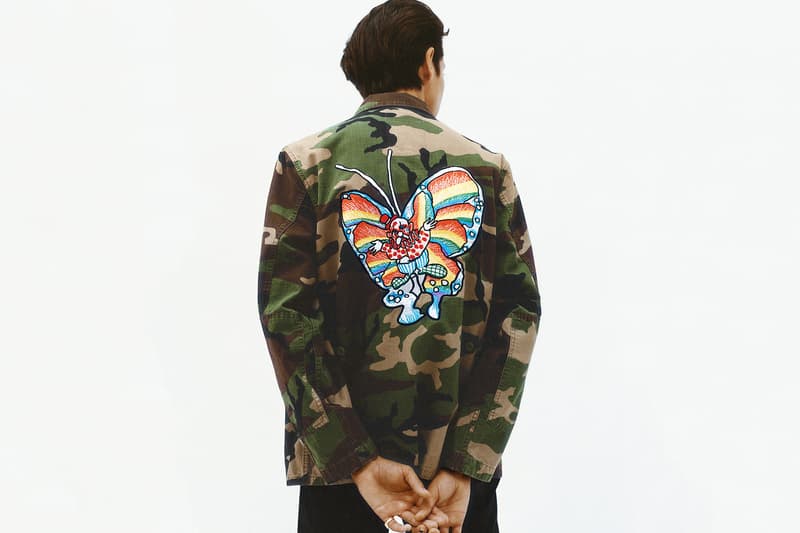 It's that time again —- Supreme has officially previewed its latest collection and chances are if you're reading this, you are either in line or compiling your purchase list for next week's online drop. Despite the controversy surrounding the streetwear stalwart's newest campaign, the focus is and should always be on the designs, styles and messages that Supreme is gearing to deliver. Get ready as we explore the hottest items from this season's offerings that will surely be on the minds of everyone on line and at home as they await the 18th's, and the forthcoming Thursdays', 11 A.M. release. What are you aiming your sights for? Check out our favorite picks for outerwear, tops, tees, bottoms and accessories from Supreme's Spring/Summer 2016 collection below. For the ladies, we didn't forget about you; here's the list of must-buys for female fans of Supreme.
Outerwear
1 of 5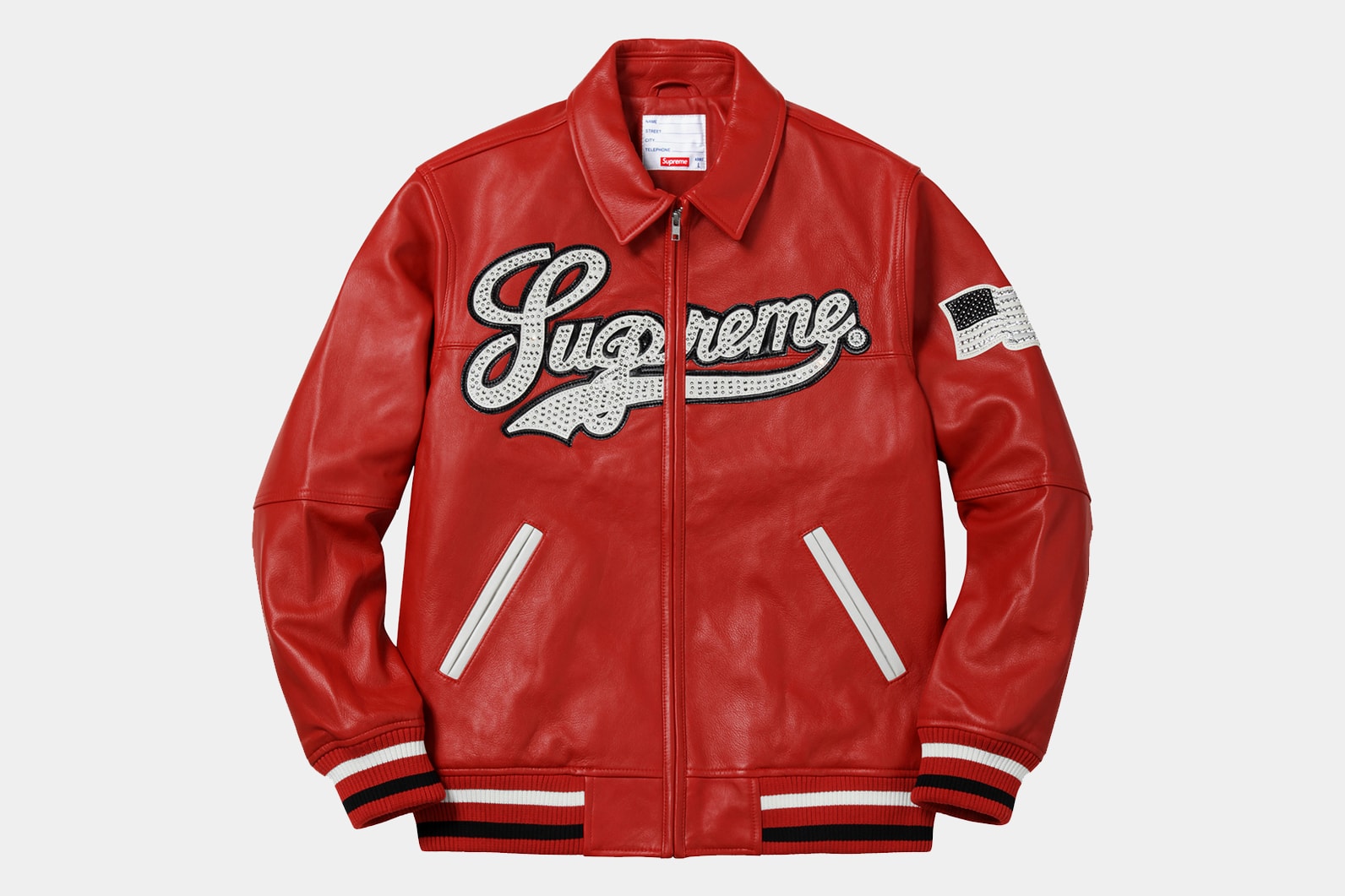 2 of 5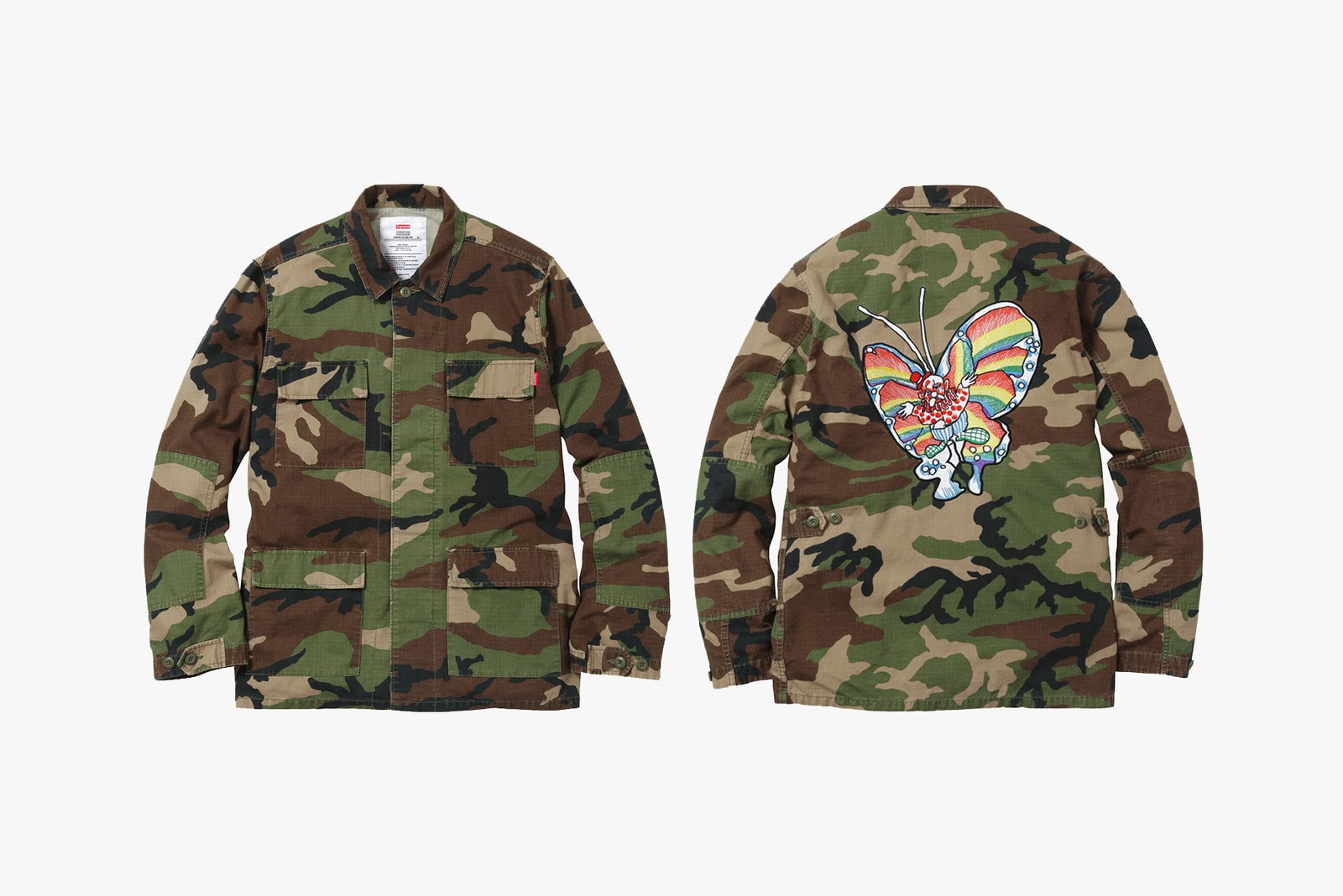 3 of 5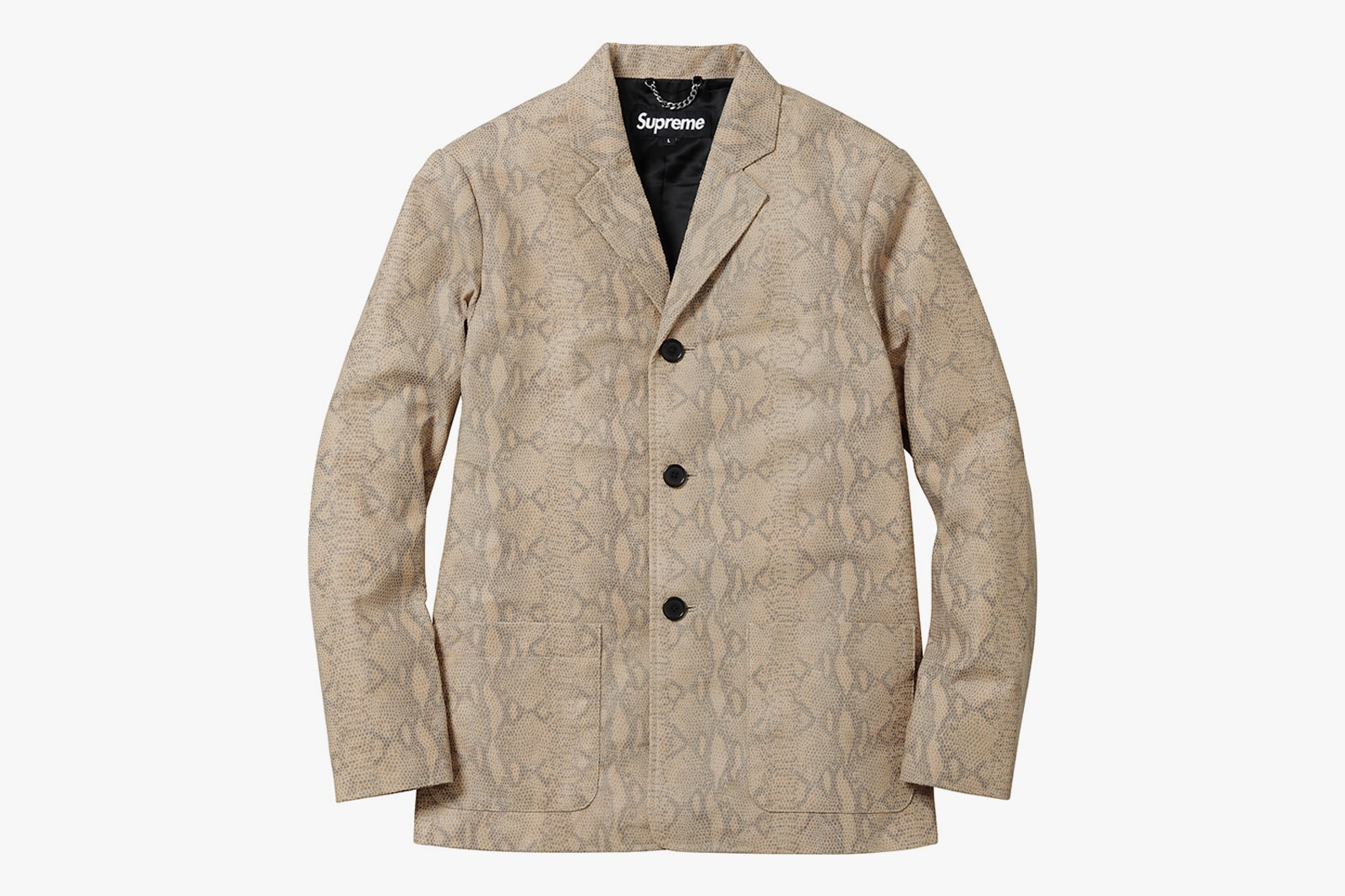 4 of 5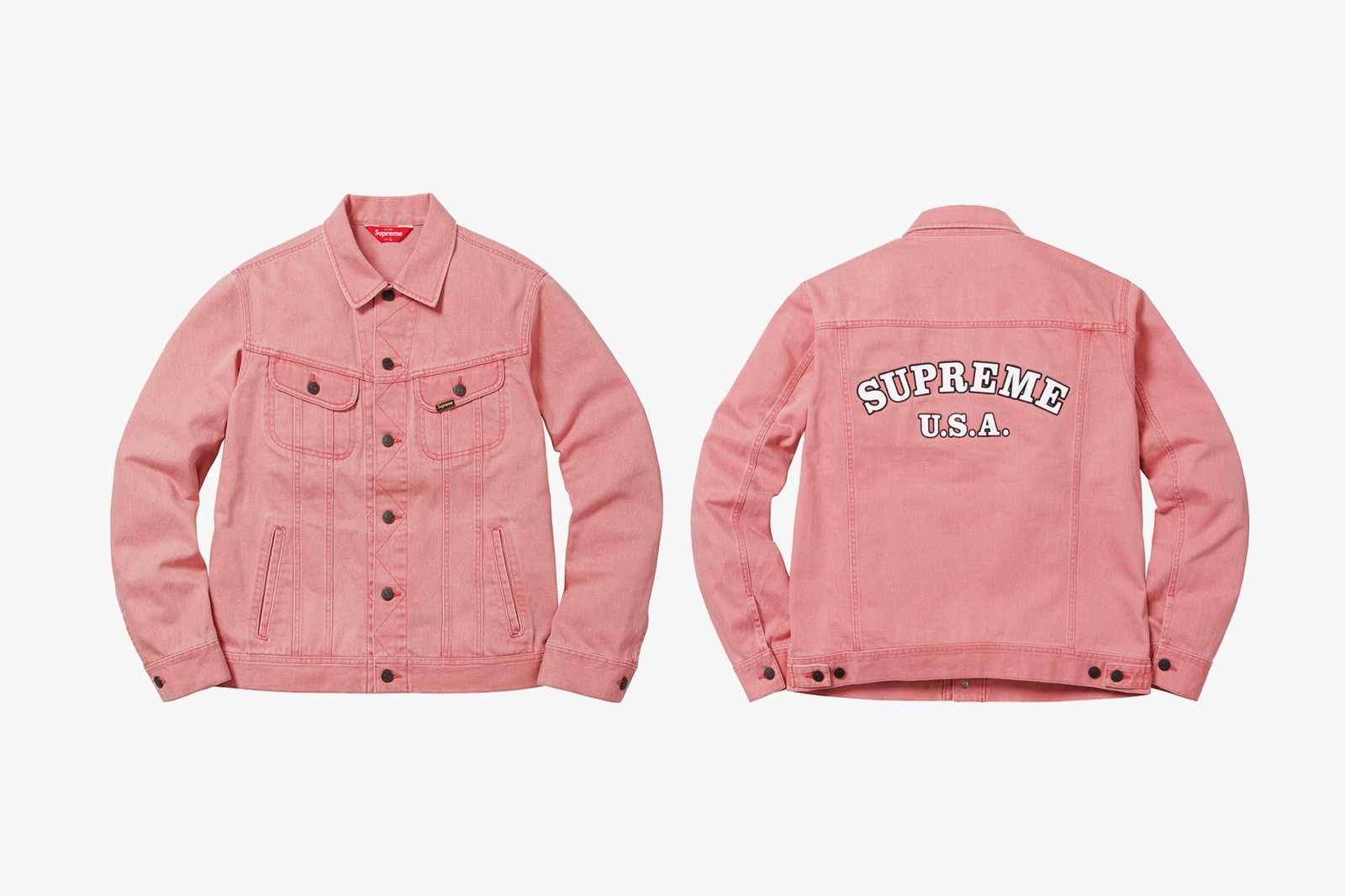 5 of 5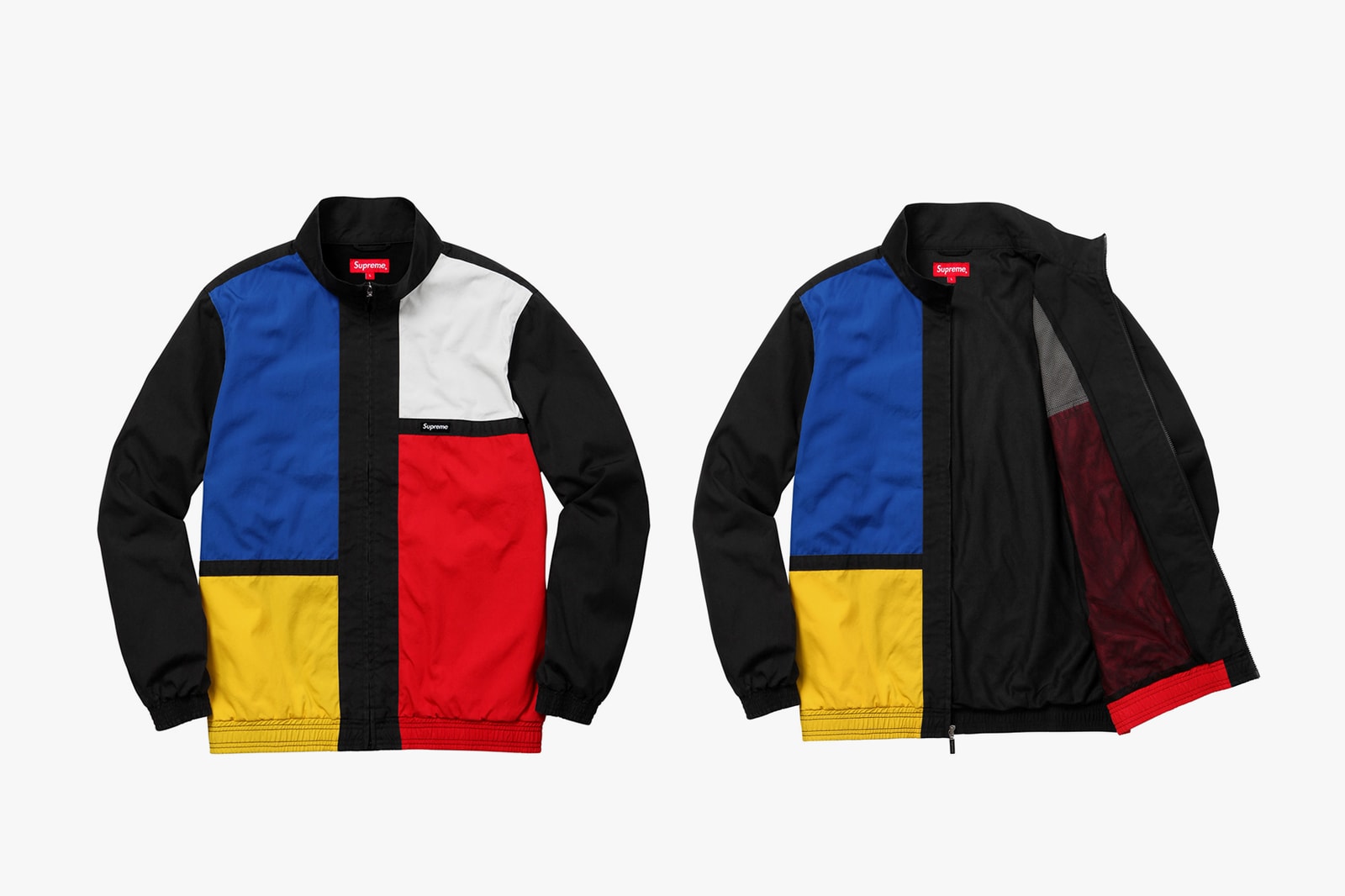 In case you've forgotten what keeps you eagerly awaiting Supreme's new lookbook and preview each season, the ubiquitous streetwear label reminds us by making a return to form with a few nods, both subtle and apparent, to outerwear styles harkening back to its founding years. For Spring/Summer 2016, Supreme delivers quite a few designs that bridge the generation gap between the streetwear originals familiar of the days of Pelle Pelle "Encrusted" varsities and color-blocked warm-up jackets, and the younger audience infatuated with camouflage, formal designs with a flair of downtown cool and colorways most gents wouldn't have the confidence to finesse.
Tops
1 of 5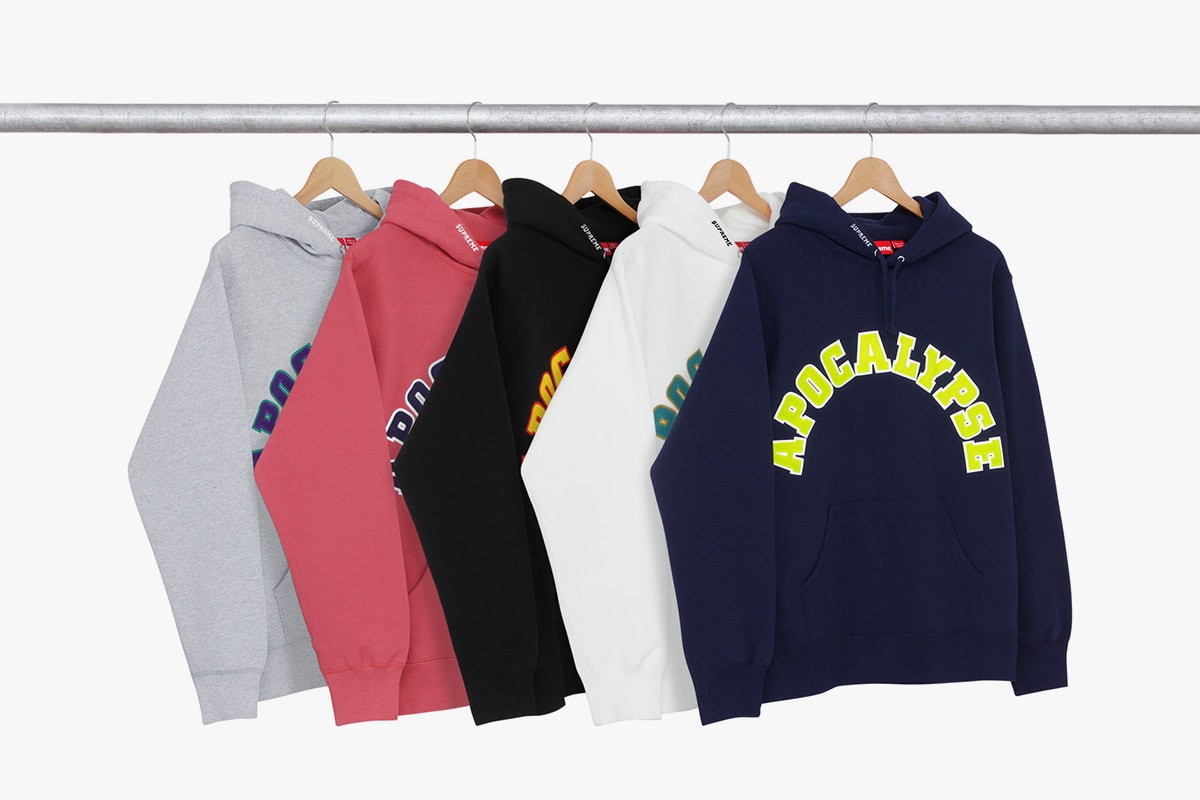 2 of 5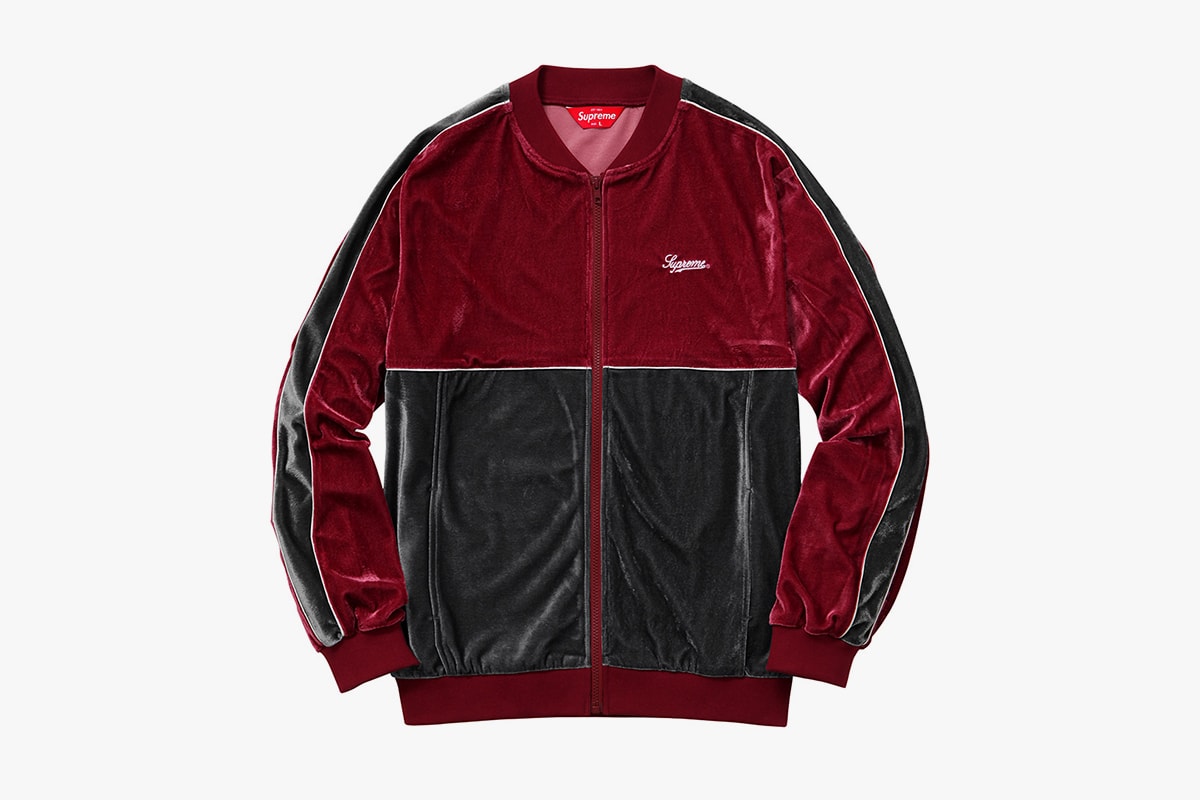 3 of 5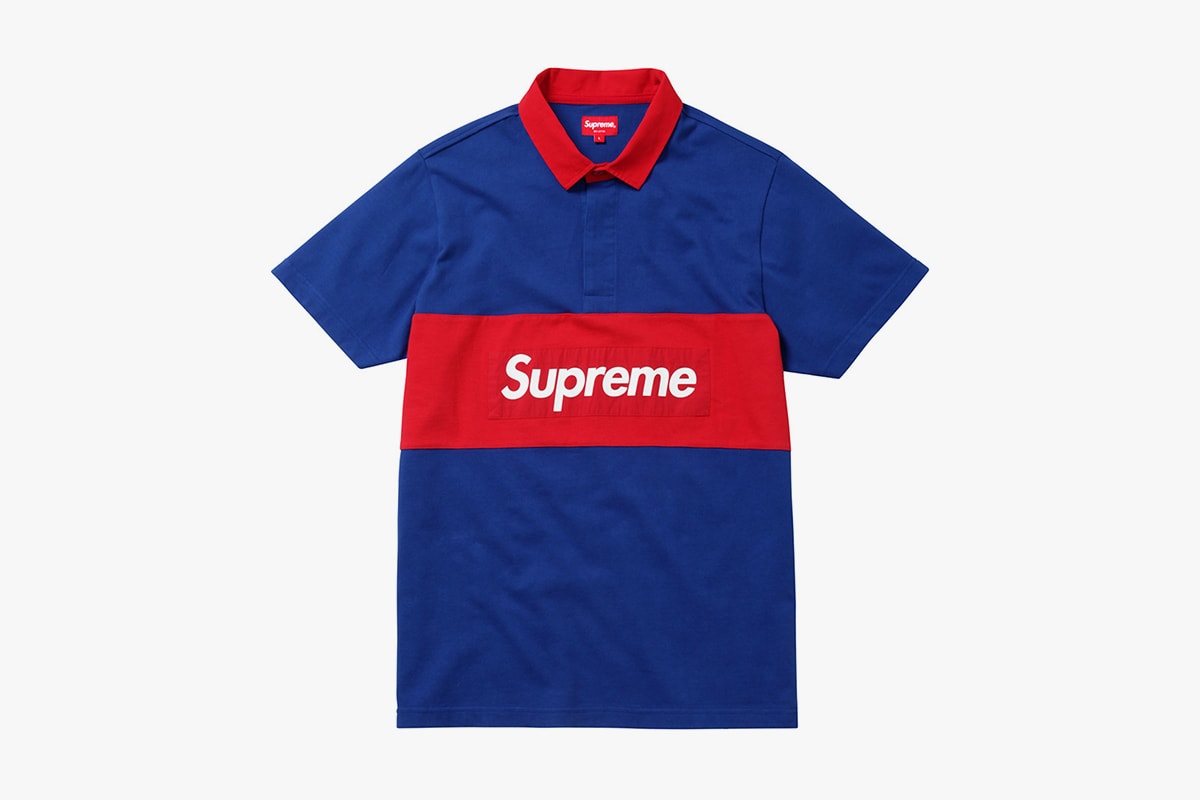 4 of 5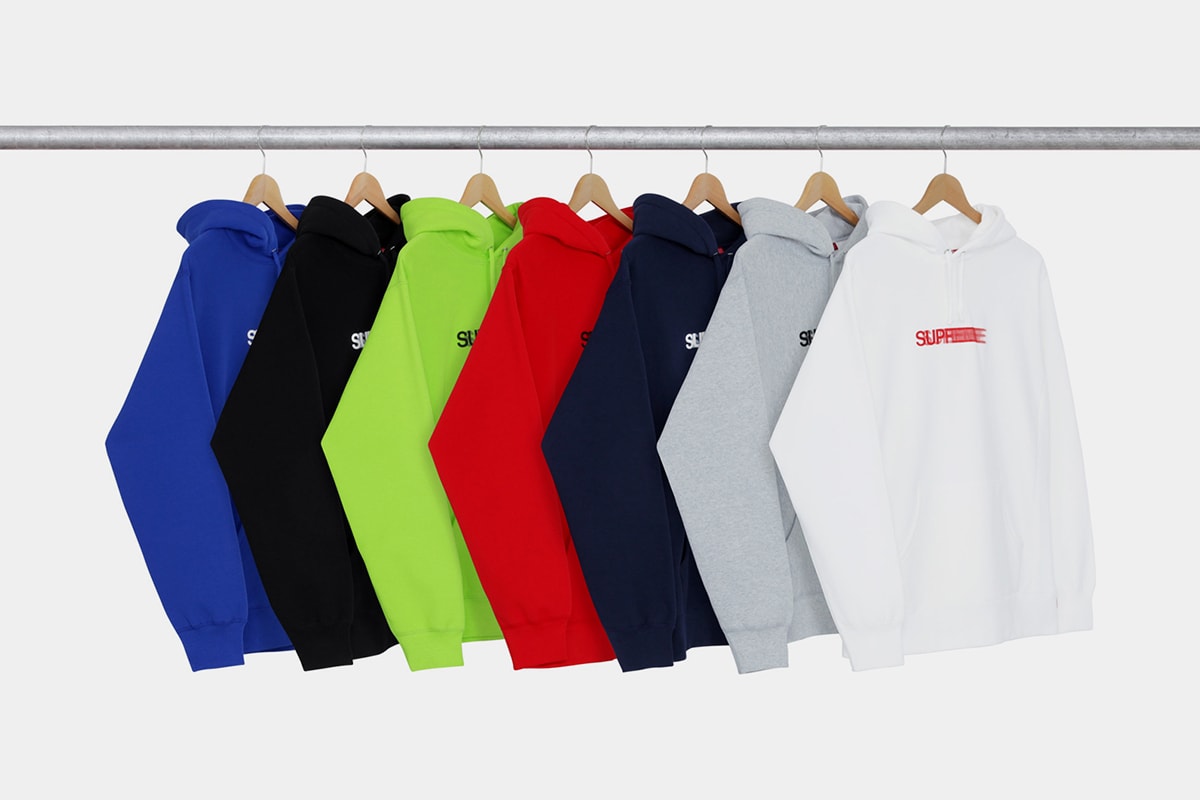 5 of 5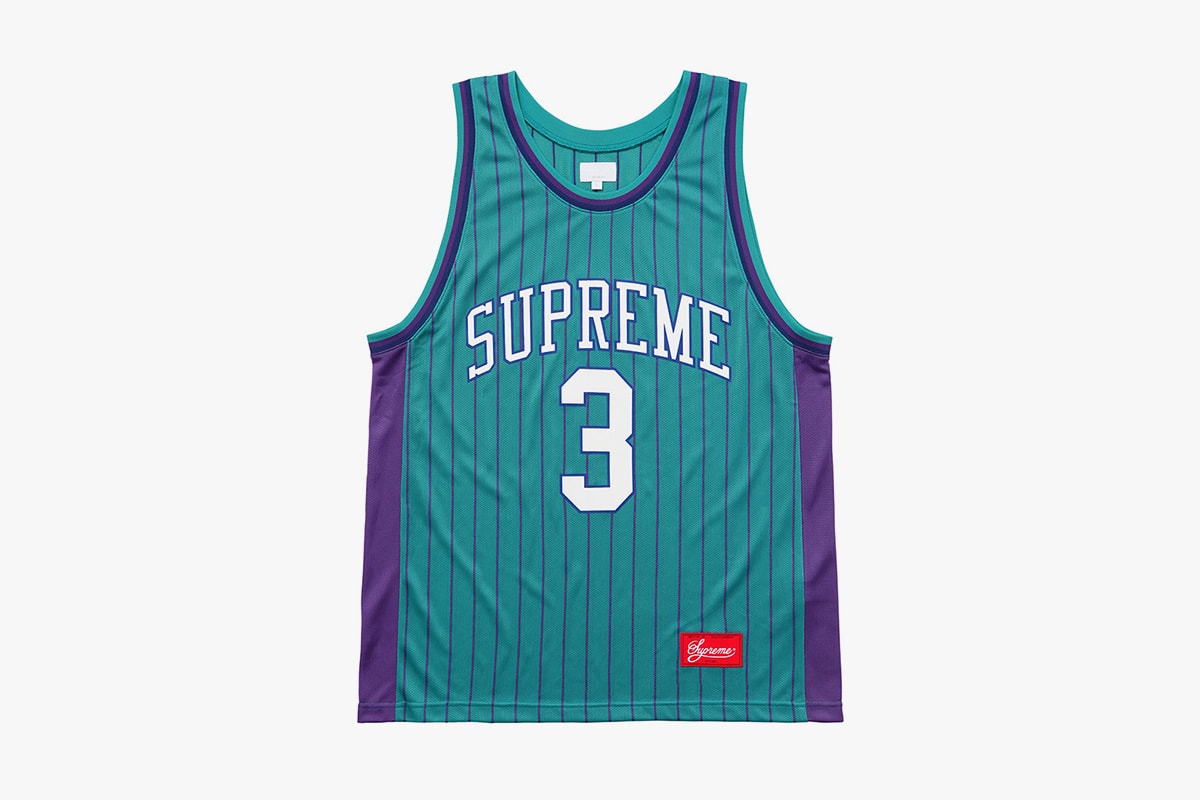 If you've done your homework, which we're sure most of you here have, you caught wind of the Motion Logos slated reappearance during the off-season from your occasional teasers published by William Strobeck and the Supreme skate team. While this does mark the graphic's first return since 2010 —- and is likely the force behind the Italian-American-inspired pieces found throughout this season's collection due in part to its Goodfellas reference, '90s themed designs continue to be the front runner for yet another category. If you thought the Split Team Tanks from 2012 sold out fast, you can guarantee New Yorkers are going to — without hesitation —- nab a jersey that can make them forget about the Knicks' recent point guard struggles and reminisce on the days of John Starks. As for the S/S Rugby, you vintage Tommy Hilfiger fanatics and 'Lo Heads know what to do.
Bottoms
1 of 5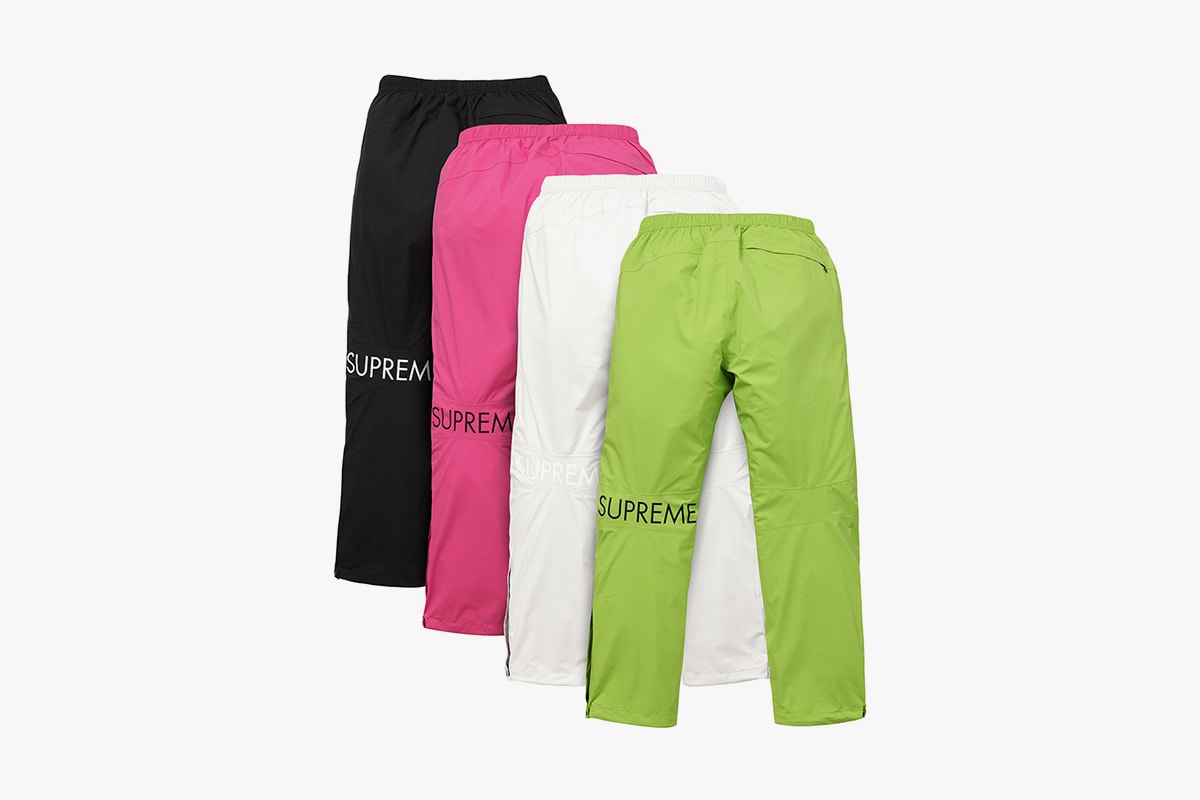 2 of 5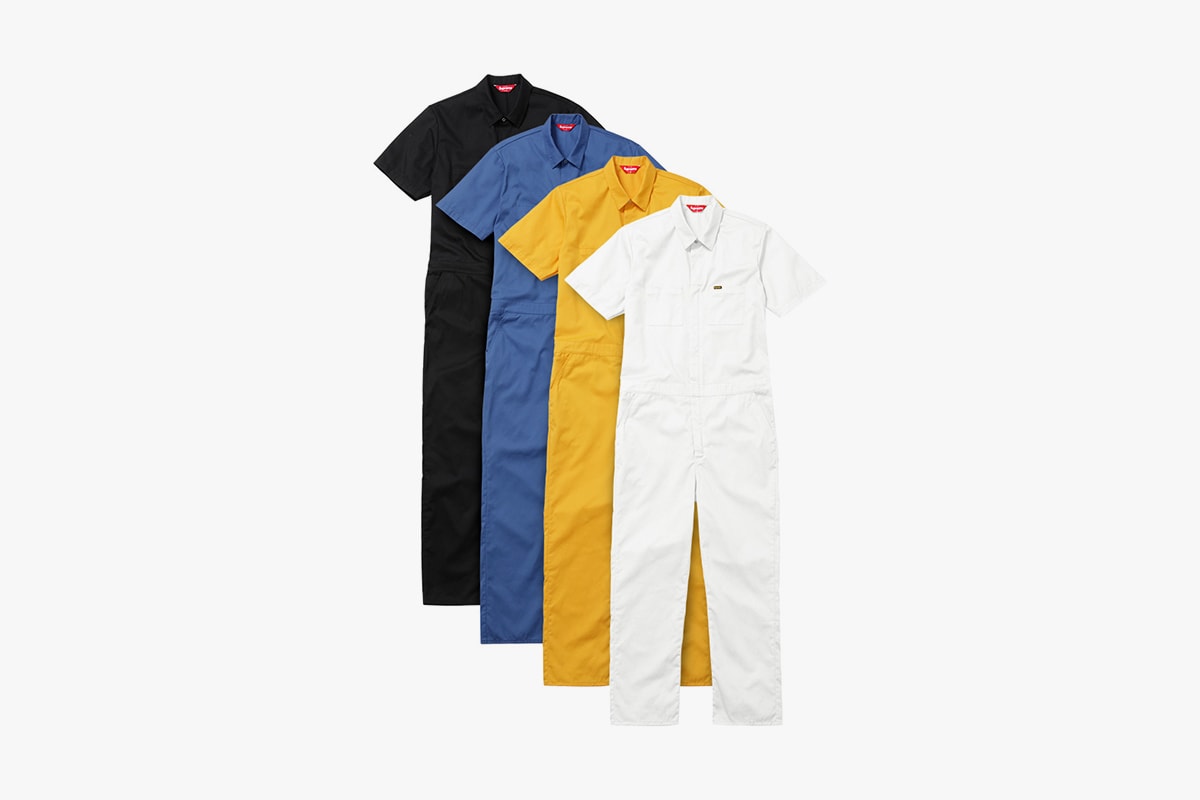 3 of 5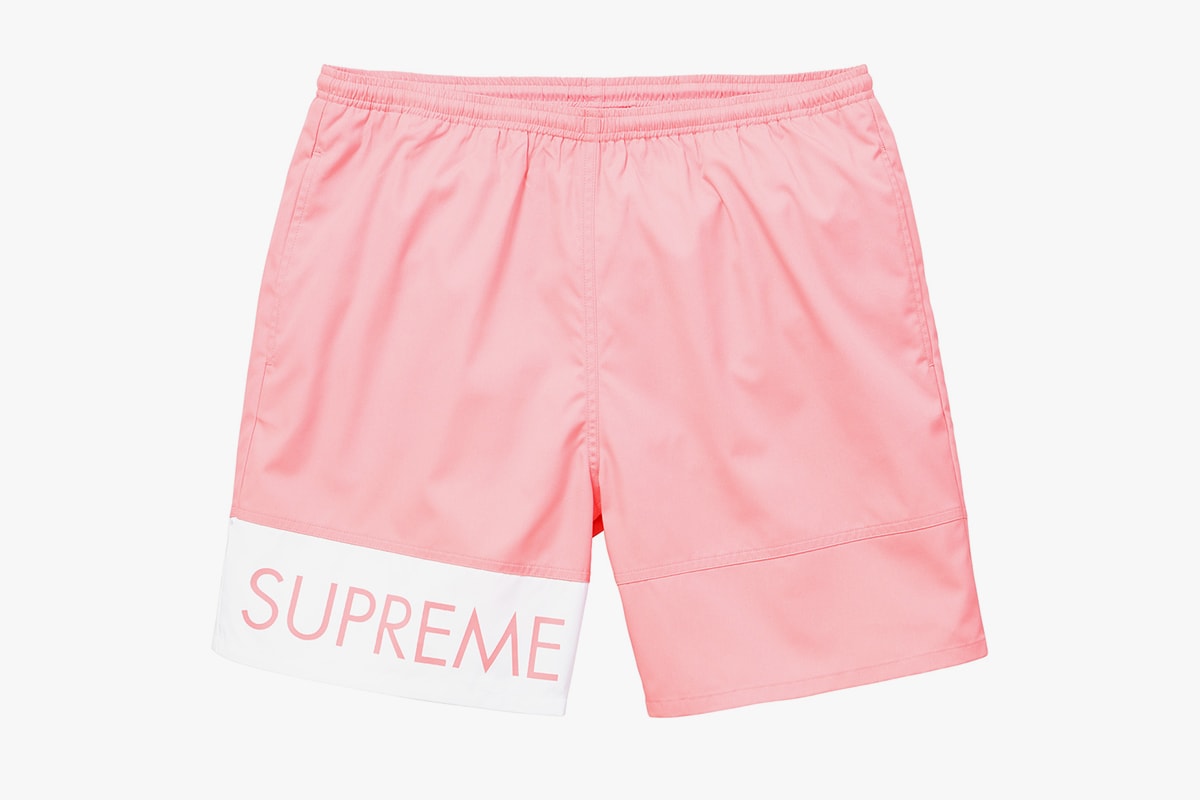 4 of 5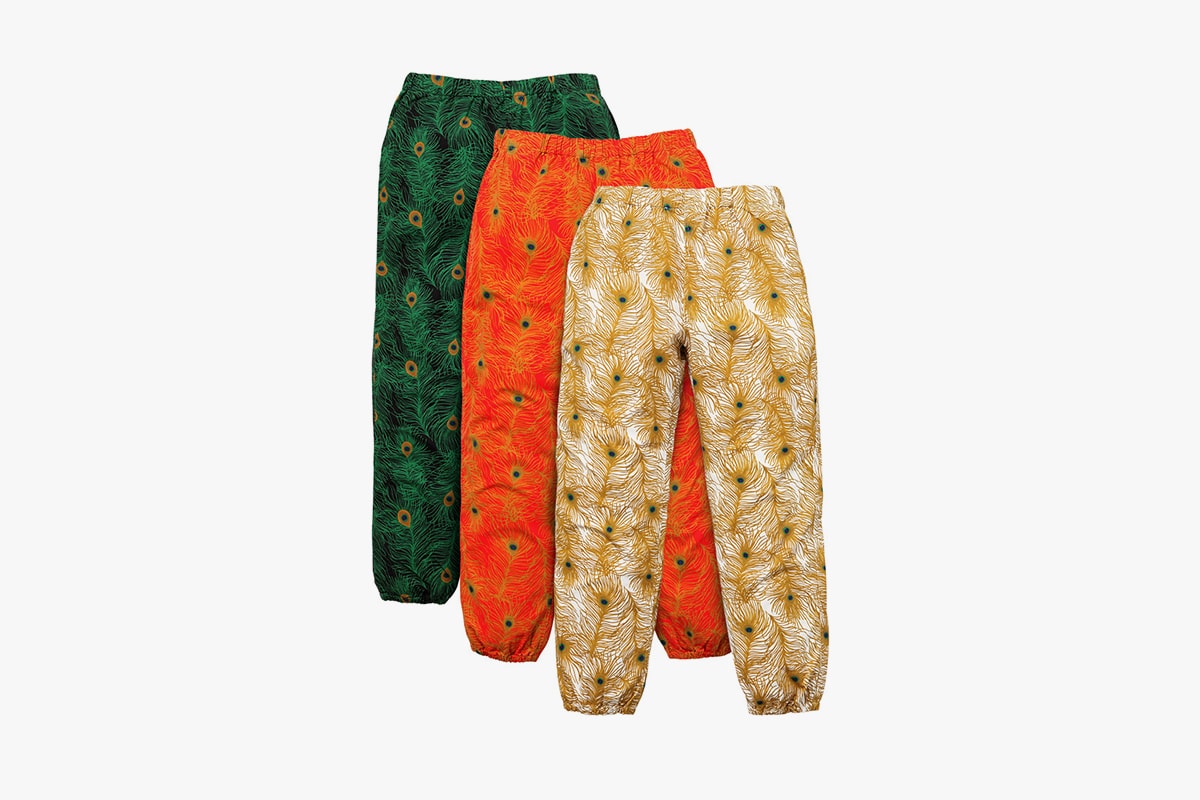 5 of 5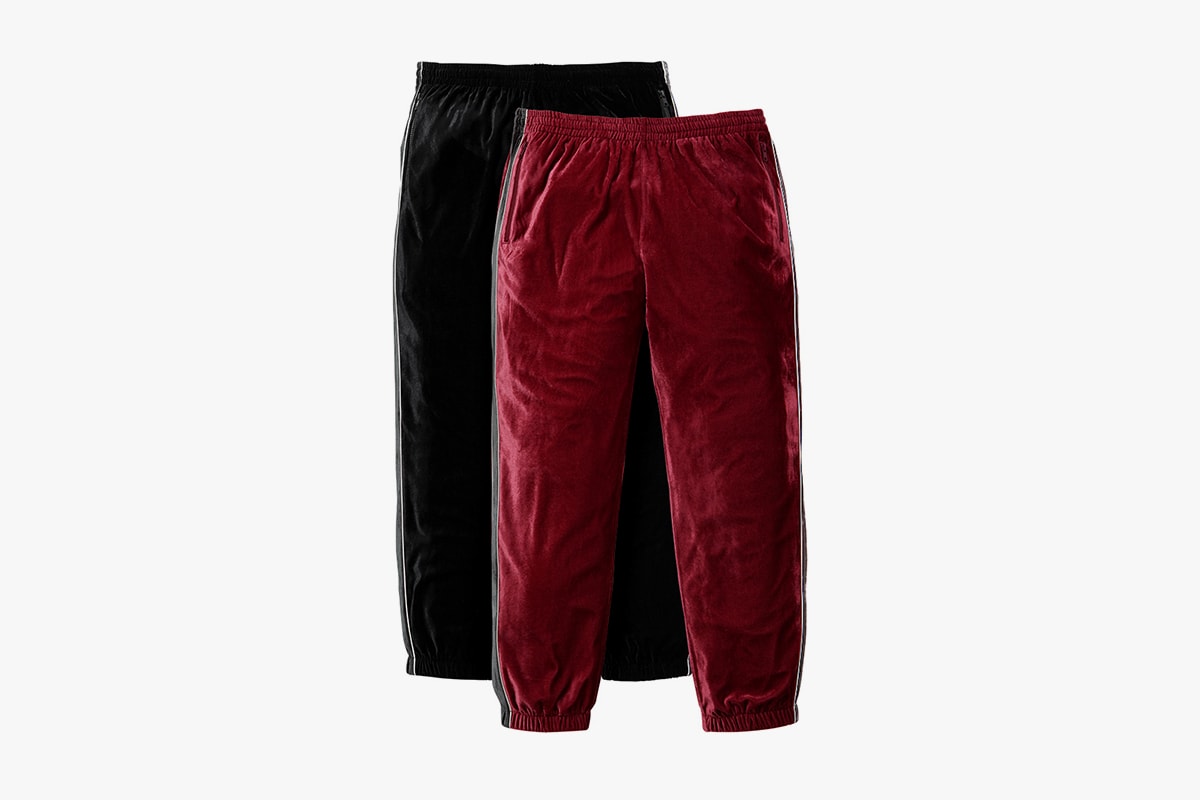 For those trying to rationalize this first trouser, don't overthink it. Ask yourself, "Do I really need a pair of taped seam pants when summer is just around the corner?" The answer is no. You would have to be a psychopath to wear taped seam pants during the summer. However, for the duration of spring and the brisk days to follow the end of summer, you will be thanking yourself you copped a pair of pants that are not only lightweight and waterproof, but also come in glaring colors that perfectly contrast with the branding effortlessly placed on the pant's kneepit. If you're looking to keep it more understated with your bottom selections, you can never go wrong with the Tony Soprano velour pant, or the Banner Water Shorts for the summer -— the one-knee color blocking is a nice touch.
Tees
1 of 5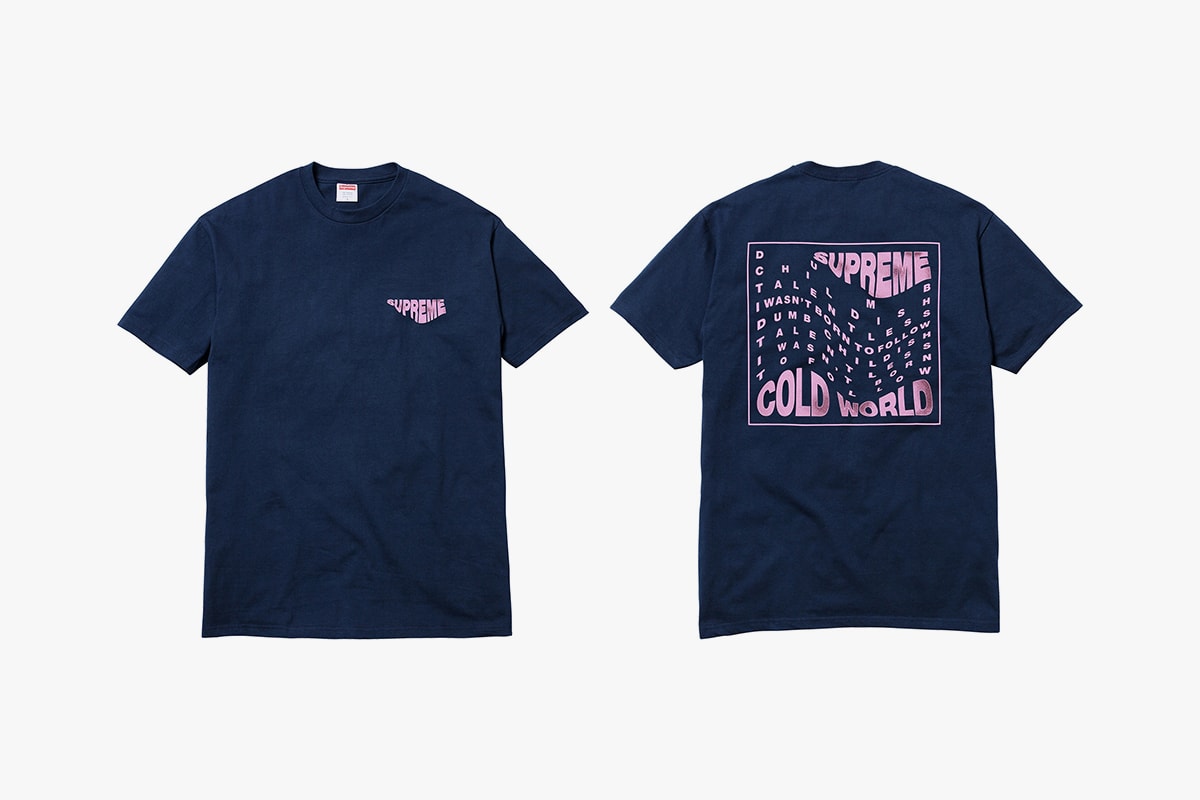 2 of 5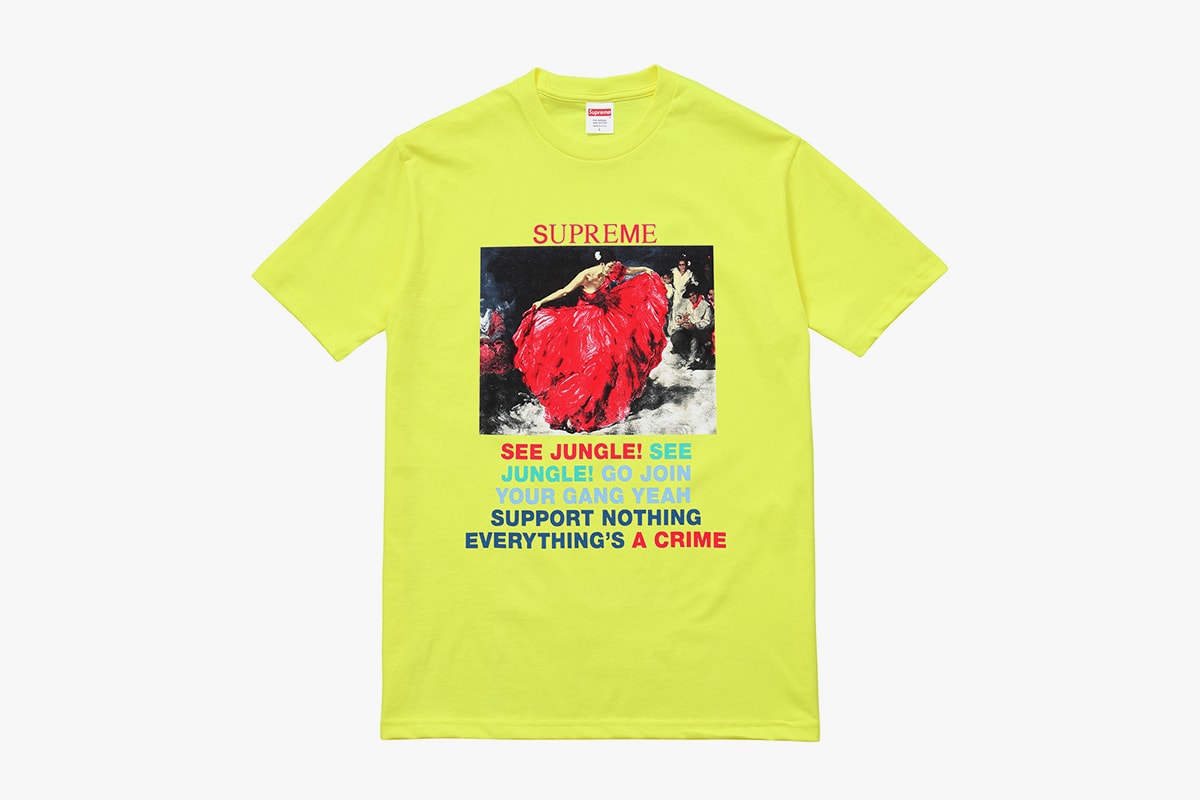 3 of 5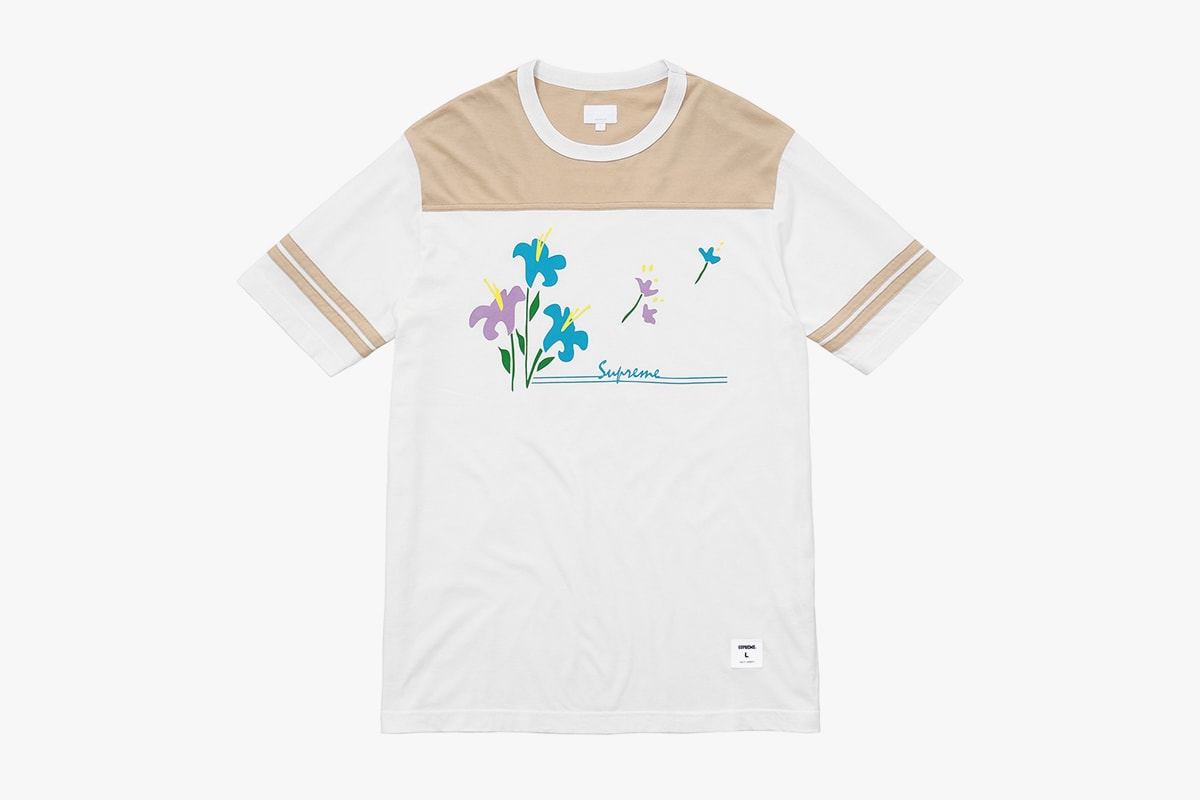 4 of 5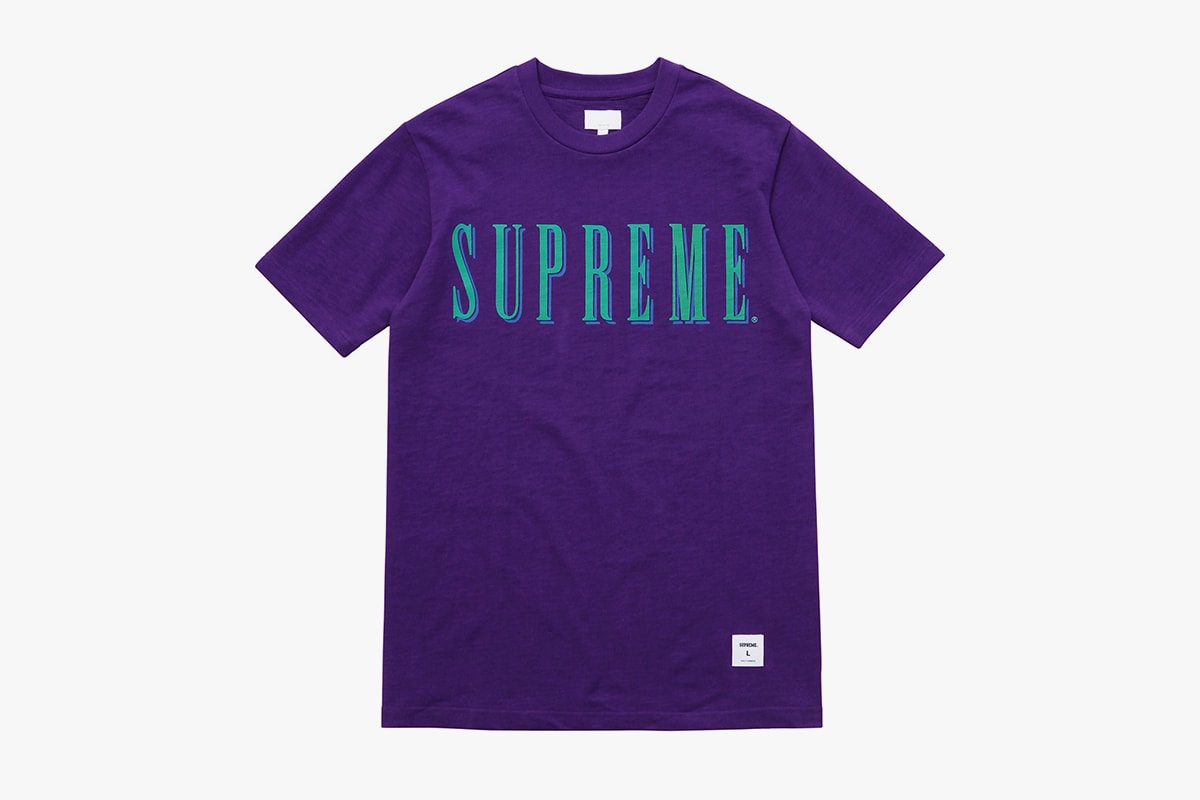 5 of 5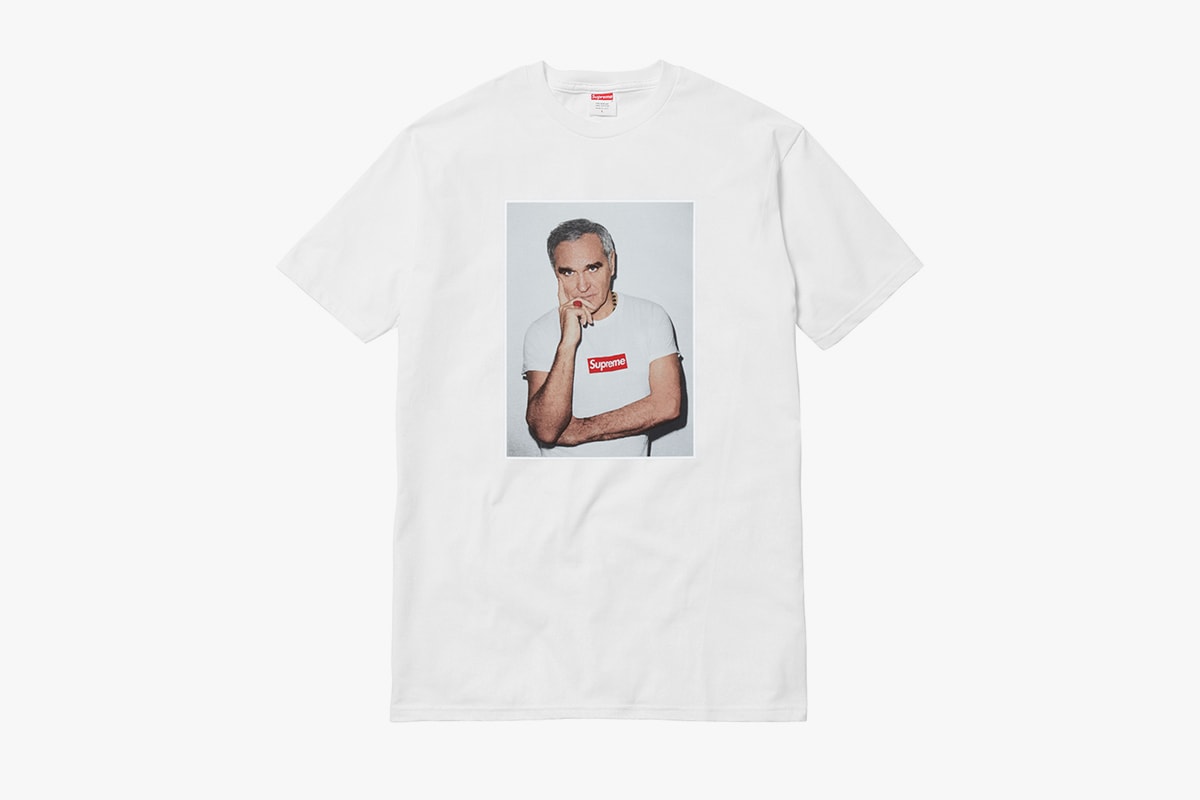 By now, you've either heard about or seen Supreme's Morrissey Tee, so we've included a few t-shirts from the collection you might have overlooked. Clever graphic prints and an ironic message tee that plays off the new wave band Bow Wow Wow's album See Jungle! See Jungle! Go Join Your Gang, Yeah! City All Over, Go Ape Crazy! cements Supreme's stand on mixing up niche nostalgia, while clean cut-and-sewn pieces — including the clean purple motif short sleeve seen above — round out a good season of necessary basics.
Accessories
1 of 5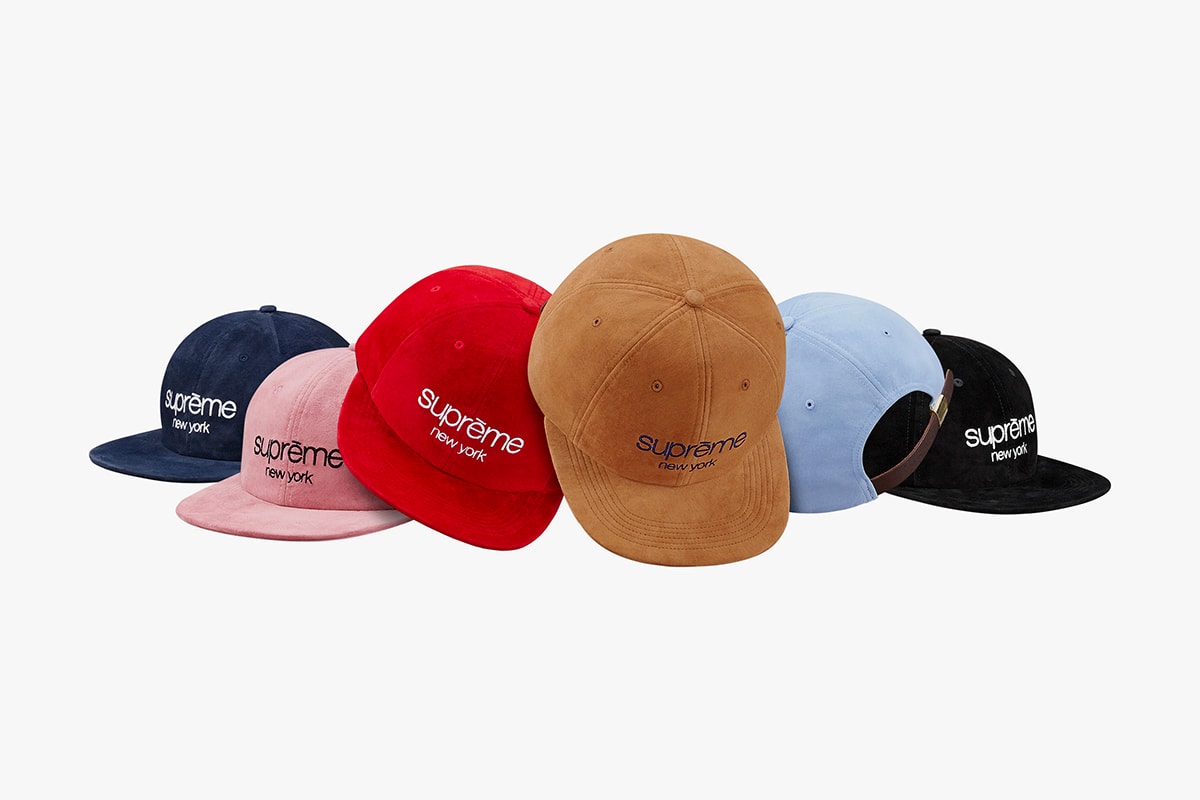 2 of 5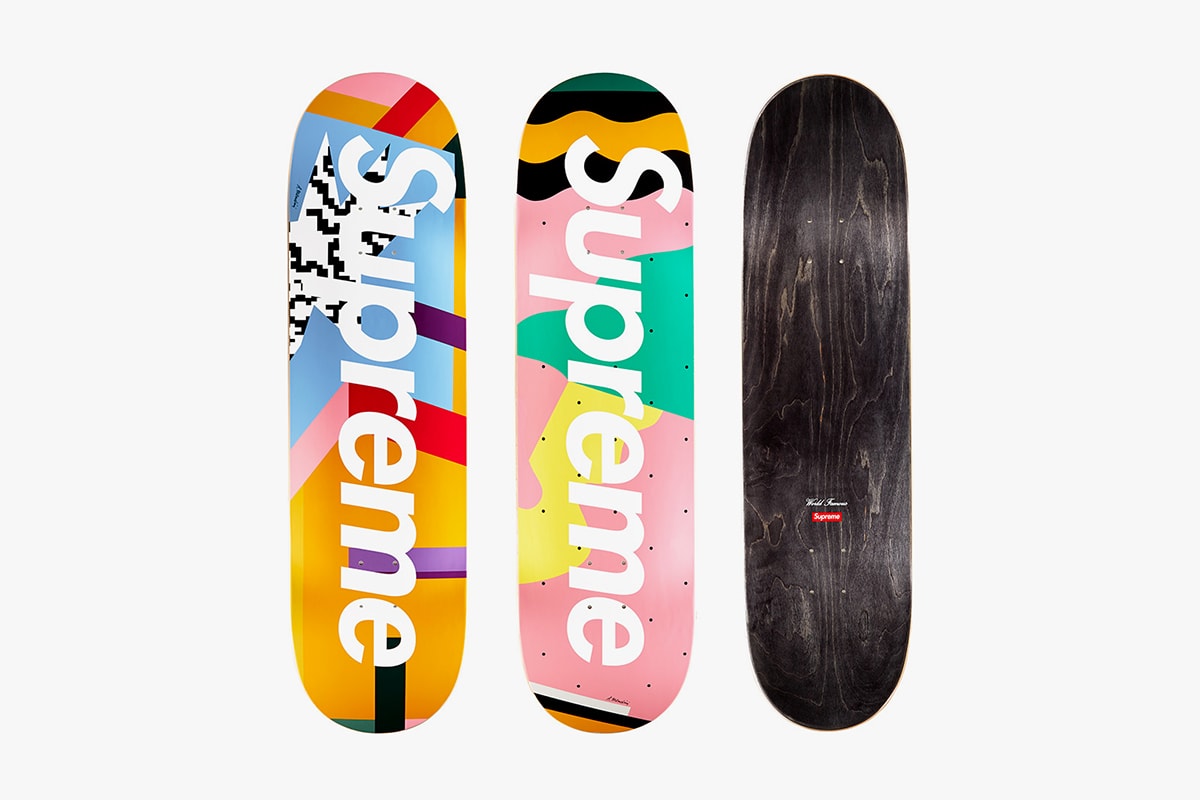 3 of 5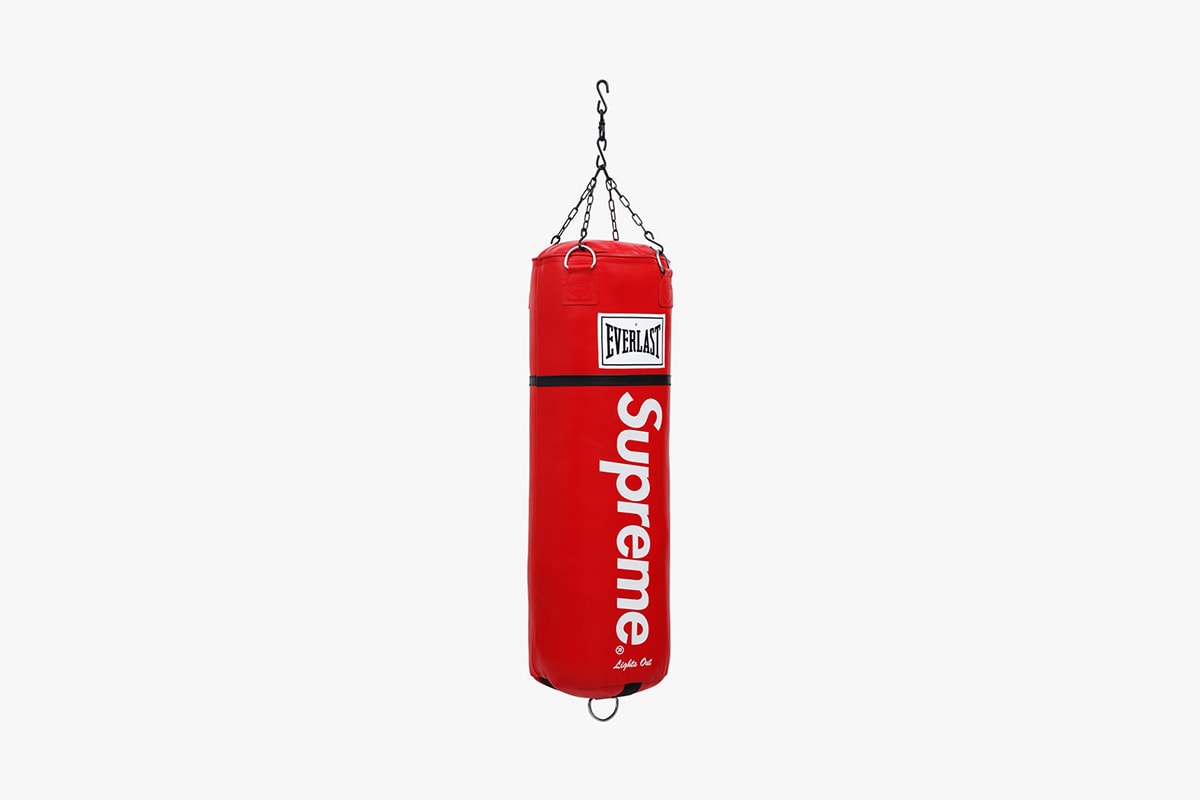 4 of 5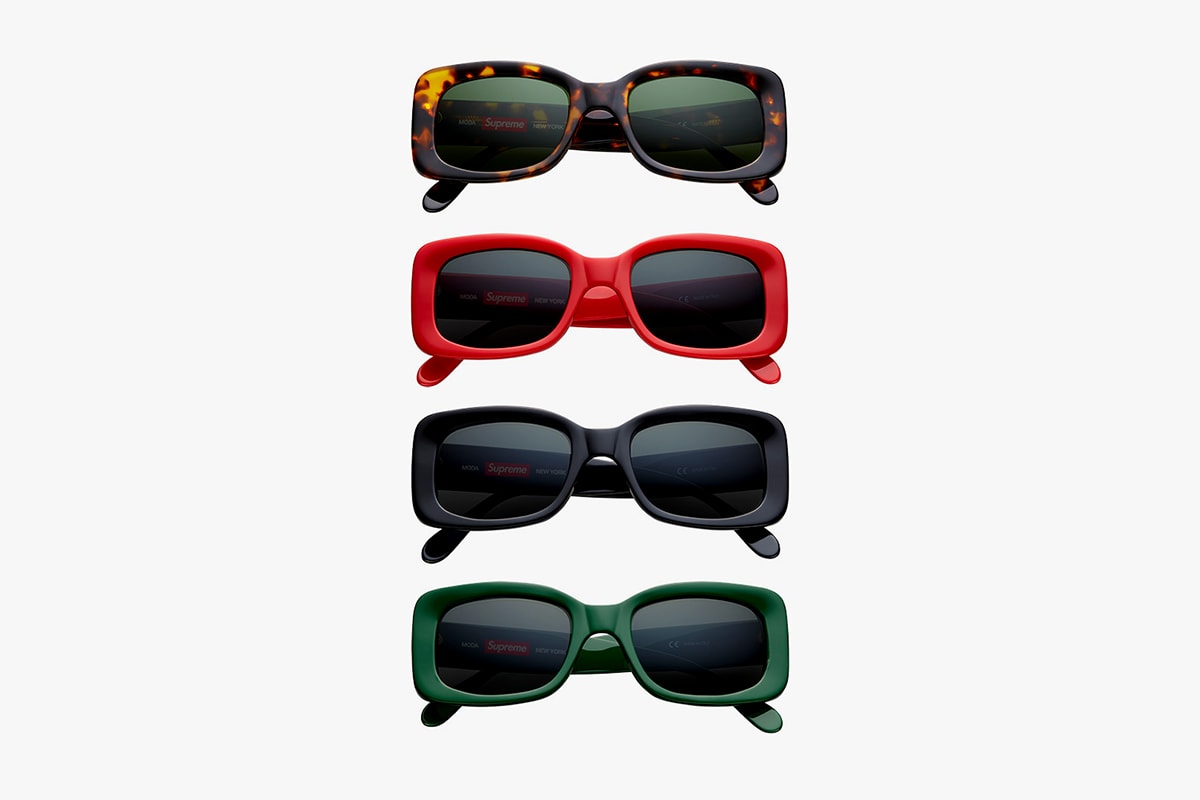 5 of 5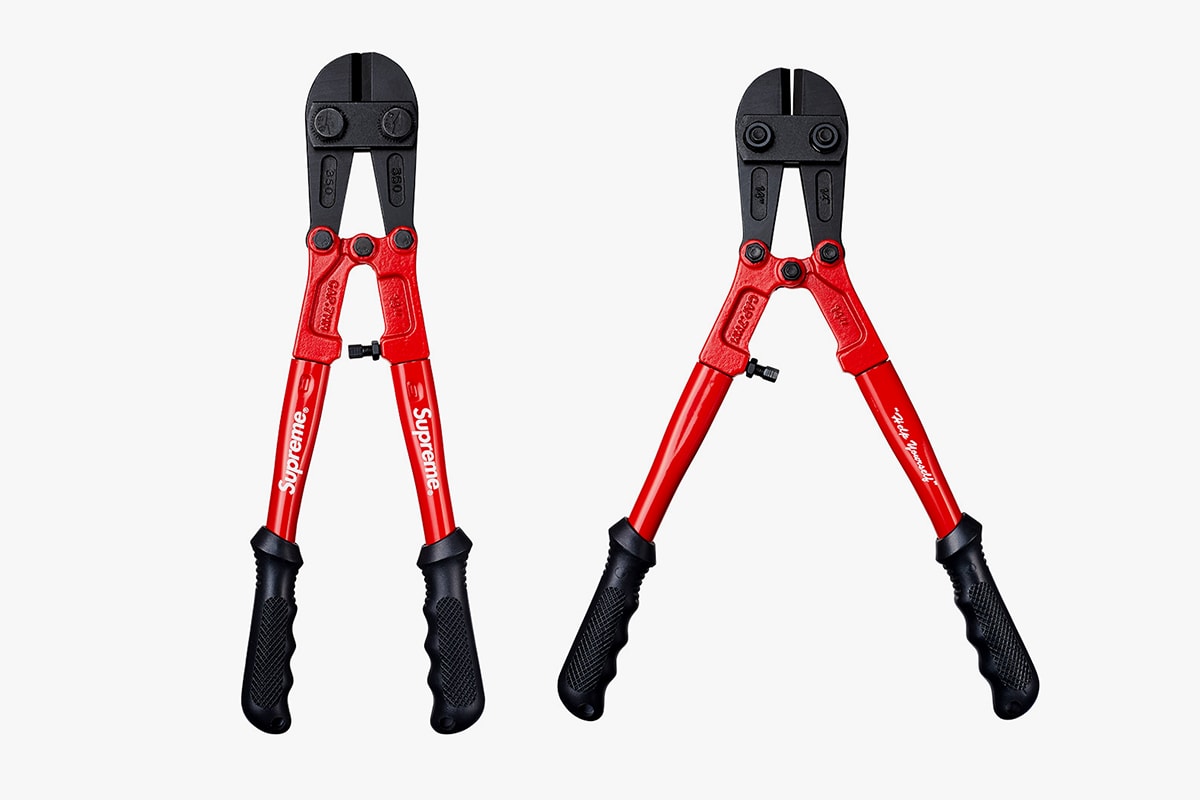 And what would be a Supreme drop without the infamous accessories line? This spring/summer we see the "largest" collaboration in a long while; Supreme works with athletic group Everlast on a 70 lb. training bag that we assume will be sold deflated and empty. Last time we saw a tool bearing Supreme's box logo was the brand's crowbar of fall/winter 2015 that fans went nuts over; this season, we'll see the same reaction for Supreme's pair of bolt cutters — stay out of trouble, kids. Don't go for the Box Logo caps — this Suede Classic Logo 6-Panel cap is the key for the warmer months, so be sure to grab one on your way to checkout along with a pair of the Moda sunglasses in either black or tortoise shell.