UFC Says Conor McGregor Has Relinquished His Featherweight Title
This makes Aldo the "undisputed" champ.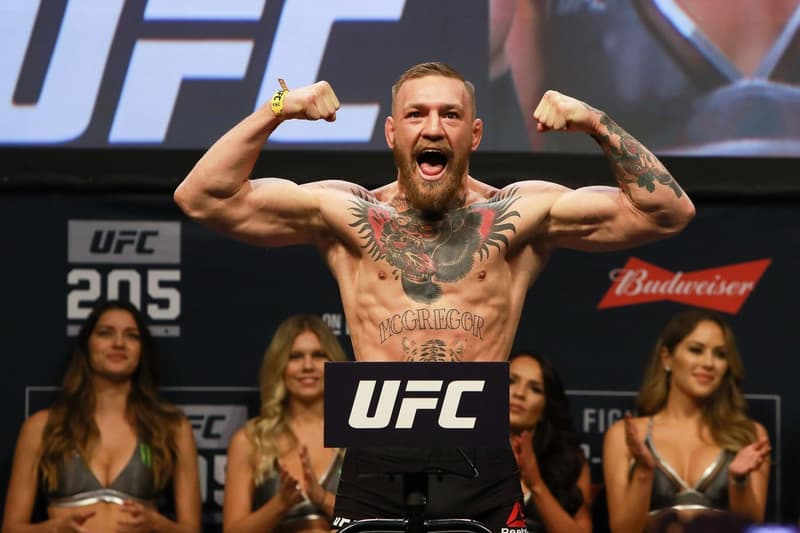 According to the UFC, Conor McGregor has "relinquished" his featherweight title. This news comes after the surprising shakeup of the UFC 206 fight card, as it was announced that light-heavyweight title contender Daniel Cormier will bow out after suffering a torn abductor in his groin. Because of this, the UFC was forced to promote the co-main event for that night, which will take place on December 10 in Toronto. The featherweight fight between top 145-pound contenders Max Holloway and Anthony Pettis will become the main event, while an interim title will be given to the winner.
Last December at UFC 194, McGregor knocked out Jose Aldo to win the featherweight title but he has never had to defend the belt. Since then, McGregor has fought Nate Diaz at UFC 196 and UFC 202 for welterweight bouts, and he also recently won the lightweight title by defeating Eddie Alvarez at UFC 205.
During McGregor's series with Diaz, the UFC has Aldo and Frankie Edgar fight for an interim title at UFC 200 where Aldo won by unanimous decision. With McGregor relinquishing his featherweight title, this means that Aldo becomes the "undisputed" champ by default. The upcoming Holloway-Pettis fight will determine who Aldo will fight next to defend his title, even though Aldo has stated that he may never fight for the UFC again.