An Explanation of adidas' SPEEDFACTORY Facility
adidas VP of Design Ben Herath explains how the Three Stripes looked toward the automotive and aerospace industries to innovate.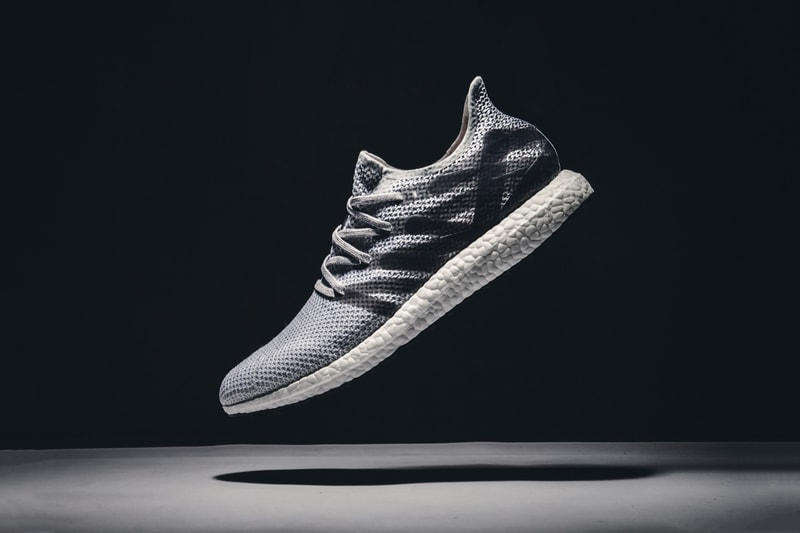 As far as sneaker innovation goes, the future is here and it is bright: adidas recently unveiled the first silhouette produced by its SPEEDFACTORY facility, the Futurecraft M.F.G. (or Made for Germany). The promo video unleashed alongside the runner shows the Three Stripes's meticulous albeit mysterious production process, but little is known about the facility.
As it turns out, the Futurecraft M.F.G. and the SPEEDFACTORY utilizes ARAMIS Technology to precisely map out the contours and pressure points of the wearer's foot, ensuring the ultimate fit for consumers. This precision creates bespoke footwear that tailors to the wearer's individual needs. The SPEEDFACTORY was also introduced with hopes of increasing the brand's sustainability and efficiency: once the facility is tested in Germany, adidas will introduce a sibling in Atlanta sometime next year, bringing production much closer to the consumer and in turn slashing transportation costs, both in terms of money and resources. Another one of the SPEEDFACTORY's primary selling points is right there in the name: according to Herath, the futuristic technology slashes production time from a matter of months down to mere hours.
As far as inspirations go, the Three Stripes decided to think outside of the box, looking toward the automotive and aerospace industries in particular. Much like these industries, a heavy emphasis was placed on maximizing sustainability and limiting the impact on the environment. Unlike these industries, however, adidas maintains that the introduction of these automated assembly lines will actually create jobs in its factories, as opposed to phasing them out.
HYPEBEAST hopped on the phone with Ben Herath, adidas's VP of Design, to discuss the SPEEDFACTORY project, the Futurecraft M.F.G., and the company's ambitions for the future.
What specifically makes these shoes "Made For Germany"?
For us, the shoe represents a whole new take on manufacturing. It's a completely new way of building and making shoes, and we're doing that right here in Germany. The SPEEDFACTORY is a super-flexible factory that we can place anywhere in the world and for us it brings together the craft of shoemaking with cutting edge technology and machinery. This M.F.G. Futurecraft shoe is the product of this new process.
So it stands for both manufacturing and efficiency?
M.F.G. stands for "Made For Germany" and the ambition and vision of the whole vision is about making customized and personalized footwear for all people out there. To do that, we wanted to bring shoe production and manufacturing closer to the people using them, speed up the manufacturing time, and co-create with people out there. For us, it's quite an ambitious project of making personalized footwear for you and that begins in Germany. We decided to start out in our home area, hence the name. But as we start to roll the SPEEDFACTORY out to other locations, we'll be looking at making this for other destinations.
Can you lay out a bit of the vision of how these shoes will work when they hit retail?
The first launch is really the first step in this journey, really. The ambition here is really to be able to take data analytics from the people out there and truly create a design that's personalized for them. For us, that's really about learning to scan the foot, learn more about peoples' foot shapes and that can inform the design. It can also be how they run and what type of movement their feet are doing and we can translate that all into design: we can program the machines to apply these patches in a way that supports with the foot and moves with it. So this is the potential we see with the next step, and that's to get really personalized designs based on people and based on movement. That's the flexibility we see with the machines we're using.
The other exciting area is the speed at which we can do that. A typical shoe would usually take about 18 months from start to finish—close to two years—and what we've been able to do now is really speed that up from months down to weeks down to days, and even hours. I think the fastest we've turned a shoe around has been five hours, which means that from programming a machine to getting a shoe out within a day, that's where our hopes, vision and ambitions are for this. We're hoping to really speed up the creation process and that's the path we're on at the moment, where this launch of the first 500 pieces is the first step towards that. That's where we have our hopes set.
"Building [the shoes] close to where people need them means that we can provide a lot more sustainable approach to creating footwear."
It seems like the ARAMIS technology plays a big part in this, as far as mapping and data analytics goes. Could you explain ARAMIS in laymen's terms?
It comes from us looking outside of what we know and look to other leading companies out there that are pioneering in their own fields. We've been looking at the automobile and aerospace industries and we've found a company that does motion capture for these companies like Boeing and BMW. They use motion-capture to look at the stress and strain on airplane wings, actually, to see how much they distort in space. The same goes for the car industry, they're measuring how much distortion happens on the different panels of the car as you drive. And we took that motion-capture equipment and applied that to the human body and it's the first time we've done that. It took a couple years to get that up and running, but what we've started to see was that at a micro- and skin-level, we could see down to exactly where the skins stretches and moves, where it expands and contracts, where it twists and turns.
It's been a rich area of knowledge for us, learning what the foot's doing more so than we ever have. Because of this new ARAMIS technology, it then allows us to strip away things we don't need, it allows us to be very precise in knowing where the foot needs support. But also where it needs to be liberated, somehow. Where it needs to move and twist. So what you see on the design of this M.F.G. shoe is an exact reflection of the science and we really wanted the authentic reflection of the data and analytics in the design. So rather than draw the design and try to build a typical shoe that way, it's almost grown from an algorithm, based on the data and science that we see that ARAMIS has provided. Really, science has informed the art on this project.
If you're taking inspiration from the automotive and aerospace industries, how does the M.F.G. and the SPEEDFACTORY address the sustainability issue?
There's a number of angles there that we're very proud of: firstly, by bringing production closer to the consumer, you reduce a lot of the energy that goes into transporting goods all over the world when you can do it locally. That's a huge reduction in energy needed. What we've looked at closely is using machines that build with minimal waste or zero waste. The shoes are crafted and made in a sustainable way where the aim is around reduction of waste. So the shoes are built efficiently and building them close to where people need them means that we can provide a lot more sustainable approach to creating footwear.
Is there a rollout plan to bring SPEEDFACTORIES to the States and if so, what does that plan look like?
Absolutely. Our first step was Germany and we've been working with a lot of companies here in Germany to get the machines and get it up and live. We thought it was right to build the first SPEEDFACTORY on home turf, but the next chapter is to bring the SPEEDFACTORY to the U.S. For us, that means Atlanta. We're very excited and proud to actually be able to create and build a SPEEDFACTORY in Atlanta next year. That's the next step in the process for us, and then after U.S. we have an ambition to grow this network across the world and bring SPEEDFACTORIES out there closer to consumers. So there's a rollout plan we're looking into now that's deciding where the next step will be. At least for now we have Germany and Atlanta next year.
Do you intend to expand SPEEDFACTORY's use to other lines within adidas? Or is it exclusive to footwear?
At the moment, the machines are all set up for footwear. It's really built around footwear and all the processes we need to bring a shoe to life, really. That's been the focus with SPEEDFACTORY.
If you need to get data-mapping from individual users and consumers, will this technology eventually reach general release numbers or will it be relegated to elites willing to go to specific outlets?
The ambition is definitely to scale this to larger quantities and volumes so that it has more reach and more people can access this. At the beginning, it is very limited and we're almost pilot-testing and beta-testing this factory and really pushing it to what it can do at the moment, but we're looking forward to scaling this into larger volumes that'll make it more of a general, global release. Our goal is for that to not be too far away, as well. That's definitely coming soon.
Since we've mentioned the automotive industry, this feels like a question that needs addressing: this automation of the manufacturing process entails that jobs will end up being phased out from handmade factories into robotic assembly lines. How do you address this issue? 
For us, we see this as a job creation project: with every SPEEDFACTORY, we're looking at around 150-160 new jobs that we're creating around each one. And this is all supplementing our existing supply chains and not really replacing them. If anything, we see this bringing jobs to the places that we build them in and we see that as a positive.