The Fanny Pack's Rise to Relevance in Today's High-End Fashion
A once-shunned fashion item is now taking high fashion by storm.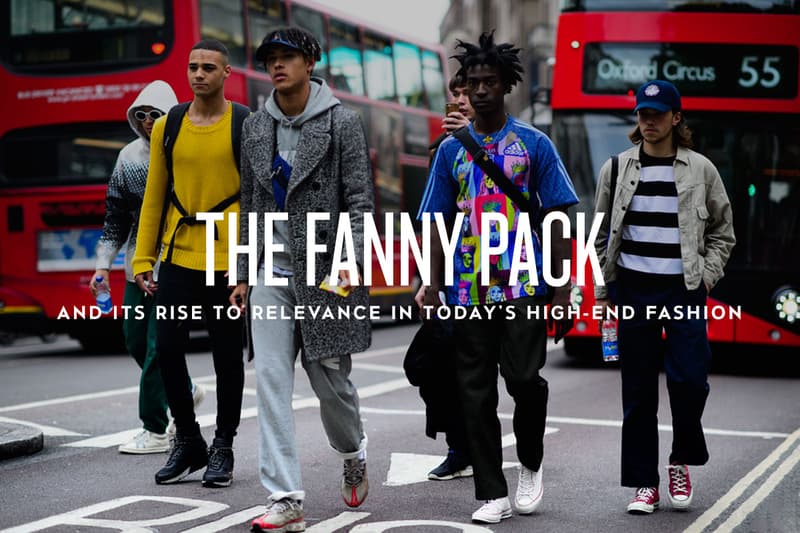 As the pendulum of fashion trends continues to sway, yet another fashion faux pas has returned to the catwalk. The fanny pack has been appearing in men's shows from Diesel Black Gold and Valentino to Carven, as well as collections from streetwear staples The Hundreds, Herschel Supply Co. and others. With a longstanding reputation as a shunned fashion item, normally associated with embarrassing dads, lost tourists or for those wearing it purely for function in sport, this resurgence may come as a surprise. While there have been murmurs of its impending infiltration into "trendy" territory for several seasons, the numbers are in – with American Apparel selling 170,000 fanny pack units between 2010-2014, and 60,000 of them selling in the last year. But are we able to add it to the list "suddenly cool" pieces such as ugly sandals and bucket hats?
Although easily attributable to the cyclical nature of fashion trends, the fanny pack has never truly been associated with "trendy." In its history, the piece experienced its heyday in the '80s, pervasive for its functional attributes and (at the time) innovative materials such as nylon and ripstop. But as Weird Al Yankovic mocked the bag in "White and Nerdy," and Seinfeld described "it looks like your belt is digesting a small animal," the piece was inevitably associated with the uncool. It experienced another minor surge in the mid 2000s with attempts to elevate its status with the Gucci monogram pouch for the "trendy" while the streets also saw The North Face waist pouch in abundance. Even our style god Kanye West was photographed wearing one. Across the pond, the accessory has long been associated with delinquent behavior, such as drug dealing and anti-social behavior — most likely leading to its incorporation into street fashion, while Asian consumers have long worn waist bags from revered quality luggage brands such as Porter. However the piece was never fully embraced by fashion-conscious individuals, unable to relinquish its reputation as a purely functional piece.
Its resurgence can also be seen as an ironic response to retro fashion, with people donning the ubiquitous nylon fanny pack and jean jackets with gusto. Attractive with its vintage appeal, the piece exudes nostalgia that perfectly embodies the nerdy/geeky style that these people wanted to flaunt (think Fresh Prince of Bel-Air). With fanny packs clad in bright neons and constructed of nylon, many of these youngsters wanted to be different by rocking the accessory, matched with a pair of acid wash jeans and a zip-up hoodie.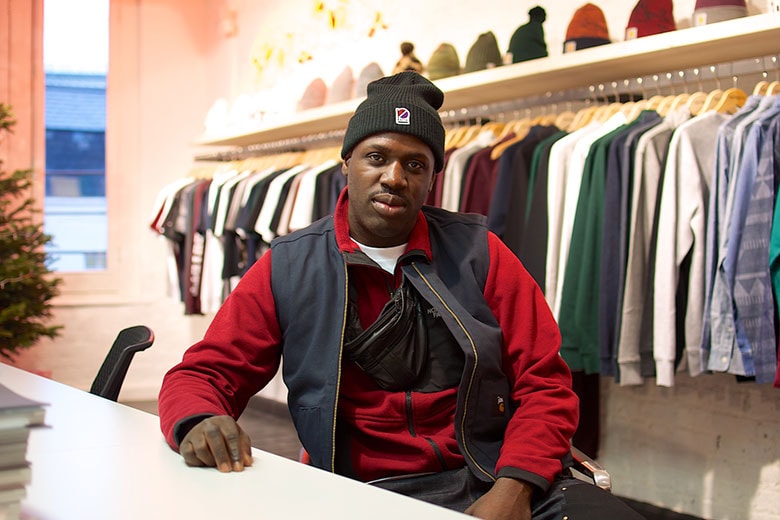 On the other hand, apart from the fanny pack wielding bunch that do it for the vintage appeal, the short-lived "normcore" trend gained some traction much to the chagrin of fashion insiders. A portmanteau of "normal" and "hardcore," the idea behind the movement was rooted in opposing current trends by dressing as normal as possible. But ironically, normcore became a trend in itself despite being passionately adopted by those who were opposing fashion in the first place. This served as the perfect platform for the fanny pack to be adopted by people who swore by dressing as "normal" as possible. Coincidentally, as normcore entered the higher echelons of fashion along with the high-end interpretations of a Birkenstock, so did the fanny pack.
As with every trend, the current zeitgeist has all to do with its reemergence. Music festivals are as prolific as ever, and the fanny pack's holy grail status as a festival fashion staple is undeniably due to its practicality, allowing wearers to be hands-free while housing their necessities. But as music festivals have become as synonymous as fashion shows for a place to show off outfits, "festival fashion" became a staple trend, with the fanny pack taking center stage. And as festival style permeated past its fences, many began adopting the functional accessory on a daily basis.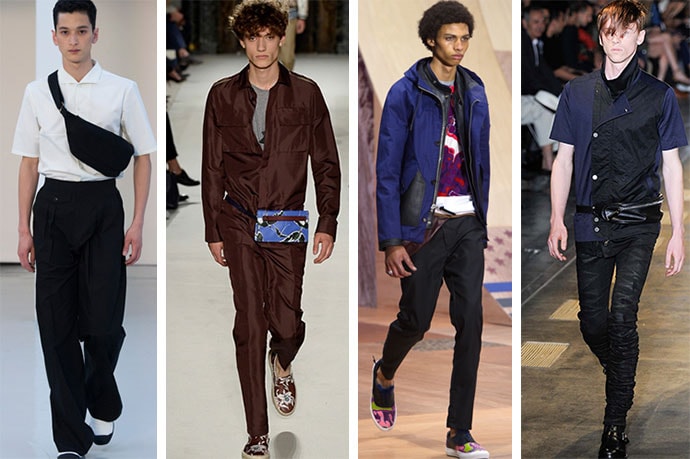 But its ambush onto men's runways was nowhere near subtle. In fact, it came in full force, with designers wholeheartedly signing off their confidence in the "uncool" bag. Its biggest supporter was Valentino, no less. Printed bags adorned the waists of model after model on the catwalk, in both the pinched-sides silhouette we're most accustomed to, as well as an envelope type. An edgier style was seen at Diesel Black Gold, with both a longer envelope style adorned with zips, and a simple pinched-sides black leather type. Carven showed off a flap-bag worn across the shoulders for another take on how to style it, while Christophe Lemaire (who, as the previous creative director at Hermès, definitely knows something about bags) showed off a simple oversized black number styled similarly. Adding to its list of appearances, Coach affably called it a "hip bag," and sent it down the runway in rich maroon hues neatly tucked into outfits with head designer Stuart Vevers saying he "couldn't resist it."
However, the fanny pack's practicality and ease of use may be the key conversion trait, whether or not it flies off shelves. Being able to carry all your basic necessities — a cellphone and money, while being hands-free is a definite plus without having bulky pockets that become uncomfortable — explaining why it's a staple accessory for hikers, runners and even festival-goers. With functional aspects greatly outshine its role in style, the stamp of approval on the biggest stage in fashion will either be fully embraced by consumers, or more likely, questioned. But not having to worry about losing or dropping things while you can freely do as you wish is almost a forgotten luxury amidst the dizzying array of bag choices out there.
Despite its negative fashion stigma, fanny packs are making a resurgence.