What's in Rick Ross's Favorite "Da Boss" Salad?
Remington of The Cheap, The Best & The Hidden — a food blog that explores the best, hidden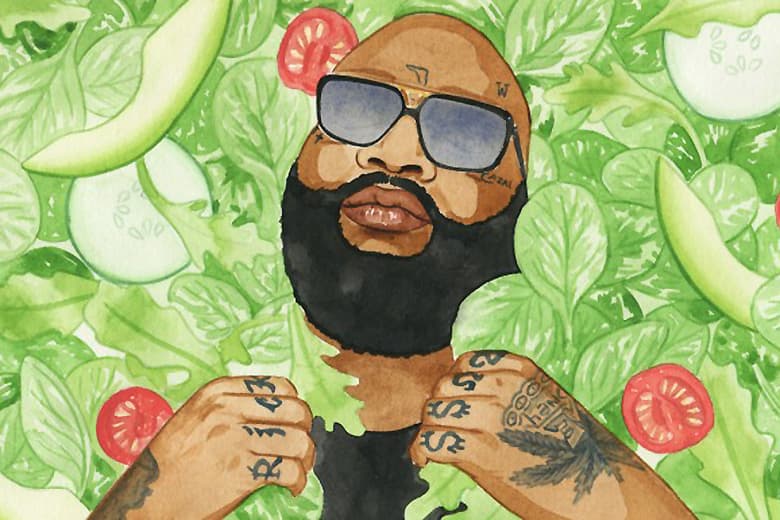 1 of 2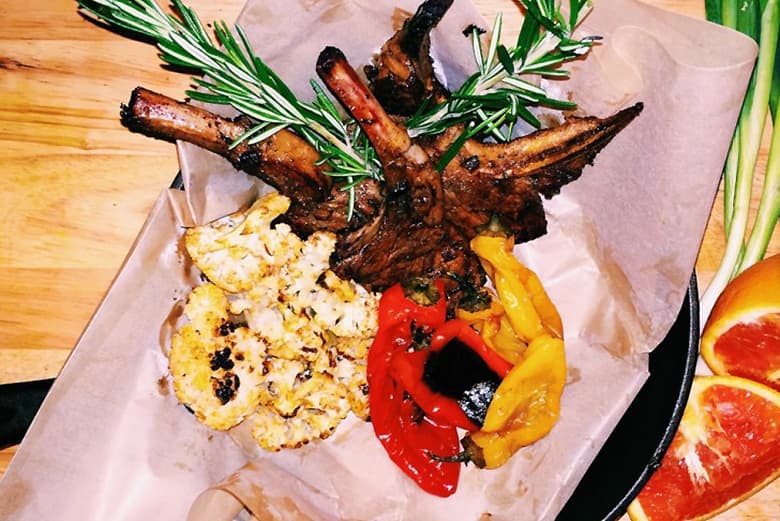 2 of 2
Remington of The Cheap, The Best & The Hidden — a food blog that explores the best, hidden eateries in New York and Los Angeles — has teamed up with The Coveteur to create Rick Ross's favorite protein-filled salad. After a conversation with Rozay's personal go-to chef Amaris Jones, Remington got the ingredients needed to make "Da Boss Salad," a dish that aligns with Ross's new get-fit initiative ROSSfit. Prepared in two steps, Jones builds a flavorsome romaine lettuce and fried shallot salad with dressing composed of a melange of garlic, Worcestershire sauce and Dijon mustard. This sets the base for the center piece, succulent lamp chop slices which are complemented by roasted cauliflower and pepper. Elsewhere, smoked paprika, panko bread crumbs, and fresh lemon juice offer both texture and flavoring, in all, presenting a healthy portion of nutrients for the hefty rapper. Check below for the ingredients and instructions needed for "Da Boss Salad," and head to The Coveteur where Jones shares funny anecdotes on her role as Rick's personal chef.
Part 1 – INGREDIENTS:
2 garlic cloves
3 tablespoons fresh lemon juice
1 tablespoons Dijon mustard
Oinch of sumac spice
1 tablespoon of mayo
2 shallots thin sliced
1/2 teaspoon anchovy paste
2 tablespoons Worcestershire sauce
1 hard-boiled egg
2 raw eggs
1/2 cup of flour
1/2 cup of panko bread crumbs (can be gluten-free bread crumbs)
1 teaspoon of smoked paprika
3/4 cup, plus 3 tablespoons grapeseed oil
1/2 cup freshly grated Parmesan, plus shaved Parmesan for serving
3 heads romaine hearts, sliced lengthwise in 1/2
Salt
Freshly ground black pepper

INSTRUCTIONS
FOR THE DRESSING:
In a blender, combine the garlic, salt and pepper, sumac, lemon juice, mayo, Worcestershire sauce, anchovy paste, Dijon mustard. Drizzle in 3/4 cup grapeseed oil to emulsify.

FOR THE BAKED CRISPY SHALLOTS:
Beat eggs, add smoked paprika and pepper into a bowl. Add sliced shallots, remove shallots and coat with flour and panko crumbs. Place on parchment lined baking sheet. Bake at 325 for 10 to 15 minutes until your desired crispiness has developed. Remove from oven and top with sea salt.

BUILD YOUR SALAD:
Chop romaine lettuce heads, slice lengthwise. Top with dressing, shaved Parmesan, fried shallots and boiled egg (cut in half). Add sea salt and cracked black pepper to taste.

Part 2 – INGREDIENTS:
RICK ROSS' FAVORITE THE LAMB CHOPS
1 tbsp grapeseed oil
1-2 tsp red wine
1 blood orange (cut into 4 wedges)
2 tsp fresh garlic, minced
2 tsp fresh rosemary, minced
2 tsp fresh parsley, minced
1 tsp of cajun spice rub
4 lamb rib chops

FOR ROASTED CAULIFLOWER & PEPPERS
1 tbsp unsalted butter
Kosher salt and freshly ground black pepper
1 large head of cauliflower
1/2 pound of mini whole peppers

INSTRUCTIONS:
1. Mix together the grapeseed oil, garlic and herbs. Season the lamb chops lightly with cajun spice. Rub the chops with the grape seed oil mixture. Set aside to marinate 10 to 20 minutes.

2. Roast the veggies: heat oven to 400°F Lightly oil a large roasting pan or baking sheet. Cut the cauliflower into florets, add whole peppers and place them in a bowl. Toss with cajun spice and minced garlic. Drizzle with grapeseed oil and toss so that the florets are lightly coated with oil. Spread the florets and peppers out into a single layer on the roasting pan. Sprinkle with salt and pepper. Place in oven for 20 to 30 minutes until lightly brown and are tender.

3. Heat a skillet over medium heat. When the skillet is hot, add blood orange wedges (squeeze the juice in the pan and add wedges), rosemary and garlic. Remove wedges after 2 minutes. Add the chops to the skillet and cook to desired doneness, about 3-4 minutes per side for medium. Serve lamb chops on top of veggies.