Earl Sweatshirt - I Don't Like Shit, I Don't Go Outside (Review)
When we first met Earl Sweatshirt, he was a 16-year-old who was wise beyond his years. His verses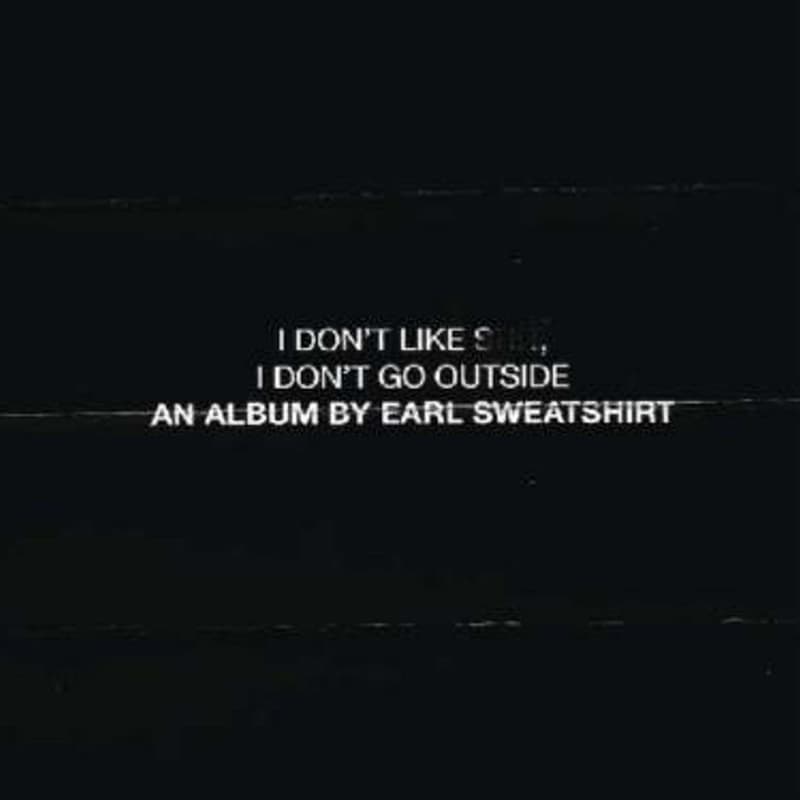 When we first met Earl Sweatshirt, he was a 16-year-old who was wise beyond his years. His verses were a bit abrasive and violent, illustrating lyrical portraits of rape and murder. Sweatshirt's 2010 debut project, Earl, was a key part in the rise of Odd Future, before being shipped off to a boarding school in Samoa.
So when he returned in 2012, it was difficult for him to quickly adapt to this newfound fame. This narrative was the central theme of Earl's full ­length album, Doris. Instead of shock rap, Earl provided us with more personal songs such as "Chum", "Sunday", and Burgundy". Doris proved that Earl did a lot of maturing while away and he is bearing all his thoughts in the music.
His new album, I Don't Like Shit, I Don't Go Outside, follows the same script as its predecessor, but adopts a darker tone. When the title was unveiled, though not according to Earl's plan, it was apparent that this would be a more somber offering. Each track, layered in dark, gloomy, and eerie production, serves as diary entries as Earl reflects on a period in which he described to NPR as "hell." I Don't Like Shit takes us on a journey, as Earl eloquently delineates his life during these days of "debauchery".
The production, handled mostly by Earl under the name RandomBlackDude, is not outstanding. Though the somber beats fit the cadence of Earl's monotone voice, it is evident that he is still trying to master the art of production. There are standouts such as "Grief" and "Mantra", but "Huey" and "Grown Ups" featured sloppy synths and unsequenced drum kicks. Nonetheless, it is still impressive for his debut as a producer.
However, it's his authenticity and transparency that drives this album. Earl touches on how he's coping with the passing of grandmother on "Huey" ("I spent the day drinking and missing my grandmother"), depression and sanity on "Grief" ("I just want my time and my mind intact/when they both gone, you can't buy them back"), and family issues on "Grown Ups" ("Love him, but my father ain't my fucking friend"). I Don't Like Shit is the most vulnerable Earl has been with his listeners to date.
On "Mantra" he depicts his experiences with fame thus far. Earl is more receptive to being famous but he still shows levels of discomfort. "Now you surrounded with a/gaggle of 100 fucking thousand kids/Who you can't get mad at, when they want a pound & a pic/Cause they the reason that the traffic on the browser quick/And they the reason that the paper in your trousers thick," he raps on the first verse. Just like with every celebrity, new "friends" come out from the shadows. Earl is also noticing how those "hating in a passive tense" are now "hounding" him to be in his inner circle. This first verse accurately illustrates how fame is both a gift and a curse. The song then details the drama that surrounded his previous relationship, presumably mentioned on Doris' "Sunday": "and tell all your little friends how that bitch stole me/and despite all the facts that you got phony/You gonna tell them bout the night that you exposed me/for the bastard I was/and how I probably smashed every bitch that I passed in the club."
Another relationship that has taken a toll on Earl is with his mother and his family. On "Faucet" he goes further into detail regarding this matter. "Ain't step foot in my momma place for a minute," he raps over a slow and mellow beat accompanied with muffled drum kicks. Earl is uncomfortable with how his relationship with his mother has panned out since he has gotten older. Now that he is a successful rapper, most of his time is designated to work instead of with family: "it hurt cause I can't keep a date or put personal time in/ or a reverse of the times when my face didn't surprise you." Even with all the money in the world, Earl acknowledges that money will not bring joy to his mother with lines like "can't put a smile on your face through your purse or your pocket." It seems that Earl is apologizing to his mother for being so distant and he wishes things could be different.
"Grief," the album's lead single and arguably best song, tackles drug addiction and sanity. The groggy synth chords and heavy drums, which as he inadvertently describes as "a gavel when it knocks", draws you in instantly as Earl describes his experience with drugs and trying to stay level-headed. He admits that his excessive drug use will lead him on a "harmful" path but he simply doesn't care. However, he is using drugs as a means to escape his "frantic" thoughts: "my fleeting thoughts on a leash/for the moment, high as fuck."
Fans probably had different expectations for Earl's follow­up album, but it is clear that this was the album he wanted to craft. With his honest lyrics and self-produced instrumentation, the creation of this album seemed therapeutic for Earl. I Don't Like Shit, I Don't Go Outside doesn't necessarily show a different side of the rapper. Instead it shows that he is trying to understand life and learn more about himself through introspection and being reclusiv