10 Japanese Designers to Watch in 2015
For many years, the Japanese have been paving the way for others in the fashion industry with their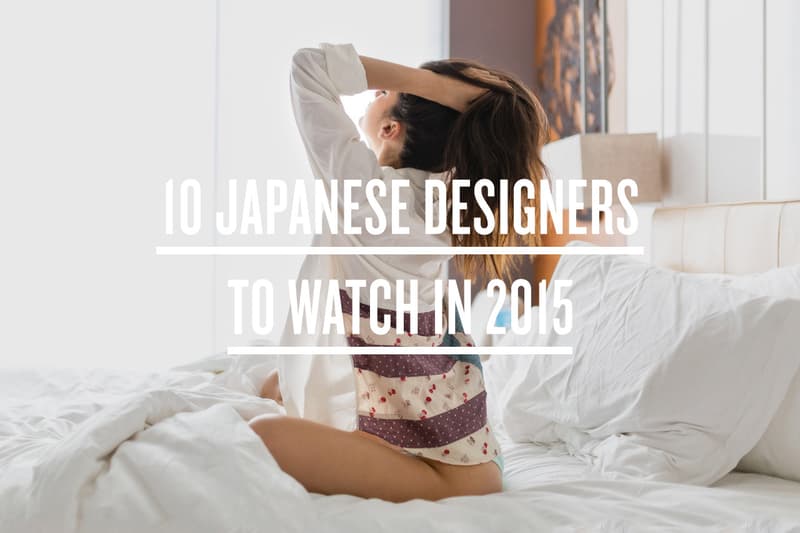 For many years, the Japanese have been paving the way for others in the fashion industry with their inherent focus on excellent craftsmanship. However, this should be of little surprise with their meticulous attention to detail and fabric selection. While there have already been a slew of well-established brands that spawned from Japan, we continue to see a number of burgeoning labels that look to cement their place among these staples. Like many of their peers, each and every one of these imprints place great emphasis on a quality approach to everything. From the utilization of premium textiles, to the dying arts of age-old dyeing processes, customers can rest assured that they are receiving a carefully considered product, as well as being in line with the signature Japanese aesthetics. In no particular order, here are 10 Japanese designers to watch in 2015. Let us know what you think in the comments below and make sure to check out The HYPEBEAST Watchlist for things to keep your eye on this year.
---
AS2OV
Former master-piece designer, Taichi Fujimatsu brings his skills to his own label, AS2OV. The design house blends functionality and unique aesthetics into its products to produce something that is timeless yet distinct enough to stand out on its own. While deceptively subtle on the eye, the bags pack a multitude of compartments and straps to carry all the essentials you can think of.
---
Meanswhile
Making its debut in the latter stages of 2014, Meanswhile was founded on the philosophy that "design is a means to an end, not the end itself." The offerings comprise of basic garments but with a twist and an injection of character. Whimsical cotton shirts incorporate collars sewn to the shirt itself and sideways roll-top backpacks are constructed with Cordura for an emphasis on quality.
---
Man of Moods
Masakazy Fukuyuma's Man of Moods is a strong outlet for his penchant for outdoor exploration. Great focus is placed on technical materials and components, rounded out by the unique precision of Japanese tailoring. Man of Moods strikes a balance between offering products that are suitable for the outdoors, while being versatile enough to transition into the normalities of everyday life.
---
TALKING ABOUT THE ABSTRACTION
TALKING ABOUT THE ABSTRACTION is heavily influenced by themes of vintage Americana and workwear, cohesively blending them with signature Japanese touches. Relatively unstructured in the silhouettes, the garments incorporate interesting prints and motifs such as paisley with touches of Navajo. The aesthetics of the brand are reminiscent to the '70s but its retro styling brings everything together for appropriate contemporary wear.
---
ts(s)
Takuji Suzuki's ts(s) has taken a step away from its affinity for dress design; instead, it now focuses on workwear and military themes. Bringing the skills learned from his career as a freelance stylist, editor and creative director, the 2015 spring/summer collection is an interpretation of perceptions in formal tailoring. Color palettes are kept light and airy, with almost a Mediterranean feel yet is intrinsically rooted in the Japanese philosophies of detailed garments and unique textile combinations.
---
TAKAHIROMIYASHITATheSoloIst.
Takahiro Miyashita shocked his loyal fan base when he left his much loved label, Number (N)ine, but all breathed a sigh of relief when in 2010 he announced his new solo project, aptly named TheSoloIst. Miyashita has a strong veneration for American culture, style and aesthetic, expressing this in his unique and intricate pieces. The label harnesses the look of contemporary Western motifs by incorporating elements such as leather boots, caps, plaid and denim fused with a distinct Japanese touch.
---
D.TT.K
D.TT.K is a result of mashing together contemporary designs and streetwear in perfect harmony. The label began in 2012 by a collective of Japanese street artists, lead by head designer Detto K. The brand is never afraid to be bold with loud color palettes and its penchant in blending different fabric types. The aesthetic of the brand gives a nod to both '90s rave culture and motocross, utilizing retro graphic prints and oversized silhouettes in their garment cuts. D.TT.K items are statement pieces made with superb craftsmanship and attention to detail, offering bold alternatives for those who seek it.
---
VAINL ARCHIVE
Apparel brand VAINL ARCHIVE looks towards throwback aesthetics but transforms them into something appropriate for the modern day. Pinstripes, tartan, checkerboard and more are all themes that run rampant throughout the collections. However, the loud motifs are tastefully presented in what some could call a street-driven aesthetic.
---
08sircus
Contemporary label 08sircus indulges in the interpretations of silhouettes and prints of modern day European tailoring. While draping, elongated fits and loose silhouettes are its distinct aspects, there is a strong sense of cohesiveness in the resulting aesthetics. The brand is unafraid to take unorthodox approaches in its placement of details and interesting spins on classic prints such as floral as well as windowpane.
---
Launched in 2010 by Satoshi Okugawa, CIVILIZED embodies a minimalist aesthetic, carefully balanced with function and sartorial elegance. The label offers a versatile selection of utility-inspired menswear, incorporating eye-catching patterns into its monochromatic pieces. Inspired by modern interpretations of gothic symbolism, Okugawa creates pieces that embody a subdued and enigmatic aesthetic with sleek silhouettes.