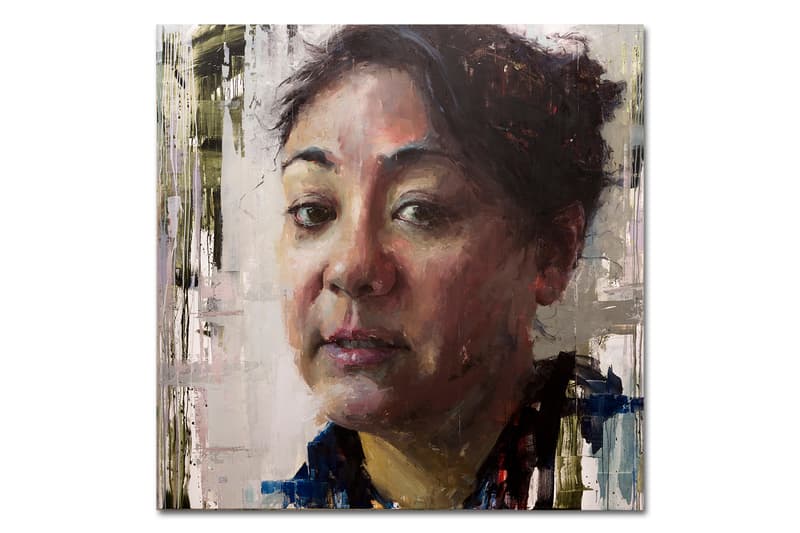 Aron Belka of New Orleans Wins Grand Prize at the BOMBAY SAPPHIRE® Artisan Series
The 80" x 80" portrait of his wife won first place amongst a slew of talented artists.
---
Congratulations to Aron Belka of New Orleans, LA — winner of the prestigious BOMBAY SAPPHIRE® Artisan Series for 2015. His painting, titled "THE ALTRUIST," is an oil on canvas portrait of the artist's wife Lina Moses. Aron states that the inspiration behind the portrait is stemmed from Lina's position as an epidemiologist and disease ecologist during the Ebola crisis in Sierra Leone. "She was on the front lines of the Ebola response since the first days of the outbreak and spent nine months in West Africa during the height of the epidemic," says Belka. The 80 inch square artwork holds a dramatic tone to its aesthetics while also maintaining true to the title as Lina's selfless efforts that one can see in the eyes and expression of the subject.
The BOMBAY SAPPHIRE® Artisan Series also saw Shawn Warren of Chicago, IL as the runner-up and Becky Rosa of Miami, FL as the people's choice winners at the acclaimed search for artistic talent. Warren's triptych oil painting "Axiom" is a depiction of the artist's younger brother Anthony and his determination to succeed, while Rosa's "BIRKREAM" is a 6-foot tall standing ice cream sculpture that is inspired by her "infatuation with high fashion and Miami's excessive love of consumerism." All three winners will each have the opportunity to create a mural in their hometowns set to unveil this spring and the Aron Belka will receive a solo exhibit at SCOPE NY in March.