A Guide to Watches: Part 3 – How to Buy Your Next Watch
Every watch tells a story. Sometimes passed down, sometimes waiting to be told. Or maybe the story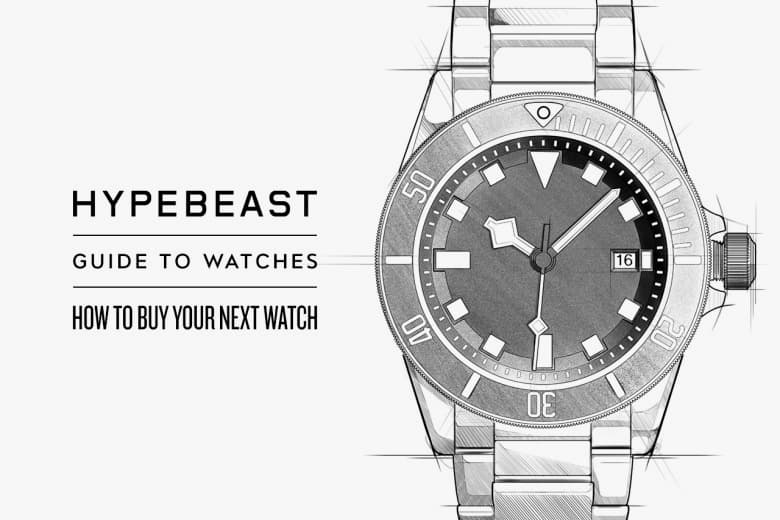 1 of 2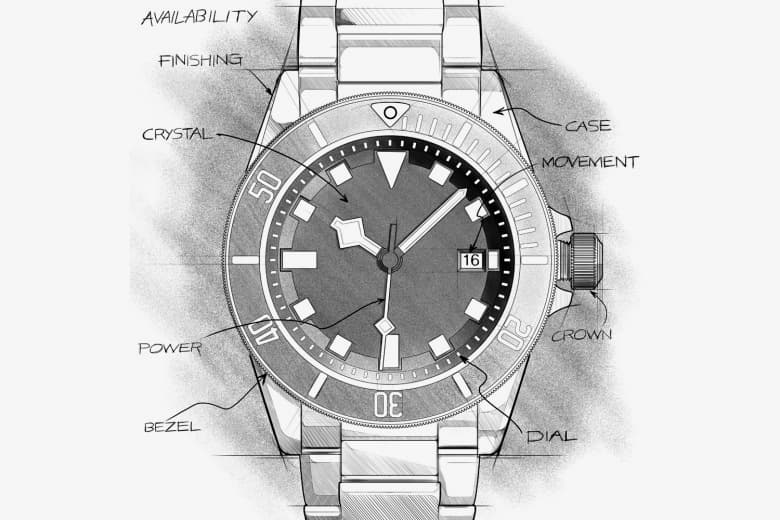 2 of 2
Every watch tells a story. Sometimes passed down, sometimes waiting to be told. Or maybe the story is the watch itself — hewn from a solid block of tegmented, submarine grade steel, repurposed from the cockpit dial of a retired WWII-era fighter, or containing stones salvaged from the tallest peak in the world.
Either way, you've found the watch whose story speaks to you, completing your look and telling the time through the immutable style of a flick of the wrist. But what makes it worth your hard-earned cash? From materials and craftsmanship to critical componentry, there is a wide range of criteria that can spell the difference between a $100 watch and a $10,000 watch — starting with where it was made. And while the confidence of "Swiss Made" is one of the most recognizable and powerful marketing tools employed by the watch industry, it's hardly a definitive stamp of quality. Look deeper, and you'll also find quality timepieces made in Germany, the United Kingdom, Japan, the United States, and even China. But regardless of origin, since sheer quality is impossible to fake, here are just a few things to look for in a superior timepiece.
---
Things to Consider
Availability: In the modern age of mass production and distribution, "limited edition" doesn't always spell exclusivity. Know the quantity and the market to determine if "LTD" is worth the extra coin.
Power: Quartz vs. Mechanical: We've already covered this, but the guts of the watch are critical — expect a quality mechanical watch to start at two to three times the cost of a quartz.
Case: Not all composites, precious metals, or alloys are created or shaped equal. Expect to pay a premium for custom machining in ceramics and carbon fiber, solid precious metals (rather than plating), or alloys like surgical stainless steel and titanium with greater hardened properties and corrosion-resistance.
Crown: Due to tighter tolerances and greater complexities in machining, a screw-down crown adds better water resistance, and thus sometimes commands a slightly higher premium than a standard push-pull crown.
Crystal: Scratch-proof synthetic sapphire will always cost more than an acrylic or mineral crystal, but will likely still look new after several years of regular wear.
Bezel: On many sport watches, a fixed or rotating bezel usually protects the edges of the crystal while displaying additional timing information. Aluminum or steel bezel inserts are the most common, but an upgrade to a ceramic insert gets you scratch-proof protection and added resistance to UV damage.
Dial: Texture and color; like applied (raised) indices, generous luminosity, and a chapter ring or handset that play with the light are just a few signs of an extra measure of care beneath the crystal.
Movement: There are precious few companies capable of mass-producing in-house movements — Rolex and Seiko being two such examples. The vast majority of other watch companies rely on outside sources to supply the movements. While there's nothing inherently wrong with this, avoid paying an excess premium for watches powered by stock ETA, Sellita, or Rhonda movements, as these parts often lack the finishing or exclusivity typically reserved for watches with in-house movements. Some companies like Muhle-Glashutte buy stock parts and modify them heavily to suit the needs of their watches. These performance upgrades are usually the bridge between off-the-shelf and fully in-house movements.
Finishing: There are many ways to "finish" or fine-tune many of the minute details of a watch, from its polished case or bracelet machining, to the bezel tension and smoothness of crown action, or even to the movement itself, which might have Geneva stripes, blued screws, or decorative perlage. Good finishing always adds visual appeal, but complexity and length to the production process, separating the wheat from the chaff and often spelling the difference between $200 and $2,000.
Even still, while there are infinitely many other manufacturing details that can impact a watch's value, its regular availability, distribution channels, and the brand's pedigree (re: "marketing budget") will often spell the greatest disparity in price. Fret not though, as there are still plenty of amazing watches just waiting to be found — ones that proudly maintain the rich traditions of their predecessors while maintaining modest price expectations.
---
Buying New?
If you're planning on buying the watch new, your foremost option is usually to start with a trip to the local authorized dealer of the watch. From here, you'll have firsthand access to trying on the watch along with the personalized service that comes with any good shop. This could include access to extended warranties, fitting or service benefits, or price breaks on later purchases — whatever you get, it never hurts to make friends with the guys around the corner before you start nosing around online.
More often than not, there are better deals to be found online, but be aware that while many less than scrupulous retailers aren't in the business of selling fake or replica watches, there are plenty of 'grey market' products (display items, returns, dead stock, etc.) floating around the internet waiting to be snapped up for the best deal. When purchasing online, confirm that your dealer is authorized by the watch company to ensure you have full access to any applicable manufacturer's warranty. Repair bills can easily eclipse the savings from a slightly better grey market deal, so choose accordingly.
---
Buying Used?
The used market is an excellent place to find gently loved watches, sometimes at a considerable discount from their original asking price. While it's always of foremost importance to "buy your seller (ie: their reputation)," the Internet is rapidly evolving the ease of consuming watches in the secondary market. Consider shopping through reputable sites like Chrono24, who act as a third-party marketplace to host innumerable listings of verified sellers, or Crown & Caliber who directly maintain an inventory of quality consigned watches, hosting and shipping each listing themselves and providing each buyer with a personalized level of customer service.
---
Buying Vintage?
From rugged Heuer chronographs to the pioneering Omega Seamasters, there is a host of amazing and readily affordable vintage watches to be found on eBay. But remember, the same rules still apply — and perhaps more importantly than before. Don't buy the watch, buy the seller and learn as much about the specific watch as you can. Since authenticating the movement is often the best means of verifying the watch itself, always request photos of the watch's internals, and be sure to confirm when it was last serviced. If it hasn't, be sure to factor in the cost of a full overhaul into your purchasing budget. Oftentimes, a well cared-for vintage watch will have a service record which can be supplied to any subsequent buyers. It's also important to understand the difference between fully authentic, and refurbished watches, so you can be prepared to pay accordingly.
Regardless of what you choose to buy, or where or how you choose to buy it, remember that watch collecting is just as much about the chase as it is about the inevitable catch. Find watches that speak to you, learn to enjoy the process, and don't settle for anything less than what you had your heart set on in the first place. And as always, wear that latest catch in good health.