HYPETRAK Presents: Jerry Bouthier 100% JBAG Kitsuné Soleil Mix
Internationally renowned provider of sophisticated electronic sounds, Jerry Bouthier has compiled a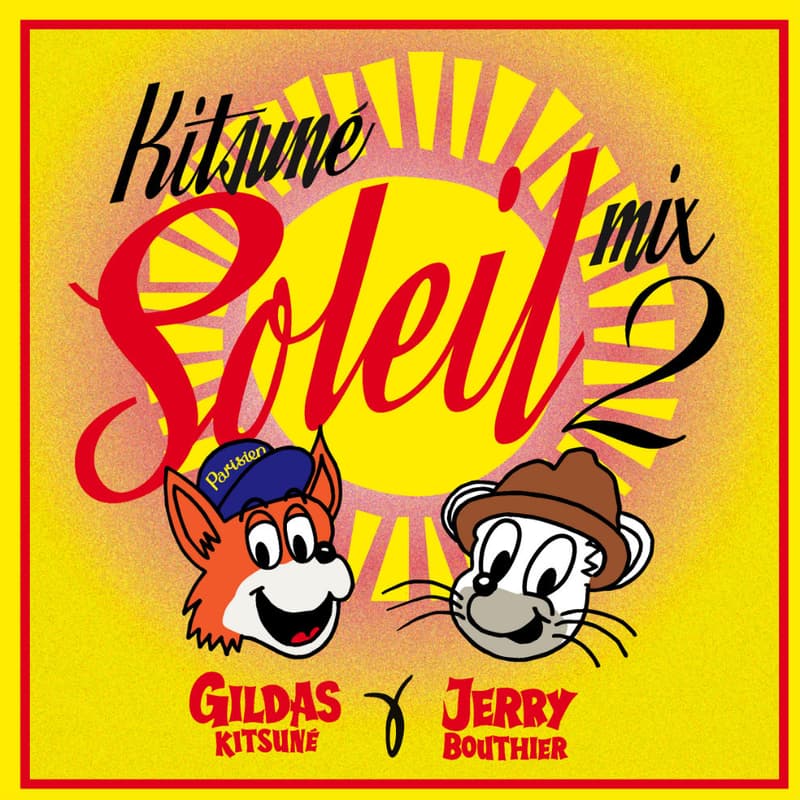 Internationally renowned provider of sophisticated electronic sounds, Jerry Bouthier has compiled a mix in honor of new mixed project with Gildas Kitsuné Soleil 2 — available on iTunes. With select tunes from the likes of Two Door Cinema Club, Ladyhwak, Gigamesh and more, we are treated with a thorough preview of the upcoming release. Coinciding with this mix, Bouthier is also currently touring Asia and Australia as part of the ongoing Kitsuné Club Night Soleil tour, which will bring the featured in front of a partying live audience. Or to put it in Bouthier's own words?
"This 100% JBAG mix – the first ever – was done to celebrate the release of my new mixed cd with Gildas: Kitsuné Soleil 2. Selecting music around the sun theme is perfect for me who loves nothing more than good vibes and deep feelings. Gildas and I aim at gathering an exciting selection that's both entertaining and a little challenging too. The usual Kitsuné business really… and hopefully the perfect soundtrack to your summer, that's the idea. Play loud."
If you happen to be in Hong Kong this upcoming weekend, make sure to stop by Kee Club for the next date of the tour. The line-up consist of Bouthier himself as well as Jay Pelmet and Mike The Unstoppable. The first 25 to get inside will have a tote bag and a Kitsuné Soleil Mix 2 CD. See the party flyer and all dates plus tracklist of the mix below the player.
Kitsuné Club Night Soleil Mix Asian & Australian Tour:
01/08/2013 – Liberty Club – Melbourne – w/ Jerry Bouthier, Glass Mirrors, Clubfeet DJs, Chela, Staggman, Lucianblomkamp
01/08/2013 – Rocket Bar – Adelaide – w/ Jerry Bouthier, Luke Million, Jonathan Terrific, Sno Drop, Acey, Mike Wills, Deep Trouble, Joe Andrew
03/08/2013 – Elsewhere – Gold Coast – w/ Jerry Bouthier, Audun, Giv and Stretch
09/08/2013 – Villa Nightclub – Perth – w/ Jerry Bouthier, Clubfeet DJs, Luke Million, George Air, Manimal, Craig Hollywood, Jo Lettenmaier, Lightsteed, From Hell and Tiny Club
10/08/2013 – Civic Underground – Sydney – w/ Jerry Bouthier, SüFür, Softwar, Clubfeet Djs, CSMNT61, Charlie Chux, NES, Jonathan Terrific and Touch.Pause.Engage
13/08/2013 – Fowler Bar – Brisbane – w/ Jerry Bouthier, Jad & the Ladyboy, Tim Fuchs, Bow Tiue, Nicholas Doof, Jawgoh, Joey da Rin and Manbear

Kitsuné Club Night Soleil Mix Asian Tour:
27/07/2013 – Kee Club – Hong Kong – w/ Jerry Bouthier, Jay Pelmet, Mike the Unstoppable
17/08/2013 – Osaka – w/ Jerry Bouthier, Kill The Hero and more to be announced
JBAG – Mogadisco
Kamp! – Cairo (JBAG Remix)
Housse de Racket – Château (JBAG Remix)
Reflex – Wavering (JBAG Remix)
Two Door Cinema Club – Next Year (JBAG Remix)
Arnaud Rebotini – Another Time, Another Place (JBAG Remix)
Shindu – Happy House (JBAG Remix)
Fancy – 69 (JBAG Remix)
Ladyhwake – My Delirium (JBAG Remix)
Jupiter – Starlighter (JBAG Remix)
Gigamesh – Your Body (JBAG Remix)
Punks Jump Up – Get Down (JBAG Remix)
RÜFÜS – This Summer (JBAG Remix)
Bunny Lake – Army Of Lovers (JBAG Remix)
JBAG ft Louise Prey – X-Ray Sex
Join Our Discussions on Discord
The HYPEBEAST Discord Server is a community where conversations on cultural topics can be taken further.