Gary Warnett: KNOWLEDGE REIGNS SUPREME
Given the amount of publicity that has been stirred lately surrounding the ongoing legal issues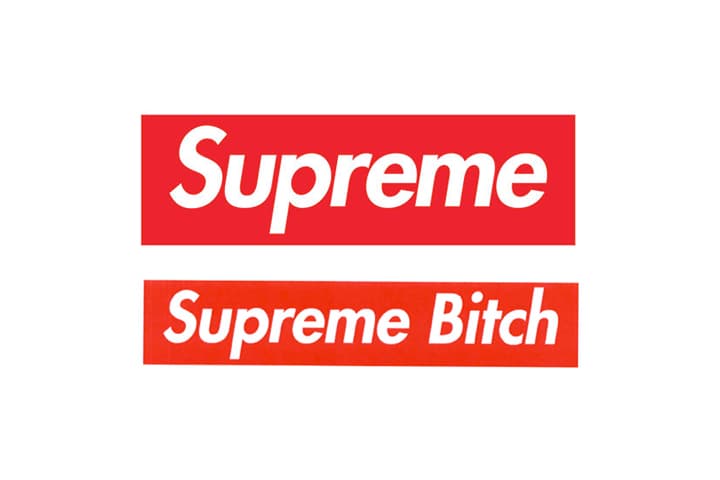 Given the amount of publicity that has been stirred lately surrounding the ongoing legal issues between New York's Supreme and Leah McSweeney's Married To The Mob, it has become increasingly more difficult to separate the truth from the lies and the facts from the fiction. And amidst the talk and jargon on both sides of the issue, it does seem that there has been a majority shift of those whom have taken the side of McSweeney and her cries against what she called Supreme's "misogynistic vibe." Perhaps this is in part to the lack of response from the Supreme camp and it is most certainly fueled by the vicious cycle that is the Internet's viral rumor mill that perpetuates minimal fact checking and a lot of opinion sharing. Offering another perspective on the issue, longtime friend of HYPEBEAST, Crooked Tongues affiliate and freelance editorial veteran, Gary Warnett has penned the latest opinion piece titled, "KNOWLEDGE REIGNS SUPREME." The write-up focuses in on a refreshingly thorough examination of the Supreme and Married To The Mob issue at hand. Read an excerpt below and check the full write-up with accompanying imagery here on Gary's blog.
Everyone loves to gossip, and watching beef unfold digitally is an undeniable pleasure. Spectating on Splay back in the day or witnessing Superfuture rumour mongering and being a voyeur to some TMZ-esque talk of Downtown scandals was entertaining. Long before that, I liked the litigious post-exodus angry Steve Rocco era of skating, where Simon Woodstock could seemingly be erased from being through legal threats from a man who once worked those first amendment rights to the absolute limit.

The streetwear and men's style blog realm frequently has slow news days — that means closer looks, a GQ photoshoot, another generic lookbook or a teaser for a summer blockbuster. So it's understandable that the recent Supreme and Married to the Mob legal talk, claim and counterclaim has been dissected in order to get that precious traffic. I've been a little perplexed at the amount of people rooting for MOB in this situation though, painting a curious picture of the oppressed women against "the man" dwelling in his vast box logo covered corporate headquarters, because that's not the case.

I respect Supreme a great deal for their ability to stay relevant and capabilities for keeping it thorough — that's not to say that everything they put out is relevant to my interests, but they're operating on so many channels right now that the old GAP for skaters summary is fully deaded in favour of a bigger picture. So I can understand why they're trying to stop a trademark. If someone tries to jack your logo with a dose of witless misogyny at the end, you're probably going to get a bit litigious — it's a case of battling direct appropriation re upped to make some quick cash. Was Barbara's name mentioned when the original Supreme Bitch shirt was put together? I wouldn't know, but it only ever seems to get thrown around when things get negative.

Get popular by doing things well and schadenfreude is an inevitability at any perceived stumble. The problem with not talking too much is that it breeds assumption. Googling Supreme will bring up a mass of message board lore. Mythmaking is an inevitability, like the tale of Shortypop being paid off for the box homage (contrary to the occasionally distributed cheque image, that apocryphal payoff never happened) or Supreme not having the Supreme trademark, which dates back to a remark made in an Interview piece — since then they've obtained trademarks. Part of having a trademark is that you're obliged to defend it — failing to defend it can result in losing it. Then there's America's right to common law trademark ownership. So what's the big problem here?

Supreme have recently filed an answer to the counterclaim from Married to to the Mob and it makes for more interesting reading. Married to the Mob has put out some strong work solo and alongside KAWS, ALIFE, Colette and Nike (those Chanel references on that shoe are homage done very right) over the years. A female-centric streetwear brand is still a part of the market that could be taken by someone willing to be as fastidious as the luxury lines we like to ape, but it's a market that has only been partially tapped. The Supreme Bitch tee was funny nine years ago for its "is it or isn't it?" collaboration status (see also, Zoopreme) back in the Retail Mafia era when the online hype sector seemed significantly more niche than today's big numbers and mass appeal. As its own line, it's just a Supreme bite, eating off of the Supreme brand's popularity. If you're granted one loose collaboration, are you allowed to make a ton more on your own several years later and go to get the trademark for both labels?

Read the full Op-Ed piece on Gary's blog here.