Stussy: Hand-Picked J Dilla Favorites from Brent Rollins, Nosaj Thing and More
Prolific, legendary and innovative, J Dilla was one of the leading producers of our time, his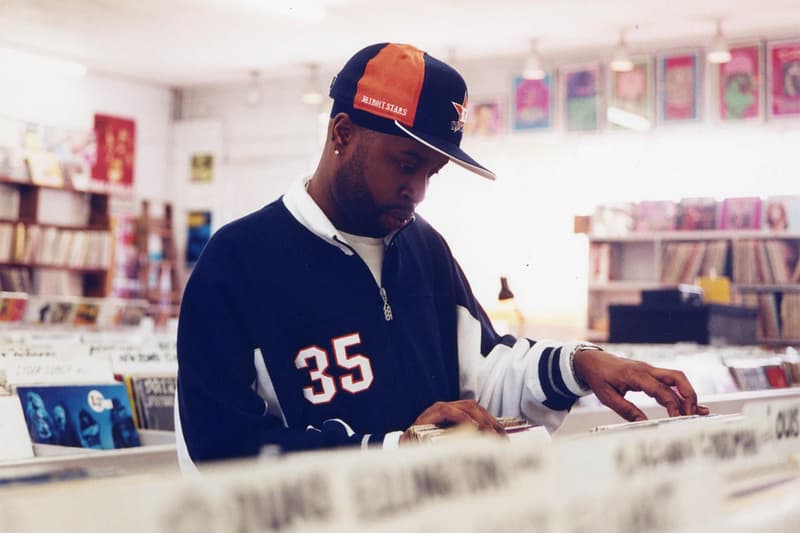 Prolific, legendary and innovative, J Dilla was one of the leading producers of our time, his influence still felt throughout music today. Across genres and subjects, Dilla amassed a myriad songs, albums and general contributions to music, art and fashion. His laid-back, yet infinitely layered production style is still a beautiful puzzle to listeners today. Around the anniversary of what would have been his 39th birthday (February 7) and coinciding with the release of the Dilla-inspired World Tour tee, Stussy observes Dilla's contributions to music with handpicked favorites from those that knew his music best.
Larry Gus (DFA) – Producer/Musician
http://www.facebook.com/larrygus
http://dfarecords.com/artists/larry-gus/
- The Roots – Dynamite!
I was 16 y.o. back in '99 when Things Fall Apart was out, and i bought it because of You Got Me. It was my third hip-hop album (after It Takes a Nation of Millions and Hello Nasty) and of course i had NO idea who was the producer of that track, but it hit me so hard, i was speechless. I couldn't get my head around to think who were the performers of this amazing guitar/bass interplay, so loose, so amazing. I still can't, after all those years.
- Steve Spacek – Dollar
In Greece, there is still this thing called Compulsory Military Service, and i spent the 2007-08 season serving the army. It was a year and a half after Donuts, and i stumbled upon those 3 Beat Tapes, and it was the best thing that ever happened to me. These had a huge effect on me, they still do. The sound was somewhere between Donuts, and the classic Dilla productions. It was gritty, unpolished and genius. Dollar was beat #18 on the first of those beat tapes. I love the intro, i love the abrupt cut of the loop. And then the beat itself, it feels almost as if it implies a thousand things more than it actually contains. How did he do that? It's been always a thin line between awe and intimidation.
- Jay Dee – Beat #14 / Beat #17 / Beat #27 / Beat #30 / Beat #35 from Three Beat Tapes (1st)
- Jay Dee – Beat #6 / Beat #22 from Three Beat Tapes (2nd)
- Jay Dee – Beat #6 / Beat #14 from Three Beat Tapes (3rd)
Things are like a dream here, this is the sound of skies that open-up, the trees talking to me while i am running in the park, waving my hands in the air, feeling happy just by the notion of music itself, listening to the same kick over and over again, those chops, picturing him on his MPC, there is a world in there, i don't know if i could ever get over it.
- Jay Dee – Nothing Like This
Well, this is the perfect pop song. I could swear that this is an Ariel Pink recording.
- Erykah Badu – Didn't Cha Know?
That's when i realized who Jay Dee was. I have no words for this track, there was a summer where i looped the beat and i had it playing for a week, constantly, i wasn't listening to anything else, nothing at all, and it's funny because i can still cry when it comes up. It's just perfect. And THAT small guitar lick!!
Nosaj Thing – Producer/Musician
http://www.nosajthing.com
http://www.facebook.com/nosajthing
- A Tribe Called Quest – Find A Way
Lucky to be alive at this time when music like this was on the radio…I feel like I can't even explain anymore…all of these are classic and self explanatory.
- Dilla – Don't Cry
Next level sample flip.
- A Tribe Called Quest – 1nce Again
Had an instant connection the first time I heard this and had it on repeat…I was young…in middle school trippin on the artwork.
Adam Jay Weissman – Art Director, Stüssy/Beatmaker, Pollyn
http://www.facebook.com/pollynmusic
https://soundcloud.com/pollyn
- Crustation – Purple (A Tribe Called Quest Edit)
It may say A Tribe Called Quest Edit on the label, but the snare is all Dilla. And it's not even an "edit", it's a remix. I'm sure the label thought they would get more excitement from a Tribe version than an Ummah Remix. The first time I met Dilla I nerded out with him about this song. It's one of my favorite songs of all time. If I were to make a mix tape of my life, this would be on it. It is quintessential 1997.
- Common – Soul Power
I'm not even a big Common fan, but I love this song. The consistent aggressive drums that just keep going and that synth way in front of the mix always floor me when the song comes on. And the snare is on the 1 Beat. Very different for a rap song.
- Four Tet – As Serious As Your Life (Jay Dee Remix)
When Dilla stepped out of traditional Hip Hop (and Neo Soul) it was always something special. A lot of those remixes and tracks are some of my favorite pieces in his discography. For me I get excited when a producer plays in different genres. Dilla did that, and always killed it, that's why he's one of the greatest.
- J Dilla – Wild
I love the kid vocal sample. I love the unorthodox drums. It sounds like he's having fun with this song. This is one of my favorite tracks with him rapping on it.
- Slum Village – Climax (Girl Shit)
Laidback grove, rhodes organ, and strong chorus. This song should've been a hit. The thing about a lot of Dilla's work, is that adding him to the musical equation changes the outcome. I always found girl/sex raps a little boring, but this song is great. "Fall in Love" is another example of this from the same album. Both favorites.
Brent Rollins – Artist/Art Director/Graphics Don
http://brentrollins.com/
http://egotripland.com/
- Slum Village – Fall in Love
Honestly, the early neo-soul Dilla sound was a little over produced for my tastes at the time. But the Gap Mangione loop, and the Kermit the Frog vocals added the right weirdness to win me over.
- J Dilla – Fuck the Police
This is the first Dilla song to really grab me, for two reasons. One, It's ballsy to name your song after one of the most famous rap songs ever, and two, it isn't' "lush-sounding" like how I associate his earlier productions. It's all about the drums, and he's really nice on the mic.
- J Dilla – Workinonit
I love this because this is an excellent instance of applying hip hop principles/techniques with "non-black" music (like Rick Rubin's early work for LL Cool J) to actually make "black" music. It's really raw and pure aesthetically.
- J Dilla – Nothing like This
It's haunting and psychedelic. It makes you perk up your ears and bug out.
- Q-Tip – Move
This is just an exciting song. "Dancing Machine" is one of the Jackson 5′s sickest recordings, and the way this is chopped up is just ridiculous. With or without Q-Tip, it's a scorcher.
Jeff Jank – Art Director, Stones Throw Records
http://jeffjank.com
http://www.stonesthrow.com/jeffjank
- J Dilla "Intro" (from Ruff Draft)
I hate to be a nerd and highlight an spoken-word intro as a favorite, but
this is no ordinary rap album intro. For one, it's a perfectly
bullshit-free of telling you that the record is bullshit-free ­ "ŠReal live
shit, sound like it's straight from the ma'fuckin cassette Š Ruff Draft,
let's do it!" ­ seventeen seconds, not a second more than it needs to be,
and it's onto the music. But looking at it later, appreciated it even more
in the context of his career. Here is an artist who was making major label
hits, and just after having just been through his own frustrating experience
with a major deal fallen apart, it was a statement: I'm free.
- Bilal – Reminisce
I remember hearing this for the first time, feeling like I was listening to
what would surely come to be known as one of the greatest records of this
era. I wasn't exactly right, but now I think of it as one of the most under
appreciated records of that era.
- J Dilla & Guilty Simpson – "Man's World" (white label)
A top notch old school flip, the "you know the oldie, now here's how i do
it" type of beat, where so many other producers proceed to ruin the oldie.
Guilty Simpson complimented this perfectly with a narrative showing the
confidence to be personal and the talent to do it without being sentimental,
similar to another classic, Gang Starr's "The Planet". One of the many
losses of Dilla's passing is that their album was never completed – the
tracks now lost or scattered around with different projects.
Jeff Weiss – Writer/Journalist (LA Times, LA Weekley, Pitchfork)
- Pharcyde – Runnin'
A Stan Getz samba sample, the Pharycde at their saddest, and the sense that on his first hit, time was already starting to slip away.
- Jaylib – The Red
"Yo what was that you said right there what was that?" Just the greatest producers of their generation using the same talons.
- J Dilla – Time (The Donut of the Heart)
What it's like to eat slowly and savor every bite because you know it will be your last.
- Janet Jackson – Got Till It's Gone
Joni Mitchell never lies.
- De La Soul – Stakes Is High
When keeping it real goes right.
Trevor Jackson – DJ/Musician/Artist
http://www.trevor-jackson.com
https://soundcloud.com/trevor-jackson
- Q-Tip – Go Hard
vintage drum machines + electronics in a rap track of the time was pretty
revolutionary
blew me away far more than vibrant thing an other tracks that were far
bigger at the time
both myself and kieran 'four tet' hebden used to spin this track
relentlessly
- Dilla – BBE (Big Booty Express)
a serious head nod to european krautrock and arpeggio weirdness, cemented
dilla firmly in my personal producer hall of fame
- Common – Soul power
this wonderfully highly experimental album was either totally slept on or
unrightfully ridiculed forcing common back to the formulaic mainstream.
still inspires me, this track especially, every song is full of more ideas
than most whole albums in the modern rap world
- J Dilla – Workinonit
only a genuine genius could flip 10cc's 'worst band in the world' like that.
when a track ignites your brain whilst giving you a class a screwface that's
testament to legendary
- Slum Village – Raise It Up
a US hip hop producer at the time having the balls (and ingenuity) to sample
thomas bangalter says enough really