AC/DC Fan and Artist Abdul Vas Talks About His Favorite Brand and Karma
Known for his aggressive creative style that combines American symbolism with his Venezuelan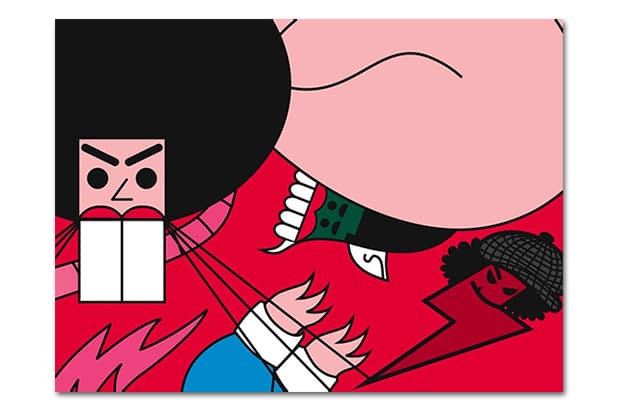 1 of 7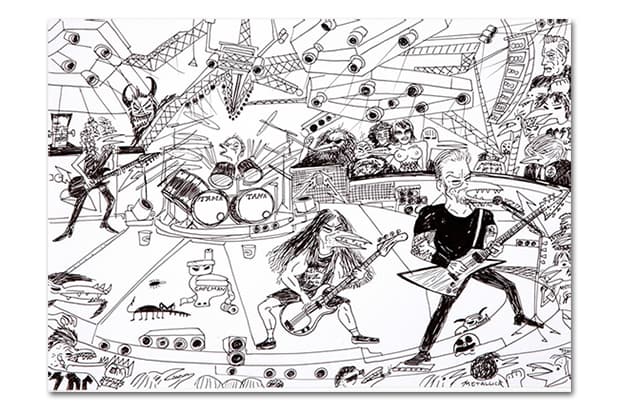 2 of 7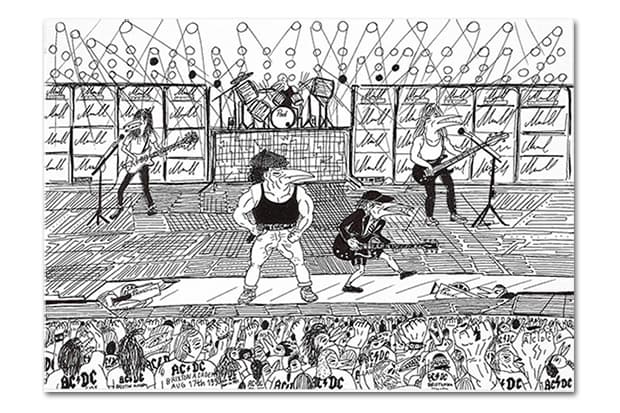 3 of 7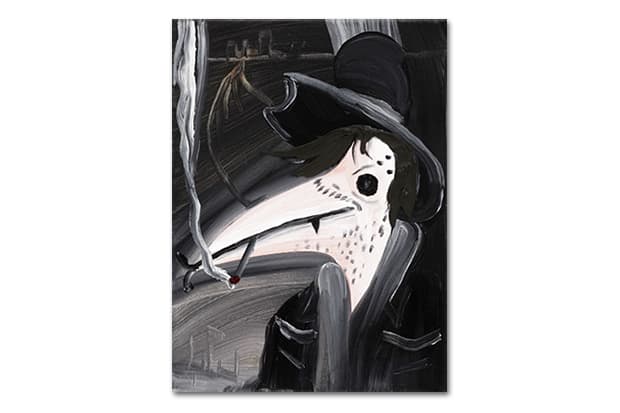 4 of 7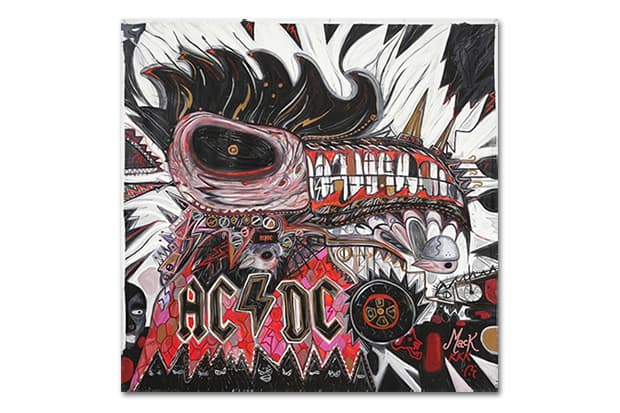 5 of 7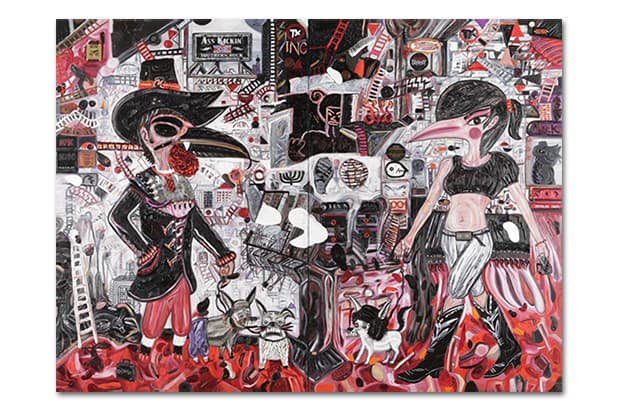 6 of 7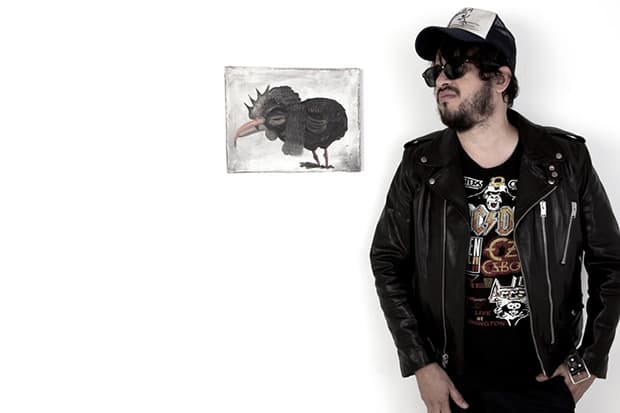 7 of 7
Known for his aggressive creative style that combines American symbolism with his Venezuelan heritage, Abdul Vas is equally renown for his zealot-like love for AC/DC. With the epic-scale energy and masculinity embodied by the American cowboy culture so prevalent in his paintings, it should come as no surprise that he would likewise choose to spread the gospel of the iconic rock band through his art. His first book For Those About to Power was a compilation of his work inspired by them that quickly sold out in Australia and earned him recognition with AC/DC's devoted fan-base. We recently got the chance to sit down with him and hear about his art and his obsession.
How did your interest in AC/DC begin?
I must say that my interest in AC/DC was born in a very beautiful way. It'll always help me remember my childhood and my uncle. It's thanks to him that I started to collect rock magazines of AC/DC and later objects. I sometimes relive those cool moments in my head, especially the times when we used to look at pictures of the band together. I even remember feeling back then, the same type of euphoria that I feel now when I go to an AC/DC concert. In fact, when I first went to my first AC/DC concert, I was totally mind blown! I immediately knew that I would dedicate my life to worshiping their masterpiece. It's true that apart from being pure, their music serves to remind us that we simply have to be honest to ourselves. I therefore hope that people see that my only interest in life is to dedicate my work to AC/DC. With regards to other fans, I know that many find my work cool and take it for what it is – meaning just another humble offering to the band because it's truly the only reason that drives me. I just want to make sure that the world never forgets that AC/DC is the greatest band of all time!
How do the aesthetics of contemporary fashion overlap with vintage rock styles?
I do not believe that contemporary fashion will ever be able to cast shade on vintage rock styles. Simply because vintage bands or should I say brands — call them what you will — have a true story to tell! I am referring to bands like AC/DC, the Ramones, ZZ Top, Black Sabbath, Metallica, and The Rolling Stones to name a few. In fact, many low-end fashion brands have merged these bands' designs into their ongoing collections because they need recognizable icons to be able to sell all year round. For this reason, I think that most of the contemporary fashion out there is more like throwaway fashion than anything else.
Are there any other bands that you think embody the spirit of AC/DC today?
I love to see when bands with an AC/DC essence make it to the top. In a way it's normal as AC/DC is now of public patrimony. That said, I also think that all bands should create and/or define their own style. In the end, we all want to have the real thing. I am sure that you'll agree with me when I say that nobody wants to waste their time with cheap copies of something. That is why nowadays, it is so difficult to find authentic bands! You know, I listen to music almost 24 hours a day. Especially when painting; so thankfully for me, there are some exceptions to the rule. '77 is one of these. These guys have understood the essence of rock 'n' roll. At the end of the day, only bands with a strong personality will continue to rock on like AC/DC.
What's the story behind the collaboration with the band '77?
It all started when Spanking Projects (my Australian PR office) came to me with the idea of presenting my first book For Those About To Power in Barcelona as well. They told me that the press conference was going to take place at a BBQ and that '77 would do a private concert for us all afterwards. Actually, the band and I met for the first time at this BBQ. My first impression was that I felt as if I had known them for a long time! So anyway, there I was, promoting my first book and broadening my horizons. I thought to myself, what a cool way to do business.
I recall them asking me if I could do something for them with a '70s feel to it.  We came to the conclusion that we needed to be audacious and by that point, and without even realizing it, we'd agreed to collaborate together on their next album's cover.
What drives you to be the best or try to achieve greatness?
My fetish character "Patticcas the mouse" resumes quite well what I feel at all times. Like her, I consider myself to be this small happy-go-lucky creature; surrounded by greatness. Although impressed by it, my outright curiosity procures me the vital inner peace that I need; in order to bounce back and/or to be able to move onto bigger and better things. Like "Patticcas" I am conscious of the fact that my moments of greatness only come when I am listening to AC/DC.
What was the defining point of karma and becoming a patient person?
In learning to be patient, I have also learned how to channel my energy flow. Keeping it positive has always helped me overcome those tough moments that we all consider insurmountable. And yet, after they pass? We somehow end up embracing them for what they are. Which is probably how I'd define experience if I had to describe it? I've always known that preserving my inner peace was far more important to me, than my typical human wants and needs. Actually, when I was younger, these "me issues" kept on screwing up my judgment. Now that I am older, I have learned to start believing in myself – which has really helped me deal with these types of issues on day-to-day basis. Here's the thing, it's of no secret to none that many art curators don't consider my AC/DC allegories as "art." Some have even gone as far as "telling me" that the only way that they could work with me would be if I decided to present paintings that were of no reference to the band. At first, it used to upset me. Whereas now, when I have to turn down an exhibition, it doesn't even bother me the next day! You see, I simply cannot modify my work and existence just for a couple of projects here and there. Patience is a virtue in life and despite its ups and downs, life has taught me to be true to others. I know for a fact that it's the key to staying true to myself. That is why, when "shit" happens, I just remind myself that my purpose in life is to narrate through art: the life of AC/DC.
Any last words?
Don't forget that next year is the 40th anniversary of AC/DC. Our generation has been given the unique chance (if not the duty) to salute them in 2014 like they deserve. For this reason, please allow me to suggest that if you can't make it to one of their concerts, that you at least buy one of their albums! I think we all need to be a part of this because their music is our legacy! It's therefore our responsibility to make sure that their rock 'n' roll prevails. Mark my words, they're the greatest band that humanity will ever know!