A Conversation With Matt Singer and Timberland's Creative Director Chris Pawlus
With decades of expertise under its belt, Timberland is not only reputable for its archival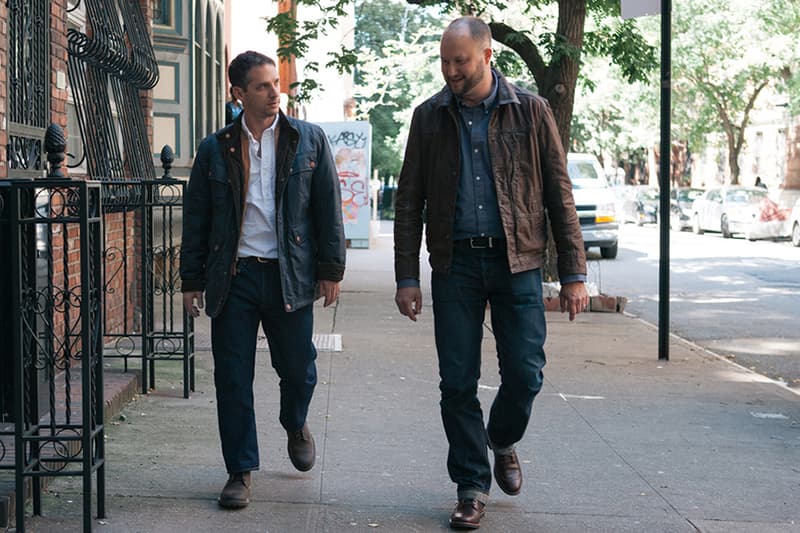 1 of 5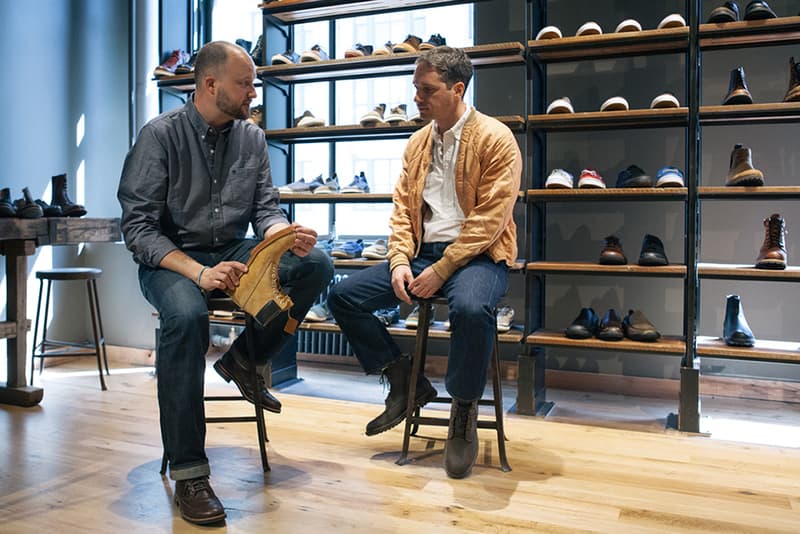 2 of 5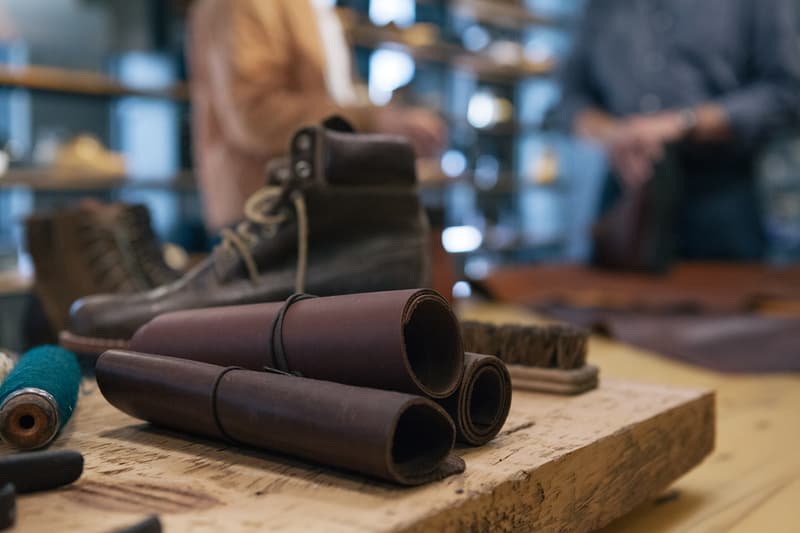 3 of 5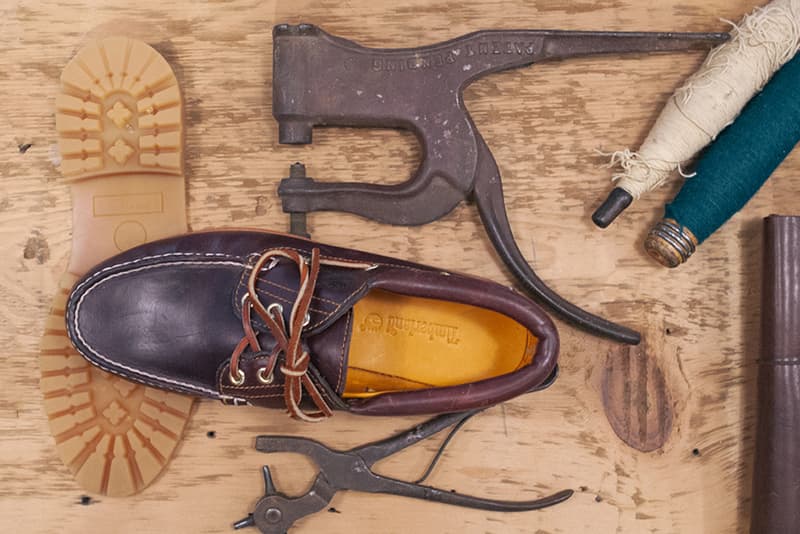 4 of 5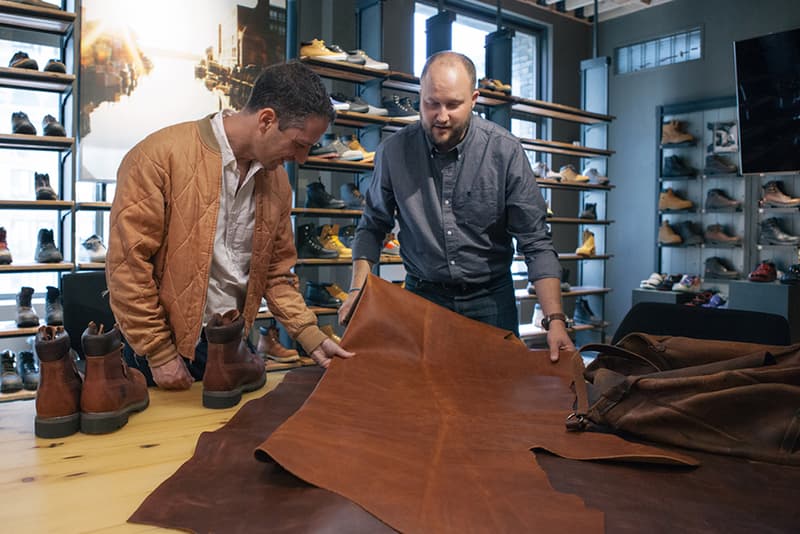 5 of 5
With decades of expertise under its belt, Timberland is not only reputable for its archival silhouettes, but its progression. With precision and heritage at its core, the New England-found label continues to demonstrate dexterity in its offerings, doing little to compromise style for quality. With Timberland's 40th anniversary in full effect, the longtime American imprint reflects on its celebrated tenure via a conversation between creative director Chris Pawlus and menswear designer Matt Singer. Here, the two discuss the brand's history and aesthetics, in addition to uncovering the concept behind the iconic tree logo. Pawlus also shares with us the design behind timeless pieces like the yellow 6" boot, defines the notion of "classic," and explains how touring boutique and vintage shops in Harajuku, Paris and New York in fact provide inspirations for the contemporary collection.
Matt Singer: What do you see as core inspiration behind this season's collection? Any specific concept that runs throughout? 
This fall is the 40th anniversary of our brand and the iconic yellow boot. There is so much rich history we could celebrate but ultimately we chose to focus on the heritage of the boot and the brand as our muse. We want to demonstrate our aesthetic roots with quality leather, and construction, and build on this heritage with rich leathers in our newer styles.
Tell us more about that heritage. How would you define the core DNA of the Timberland brand?
Today, I think the core DNA is the blending of three important ingredients that we are always looking to balance. Style is the first and most important, as the design always has to look great in the consumer's eyes. Next, whatever we create here at Timberland has to perform and work for you without issues. Finally, we call it green. What materials can we use to help this product be more ecologically conscious? Like recycled PET from plastic bottles – we use in linings and fabrics.
As a longtime outdoor label, what challenges do you often face at Timberland?
The challenge is often pushing our creative innovation while staying authentic in what we do. There's a lot of thought put into our design work which leaves little room for error. This ethos is seen even more as we strive to make products that are more ecologically conscious as well.
What are the certain motifs that have become iconic for Timberland, and where do you see the brand progressing going forward?
Character and style are key ingredients to a strong look . Hence, we will continue to draw on our heritage, our unique differentiation, but look at the past with fresh eyes while we continue to create innovative styles that exceed our customers' expectations. When the yellow boot was first developed, we wanted to put a trademark on the boot to show it was different, adding a tree logo to show how it could withstand the outdoors and that trademark lives on today, becoming an iconic label synonymous to Timberland. Everyone said putting a mark on the boot would ruin it and people wouldn't want to wear it. Instead the boot became a symbol of the brand and branded footwear. Being original has always been a part of our DNA.
Where do you find inspiration for your product design?  
Personally, I'm always looking forward and backward at the same time. I have real appreciation for craftsmanship and artistry from the past so vintage shops and flea markets are really important to me. For example, for the fortieth anniversary collection we looked upon a vintage postal bag that we acquired at the Brimfield fair in Massachusetts. For such a functional and durable piece, the bag has an amazing patina and time-worn finish about it that was a real inspiration. I love these vintage items which over time, take on a unique story themselves. Looking into our leather archives and by looking at the postage bag we were able to inspire a new leather.
What importance does Timberland's US-heritage have in the modern era of fashion?  
It's very important and I believe around the world, history and provenance are important underpinnings for modern fashion. Consumers want to know "where was this made?" On my market tours into Harajuku, Paris, Berlin, Rome, Florence, Copenhagen, Amsterdam, Los Angeles and SoHo, New York -– I find great boutiques and curated stores that feature locally made or even US-heritage product and it is a real inspiration to me. Since Timberland originated in a mill building in New Hampshire, USA — we find creative ways to tell that story when it makes the most sense, the rugged nature of our environment and the ingenuity borne out of functional needs from the people here.
How does performance and technical function apply to Timberland's designs?
We value functionality highly at Timberland, creating products with confidence and versatility at its core. Perhaps it's driven by our "boot maker" heritage that products we design need to look great and provide real utility. Again I look to our original yellow boot as a good example –- it was all about making beautiful clean leather that could stand up against New England rain and foul weather.
Next year, we're introducing a new concept called Sensorflex. A technology designed to combine timeless craftsmanship with innovative technology in producing lightweight silhouettes. We'll look to apply it onto shoes and boots, presenting clean and versatile products with updated attributes.
What is your definition of "classic" design?
Classic designs and productions are a reflection of those who created it in a given time. Certain designs span many generations and have a deeper human meaning which resonates, touching lives generations after them. In my opinion, classics come from two places at the same time. A classic starts in the mind of people who are daring or bold enough to pursue an original vision. But next, it's up to real people who are equally daring and bold enough to embrace those ideas, often to take a style forward and make it relevant over time. Ultimately it's really up to the consumer to interpret what is classic and what is not.