HYPEBEAST Trade: (capsule) Tradeshow
The Capsule New York Mens show is just getting underway at its new Pier 36 venue on South St. A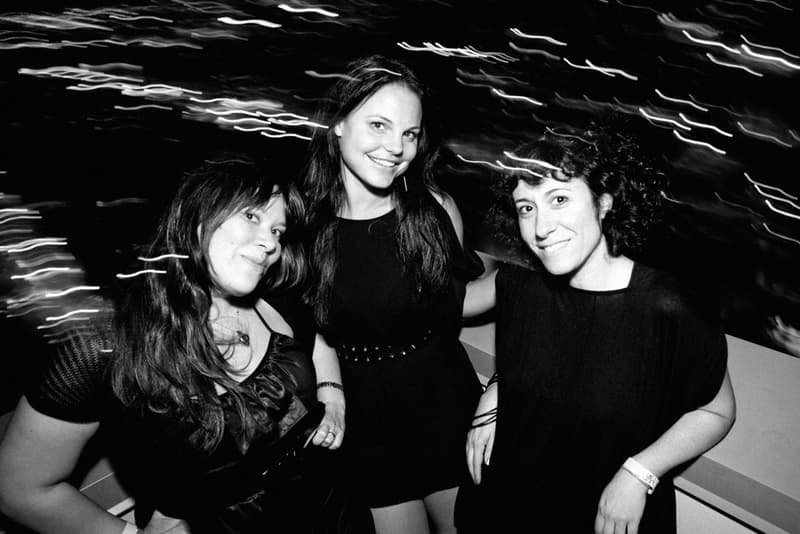 The Capsule New York Mens show is just getting underway at its new Pier 36 venue on South St. A high-end fashion and lifestyle trade show, Capsule carefully curates an eclectic selection of contemporary labels–both fresh and familiar, independent and major. Celebrating progressive design and evolving culture, the international trade show has gained quite a cult following since its debut five years ago. Having since then attained a high standard of aesthetic quality and branding, a selection of the best and most coveted designers are invited to take part. We meet the three ladies, Minya Quirk, Deirdre Maloney and Edina Sultanik, behind this mammoth vision (who are also the founders of agency BPMW) and pick their brains regarding the importance and positioning of tradeshows.
How would you define (capsule) in regards to positioning?
Minya Quirk: We're a niche trade show. We'll never be huge or mass but we are hugely influential in that our participants and attendees are the culture-makers and trend or pacesetters of the industry on a global scale. The award winners, the blog darlings, the indie superstars. The best of the best, we like to say. We love our brands and our retailers.
Deirdre Maloney: We also try to focus on authentic emerging progressive designers that we think will appeal to the top tier of the progressive retail pyramid. You know, the brands that all the cool kids wear.
Edina Sultanik: Capsule goes beyond just providing a platform for buying and selling clothes. It represents an international community of like-minded creative individuals who are involved in more than just fashion, including designers, artists, buyers, photographers, chefs, editors, DJs, entrepreneurs and bloggers. All their ideas and creativity go into the Capsule experience, resulting in a great vibe that's palpable at the trade show. It all results in a shared appreciation for craft, quality, and well-made, unique items.
What's the business model of a trade show?
DM: We can't speak for any other trades shows, but our business model has always been to get the best assortment of brands under one roof and foster a community, a meeting of the minds, a sense of discovery for buyers and press, order writing for brands, with good ambience and energy that make people walk away wishing every day was Capsule.  Since BPMW was a sales showroom first (before we launched Capsule), we've seen the importance of the trade show grow immensely over our eight years in business. Of course, we still do business in our showroom, but we do much more business during trade shows.  I'd say about 75% at shows. This wasn't always the case.
MQ: The fashion trade show business has changed a lot. A decade ago, MAGIC in Las Vegas was the place to be – they used to hype it on New York radio! Booths were three stories high, there were fashion shows every 15 minutes in tents in parking lots. In America, those days are over. You can still see some spectacle in Europe, but not here. Well, not anything you'd want to see.
What's the exact purpose of a trade show?
ES: Trade shows can set the tone or reflect how business in a particular tier of the market gets done. As trade shows evolve, so does the market.  Capsule is small, intimate, selective and international, and that scale and level of intimacy is reflected in the global increase in demand for smaller, quality brands with great back stories, and the growing emergence of independent boutiques worldwide.
What are the most difficult aspects of running a tradeshow?
DM: Dealing with all of our different venues and their various technical challenges, particularly in Europe. I mean, we are fashion people, but here we are solving power outages and lighting issues and trying to determine how many bathroom flushes we can expect for 2000 visitors a day! The rest of it is pretty fun. We have a very distinct vision of our show that eliminates grey area and makes it pretty easy and enjoyable to run our shows.
MQ: I agree. I think a lot of people don't realize that we, as an agency, execute everything related to Capsule, soup to nuts. We always have. We've got a sizable team now and it grows all the time, but we're still faced with so much – from negotiating venues to resolving signage issues to finding cute garbage cans. Show production is heavy duty! But in general, it's fun. We get to hang out with people we really love and admire, listen to good music, talk about clothes and call it work. We're lucky.
What is the process of finding and accepting exhibitors?
MQ: We started Capsule with a bunch of brands we were friends with, basically.  In five years the process has changed quite a bit. First and foremost, we invite the brands we love. But of course, lots of brands that may not be on our radar want to join us too! It's incredible to work as a jury to select ones we are impressed with and believe in. It's even more exciting when they join us and blow up!
DM: I think the close relationships we had with those brands initially has extended to others now. One of the things that people love about Capsule is its sense of tight-knit community. Everyone knows everyone! Over the years, Capsule has become more well- known and it's made our application process more and more difficult. Maintaining that sense of community is integral to our brand identity and that means we have to turn down lots of good brands to keep this. However, we need newness in our show, it's part of what makes it great too. We review hundreds and hundreds of brands looking for the ones we believe will work and flourish with us.
ES: Newness is definitely a large part of what makes the show great. People love Capsule because of the sense of discovery we foster at the show. Even the most well- researched editor or buyer will undoubtedly discover something new and fresh at every Capsule. We do a lot of legwork all year round to make sure we have the best assortment of compelling designers and content to inspire our visitors.  Our team travels extensively to keep up with what's new and fresh in key cities worldwide. We are very proactive in seeking out and inviting the world's most sought after designers to join our community, and we also rely on our Advisory Board—a global network of the world's most influential retailers, editors and taste-makers to make recommendations, as well.
From a business perspective, what is the goal each tradeshow (i.e. have more exhibitors)?
ES: The goal of each edition of Capsule is to provide a platform where people can be successful in their businesses and come out inspired. Ultimately, we've attained our goal when we provide one convenient location and atmosphere where the designers see great retailers and meet their sales expectations at Capsule, and also when the retailers see new trends and are able to buy what they need. We seek to supply all of this in one convenient location amongst friends – as long as everyone makes money and is happy!
Conversely, what about on a creative level, what do you strive to achieve?
MQ: From a creative standpoint, we try to make something we love and are proud of – just like the designers who show with us try to do that via apparel, footwear or accessories. It's a labor of love inspired by a myriad of things that are dear to us – art, culture, our friends and families, all the places we've been and wherever we're going. It's a love letter to the industry that the three of us have worked in for a long time. It's a way to work with designers, illustrators, vintage dealers and culture-makers we admire. Capsule is a personal project – just because we're so hands on and try to do things in our own way – and we hope that comes across in both the big picture and the details.  
ES: We also want to instill the feeling of a family reunion at every Capsule show. When I worked as a fashion editor the best part of going to trade shows were the social aspects. I loved seeing my friends season after season, in different cities, exchanging ideas, catching up, and also seeing the newest collections. I think we've succeeded in creating that vibe at Capsule in a more creative curated environment. Additionally, we like to view Capsule as a spotlight on emerging visual artists, furniture designers, chefs, musicians, and product designers.  Being able to showcase the work of some of the most creative people out there, who also happen to be our friends, is very fulfilling.  Our new slogan "In Good Company" reflects this feeling of being involved with a community of people who strive to be the best at what they do.
Are trade shows heavily affected by economic cycles? What is the general trend in times of recession?
DM: I think all business/commerce is at least marginally affected by economic cycles. Fortunately, during a time of recession, brands still need a platform to sell their product so trade show budgets are less affected than say, advertising or marketing budgets. During times of recession the biggest change we notice is buyer travel. Buyers who in times of prosperity travel to multiple cities in teams often scale back the number of people traveling, or the number of cities/countries visited per season.
MQ: Product-wise, the general trend in times of recession is to scale back and let good honest stuff shine through, which is actually great for a show like Capsule. We're so anti-bells and whistles and unnecessary fluff. We like things pared down to their essence. We've always been the underground kids working against the big business behemoths so while recession hits everyone in some sense, it hits the big guys harder. It also creates a need for nimble thinking, innovation and fast action. And we're good at those things.  
ES: The recession has actually spurred fashion designers at our level of the market to get even more focused and creative in how they do business. The global recession has not only resulted in a shakedown of the market whereby the weaker brands and stores were forced to shut their doors, it also provided the backdrop for a shift in how the fashion business works. As the Internet, e-commerce, and social media become more and more important in selling clothes, even the smallest designer or shop in a remote corner of the world can become a global phenomenon.   Our customer has shown us that if product is high quality, they are willing to pay for it, so designers are looking for innovative ways to make amazing clothes, often manufacturing locally, to reach a global marketplace without selling out.  Our mission is to help facilitate this.
How scalable is the concept of a trade show? You currently have several different cities covered, realistically could you hold one in every major city?
DM: I guess we could have a trade show in every major fashion hub, if we wanted to never have a day off or a life. Right now, we are focused on the cities we think are the most viable and most heavily trafficked from an international perspective for our particular market sector.  We love cities like Copenhagen or Los Angeles which have healthy fashion weeks and a following of retailers who visit there seasonally for buying, but they're much more regional than Paris or New York.
MQ: We really established the model of the global trade show. There wasn't any one show represented in so many major cities and when we began to blossom out around the world, it was really because we knew our family of brands needed the platform and could flourish everywhere we went. Now, of course, many other small shows have followed suit. Yes, I think Capsule is such a strong brand that it could travel to more cities and even apply to other market sectors, but I think we're in a good place right now and, as DM mentioned, we have enough on our plates!
ES: Capsule is only five years old, and we already have strong shows in four key fashion cities – New York, Paris, Berlin and Las Vegas. We've already talked a lot about the importance of keeping the Capsule experience intimate and focused. Our goal is not to expand infinitely. Rather, we set up shop in the cities where the demand calls for a small show like ours. I agree that we're in a terrific position right now.  Additional cities may not necessarily lead to a better Capsule experience.
With a background in agency work, how has this benefited you on the tradeshow front?
DM: We have the dual benefit of having been editors (Minya and Edina) and buyers (me) prior to starting our agency, and then a PR and brand consulting agency and sales showroom before branching out in to trade shows so we really feel like we have all bases covered. When considering every decision pertaining to Capsule, we think about how it can and will positively affect buyers, retailers, and brands from a sales, press and brand strategy perspective.
MQ: Yes, I think we're totally unique in that sense. You don't usually find publicists who have been editors, you don't normally find sales reps who have been buyers and trade show production people usually haven't done all of the above. I hope that our combined knowledge and bird's eye expertise is evident in Capsule. As Deirdre said, we really try to examine all aspects of our show from different angles.  We try to anticipate what everyone who comes to Capsule will want, and then we try to deliver it.
ES: Having day-to-day working relationships with the key retailers and journalists who come through the BPMW showrooms in New York and LA really makes a difference on the trade show front. Being able to pick up the phone and call almost any editor, blogger or buyer, and understanding their needs and interests because we work with them throughout the season at the showroom really helps us get the great attendance and attention that we receive at Capsule. There isn't another trade show out there whose staff can make that claim.
As women, how does this benefit you in the realm of menswear? How is it more difficult?
MQ:  It's definitely a boys' club in some sense, but we started BPMW with an eye on menswear almost a decade ago, because we had a hunch there was a big cultural shift coming. Before the menswear blogosphere even existed, we knew dudes would start caring – REALLY caring – about clothes.  I think we all sort of love being women in the realm of menswear, it's a great industry full of genuine enthusiasm and passion, especially at our level.  
DM: I don't know if it's because I am a woman but I think menswear is so much easier than womenswear! I feel like I can see the menswear business from an outsider's point of view and clearly understand where everything fits, whereas women's can be a little overwhelming at times.
ES:  It's definitely interesting to see a male perspective on shopping and fashion on so many levels. Like Minya mentioned, there's a lot of action in the global menswear market right now. It's a small community making a lot of the big news in fashion right now, and we definitely are proud to have had a hand in shaping the way men shop and dress. Incidentally, we launched a women's division a few years ago, and also have a strong women's business in the showroom and at our trade shows!
What is the future of (capsule)?
DM: We just want to keep fine-tuning the Capsule experience, making it better for everyone that comes. This season we started a newspaper, offered car service and shuttles in some cities for retailers and press, collaborated with some great brands on cool products and seriously upgraded all of our venues. People are constantly trying to copy our "formula" which, besides being flattering, gives us more incentive to be better. We're focused on perfecting our twelve shows a year!
MQ: Capsule is definitely always evolving, just like the industry we service. It's a work in progress and we'll always be striving to keep things fresh, interesting and new. As DM mentioned, we challenge ourselves to make it better every season via ideas, services, partnerships and attractions that resonate with us.  We like to think the future of Capsule, and the sector of the industry we serve, looks very bright.
ES: We just reached our fifth anniversary.  The only thing left on the horizon is total global domination!