NEIGHBORHOOD x theLight: An Interview with Tommy Ogara & Shinsuke Takizawa
For his first collaboration since leaving Dita to establish theLight, Tommy Ogara has linked up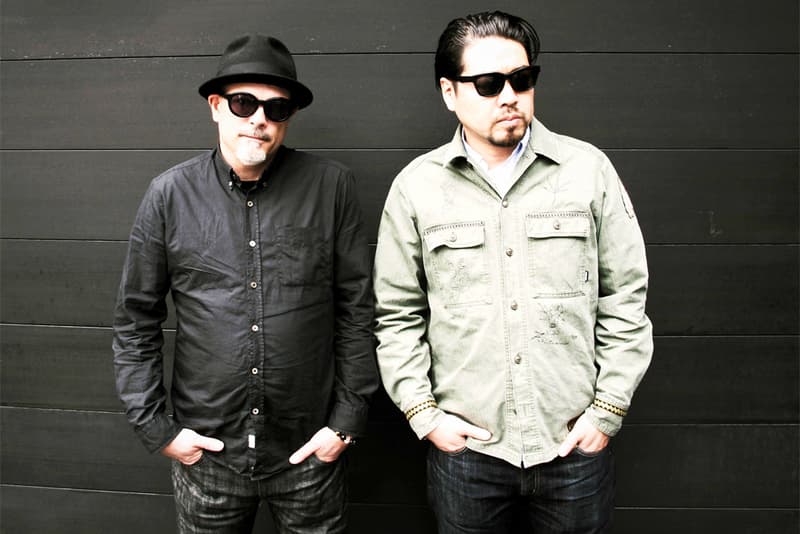 For his first collaboration since leaving Dita to establish theLight, Tommy Ogara has linked up with Japanese fashion giant NEIGHBORHOOD for a collection of eyewear. We recently had the opportunity to speak to Tommy Ogara and NEIGHBORHOOD founder Shinsuke Takizawa about the collaboration, with the two touching on the beginnings of their relationship, the world of luxury eyewear, the logistics of production, and their shared love of Americana. The collaborative NEIGHBORHOOD x theLight collection has already hit select retailers globally.
Tommy Ogara | Founder of theLight
How did you both meet up and forge your relationship?
My partner Martin Leung and I met when I was at the opening of a Dita store. We had a good talk, very karma-like and I think I sent him a book. Later on as we were building the brand in Asia and Martin was doing the AOC store on Aberdeen, it was just a natural progression to work together.
What drew you both into the world of eyewear?
I was a free creative director and got involved with Dita by chance when on a trip to LA for another project. I happened to be in a meeting where the translator wasn't really translating and I got involved. After that… time flew by… I was hooked and 11 years went by quickly with Dita. I love the detail and how you can vastly change the look of the product by carving the shapes – how the material flows or melts and jumps out at you. The specs are also all important as to how it looks on the face. There is no other product challenge in the world close to eyewear when it comes to human appearance. Designing a line that looks like a line and flows is also key and very difficult, and the manufacturing level changes the look immensely.
After being involved with Dita, what are your plans now?
I really want to get back to the core of the industry working with different kinds of designers and brands, as well as reviving old tech and manufacturing methods, while exploring new areas of eyewear construction. I want to bring up a new generation of creators. To that end, Kobayashi-san, our original craftsman, and I started theLIGHT Co. Ltd. and opened the atelier factory by the same name.
When did you decide to move on and form your own company?
Last November after the Hong Kong show, I knew it was time to move on. You know you have to just keep moving forward so I took the left road. I registered theLIGHT Co. Ltd. and started operations in January 2012.
What does this new platform allow you to do that wasn't necessarily possible in your previous position?
More hands-on research/experimentation and of course the end result of manufacturing beautiful frames. We can help bring up a new generation of product designers by helping them learn about the next step after design. We can also create small runs for people who would never be able to realize their design vision otherwise.
You're also involved in the eyewear brand AOC, how will it differ from your previous interests in past brand development?
Actually, I just helped Martin with AOC, updating the designs and producing them and will continue to work on this perhaps in a more active role now. I believe the direction is "future vintage" as Mr. Wilson Cheung had the original vision that started the brand.
I would say that I think of it like the Star Ferry of eyewear… this is an icon for Hong Kong and Asia and should grow and be kept well nurtured and loved. The history and base designs are something to build on for the future and I am sure that is what we will be doing and I feel that optical boutiques/boutiques around the world will be very interested in this line's concept and story. theLight is actually a kind of brand and because we concentrate on design development and manufacture, and we don't sell or market any of the products we produce. I think we are the most unique in the field of eyewear manufacturing. We can take a vision and make it a reality in a shorter period of time working directly with designers. This is rare as there is usually a middleman. With us nothing is lost in the translation from design to the finished product… and we have one on one communication with the designers to get them over the humps of manufacturing their designs.
Has the general understanding of luxury eyewear changed recently?
I believe that the end users are more quality savvy and there is always a balance between price and the frame you are holding in your hand. More people get that now. It takes a lot of training to create a well-rounded salesperson/store stylist who can explain and serve the customer. This is key for both the buyer and the brands that are being sold.
How has the market evolved? Do you find yourself amidst greater competition?
I do not really think about competition and never have. I really just think about creating the best product that we can while showing our friends, associates and new friends the vibe, love of the product, and brand(s).
You know I have always said, "We are a growing world tribe of like-minded people." That goes for what we are all doing here together, creating great products that are beautiful, functional and long-lasting quality… future vintage.
I am always aware of whom we work with and make sure that we have the same ideals and goals. This is easy for me personally… I guess people just come together for something like "happy-timing."
Can you talk about the factory and the craftsman behind your production?
Kobayashi-san is a master-craftsman at the age of 34! He is a thinking man with calm vision and is well-respected by the "old school" in Sabae. We work very well together at all levels. He is looking well beyond each project into the tomorrow of the industry. When it comes to streamlining the technical aspects, and the hands-on "ude" he is to me, the "Musashi" of frame construction and finishing. His work speaks for itself and we have some great new challenges ahead too!
theLight is a small atelier factory where we do prototyping/sampling and finishing as well as small and medium-sized runs. For larger developments we would use subcontractors while overseeing all steps of the production and finishing them ourselves. Sabae is shrinking/factories closing and with the strong yen our goal is to help bring in more projects and oversee/control manufacturing and deliveries. There is another factory we would like to get later on down the road when the owner retires  and we are working towards setting up a global logistics center for shipping by fall this year. Brands tend to ship twice.. once to their own countries and then often out again to another.
Any last words?
I think many people will be surprised and excited over the next year when the projects we are working on start appearing on the horizon. Change is great! The first project  NEIGHBORHOOD "four" is amazing and just launched. I am looking forward to seeing all of our friends in Hong Kong, China, Taiwan, Singapore, KL, Thailand, and of course here in Japan and the States. Now that I do not answer 150 emails a day, I am hoping to get to Europe soon too! Do you have a design you need made in… theLight? Hit us up!
Shinsuke Takizawa | NEIGHBORHOOD Founder
How did you originally meet Martin and Tommy?
I knew Tommy from when he worked previously at DITA and Martin was his partner. In the past we worked together for a portrait of him for NEIGHBORHOOD MAG.
How is it like working with theLight on eyewear as opposed to previous eyewear projects you may have had?
Like an apparel line, a complete concept was chosen, and things proceeded to talking to each other based on this concept. Tommy and I are both heavily influenced by older American culture, so he understands the stress-free atmosphere I am pursuing. It is really easy to work with him.
What sort of eyewear styles do you like?
I like vintage, but when creating, perhaps something with a technical element added to it.
Do you find yourself liking different styles between optical and sunglasses?
Indeed, I feel they are separate, but I mutually share my likings of vintage taste.
What is the plan with this collection? Will it be ongoing?
Well, of course, I would like for it to continue. In the near future, I feel we will be able to present a collection that will surprise you all, so please look forward to it.