HYPEBEAST Round Table: The Art of Buying
It can be easy to assume that as a retail buyer, you're responsible for simply sitting around a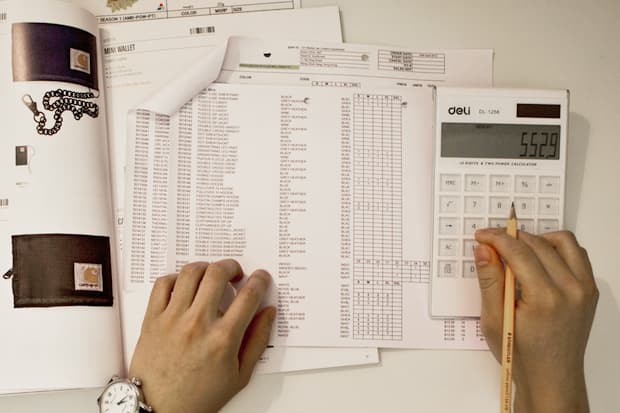 It can be easy to assume that as a retail buyer, you're responsible for simply sitting around a room full of the latest and greatest products aimlessly selecting your favorite pieces and raking in goods for your personal collection. While being a direct point of contact with the various brands and their products may have its benefits like any other position, it has been said that there is an "art" to buying that also involves a selfless perspective as opposed to strictly introspective calculations. As a buyer, there's often a lot of factors that come into play such obvious variations in customer base from geographic distinctions, or the demographic balancing act from the various customer bases. Buyers at the retail tier are called upon to possess a level of connectivity with their clientele, foresight into current and forthcoming trends, judgement of quality and an overall ability to refine and define their respective markets – facets of the job that can be too often overlooked. Further is the nuts and bolts type grind that buyers go through on an ROI and business level that requires them to be on top of their game as it pertains to things like sell through and product turnover. All of this must also be balanced with the inherent necessity to maintain creative integrity and the core identity of a retailer by stocking certain brands based on that "gut feeling" that first plummeted many buyers into the fashion world.
Our newest feature, HYPEBEAST Round Table: The Art of Buying, focuses in on a selection of buyers from various retailers to get their insights on their approach to buying. The Art of Buying highlights SSENSE CEO, Rami Atallah, Kogi "Poggy" Motofumi of UNITED ARROWS and UNITED ARROWS & SONS, Burn Rubber co-founder Rick Williams, Kim Hall of Wish Atlanta, Duk-ki Yu from MAJOR DC, Rob Lo of Roden Gray, Kyle Stewart from The Goodhood Store, as well as the BEAMS buying team that consists of Kentaro Kuwabara and Tadayuki Kato. Reflecting on a welcome balance between both high fashion outfitters, streetwear staples and everything in between, HYPEBEAST Round Table hopes to shed insight that both customers and those already in the industry can benefit from.
Rami Atallah | SSENSE
SSENSE's buying approach is as forward-thinking as the brand itself, constantly looking for the next big thing whether that be an underground Korean label such as Juun.J which we debuted for Spring/Summer 2012 or a trend we see developing in the showrooms or runways. Trends tend to burn slowly for menswear, taking several seasons to emerge before being embraced on the street – this was evident in trends like pop colors seen at Raf Simons or espadrille style shoes seen at YSL and Opening Ceremony. We cater to the more avant-garde customer by buying into these trends early, always valuing quality and fit over novelty. As these trends begin to popularize, we look towards the future, embracing the next trends and ensuring that the items we purchase are fresh and unique. Through this thinking, we avoid buying trends simply because they are trends, but rather because they influence the next step in contemporary fashion. Taking risks is a big part of what we do, backing those one-of-a-kind items that will either be make or break. Game-changing items are rare and often very avant-garde. Most retailers would shy away from such purchases, but SSENSE is not afraid to push boundaries in order to showcase talent in the industry. Our offer is often stronger because we take a risk with pieces no one else dares to carry. SSENSE is based in Montreal, where like most of Canada the winters can be fairly brutal. As such we carry strong outerwear lines such as Moncler, Canada Goose and Parajumpers that other premium retailers in warmer climates simply would not carry – they do not have the demand that we do. We also look for these pieces in the mainline collections, buying heavier down jackets that other stores might ignore because we have that customer who wants to look good in frigid Canadian winters.
Rick Williams | Burn Rubber
Buying? For me buying has been a process of evolution. During the past five years I have learned a tremendous amount and witnessed a number of changes. In the earlier years I relied on my personal taste more than anything. I believe that as a buyer your personal taste and the things you enjoy will have great influence on your decisions. However, I have found that as I grow my tastes change. I find myself becoming further removed from the taste of my target customer. As a result, I now pay closer attention to the trends of our target market and less attention to my personal taste. When my business partner and I first started we were in a different place. We wanted to create a business that would sell the things that we were into. Now in a lot of ways we have outgrown some of the product that we sell. Which makes me think maybe its time for us to start a new business. I'll get back to that later.
There are many different variables to consider when buying for a specific retail space. First of all you need to have a clear idea as to who your target market is. Who is your customer? What is their age range? What music do they listen to? Where do they go to get information about the things they buy? At first glance these questions may seem all over the board however, having this information helps when trying to make an informed buy. You can't buy $10,000 worth of the latest "dope" Japanese brand whose price point is on the high end when your customer is looking for the latest goods from their favorite street wear brand. You will end up sitting on $10,000 worth of "cool" stuff and your customer will be confused. This example works the other way around as well and you'll quickly find yourself in a similar position. The bottom line is one of the most important things you need to consider when buying is your target market — Never lose sight of who is shopping with you. On the other hand, while it is important to be mindful of who your customer is and what they are buying we as retailers have a responsibility to introduce new product and brands that our customer might not know about yet. This is something that we must learn to balance in order to stay relevant and move forward.
Staying ahead of the curve is what our business is all about and we are always looking for the next line that will help define our retail space. This is a constantly evolving process. Carrying a specific brand is always a way to get the attention of your customer and potential customers. However there is also something to be said about piece selection and a good product mix for your store. Having a recognizable brand list is an important piece to the puzzle but picking the right pieces is just as important. I look at the situation like this… we have X amount of customers and they are going to purchase X amount of goods per season. As a buyer you have to be mindful of the amount of pieces you buy in a particular category. For example if I carry 10 brands that all provide hoodies I might not be able to buy hoodies from all ten of the brands. This goes back to my group of customers only buying X amount of goods per season. You have to pick and choose what you bring in from each brand and try your best to make everything complement each other. You want to try to avoid cannibalizing your own business. The art of buying can be complex at times and it definitely deals a lot with trial and error. However, with experience comes knowledge and this seemingly involved process becomes more manageable with every year that passes.
Duk-ki Yu | MAJOR
Here at MAJOR, we rely on our experiences and instincts, as well as the history of the pop culture, to offer our customers items that recall great experiences, or items that help them create great new experiences. I always start with footwear, and our heritage is definitely athletic lifestyle. I played team sports throughout my school years, watched and learned from the greats on TV, and lived and died with my favorite teams every season. The individual icons in various sports were always tied to specific shoes, like various Jordan models, Bo Jackson with Nike Trainer SCs, Allen Iverson with the Reebok Questions, and Andre Agassi with Nike Air Tech Challenge. When these shoes are retro'd and the original team colors are brought back out as launch models, we buy in apparel with subtle ties to the pop colors in those shoes. As a store that caters to smarter and sensible shoppers, we will not recommend "direct hookups" that dominate the mall business. Instead, we stock items that will complement your footwear, without overwhelming color matches.
I also look for functionality in much of our buys. As a fan of materials, treatments, and user-friendly features, things like DWR-coating, storm-proof zippers, cord management, and moisture management become the basis for how we tell the story behind the garment to our customers. We love to talk about the weight of the better fleece that we bring in from HUF or NSW. It's the love of the actual product that makes all the difference in what we buy, and what we sell. If I am not going to be able to wear it myself, or someone from our staff is not able to wear it, we cannot seriously offer the item to our customers. If there is one consistent pattern that I look for every season is some variation of camouflage. I've always been a fan of concealment patterns, and the whole idea of wearing gear that's intended to conceal makes you stand out more in our mundane suit and tie society has been great, especially in a very conservative setting like Washington DC. We have been able to mix original camo patterns from brands like The Hundreds, with surplus camo goods from military surplus manufacturers on our floor. In addition, premium items using heritage camo patterns like Staple Design has made it possible for us to offer different looks for every different budget. Camouflage has been very consistent for us in the 5 years that we've been in business, and we have led the charge in getting more people to adapt the use of digi camo in custom headwear, manufactured by New Era. Even in footwear, we look for military inspired color stories, as olive has become another consistent earth-tone color for our customers.
As a buyer, finding the balance between choosing items that we can cultivate and promote to our customers, and choosing items that are sure to be hits, but will be short-lived pop trend is a hard line to walk. Personal tastes don't play as big of a role as one would think, because I know that my personal taste cannot define another person's self-image. Graphic tees and tanks still dominate our warm weather seasons, but we try to keep our offerings as clean as possible, so that none of our customers would look back at their Instagram pictures two years from now, and say "What was I thinking wearing that?" Also, I made a conscious decision not to follow local trends in our city, as the trend still has to make some sense outside of this city too. Since the shop has a following on a worldwide level, a person who shops at MAJOR has to be a reflection of our culture, and everyone who's rocking a MAJOR fitted becomes our cultural ambassadors when they're abroad. Overall, it's a great experience introducing things to our customers, and educating them at the same time. I, along with everyone else works at MAJOR, love great stories behind each product, and we look for stories that can become a part of your great experience visiting MAJOR in DC.
Rob Lo | Roden Gray
When you've been working in the industry for as long as I have (about 10 years), you meet a good network of people who you can rely on for legitimate information about what's coming up. Building relationships with people whose taste you respect is one of the most valuable things you can do as a buyer. At Roden Gray we look for a unique product that is high quality in design, production and value. We try to avoid trends — we are in the business of selling menswear and we like to think men's clothing should be classic and timeless. Guys tend to be much less interested in the runway and more interested in a piece's quality and longevity. In terms of my personal style, you can see it in everything I do, this comes from the years I've spent working in the production, wholesale, and retail sides of the business. Quality matters more than anything else, and I think it's very important as a buyer to know exactly where a product comes from and what goes into making it.
Kyle Stewart | The Goodhood Store
Buying for us is purely a feeling about the products we want to offer to our customers. The items, brands and labels always fit into our considered store aesthetic and appeal to our personal tastes and professional standards. We look for a point of difference, a respect and knowledge for design and culture, a subversive element and excellent quality. We have never bought with the sole reason of sales or following a trend or another store, our selection is honest and true to ourselves and our ideals. We are proud of that. The result is a diverse mix with a solid look – high end, casual, laidback, clever, detailed and to represent what the population of our area of East London would wear. Being based in Shoreditch, East London affords us the opportunity to push the boundaries a little which is why we settled here.
The people of East London are incredible dressers, men and women alike. There is a lot of style locally on a level that you see in only a few cities around the world, which means its a great spot to have a shop, as we can sell amazing things that might not be possible elsewhere. Trends for us are not so relevant, particularly for menswear. Some things will never change – the classics and icons of clothing, these are big inspiration for us. Originally coming from a design background working for classic brands like Levi's and Nike – we've done our homework, we have an experienced knowledge of design and continue to study and learn. It's important to us that brands we stock also show an understanding of classic design and historical garments, and in turn work with it to create something new. Heritage has been a big trend but for us it only worked when people used it and took it somewhere new. Reissuing vintage isn't for us, as we don't want our clothes to be short and boxy or roomy enough to ride a horse. The emphasis on heritage has definitely calmed down – people want to have a bit of fun again, I think there's some great brands digging deep into archives to produce some truly inspiring clothing.
Outdoor style is still a big influence as well as workwear and I don't see that changing as menswear will always look towards utilitarian design. My personal taste is reflected in the offer of the store. Being from "up north" in Britain, I think i've got a deep rooted sense of what you can get away with. I like clothes that have got a wide appeal, that are not just for industry insiders. I'm far from commercially driven, but I also don't want to sell clothes which if you wore in small town Britain would get you chased round the town and beaten up. I used to skate for many years and that's fundamentally the biggest influence on me, I've grown up like many being inspired by that. Now you have the Japanese labels and a whole menswear design culture that perfectly understands these roots, and has taken it to somewhere new and luxurious. Really thoughtful ways to reinterpret the classic pieces and iconic looks, and these are the labels that best represent our store. I guess for us looking cool involves not trying too hard. After all, true style is effortless.
Kim Hall | Wish Atlanta
To be a buyer you have to be in touch with your customer's likes and dislikes which don't necessarily always coincide with your own. The hard part about it though, is that within a store there may be several different types of customers that may have different buying habits. As a buyer, it is your job to swag them all out! You're not going to make everyone happy with your buy, but you try and do what's best for your store's bottom line while also balancing the need to push the creative standard and introduce new things to your customers. The streetwear industry can be very cool and fun to be a part of, and we're here because we are passionate about it – but at the end of the day brands and stores partner to make a profit. Thanks to the success and growth of our industry, for better or worse, there are a lot more people that want to start a clothing line.
The trouble with this is that out of all of those people starting brands everyday, there is not a single one of them that thinks their line is wack. They all think their line would sell out at your store. So, you have to go in and try to find a needle in a haystack so to speak — an editing process of sorts in an effort to bring only the best and highest quality goods to your customer and find the newest, upcoming labels and designers. That's my responsibility as a buyer. When I'm considering a new brand I like to take a look at the overall brand before I make any decisions and weigh out the longevity, integrity and aesthetic of the line. Lookbooks are super important in this process because they show you who the brand is targeting which makes it easy for me to recognize if I have that type of customer. I do research to see if there is any hype generating with that brand as well. People can say whatever they want but it is the hype that drives our market, love it or hate it.
The difference between a buyer and a person who simply "picks out" product is that for a buyer, picking up a line is only the first step. Once a brand is picked up, I have to constantly check on the line's sell-through. If it is selling, should I re-order more? If it's not selling can I talk to the vendor about possibly returning the items that aren't selling? When the season has past you look over your numbers and decide if you want to continue with this brand for the following season. It's a never-ending process because consumers can be very fickle and they have that right to be.
BEAMS BUYERS
Name: Kentaro Kuwabara Position: Director and Chief Buyer of BEAMS T
At BEAMS T, we're part of a handful of labels at BEAMS that specialize in a particular concept. In our case, it's T-shirts. Throughout our line we have both original and select items as well as art works that relate back to T-shirts. We're always looking to maintain a stance of "Art for Everyday" which has been our philosophy since the brand's conception in 2002. As a result, I'm always looking for good artists or brands to partner with that can offer invaluable creativity and aesthetics that can obviously be applied for T-shirts. From the get-go, the goal is often to work closely with artists, helping brainstorm through a design that will look the part on a T-shirt, which sometimes is easier said than done. In relation to actual select buying for the store, I practice a "what I want to wear" approach that often relates to art, comic books, music and fashion inspirations. With an increasing interest in surfing, this also plays a part. I know it's important to keep an exclusive and cutting edge approach at BEAMS T, however it's the mixture of those things that make it interesting. I try to figure out the best way to put those elements in our merchandising lines and walk a fine balance between not going too cheap nor too edgy.
Name: Tadayuki Kato Position: Buyer for SKE8&SURF of Men's Casual Dept.
Under BEAMS, there are more than its fair share of labels and departments. As I oversee the SKE8&SURF buying, I tend to position myself in a way that emphasizes people and culture over the product itself. There's always something interesting that surfaces from these sorts of subcultures or movements. While I am aware of trends in the market, I tend to look the other way. I often lose interest if something becomes too popular or too well-known. I'm a contrarian of sorts when it comes to buying. The things I personally find "cool" are changing all the time and my interests deviate immensely as I look to find a unified taste but that isn't limited to simple, cool, noisy or messy. However I can say that when it comes to selecting product, I always rely on intuition and my initial feelings towards that product. I do understand that buyers require knowledge and ability to analyze the market. But at the same time, I envision a job that allows me to share my thoughts about things that excite me.
Kogi "Poggy" Motofumi | UNITED ARROWS Buyer, UNITED ARROWS Harajuku for Men Director
Before I discuss my philosophy of buying, I want to lay the foundation of UNITED ARROWS and UNITED ARROWS & SONS which will hopefully paint a more accurate story of what is required when buying for the two entities. For UNITED ARROWS, it began in 1989 and was created with hopes of disrupting the fashion retail landscape at the time. It created new standards in Japanese lifestyle and culture by keeping close tabs on high quality goods and services, appropriate pricing and awareness of the current market trends. In the early '90s, luxury goods were only existent in department stores and stand-alone boutiques, hence why UNITED ARROWS was able to buck the trend and create a strong "select shop" concept.
After years of steady growth, UNITED ARROWS had firmly cemented its position in Japan's fashion landscape as a purveyor of high-quality goods that fit a wide-range of styles. I originally started at UNITED ARROWS LTD. back in 1997 so you could say I've seen quite a bit of the company and its own culture through roles on both the sales and public relations side. I even dabbled a bit in my own label "Liquor, women&tears," which went on hiatus in 2010. Yet, my firm understanding of menswear throughout enabled me to conceptualize UNITED ARROWS FOR MEN'S two years ago which caters to a new generation of shoppers and menswear enthusiasts that carries on the legacy of formal suiting that UNITED ARROWS has firmly pushed and cultivated. While my current demeanor resides in menswear,
I've been influenced by the Ura-Hara movement of the '90s such as A Bathing Ape as well as Stussy. In turn this free reign of creativity of the period has combined with my own understanding of what it meant to be a "select shop." Being a buyer, one of the obvious and important things is to be aware of all the great product globally, but I believe at the same time, the most crucial element is to have your own style. In fashion, I look forward to the changes every half year or so. I believe the most important things are to be aware of the customer's style and their needs. Although, the lifestyles of customers change from time to time, we make it a goal to understand their needs to propose the right items. Brands and the designer need to have a definite style. It is important to educate and provide a clear and concise reasoning of my purchase decisions to our staff members. Staff members need to understand the concept so that they can in turn recommend it to the customer.
At "UNITED ARROWS & SONS," we mainly buy US labels such as "BARKER BLACK" and "DAVID HART&CO.," and Japanese labels "White Mountaineering" and "nonnative," which is not available at the UNITED ARROWS store. I always dressed casually in the past, so I didn't think I would ever wear a suit. However, becoming older I've met with many people. Whenever I would dress differently, I would receive different reactions and it would facilitate my ability to speak with older generations who I had much to learn from. This made a big difference for me. Meeting with these sorts of people opened me up to a lot of opportunities. However, I couldn't just change my style to all formal wear and suits, therefore when wearing a suit or jacket, I have to add one of my favorite casual items along with the outfit. This has become my dress up style.
When I started "Liquor, woman&tears," mixing classic items with street fashion and combining them into a suit was the concept. Now in Japan, the "street" genre which started 10 years ago has grown so big that one cannot simply ignore it. For example, wearing dressier items such as suits with casual items, has become a popular statement that coordinates well. One of my biggest challenges was speaking with NIGO-san to start "Mr.BATHING APE® UNITED ARROWS." This line was meant to avoid the restrictions of casual and formal boundaries. "Mr. BATHING APE® UNITED ARROWS" was created to be worn in numerous enviroments. You can wear the items that you would wear on your days off straight to work without having to change. Lastly, buyers shouldn't go to exhibitions purely for buying reasons. I believe a buyer's job is to work with brands to help build their presence and to give exposure to up-and-coming brands which deserve to be seen.