A Conversation with Errolson Hugh
In 1994, partners Michaela Sachenbacher and Errolson Hugh birthed an independent design and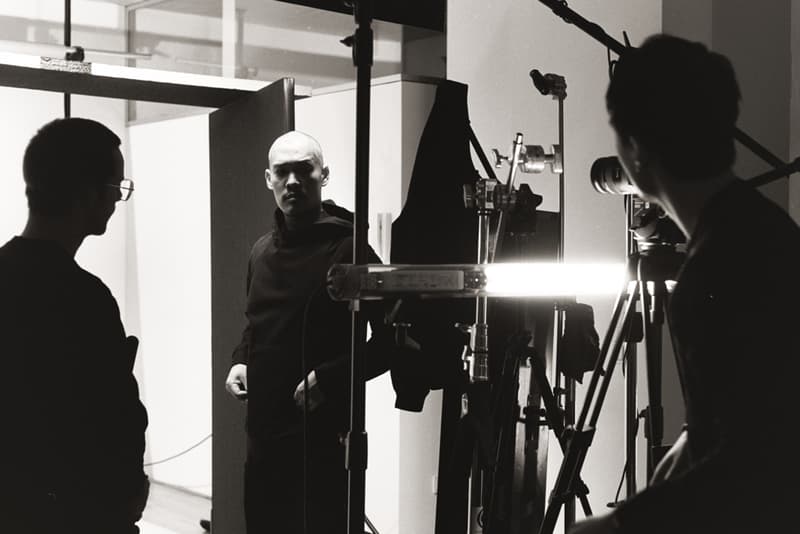 In 1994, partners Michaela Sachenbacher and Errolson Hugh birthed an independent design and consulting agency dubbed ACRONYM. With a focus on the unification of style and technology, the inventive duo began creating functional outerwear for Burton Snowboards in 1995 leading to an emergence of a new generation of technical apparel and conscious users. Over the years ACRONYM has worked with the likes of W.L. Gore and Associates, United Arrows, iDiom and Stone Island Shadow Project, advancing not only style but functionality. Launching its own in-house brand back in 2002, the Berlin-based creative agency currently operates in New York, Czech Republic and Tokyo. In our latest conversational piece, Canadian-bred Errolson Hugh sits down to discuss his position on material selection, inspiring childhood, exceptional grind, collaborative projects and much more.
My interest in materials… is like my interest in tools. What can be made with this? What can this do that other materials cannot? Materials with special properties are cool because they can open new possibilities in manufacturing, design, or even behavior. Additionally, they're such an amazing cultural artifact. Where and how something gets made says so much about us as people, as a species, even. In a beautiful fabric, the simplest thing can be magic.
Technical performance… is what, exactly? I'm trying to figure this out all the time. Overbuild for unknowns? Optimize for specific end use? Where is the perfect balance? These are questions I'll probably never answer to my complete satisfaction.
I look for… the asymmetric solution. Even when I try to do things the way everyone else does, it never really works out. So, over the years, I've come to accept that I'm not supposed to follow the path that's marked on the map. This turns out to be great for coming up with new and effective things. But for leaving the studio early for home…? Not so much.
I grew up… in Canada. Born to incredibly open-minded Chinese-Jamaican architect parents (thanks mom and dad). Moved to Germany after university with my then girlfriend, now ACRONYM co-founder/partner, who later moved to Brooklyn ('sup Michaela). Now living in Berlin where my studio is, and where my fantastic team (Johanna, Ken-Tonio, Lily, Sarnai, Osman, Lotta) tolerate my frequent absences/visits and the trail of utter chaos that I leave in my wake.
Ideas for ACRONYM… outnumber executed products a thousand to one.
Technical performance and fashion… will keep moving towards each other. It's mutual attraction. Some will hook up and make beautiful babies while others will turn into ugly mutant bastards. For me, technology is ultimately about quality. How well can something be made? What are the best materials and techniques available? As with much of technology; things that are unique today will be ubiquitous tomorrow.
Each ACRONYM piece… that ships, is a small battle that's been won. The massive degrees of unlikeliness that are overcome every time an ACRONYM item gets made don't show in the final product. This is a good thing. Now that we have our own online shop we've got the entire process in our hands. It's kind of amazing. Support the independents!
I love going to the atelier… in the middle of the night when no one else is there. Owning your own company can make you schizophrenic. As your own boss, there are no creative limits. As your own boss, there is no safety net and it's down to you and your team to get the thing done in the end. Being in the studio after hours helps me step back from the daily grind and reconnect with the thrill of making things that are truly bananas.
Projects outside of ACRONYM such as Stone Island Shadow Project allow… us to meet amazing people and make amazing things with them. At Stone Island there are people who have been building fabrics every single day for decades – people who have been fitting or cutting clothes for their entire lives. You better believe it that we pay attention when they take the time to work with us on a jacket! One of the best things about this industry is that there is always something new to learn. Or, better yet, something OLD to learn. At design school, I missed the announcement that said "Attention: It will be impossible for you to learn everything there is to learn about making clothes, even if you spend your entire life doing it." I missed it because no one ever said it! They should have though, because it's astounding. Simultaneously humbling and inspiring.