SANCTIOND: Talking Car Care with Mr. Cartoon
Cultural icon, legendary tattoo artist, custom car collector and SA Studios Global co-founder,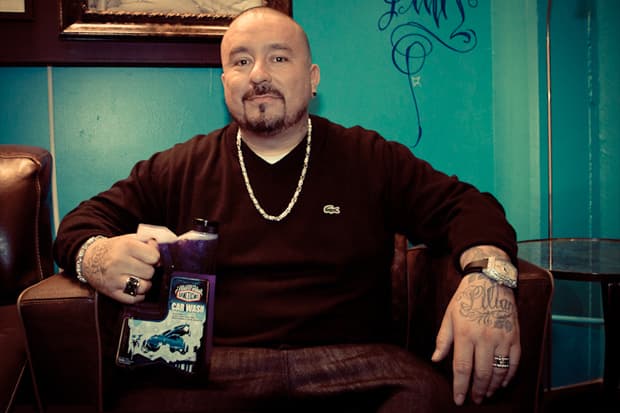 Cultural icon, legendary tattoo artist, custom car collector and SA Studios Global co-founder, Mister Cartoon, recently unveiled his SANCTIOND signature brand of premium car care products at a wildly successful event in Los Angeles. The turnout was what you would expect when someone of Mister Cartoon's magnitude delves into the manufacturing of car products. HYPEBEAST had the privilege and honor to sit down for an in-depth discussion with the jack-of-all-trades where we discussed inspiration behind the brand, the difference between designing apparel versus specialized merchandise, and why his already recognizable brand was an integral part in getting SANCTIOND off the ground.
How did the opportunity for SANCTIOND come about?
I think that any job I have ever done starts off as an idea… as corny as that sounds – it comes up as a concept in your head and you keep running it around and then it sounds like it could actually go. I think I'm at the point now where most of my thoughts are answers to questions. I am always asking myself questions – how can I do that, how can I make that better, flip this around, how can we turn this around, etc. I had a friend who asked me a question, he asked: "If you could win the lottery, what kind of business you would start?" And it came down to SANCTIOND, to do automotive wax and car care products. The reason why is that I didn't want to go into building cars for other people, I thought the rim business was over saturated and if I never had to go back to the magic show again, I'd be OK with that. So how can you get away from that route but maintain all the stuff that you learned? If it wasn't for the apparel industry I wouldn't have learned about labeling or how to market stuff and do all the stuff that I do. Working with cars everyday is my love, tattooing is a magnet for cool people and celebrities. I get press off tattoos and celebrities. I attract people through my tattoos, like I will tattoo a guy who owns a sneaker shop in Wisconsin, but he's the shit in Wisconsin. You know what I'm saying? You almost start to build a collection of these people. Now they call them tastemakers, back then they were just the guy that owned the shop. Giving them a title makes sense; these guys are there because of their taste. So it's taking my attitude from the sneaker, apparel, and music industry and putting them into something that is like 10 years behind.
What inspired you to come up with the name?
'Sanctioned' is a word we use around the shop for things that are authentic or have been approved. I had to do it with this company. I got into apparel because back then no one was making clothes for me. They weren't making it baggy enough or long enough. I got into it to do it for my people and not just my nationality, it was for everyone that moves and shakes like me. When you get to a certain age you will start to create your own projects and you start to focus on details of everything. I am never bored because I am always looking and thinking about something.
How long was the entire process, from the initial idea to sketches to the final product?
Well it goes way back. It started from the relationship – I met Atticus years back, but I wasn't ready in my head. I just didn't know how I could pull it off. I didn't want to treat it like a license – get the license, get the check, and keep it moving… that's not me. Everything I do seems to take about a year. If me and you sat down and talked about a shoe, it's gonna be year until the shoe drops. The day we shook hands to this day has been about a year. We have been getting samples and other bottles… this is it, these are my babies. It's not just bottles with fluid in them. There's even a note thanking the consumer, this is me and you and I appreciate you getting this product and I want to thank you. I never take it for granted.
Can you talk about your business partner, the experience he brings, and how you feed off each other?
It's all about being on a team, if you aren't on a team you better get on one. Me and Estevan were a team for so many years and now we are bringing these different members as the team grows. My friend Atticus coming in basically lives and breathes the business of spraying wax. It's crazy how this stuff in the bottle works, the stuff is truly amazing and needed somebody to do it like how I do my work. So it was important to hire someone that got it and knew all that stuff. That's hard to find.
What inspired the scents in each bottle?
They came from everyday life. Things that I like to smell. The freshness is all tied into it, like when you are wiping your car you will be like this smells clean. It was important in all areas: the smell, the visuals, the product inside, and the website.
What's the main difference between designing something like apparel compared to car care merchandise?
The main difference is that this doesn't play out as fast. For clothes, you have to come up with a new line every season. For this you don't do all that. You just come up with new and interesting ways to present it and there will be new innovations along the way. It's not like we have to pump out 30 designs next month, people aren't as fickle as they are in apparel. It's a product that cleans your car and there's no hot moment – it doesn't fall into the fad category.
Can we expect any other type of automotive goods from SANCTIOND down the line?
This summer we will be introducing a wild bottle. It is our high-end bottle that holds more fluid and will be our most expensive product in the line.
For someone who's been using a specific brand for a long time, what will draw them to try this new product?
It's gotta be right and authentic. It's about passion. This isn't about washing cars, people don't want to hear about that all day. They want to know about the guy who engraves handguns, the guy who collects coke bottles… etc. I am more intrigued about their daily life than if they detail their car or not. It's about connecting with people and seeing what drives them. I think this will be interesting to other people that are creative because they're trying to do similar things.
By just seeing our genuine attitude, they will feel that they are owning part of the company. There's a face behind this. They can get a hold of Cartoon. There's someone to call there. If you work hard enough you can get a hold of me, we'll talk about it. Plus, just the visuals alone will intrigue them to try it. When they see this stuff on the shelf, it just stands out so crazy; then if they come to our site and learn more about us and get a sense of our humor, I think they will be driven towards us even more.
What's your favorite product in the line?
I'm a sucker for tire glaze man. I don't know what it is, but I love having a wet tire. I also like the other products we are making like car covers. I am happy that no other companies care about car covers and that makes me happy because I do. I wanna see the best car covers, some with art and some that are stealth. I won't make anything I don't use, so sun visors are a great opportunity to put some artwork on, but I don't use that shit. My dashboard is not gonna crack if I just put some protectant on it. I treat this the same way as designing a sneaker, the same magnifying glass that was on the shoes is gonna be on these products. I don't want to just pump stuff out.
Photography: John Pangilinan/HYPEBEAST