Materials & Patterns: GORE-TEX
Few major brand names in the world can claim a guarantee that their product will unfailingly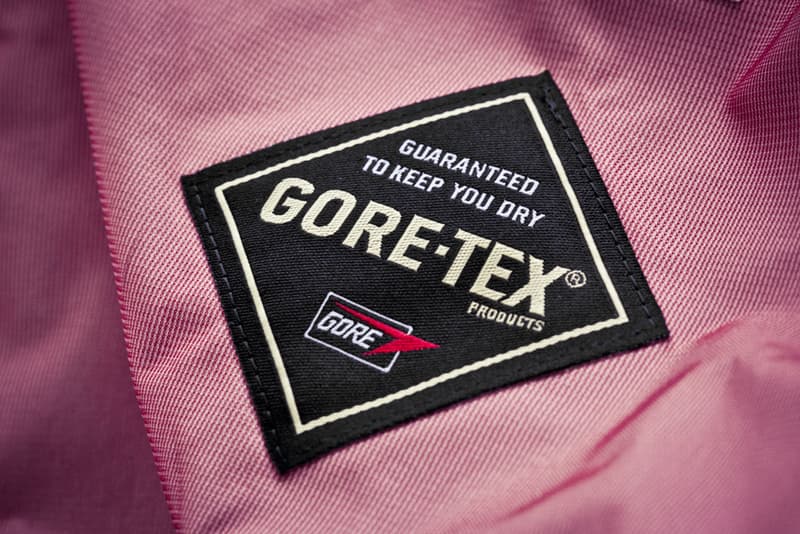 Few major brand names in the world can claim a guarantee that their product will unfailingly perform as advertised. But such is the confidence of W.L. Gore & Associates — a brand that is as respected and revered, as it is synonymous with absolute weather protection. Contrary to the significant brand awareness Gore has commanded through their GORE-TEX line of fabrics, Gore's influence and presence across the globe is actually vastly larger than its appearances might belie.
From humble East Coast roots which began over 50 years ago, W.L. Gore and Associates has grown exponentially to where it is today — one of the 200 largest privately held companies in the United States. Founders Bill and Vieve Gore were initially working in the then-burgeoning electronics market, but in the late sixties, it was a chance discovery by their son Robert (who would later be inducted into the National Inventors Hall of Fame) of a new kind of polymer that blew the door wide open on a whole host of new applications in medical, textile, and industrial fields. It wasn't until 1976 when Gore was granted U.S. Patent 3,953,566 for a "porous form of polytetrafluoroethylene (the chemical constituent of Teflon)" which contained a micro-structure characterized by nodes interconnected by fibrils. After four years of further development, this patent evolved into a second grant — U.S. Patent 4,194,041 for a "waterproof laminate," now known as GORE-TEX.
Today, the subset brand GORE holds over 2,000 patents, all of which are essentially based around a single material: an extremely versatile polymer called ePTFE (expanded polytetrafluoroethylene). These patents cover a dizzying array of highly technical applications including (but hardly limited to): vascular medical implants, sealant tapes in suits worn by astronauts, guitar strings and bicycle cables, vacuum cleaner filters and industrial-grade safety clothing (like bio-chem and fire retardant suits) for military and law enforcement applications. The simple truth is that the GORE name and its product line covers a range far too broad for anything but a passing mention. However, the most widely immediately recognized products under the vast GORE umbrella belong to the constantly evolving GORE-TEX family of outerwear fabrics. The flagship guaranteed waterproof and breathable GORE-TEX Performance Shell is most widely applied, but the family also currently includes: Pro Shell (multiple-layer Performance Shell construction for added durability), Active Shell (super-lightweight membrane whose application requirements limit the garment from exceeding 400 grams), Paclite Shell (supremely packable and lightweight shell for emergency or portaging applications) and Softshell (designed to increase warmth and reduce layering necessity). Although widely regarded as a GORE-TEX product, the stretchy and windproof Windstopper membrane is technically regarded as a separate entity, or a 'sister product' to the GORE-TEX name, because it does not carry the waterproof guarantee.
The 'guaranteed waterproof' and 'guaranteed windproof' delineations that come with these GORE technologies help create an enticing selling point for many outdoor gear manufacturers. GORE has long since lent their name and its technology to some of the biggest outdoor brands in the world, like The North Face and Arc'teryx. Additionally, a slew of smaller Japanese brands like NexusVII, visvim, White Mountaineering and Gore Bike and Gore Running Wear, which serve as a brand platform for launching new technologies, and demonstrating optimized applications for current GORE-TEX fabrics.
Interestingly enough, since the GORE patent on its membrane technology expired (U.S. intellectual property law allots 20 years from the date of patent issue), other laminated fabric membranes have made their way to market like eVent, Nikwax Analogy and Epic, but none with the brand power and deep market penetration of GORE-TEX, seeing as GORE established came to mark first. GORE-TEX established early on that it was the go-to standard for weather protection, as it not only ensured the wearer remained protected and dry on the outside, but on the inside as well, thanks to the membrane's superlative breathability.
Take, for example, an Arc'teryx Alpha SV Jacket — arguably a modern gold standard of GORE-TEX application for severe mountain conditions. A jacket like the Alpha SV with GORE-TEX Pro Shell is essentially a multi-layered sandwich, comprised of the jacket's DWR-coated fabric outer (the visible, colored surface which resists condensation, wear, and abrasion) which is bonded to the GORE-TEX membrane for moisture regulation, followed by the jacket's inner lining. This GORE-TEX membrane is much like your body's own skin — a selectively permeable polyurethane membrane filled with over 9 billion microscopic pores per square inch. Each pore is 20,000 times smaller than a water droplet, making them too small for wind or water to pass through from the outside, but 700 times larger than a water vapor molecule from your own perspiration, making them large enough for moisture vapor to escape from the inside. Especially important for higher-exertion activities like cycling, ice climbing, or ski-touring, breathability is a clutch component, as maintaining water resistancy from the outside matters little if you're soaking in a greenhouse on the inside of your jacket.
It's important to note the role of the DWR (Durable Water Repellant) coating on the face fabric. The laminate construction of the GORE-TEX membrane ensures that as long as the membrane isn't punctured or torn, it will retain its waterproofness and breathability for the life of the garment. However, once the DWR treatment wears off over the natural course of the garment's usage, moisture can penetrate the face fabric and 'clog' the membrane's pores, compromising the garment's breathability. Keeping the DWR fresh by regular laundering and tumbling dry is essential to maintaining the GORE-TEX guarantee.
GORE does not make publicly available their specific tested ratings for waterproofing and breathability, as they are content to simply guarantee their product to be both waterproof and breathable. But typically, when a jacket indicates it is waterproof to 10,000 millimeters, those numbers are decided by standard laboratory procedures, without accounting for subjective factors like water pressure, temperature, or humidity. This is why GORE maintains some of the most rigorous testing procedures in the industry to ensure GORE-TEX remains the pinnacle of weather-proofing technology, regardless of application. But more generally, water resistance is measured by the metric volume of water that the fabric or membrane can hold before water pushes through. To scale, the lower range of water resistancy is usually around 5,000mm, while fabrics performing at or around the GORE-TEX level tend to be upwards of 20,000mm.
This rigorous form testing and adherence to a high level of standards have often been the reason that fashion-based products incorporating a waterproof breathable characteristics have in more recent times bypassed GORE-TEX. Growing in favor have been less stringently tested materials that make product execution a less of a headache for the designer.
Like the previous examples from Japanese brands, GORE-TEX enjoys as wide an appeal on the street as it does on the mountain. Due to its unobtrusive application within the realm of a normal nylon or polyester face fabric, the membrane can easily bond to carefully tailored Italian fabrics like this high-fashion jacket from Herno Laminar, to casual campus wear like this nanamica Campus Jacket, or even in footwear applications like this Danner Light Patterson boot from the Stumptown collection.
Underscoring the product's intended real-life application, all of these examples utilize the GORE name and performance to provide backcountry-capable protection for everyday use on the street. Granted, some of GORE's appeal lies in the product's inherent, 'just-in-case' ruggedness that inspires the confidence often needed to justify the price tag. Besides, no one knows better than GORE — is there no greater confidence than a guarantee?