Materials & Patterns: Fair Isle
In today's post recessionary economy designers and consumers alike are more inclined to supply and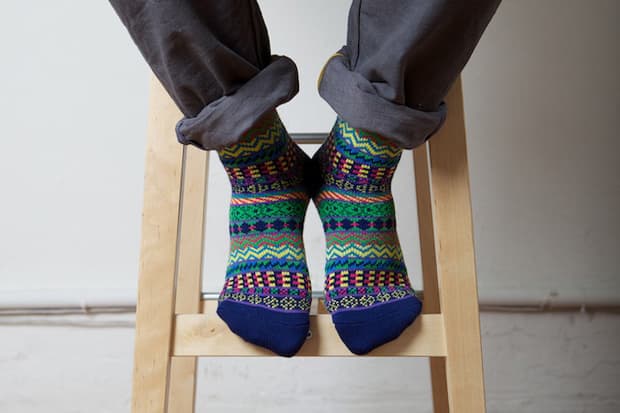 In today's post recessionary economy designers and consumers alike are more inclined to supply and demand garments that can procure the timeless moniker – a traditionally crafted item with authenticity and durability at the forefront of its defining characteristics. The frugal yet informed shopper wants to insure that his or her timeless piece was made with the same passion and care as its vintage counterpart, from the selection of raw materials, all the way up to its merchandising. As brands experiment with forgotten patterns and fabrics blending classical influences with contemporary design, the fashion realm and its subjects are realigned with superior alternatives to mass-produced products. Case in point, Fair Isle knits.
Fair Isle knitting is a process that consists of working two or more colors of yarn into the same row, allowing the artisan to drop and pick up a color as they go down the line, producing a heavy knit with distinct pattern workings. Recently reemerging on the runway thanks to the help of renowned brands like Topman, Junya Wantanabe, and J. Crew, this revered knitting technique began centuries ago on the remote Scottish island aptly named Fair Isle. Origin theories continue to contradict historians, suggesting the isolated island was first introduced to the intricate knitting method by shipwrecked Spaniards in the sixteenth century. Whoever champions as the originator, the women of Fair Isle and northern Scotland perfected the iconic craft for their laboring husbands traveling against the damp and cool climate of the North Sea. For centuries, because the secluded island lacked many natural materials, the resourceful inhabitants relied on their innovative knits as a bartering tool, spreading mittens, scarves, blankets and jumpers along the trade routes of the British Empire. Its popularity didn't reach mainstream fashion until the 1920s when the eccentric Duke of Windsor, later known as Edward VIII, was frequently seen gallivanting around his country club in a tank top, which we now call the sweater vest, distinct to northern Scotland.
As World War II absorbed much of the world, many soldiers, now awake to the fashionable offerings of these uncharted lands, began sending exotic clothing home to their wives and mothers. During the 1940s, Fair Isle knits began showing up throughout the globe, and the tiny island became overwhelmed with meeting production targets. Due to Scotland's inability to obtain copyrights or trademarks, as well as consumers demand for cheap accessible products, more and more clothing brands cashed in on the utilitarian knit by producing more for less, which in turn stifled the already frail economy of Fair Isle. During this time the term Fair Isle knit was thrown around loosely, referring to any stranded color knit regardless of its unique patterns or relation to the islands of northern Scotland.
Welcome the 21st century, along with global financial meltdowns, a crippling housing market crisis, radical terrorism, severe climate changes and a newfound demographic of economically conscious consumers. Stimulators of our economy have transitioned away from department store shopping, opting to instead research for a niche manufacturer willing to offer an advanced product in both build and ethos for a price that will pay for itself over the years of usability. This revolutionary change in buying behavior along with the assistance of experimenting designers and advanced machinery presented an influx in demand for authentic Fair Isle knitting. Providing style with both a durable and warm makeup, this knit style has been recently seen in the latest collections of famed designers around the world, reigniting interest in the real deal coming from the remote Scottish island.
Of course many of the modern day Fair Isle knit renditions are found in a typical jumper or sweater silhouette. From accessible retail chains like Gap and J. Crew to designer labels, Raf Simons and Burberry Brit, brands big and small have reworked the timeless knit into their latest winter collections. With technical leaps in machinery, designers have begun experimenting with different applications, inventively working the knit into unseen fashion territory. Take Japanese designer Junya Watanabe for instance, his celebrated line offered a few pieces this past season featuring the Scottish knit, including a striking wool blazer with matching backpack, and a Nordic varsity jacket that was seen on pop star Justin Bieber. Furthermore, the warm knit has also been reapplied to various quintessential winter accessories, from Mr. B's sock collection to mittens from the chic ski resort designer, Moncler.
Although the people of Fair Isle have seen an increase in demand for their meticulously crafted handknits, it is still a remote island with an intimate group of artisans capable of only producing enough sweaters to fill a single department store display in a year's time. Reintroducing the world to this craft will surely be a daunting task for the tiny island, however they won't be going at it alone. With the help of its Scottish neighbors and respected worldly designers, this centuries old art of knitting sheep's wool into finely worked patterns will remain a luxury surviving underachieving trends. Be on the lookout for more Fair Isle knits in your favorite boutiques next winter and please visit the Fair Isle website to make your donation to a striving nation of original craftswomen.