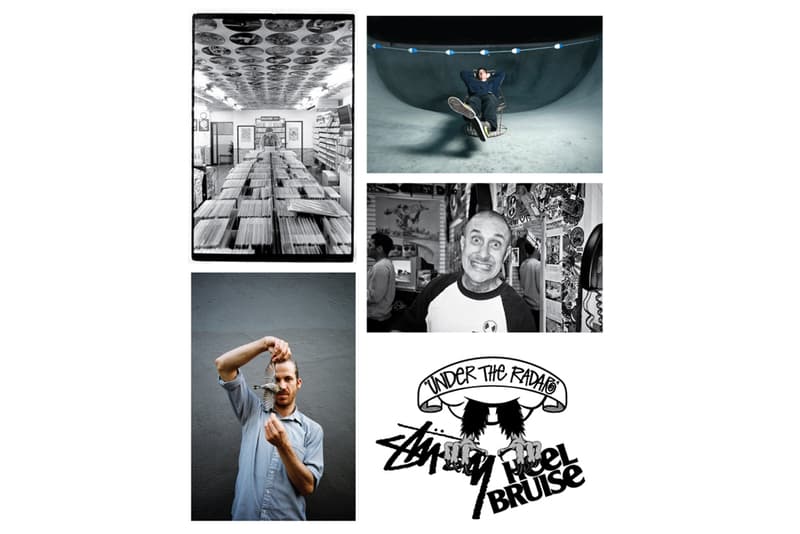 "Under the Radar" Exhibition by Stussy and Heel Bruise
A new platform from Stussy and Heel Bruise arises showcasing the talent of skaters photographers
---
A new platform from Stussy and Heel Bruise arises showcasing the talent of skaters photographers who wouldn't normally have the opportunity to display their work courtesy with the exhibition, "Under the Radar." Aimed at launching photographers from the world of street culture and skateboarding who have a knack for creativity including some familiar names such as Ray Barbee, Robbie Jeffers, Devin Briggs and Curtis Buchanan. Each will display their work at Stussy Las Vegas starting August 22.
"Under the Radar"

Sometimes no matter how amazing something or someone is in the world of art and photography, proper attention can be elusive. "Under the Radar", presented by Stussy and Heel Bruise, aims to remedy that by showcasing photographers from the world of street culture and skateboarding who deserve a bit more recognition for their talent. Not everyone can compose or frame photos properly and not everyone can be at that special place in time to capture the moment, but guys like Ray Barbee, Robbie Jeffers, Devin Briggs and Curtis Buchanan have all been blessed with such talents and fortunate opportunities. All of these guys with their diverse backgrounds will converge to showcase their works — some exhibiting for the first time — at Stussy Las Vegas for the first of the "Under the Radar" photo exhibitions.

"Under the Radar" Show Bios

Ray Barbee – Recognized as a true pioneer in street skateboarding, WeSC activist Ray Barbee continues to impact this sector of culture on numerous levels. Over the years, Ray's artistic talents have taken the spotlight with his amazing guitar playing prowess, but in this case, we will be shifting attention towards his photography. Ray's dedication to the art of film coupled with a keen eye for capturing unique moments have added to what has been a very prolific career all rooted in skateboard culture.

Robbie Jeffers – Robbie Jeffers is a well known name in the street community. Jeffers was once the man running the ship for Stussy as the skateboarding team manager, and his role there ultimately landed him a similar role with the then fledgling Nike SB. But while with Stussy, Robbie put in work not only assembling and managing the posse — he also put his artistic side to work behind the lens. He shot some memorable ads for Stussy during his time there and with his recent transition to digital, he's continued to add to his shooting repertoire.

Devin Briggs – At only 21 years of age, Devin Briggs undoubtedly will have a bright future in the field of photography. At any given time, Briggs is armed with a nice array of cameras ranging from an Olympus Stylus Epic, a Yashica T4 and/or a Leica Mini, in which he utilizes to capture some rather interesting candid moments. The Huntington Beach native has been building a nice body of work over the years, which is why Devin was a must for the inaugural "Under the Radar" exhibition.

Curtis Buchanan – You may have seen Curtis Buchanan skateboarding around Los Angeles and if you have kicked it with him, you might know about his skills with a camera, too. Be it candids, street, portraits, or still life photography, Curtis can pretty much capture it all. The well rounded photographer has compiled an outstanding catalog of photos and his site is definitely one to be bookmarked. Curtis rounds out our exhibitors and we must say it is an honor to include him.