Interview Magazine: Riccardo Tisci by Donatella Versace
Always on the cutting-edge of fashion journalism, Interview offer us an interesting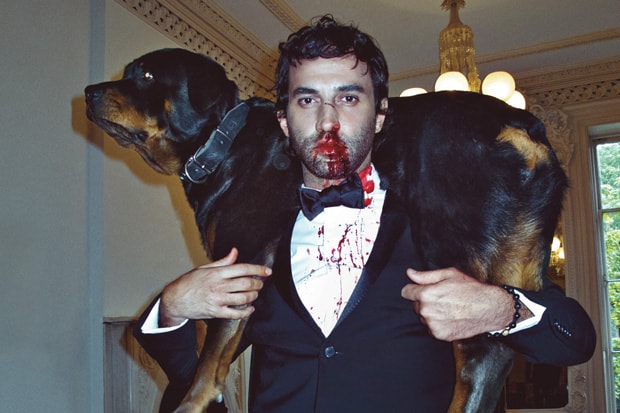 Always on the cutting-edge of fashion journalism, Interview offer us an interesting conversation between Riccardo Tisci and Donatella Versace. Both cult figures, the two designers talk about everything from family to history, and (of course) clothes. Tisci took over the reigns at French haute couture house Givenchy in 2005 and began designing the menswear collection in 2008. He made a name for himself by emphasizing a new aesthetic for the brand, one that is described as "highly sexual, almost primal, but tough-as-nails and maybe just a twinge romantic." Most recently, Tisci's name became known in the hip-hop world by lending his Rottweiler graphics (from the F/W 2011 menswear collection) to the cover artwork of Kanye West and Jay-Z's first single from Watch the Throne, "H.A.M." Offered below are excerpts from the interview.
Let's talk about your last collection, which I found to be very beautiful—super sexy. I would wear all of it.
Brava! In fact, as I've been saying, it is very Donatella, because it is about a very strong woman. My inspiration comes from many sources, and one of those sources is precisely the maison Versace. You know, when I was a little boy, my family was not very well off. I had a sister who worked in a hairdressing salon. I lost my dad when I was 4 or 5 years old. I grew up with eight sisters and my mom. Nine incredible women all a little "à la Donatella Versace." Real strong women from the South of Italy, women who had sensuality. They had a confidence in their body and in their sensuality. And it was a poor family, I am very proud to say it.
I find the idea of having eight sisters to be a very jovial thing.
Absolutely. And even if they didn't have the financial possibilities of dressing themselves fashionably, they were women with an elegant style. The elegance of the South is a very strong elegance and it is one that I bring. It is a sexy elegance—or at least, let's say less chaste. It was also the late '70s and the '80s, which was a certain moment of Versace—especially for me with a sister who worked at a hair salon and brought home fashion magazines on Saturdays. Of course, Versace is, in my opinion, still the flag of Italy; it represents Italy. It meant the arrival of top models, of celebrities, Gianni, Donatella, all the things that made me dream. Those early visions make a big impression.
Has your initial passion diminished at all? Is it still the same as it always was? Or are you getting used to it?
I have to be honest: My great strength, which I very much believe in, is family. For me, family doesn't simply mean components of DNA. I mean family in the sense of siblings. My mom and my sisters are the energy and inspiration in my life. For me, fashion is a job. I love it. It's my passion. But the most important thing for me in general is life. I was lucky. From the time I was a little, I was always surrounded by women, and I am very attracted to the feminine world, because I love the strength and romanticism, which in the end, you can find in my style.
I can see in your clothing that you know the body of a woman. You know how to valorize it. End of story.
Imagine all these sisters. Eight women of all different shapes and lifestyles. So my path was pretty peculiar. Even at the beginning when I arrived at Givenchy, there were certainly people who supported me, but not everyone loved me. They were saying, "Why an Italian who acts Gothic?" Never mind the fact that Italy is one of the main exhibitors of Gothic art in the world. But it was like, "No, Italians should only do sexy!" Sex is something I live very well, but it is something I revealed very slowly in my fashion. What I do is emotional. For me, there is a base, which is my Italian roots. It's a strong passion for fashion, a passion for sensuality and dressing for one's self. Then when I went to England, to Saint Martins, I was traumatized, in a positive way. It was that British sense of transgression and the dark. Then when I went to Paris, I was doing couture, which everyone was saying was finished. Bullshit! For me, in the end, it was all a mixing of ingredients.
When I worked with Gianni at the end of his life, I was the person with whom he would confide and say anything. If there was something I didn't like, I would be honest and say, "No, no, no! Do something different." Do you have anyone like this on your team?
Absolutely. It's super-essential. Even though I don't have a very big team, for me, the word muse may be démodé or not. I adore it, but I am also one, in my delirium, to be quite classical. For a designer—especially a male designer—he absolutely has to have that female voice by his side, which he listens to, he filters, he digests. It's a huge need, because when you see through the eyes of a man, you see a woman a certain way, and how they have little tricks of their own. And like I said before, my luck has always been how I've had a family of women around me, and I have women who are very close to me now—for example, Mariacarla [Boscono], Carine Roitfeld, Marina Abramovic. I have different women whom I adore and value. Everyone thinks that for many years Carine Roitfeld was my stylist, which is not true. Carine was like Mariacarla to me. Yes, there are some people whom I esteem and want their opinion first, but that's my way. Maybe that's because I'm 36 years old, and in a while, I will slightly let go. It is difficult for me to delegate. In the end, I do have two or three people on my team who I listen to.
Check out the full interview here.