Interview Magazine: Big Sean Interview
Following the release of his debut studio album, Finally Famous, Interview Magazine sits down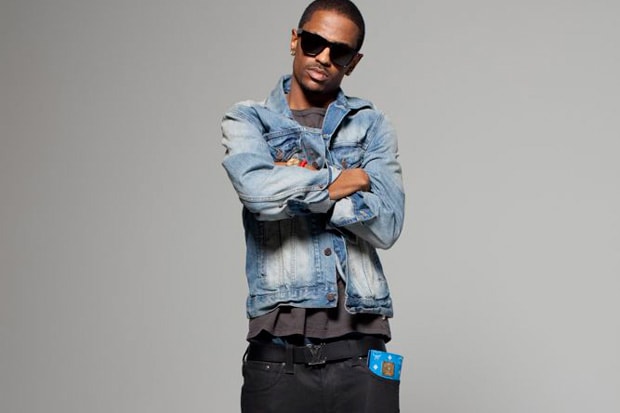 Following the release of his debut studio album, Finally Famous, Interview Magazine sits down for a chat with Big Sean. Since the time of his discovery by Kanye West just a few short years ago, the rapper has admittedly gone from just having a dream to actually living one. In the interview, he discusses a few of the things that have come with fame (they're not all good) and how he's handling it. He also talks about his relationship with Kanye West and Jay-Z, viewing the two men as his mentors, and seemingly grateful to have their blessing. Scroll down to read the interview in its entirety.
Alex Chapman: The crowd went wild when Kanye came out [to perform the song "Marvin Gaye and Chardonnay"]. I saw Jay-Z was there too.
Big Sean: Yeah, that was crazy. I've put in a lot of fucking work, man. I take pride in it—I do it for my fan base. I used to ride to school listening to Kanye and Jay-Z. And then having them fools at my show? You know? They were my idols.
And then I also saw you were on Jimmy Fallon's show, which has obviously become the kiss of mainstream life for a lot of great acts.
It was tight man, playing with The Roots. I walked in, and The Roots told me they were fans of my music, and I was like, "Oh shit." That was crazy. They had to learn songs on my album and had to play them in like an hour. They are one of the most talented bands ever. It was crazy how I was able to tell my story so fast too, because you know they limit your time and it was hard to get it all out.
I was definitely impressed—you were able to act like you've never told the story of you and Kanye meeting before, even though you've told it about a million times. Speaking of which, how do you hold up doing so much press and performing?
Big Sean: If you realize all the stuff I go through every day, man… but it's definitely better than not doing anything or being home with my mom, and it's tight that I'm finding my own way in the world and making music that people like. Even though it's tiring, I'm having the time of my life. I get sick all the time because I get no rest and sleep, but it's definitely worth it.
With all the material you've come out with via mixtapes, it's crazy to think that this is really just the beginning. What's been the difference between the music you've made in the past and making an official, debut album?
There are a lot of sample clearings. Because of that, I couldn't put out some of the things I wanted to put out. I was really mad about it, but the album is still a really great body of work, and I'm so proud of it. Also, with a mixtape, you can just go in and don't have to worry about having a single or a hit record on it. You can just have 40 bar verses if you really want. But when you are doing a commercial release, you have to make music that you can play around the world—at concerts, barbeques, stadiums, whatever the occasion might be. It's definitely a different process, but the thing for me is just to do it well. I can't wait to use what I learned on this album and apply it to the next album.
How involved is the G.O.O.D. Music crew in the material that made it on the album?
They give me creative control. NO ID just went in and made the body of the album—Kanye was always busy, but he would put his hand in there and let me know what was fresh and let me know when he didn't like stuff. Kanye and me made a couple tracks that didn't make the album because of sample clearings, and then a couple he wanted to hold onto.
It feels like Kanye's grown so much since "College Dropout," and the palette of things he's been inspired by—in terms of music and style—over his career is pretty extensive. Are you starting to feel influenced in the same regard, or is it too early?
I haven't seen anything too crazy yet. I've been around the world once and seen things that have inspired me, but as far as style, I'm pretty into the stuff I'm into and the clothes I like. I think I've still got a lot of growing to do as a person—this is my first album, so maybe if you ask me that question later, I'll have a different philosophy on life. For now, I've been concentrating on the music. But what happened with Kanye was music took him around the world, and he was able to intake so much and learn so much about style. I'm pretty sure that will happen to me.
Everybody knows you have a great relationship with Kanye, but I'm curious about your correspondences with Jay-Z.
He's a great guy. He's like Kanye's big bro—he's family. We've had dinners where we just kick it with each other and talk and I just soak up knowledge from him. Once, we were in the studio and we just talked for hours—it was just me, him, Kanye and I think NO ID was there, and I was just thinking "Damn, how did I get here?" Jay-Z is definitely a person who doesn't give a shit and, from an OG's standpoint, lets you know if you made a mistake so you don't make another.
With so many big stars helping shape your career, I have to ask: where do you see yourself in five years?
That's a good question. I think I just want to be remembered for my story and as an example to always move on the impulse of your heart, and not give a fuck what people think. When I graduated from high school, the teacher said I was throwing my life away following music, and the same teacher invited me back to speak at the school. I don't say that to brag, I just want to be an example. I never want to look back on life and say I wish I did something, and I don't want anybody else to do that. I want my music to and serve as a message for this—my music to ride to, smoke to, have sex to, cry to, and just live to.