A Conversation with Jonas Bevacqua
Southern California native Jonas Bevacqua is best known as the Co-Founder and Creative Director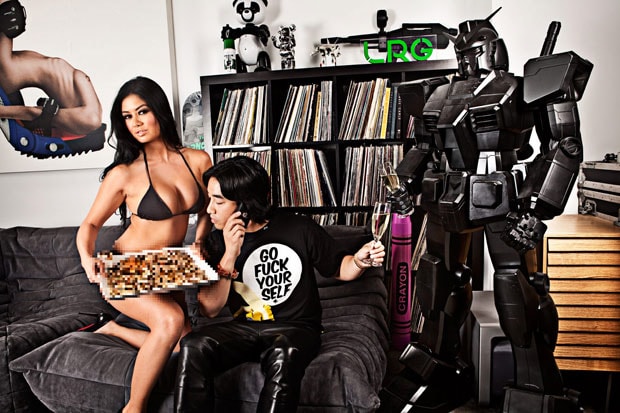 Southern California native Jonas Bevacqua is best known as the Co-Founder and Creative Director of popular street label LRG. LRG is an independent, family-operated apparel company with deep multicultural roots. They do things their own way. Their authenticity comes from being woven into the fabric they promote. They propel the dialogue with their contributions to music, art and fashion, elaborating on LRG's messages in collaboration with their extended family of professional athletes, artists and musicians.
The ideology behind the name Lifted Research Group… Lifted: to lift up and elevate the youth. Research: the study and design of our culture. Group: the collective of individuals who support and inspire the brand.
During the late '90s, when we first came out, music, art, skateboarding, surfing and snowboarding were very segregated genres. It was funny to me because we all did the same things and we all listened to the same music, but hung out with different crowds and dressed according to what we were heavily into. I grew up in Long Beach until I was 14 and then moved to Laguna Beach during my sophomore year in high school.
I grew up surfing in Long Beach and then when I actually moved to Laguna Beach and lived at the beach, I put down my surfboard and started skating. I guess opposites attract. Long Beach in the '90s had this influx of punk, ska and gangster rap all getting mashed together. Laguna Beach had a couple of death metal and reggae bands and surprisingly enough a really small underground hip-hop scene developing. I got really into underground, independent music during this time. I was one of those purist kids for a while. If it was on a major label then I wouldn't listen to it. Just young and ignorant. Anyways, I remember I would shop at thrift stores and also save up my money and buy all this Nautica, Polo, Gap, Banana Republic and Tommy Hilfiger gear. My whole steez at the time was to clash both of these worlds together. I was like a fly ass bum. Ralph Lauren and these other companies dominated the hip-hop fashion scene in the '90s. It was then that I realized how brainwashed we were as a culture and as a consumer. We were putting major dollars into the pockets of Ralph and Tommy. It dawned on me that none of these companies cared about our scene or put any money back into the people that were buying their products. I felt like "the man" was capitalizing on our culture and sucking it dry. So I said "I can make this same gear and support and promote new and upcoming artists, musicians and athletes and also make products that had a conscious message that spoke to the youth." On top of being adopted into a multicultural family of 10 you get a brand with diversity, substance and meaning. A brand that got a reaction out of people. A brand that bridged the gaps between all the things we loved. LRG is a product of these environments that I grew up in.
Our first trade show was… a gift and a curse. A gift because we had an amazing show and sold out of all of our inventory on the first day and took back orders for the rest of the show. The curse was we found out only two days before the show that we even had a booth space. We had a family friend that dropped out last minute and so we had two days to go to Home Depot and build a booth. Me and a few friends literally assembled it in my business partner's driveway and rented a U-Haul and drove it down to San Diego. I want the kids to know when we first came onto the scene there were only a handful of players in this street/lifestyle market, if any at the time. They weren't a dime a dozen like they are today. I know for sure we helped inspire and pave the road for these new brands to roll on.
Supporting independents is… our way of giving back to the ones that support us. It's the backbone of our philosophy. I take a lot of pride in exposing and supporting new talent. I think one of the great gifts we can give back to our community is to advertise, promote and believe in someone that no one knows or has ever heard of. What's even better is a year later when they get a Grammy or video part-of-the-year. That's happened so many times it's getting hard to keep track. Everyone from Kanye West, Cee Lo, John Legend, Anthony Hamilton, John Jackson, The Roots and the list goes on. Mayer Hawthorne, Aloe Blacc, Kid Daytona, Blu and Freddie Gibbs are up next. I think it's really important to be loyal and not forget where you come from. We've sort of become known for breaking the next big thing, we really just practice what we preach. Our slogan is "underground inventive, overground effective." Supporting these independent artists and athletes is just a reflection of that slogan. LRG is our way of rebelling and doing things our way. I think the punkest shit ever is creative freedom. To be able to do what you want, whenever you want and not answer to anyone. To be able to hold your head high and say "we're independent as fuck," and then say "bravo."
My greatest achievement with LRG… is doing exactly this. I love coming here everyday. I love the products we make, the messages we spread and opportunities we give people to use LRG as a platform to get out their own dreams. I'm very thankful to be doing what I'm doing and to play with such a great team. I really believe in our "group," or our collective of people that share a similar vision but also bring value and individualism to the table. One of the key elements to our success is constantly reinventing ourselves. It's true what they say, "The only constant is change." If you think you're going be the same exact person you are five years from now you're completely wrong. In my eyes, if you're not growing or evolving then you're dying.
Catering to a wide audience… is not really accurate in that we cater to a youthful, intelligent, fresh and diverse customer. From fashion boutiques to mom-and-pop surf & skate accounts to street and big box accounts. I think it's naive when people say "I can't fuck with LRG because they're in store X." First off, it's an honor to be in all of our wide-reaching, diverse accounts. We started this company not to keep it from people but because we were so proud of our designs and messages that we wanted to share it with the world.
Why wouldn't you want every kid in the world to see your new line? Is that considered not cool? You know what's cool is when you can employ 150+ people and help keep a store's lights on. That's really fucking cool. Cool guys are really a bunch of clowns. They are like the kids that got picked on in school and now they hide behind their keyboards. Don't let them fool you kids. Do what makes you happy. Don't let some magazine tell you what to "hump or dump?!" or some fashion blog tell you that you have to wear snapbacks and vulcanized shoes now and you have to trade in your denim for chinos. Fuck all that shit. Rock it because you fucking feel like it. All I'm saying is I think kids follow blogs like a religion. Go atheist for a bit. I don't think blogs are bad, I just think kids let them influence them too much and they lose their identity in the process. The last few places I've visited looked like "revenge of the nerds." I think it's healthy for kids to take some time off that blog shit and start thinking for themselves again. I guarantee your style will change. This isn't a personal attack on any brand or person so don't catch feelings. This is just a general comment on the state of our culture and industry. Don't talk about it, be about it!
Maintaining a partnership… has its ups and downs. I would definitely say communication is key. I think it's important that partners pull their own weight and play fair. I definitely couldn't do this by myself nor would I want to. I have the greatest partners in the world. I think it's important for one partner to be the referee because sometimes you don't always agree on everything. It's also important to have the same goals with respect to the business and the brand.
LRG is essentially… a global melting pot. Our brand, products and lifestyle all resonate throughout the world. A kid in Russia, Germany, Canada, France, Japan or Australia can relate to what LRG is about. The key to doing well in international markets is making good partnerships with people who know what LRG is all about, and know how to make it work in their countries. That can be a tricky proposition because LRG is not a brand that can be summed up in a soundbite or plugged in to a pre-existing distribution model, but at the end of the day, great product is great product and our global audience appreciates what we bring.
Handling a rapidly growing company without any formal training… is good because you don't have any baggage, but sucks because you make a ton of mistakes. I think not having any formal training or education is a blessing because you're still innocent. You don't even know if what you're doing is wrong, you just do it because you like it and you believe in it. Once you're tainted by experience or education you definitely lose that innocence and maybe start over-thinking or over-analyzing shit. Always go with your gut feeling. That's something I've always done even when everyone told me it's not a good idea, I still went with my gut feeling. The key is to learn not just from mistakes, but also learn from your successes. We still make mistakes, but we definitely don't make as many mistakes as we did 12 years ago.
My advice to any upstart brand… is to have a partner with a lot of money, but make sure it's smart, vested-interest money. There's a big difference between smart money and regular money. I was lucky enough to have two business-savvy math whiz kids as partners. Know your part – if you're the creative guy then be the creative guy, if you're the business guy then be that guy. A lot of times people try to wear all the hats and end up doing nothing at all because they take on too many projects and nothing gets finished. Part of growing is delegating. Keep it fun. If you have to call it work then you probably shouldn't be doing it. Don't take it so serious, fashion is an expression. It's an art, it's a reflection of how you feel, it's supposed to be fun. We're not curing cancer, even though that would be nice. Most importantly always stay inspired or else you can get bored very easily. I'm constantly looking for new hobbies and interests to stay inspired.
LRG will always represent… the youth, creativity, roots, growth, diversity, intellect and being way above average. Our message is new Americana, it is unity through diversity.
The key to life is to always stay thankful. So big thanks to my partners Robert and Charlie and the whole LRG family and all the kids who share and support what we do! A special thanks goes out to Quang Le, Byrone and Kim Lee. Your only as good as your team and my team is the best! Check out what our Artist Driven gang is up to at Highendlowlifes.com, and don't let the T-shirt offend you, where I come from it's a term of endearment. It means "I Love You." The girl is for all the kids out there who like Asian girls with big ideas! We're just having fun, peace!