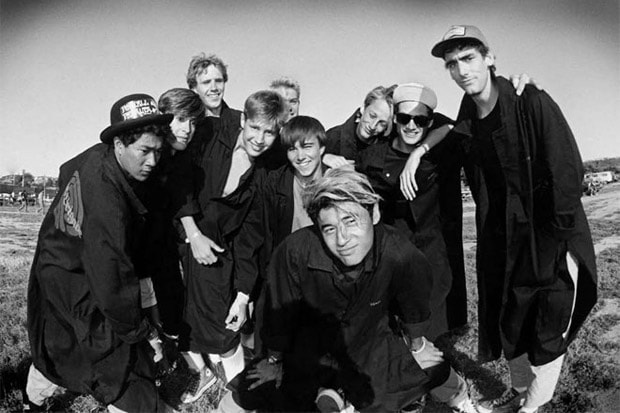 Bones Brigade: An Autobiography - Interview with Stacy Peralta
Monday marked the announcement that skateboard legend Stacy Peralta's film, Bones Brigade: An
---
Monday marked the announcement that skateboard legend Stacy Peralta's film, Bones Brigade: An Autobiography, would be one of eight out-of-competition documentaries to be screened at the venerable Sundance Film Festival. The film reunites the Powell-Peralta Bones Brigade skateboard team — Tony Hawk, Steve Caballero, Rodney Mullen, Lance Mountain, Tommy Guerrero, Mike McGill and many more — to look back on a pivotal moment in skateboard history and in Peralta's own life. Recently ESPN had a chance to sit down with the skater turned director for a chat about his past as well as the travails he faced while making the film. Check out choice excerpts below and head over to ESPN to read it in its entirety.
You brought "Dogtown & Z-Boys to Sundance in 2001 and have since been back with "Riding Giants" and "Made in America." Why has Sundance been so important to you personally, and what does it mean to you to be premiering your Bones Brigade documentary at Sundance in 2012?
Even though this is my fourth time, it's just as exciting as my first time. Sundance is important to me because I'm not a big fish. I'm a small fish in the world of filmmaking and it's really, really difficult to get attention for independent films and documentary films. When you get accepted into Sundance knowing that 10,000 other films from all over the world were trying to get into this festival at the same time, and yours got selected, it gives a certain cachet and importance to your film. It gives your film a blessing, in a sense. Instantly, here's all this attention on your little film and it gives you a chance.
Your documentaries have been very character-driven, and the common character between "Dogtown" and "Bones Brigade" is actually yourself. Looking back on it as a storyteller, what happened to Stacy Peralta, as a character, in the interim between the Z-Boys falling apart and the Bones Brigade coming together that helped make this entirely different moment in skateboarding happen?
It's not what happened with the Z-Boys team, it's what happened with me as a professional skateboarder. You have to understand something: I was 17-years-old when I started getting paid to ride skateboards and started making more money than both of my parents. Suddenly I'm being flown all over the world and being treated as if I'm somebody. Well, I realized I wasn't somebody. I was still the same person I'd always been and I saw how it did in fact blow some heads out of proportion for some of the guys I was competing against. They believed what they were experiencing, you know? That they were rock stars and the money was never going to stop. When I was bringing up my team, I wanted to make sure they never fell under that spell, because it can wreck your life.
That seems to have happened to a lot of the best skaters from that era. Other documentaries, like "Stoked: The Rise and Fall of Gator," and "Rising Son," the Christian Hosoi film, stand as cautionary tales.
It's really sad. I know a lot of guys from several generations in skateboarding who look back now and realize the opportunity that they had, and that they weren't mature enough at the time to understand it for what it was. It knocked their self-perception out of order for a while. I heard a great quote last week, somebody said, 'Some of the most important decisions you'll ever make, you'll make during your 20s, but the problem is you're not prepared to make those decisions when you're in your 20s.' That's kind of the way it is. One thing my team had that some of the other skaters at the time didn't is they had me, a former professional skateboarder who knew what the pathway looked like. I didn't want to see them blow it. It was my goal to hold the team together and not let it break apart, like what had happened to me and the teams I had been involved with as a skater.
The guys in the Bones Brigade went on to become the biggest names in skateboarding, but in the beginning it really was just a bunch of kids.
At the time it was very common when you started a new company just to steal professional skateboarders off of other teams and start a new team of riders that everybody already knew about to get your brand established. I didn't want to do that. Instead, I started going all over the state of California looking for skateboarders at all the little amateur contests, kids that were 13 or 14 who I could see that within two or three years they were going to be the next generation. I got to choose whoever I wanted for my team because at the time nobody else was there doing it.
Source: SLAMXHYPE