La Robe De Rihanna Au Met Gala A Nécessité 750 Heures De Travail
Une papesse d'exception.
1 of 5
2 of 5
3 of 5
4 of 5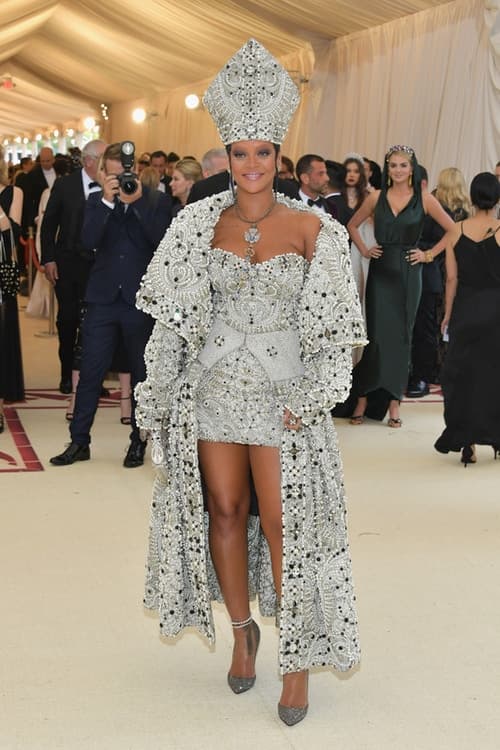 5 of 5
Rihanna a fait sensation au Met Gala 2018 avec une robe façon papesse. La jeune femme a revêtu une soutane revisitée pour coller au thème 'Corps célestes : la mode et l'imagination catholique' du gala. Mais qui se cache derrière cette oeuvre d'art ?
"Chaque pièce a été réalisée dans une mousse élaborée de jacquard et est entièrement ornée d'une série de perles et de 'Bijoux' suivant le motif original et complexe du tissu cousu en fil d'argent" explique Maison Margiela. Le tenue de Papesse de Rihanna est "une tenue artisanale faite sur mesure par John Galliano" lui même et imaginée spécialement pour la Barbadienne détaille la maison française. 
"La tenue est un ensemble de trois pièces coordonnées, comprenant une veste sculpturale et une jupe portée par-dessus une robe bustier et un chapeau fait sur mesure. Au total, la tenue a pris 250 heures à coudre et 500 heures à broder à la main par l'Atelier Paris de Maison Margiela." précise la maison de haute couture.
Coût total de l'oeuvre d'art ? Maison Margiela a gardé secret le montant de l'ensemble alluré porté par Rihanna. On sait en revanche que la tenue de la jeune femme était également soulignée par un pendentif Cartier de la 'Collection Crucifix Pendant circa 1934'. Make it rain on the Pape.
Quand Rihanna n'est pas habillée en papesse elle prépare un album reggae. Oui Rihanna sait tout faire. God Bless Rihanna.