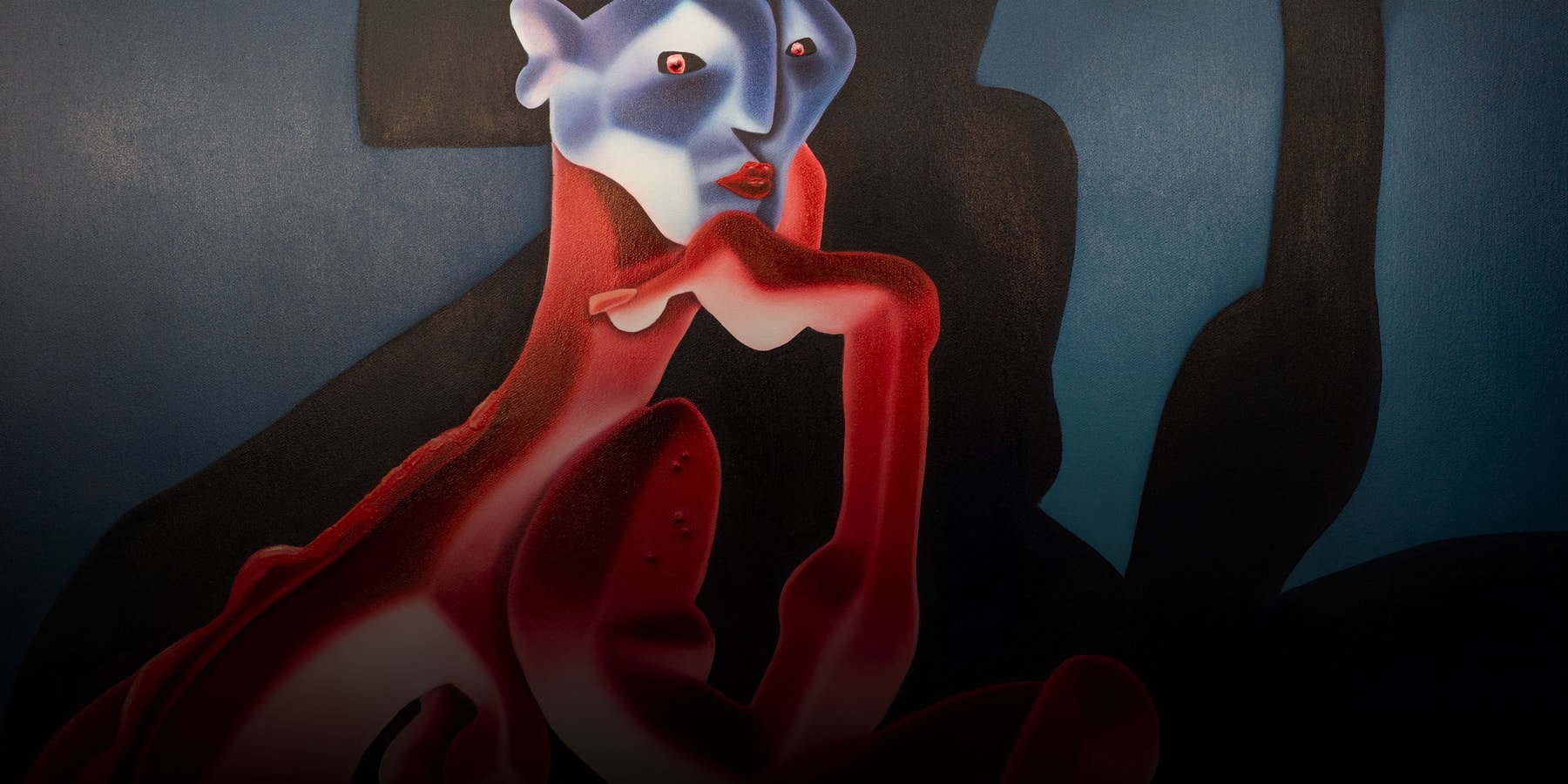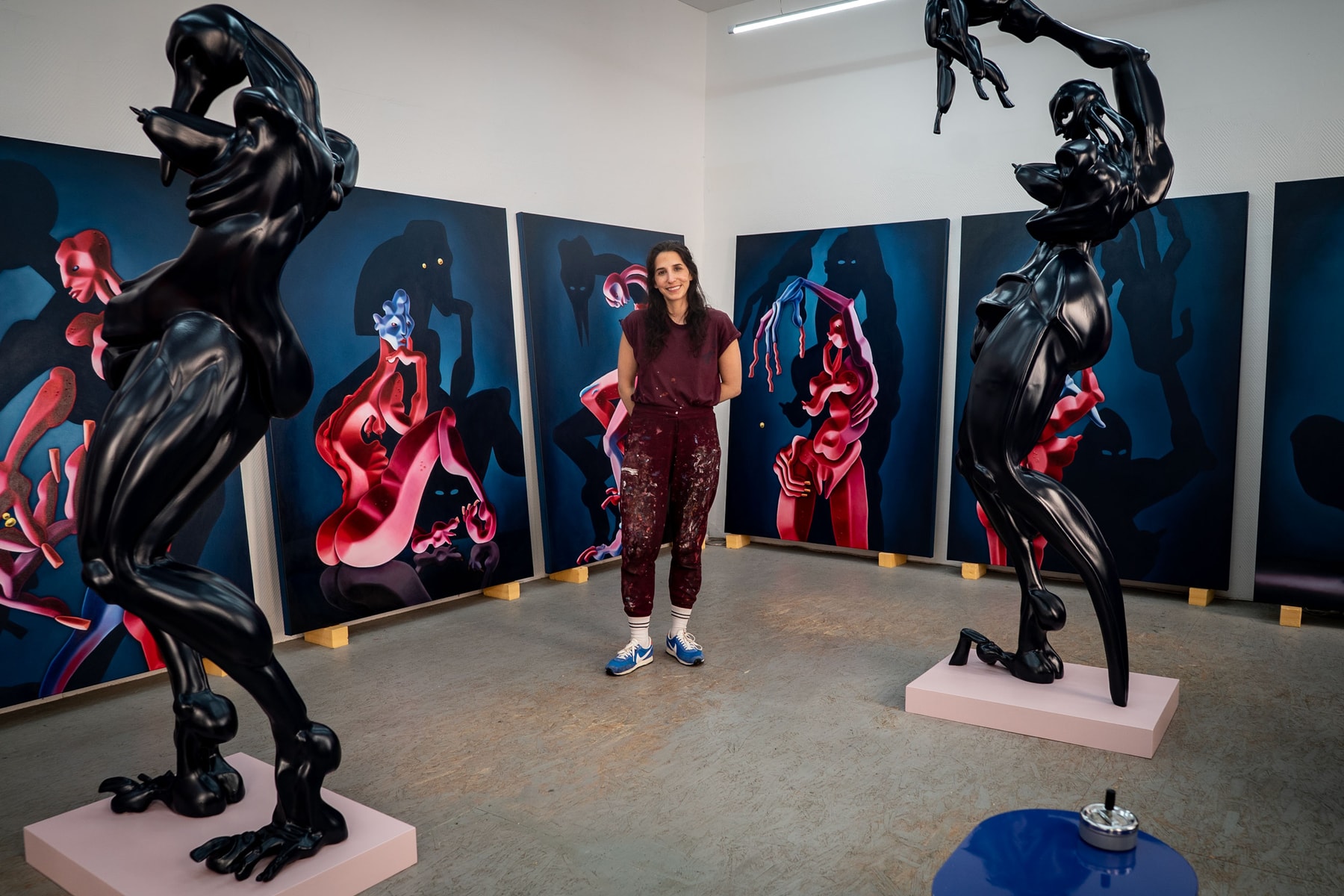 Hypeart Visits: Cathrin Hoffmann Bridges Dimensions through Paint and Form
Tapping into the complexity of human existence through striking figurations.
Cathrin Hoffmann's journey is a testament to the transformative power of creative self-discovery. Born from an early fascination with art, the Berlin-based artist's path was anything but straightforward. In her formative years, the prospect of becoming an artist held undeniable allure. However, societal pressures and advice from family and friends led her down a different road. Determined to find a viable career, Cathrin pursued graphic design, carving out a successful niche as a graphic designer in Hamburg. Though this path bore its own merits, the spark of her true artistic calling flickered beneath the surface.
Hamburg, though not her hometown, became a canvas for Cathrin's endeavors. Yet, a persistent tug towards her genuine aspirations never waned. It was amidst this period of exploration that she embarked on a life-changing journey to Central America in 2016. Amid the vibrant landscapes and newfound horizons, Cathrin rekindled a dormant passion – drawing and collaging photos to create captivating art. This creative process became an avenue of liberation and a profound revelation. With each stroke of the brush, she felt an unbreakable connection to her artistic essence, laying the foundation for her undeniable calling.
Cathrin's transformative moment reached its peak while she sought solace and inspiration in the landscapes of Nicaragua. Amid the beauty of this country, she carved out a sacred space to channel her creativity. Hours spent immersed in her craft brought about a breakthrough of inspiration, a memory cherished in retrospect. Returning from her travels, the siren song of her artistic roots grew harder to ignore. Although she initially returned to the realms of advertising, a pivotal awakening prompted her to make a courageous decision. With conviction, she embraced her passion for art, leaving the confines of her advertising career behind, forever altering the trajectory of her artistic journey.
1 of 5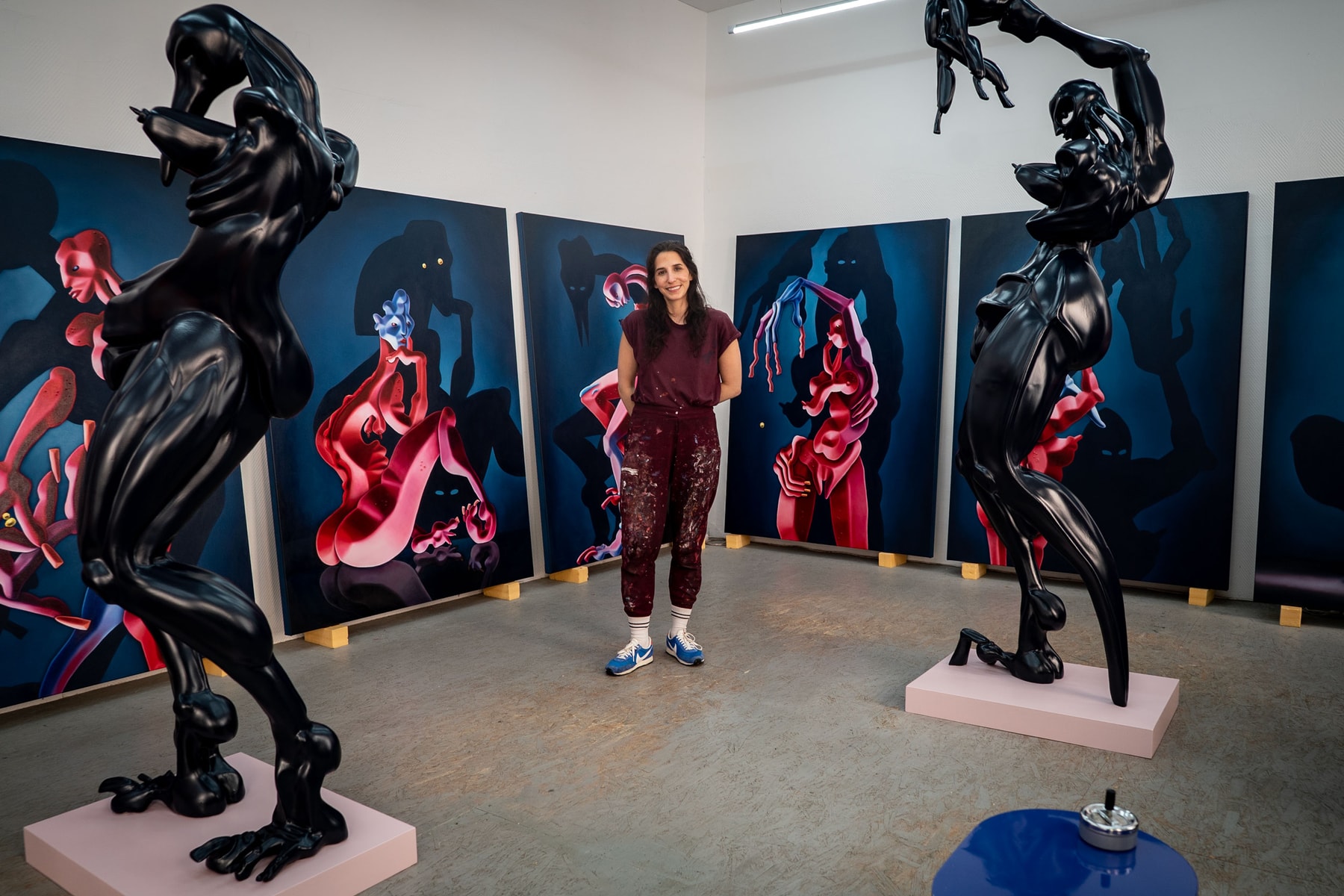 2 of 5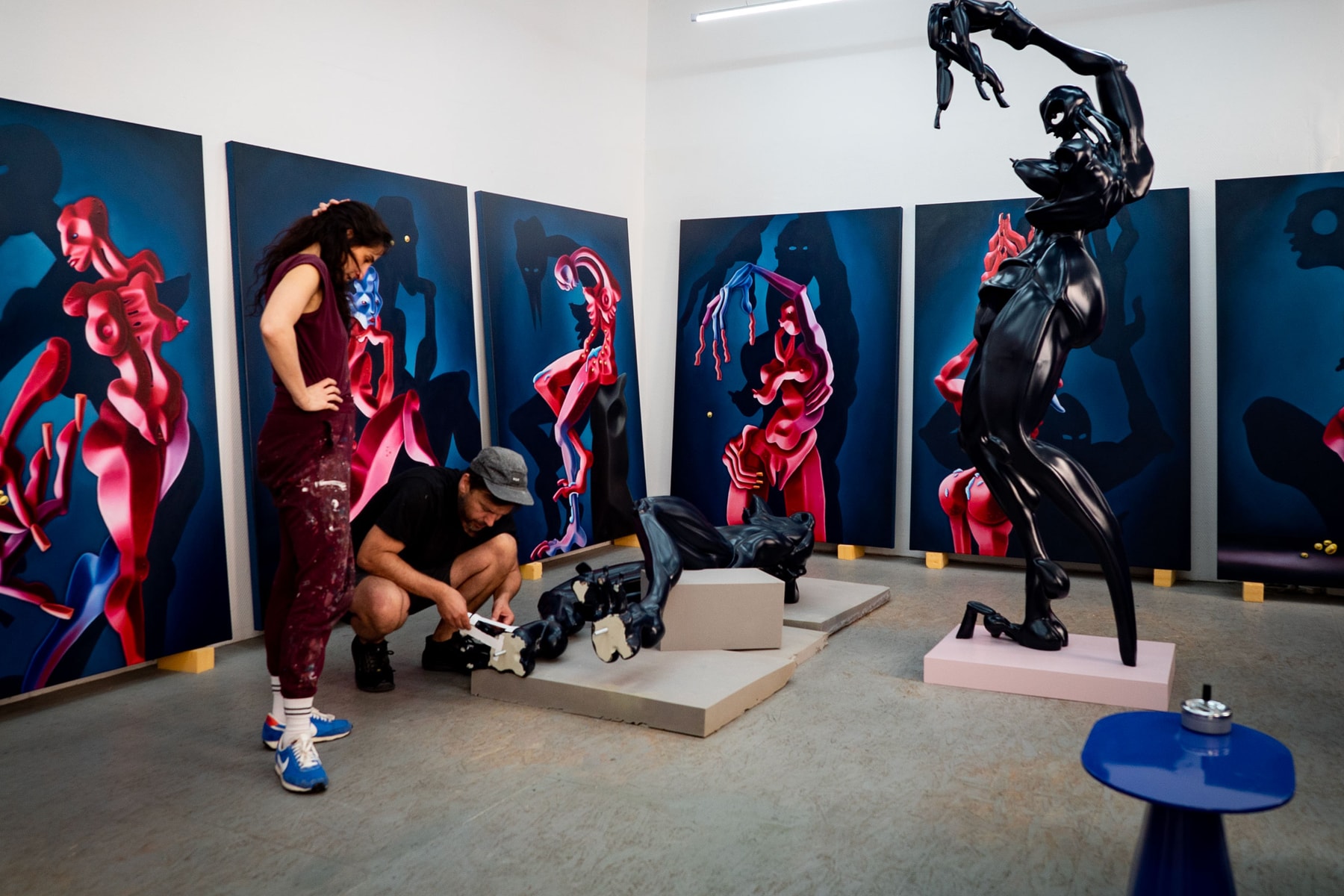 3 of 5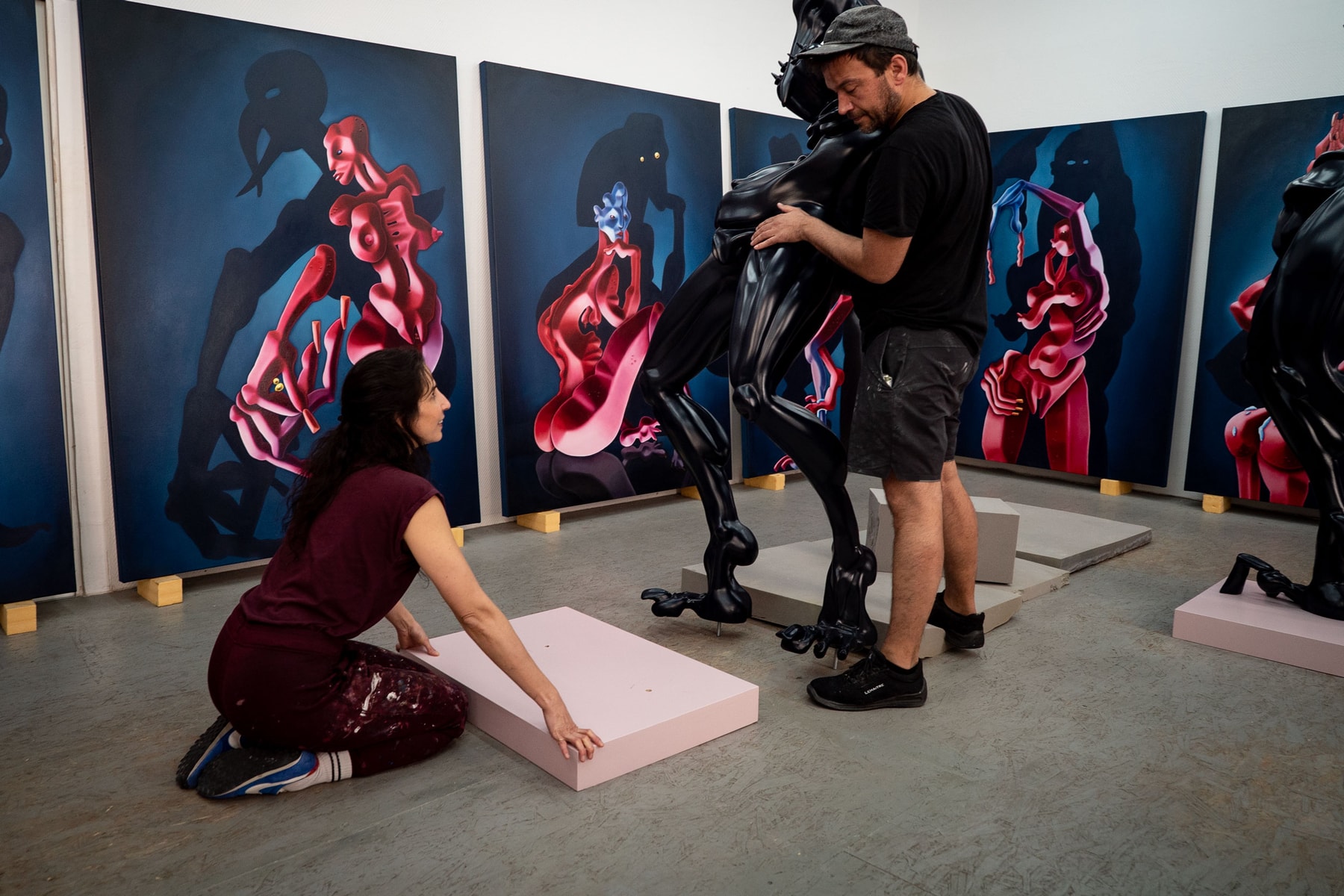 4 of 5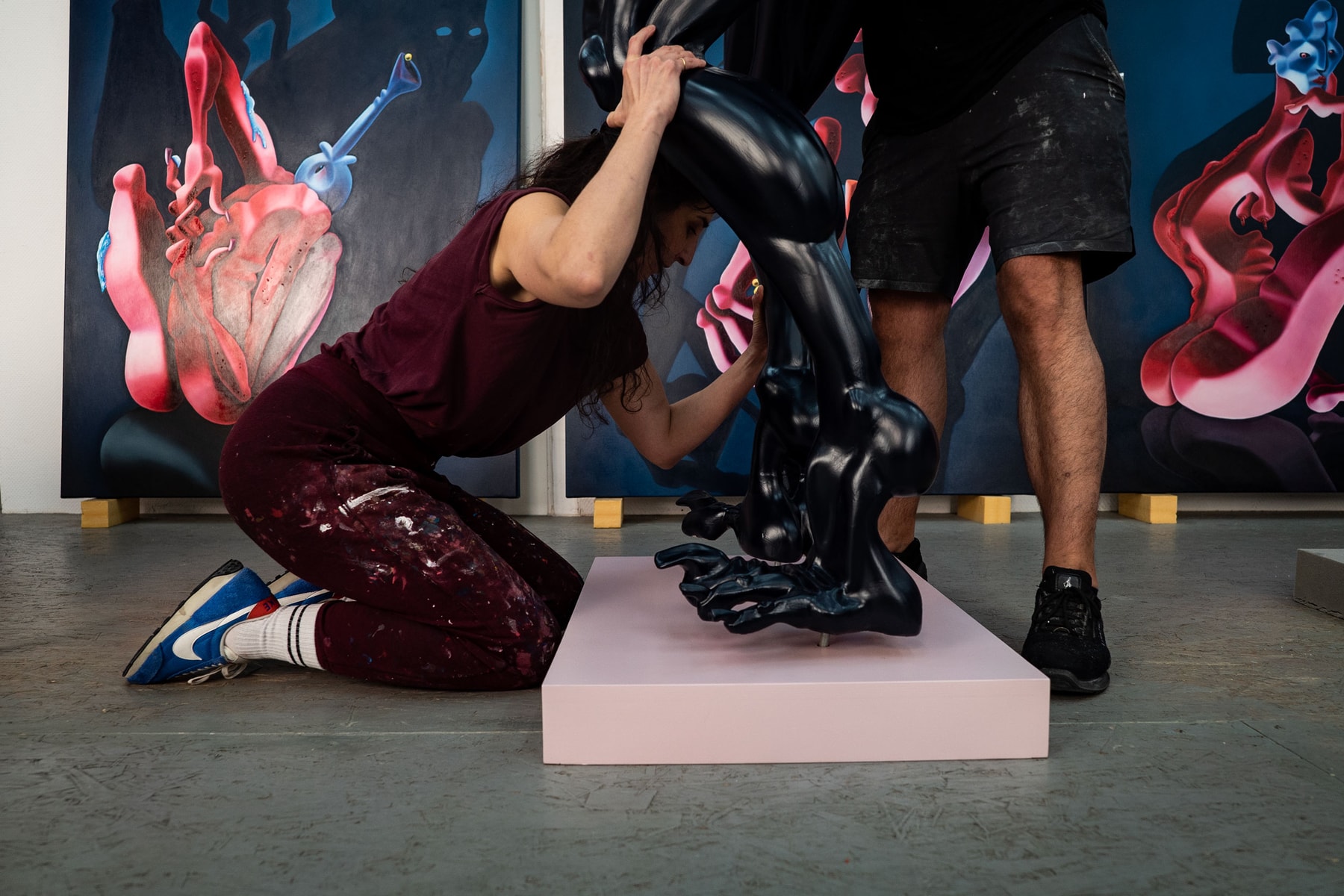 5 of 5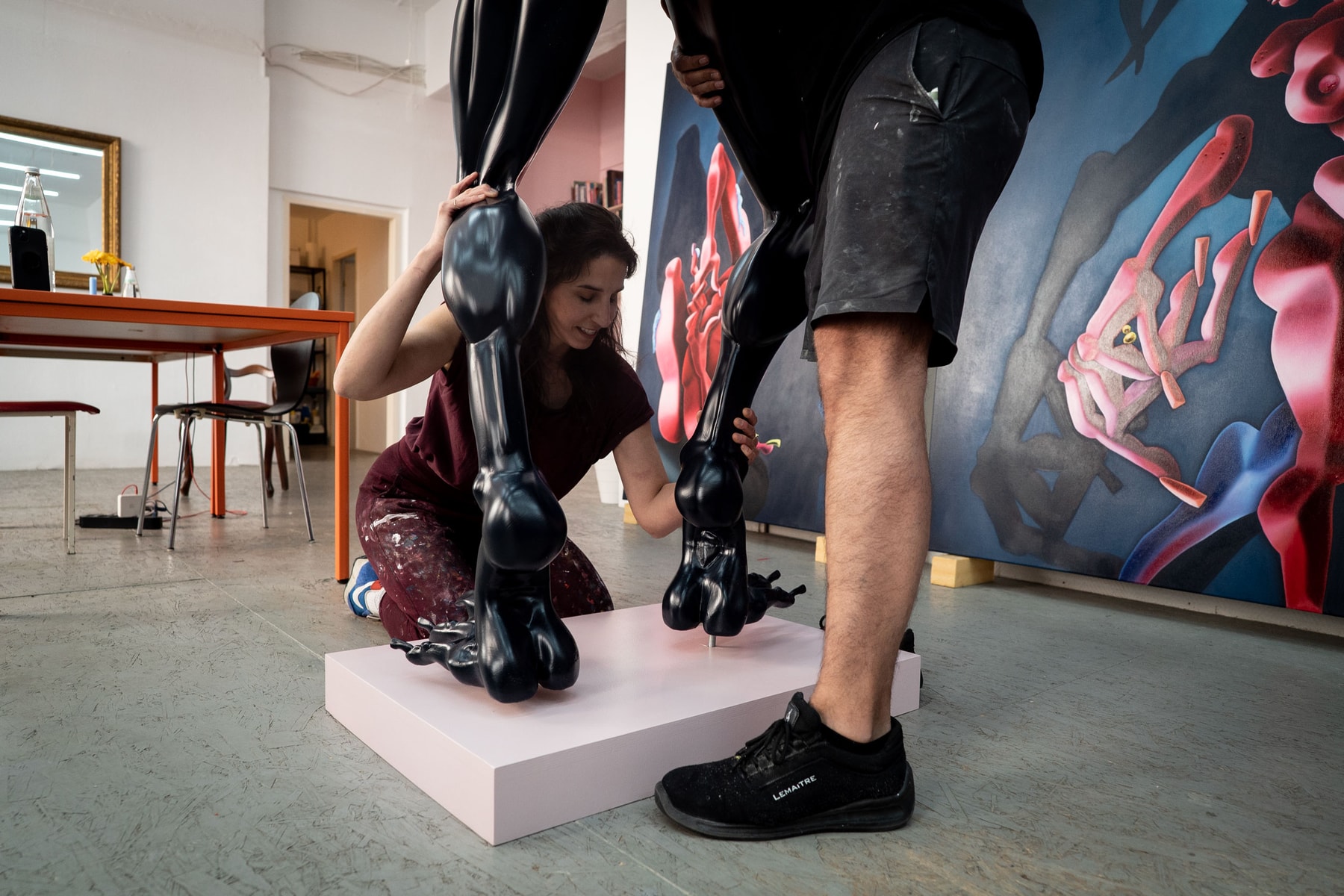 Her unique process is a tapestry woven from various inspirations. At the inception of each painting, she starts with a flurry of quick sketches, etching her ideas onto paper in black pencil. These sketches, like fragments of a puzzle, serve as sparks that ignite her creative flame. Selecting one sketch from the multitude, she breathes life into it digitally, infusing colors and effects to conjure a tangible vision of the final piece. This digital realm becomes a playground for exploration, a place where she forges the intricate dance of light and shadow, coaxing depth and dimension from the canvas.
Moreover, her palette mirrors her profound reflections on humanity's coexistence with nature. Steering clear of the distraction of skin tones, she navigates the color spectrum with contrasts that evoke curiosity and captivate the viewer's gaze. Cathrin's artistic world bridges mediums, intertwining painting and sculpture with an unbreakable bond. Intriguingly, her sculptures often mirror the enigma of her paintings. As viewers traverse the contours of her sculptures, gradients and monochromatic palettes interplay to beckon deeper introspection. Her art exists as an exploration of contrasts and ambiguities, a reflection of the complex interplay between light and shadow, and the dichotomies that shape our perceptions.
These art forms will soon culminate in an exhibition, where Cathrin's works will be showcased at the Armory Show in New York City. Represented by Public Gallery, this solo booth will see her latest series of paintings and sculptures as a fusion of her complex concepts. For our latest 'HypeArt Visits,' we met with Cathrin in her studio in Berlin to discuss her artistic journey, her momentous career switch, and upcoming projects. Read our exclusive interview below.
1 of 5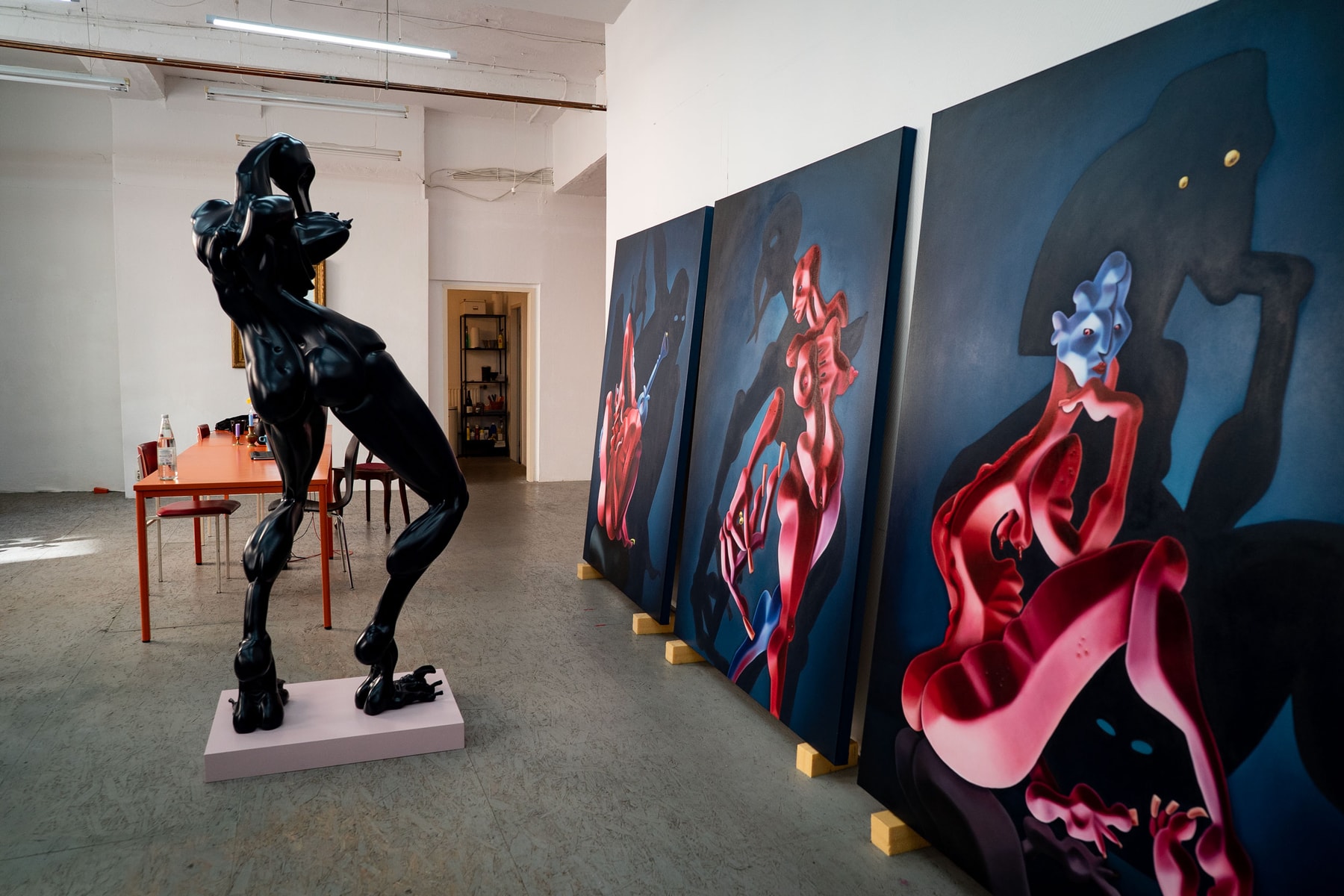 2 of 5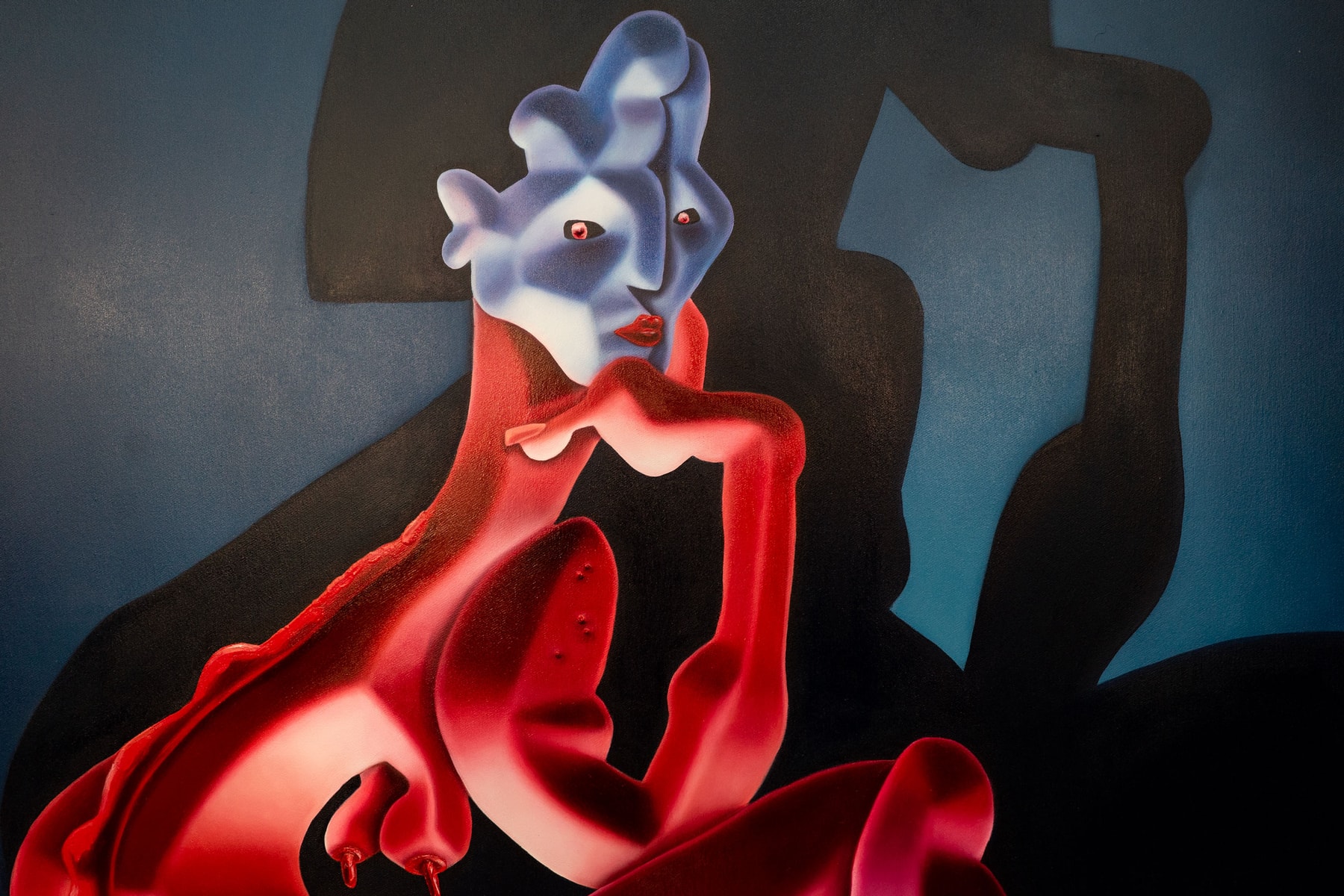 3 of 5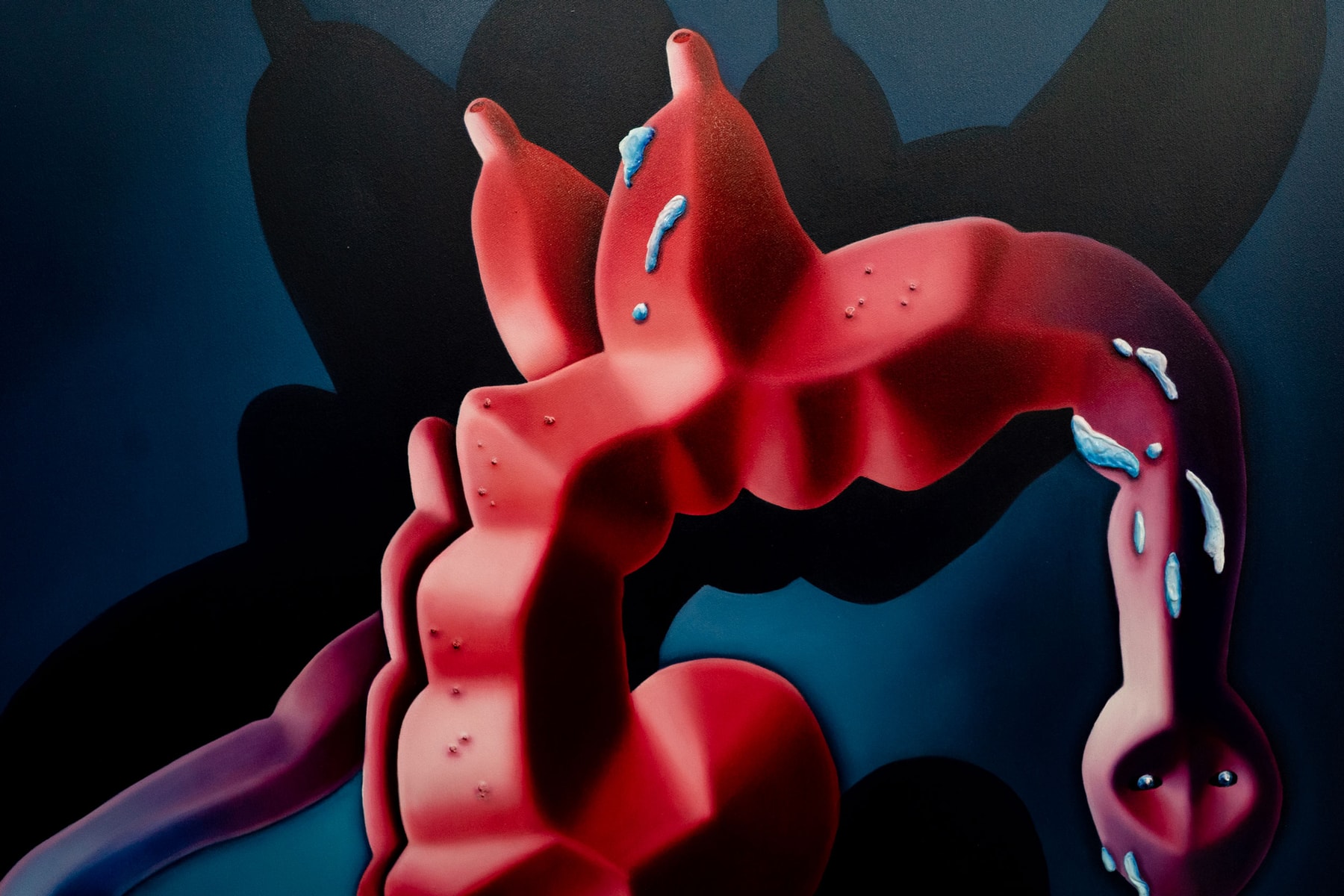 4 of 5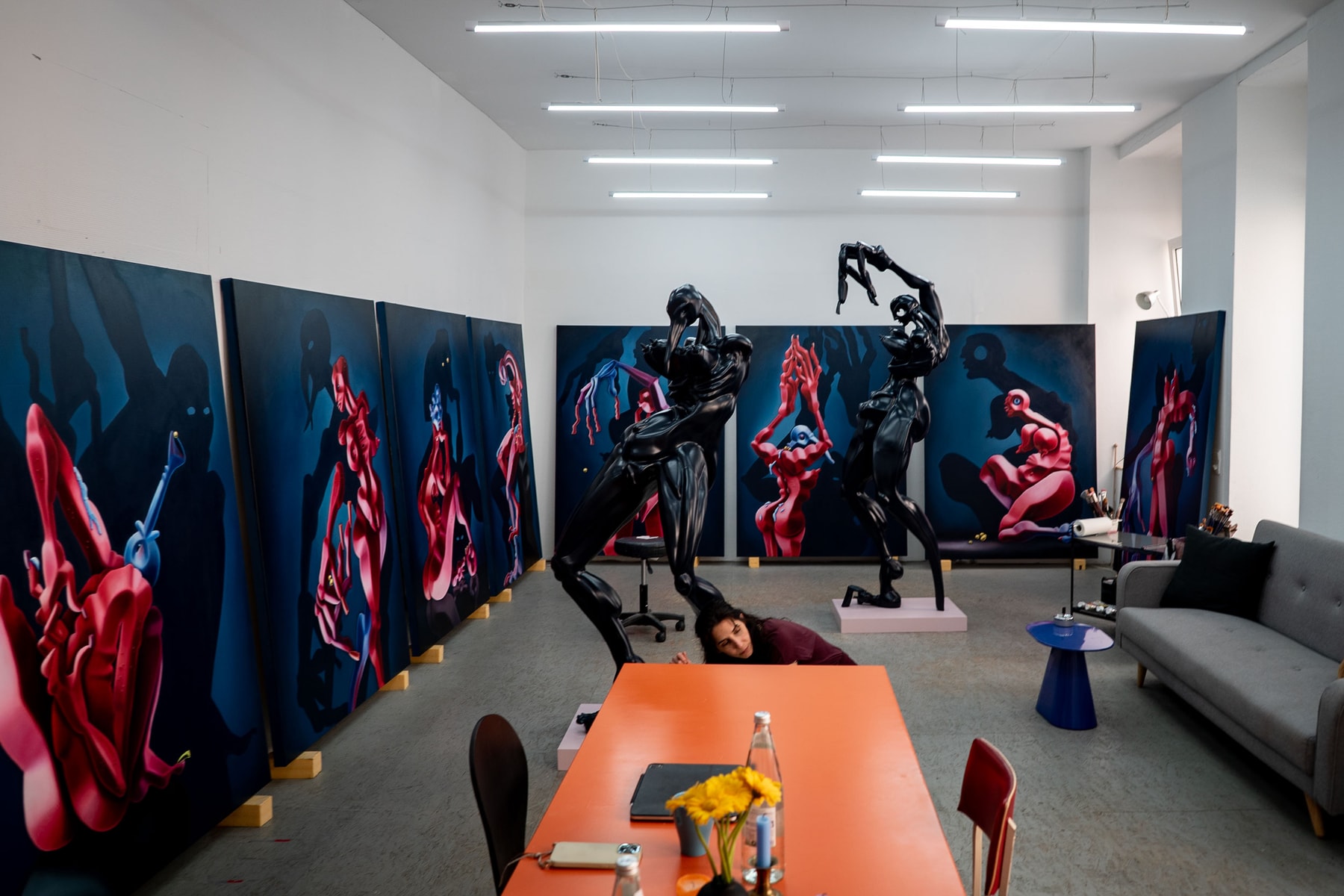 5 of 5
"This creative process was liberating, and I felt a strong connection."
Let's begin by discussing your creative upbringing. What led you to develop your interest in art?
That's a good question. When I was younger, I thought I would definitely become an artist. But it wasn't that straightforward. After finishing school and taking art classes, I knew I wanted to pursue art. However, reality hit when societal pressures and advice from family and friends started influencing me. They told me that being an artist wouldn't be financially viable. So, I decided to study graphic design instead. I pursued graphic design and worked as a graphic designer in Hamburg.
Is that your hometown as well?
No, I'm originally from a smaller town close to Hamburg, about an hour away. This posed a bit of a challenge for me, as I wanted to venture farther from my hometown to explore the world. Despite that, I found my time in Hamburg enjoyable. I pursued graphic design and had a successful career in advertising, even earning some awards. However, I eventually realized that this path didn't align with my true artistic aspirations.
So, how did you transition into a different career?
I began freelancing after leaving my full-time job and tried to make it work, but it still didn't feel right. In 2016, my partner and I embarked on a journey to Central America. During our travels, I rediscovered my love for drawing and creating collages from my photos. This creative process was liberating, and I felt a strong connection. It was during this time that I truly recognized my artistic calling.
1 of 3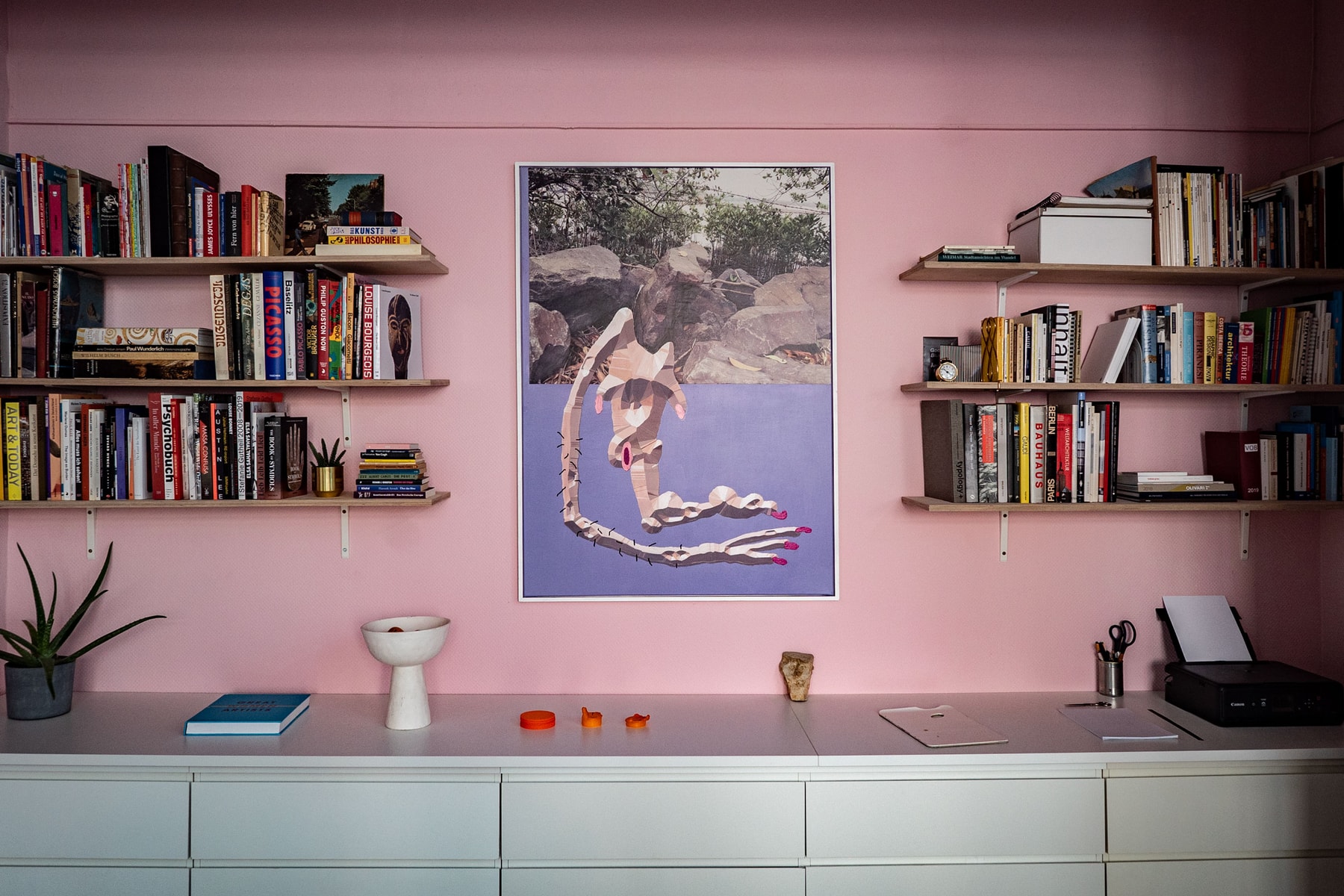 2 of 3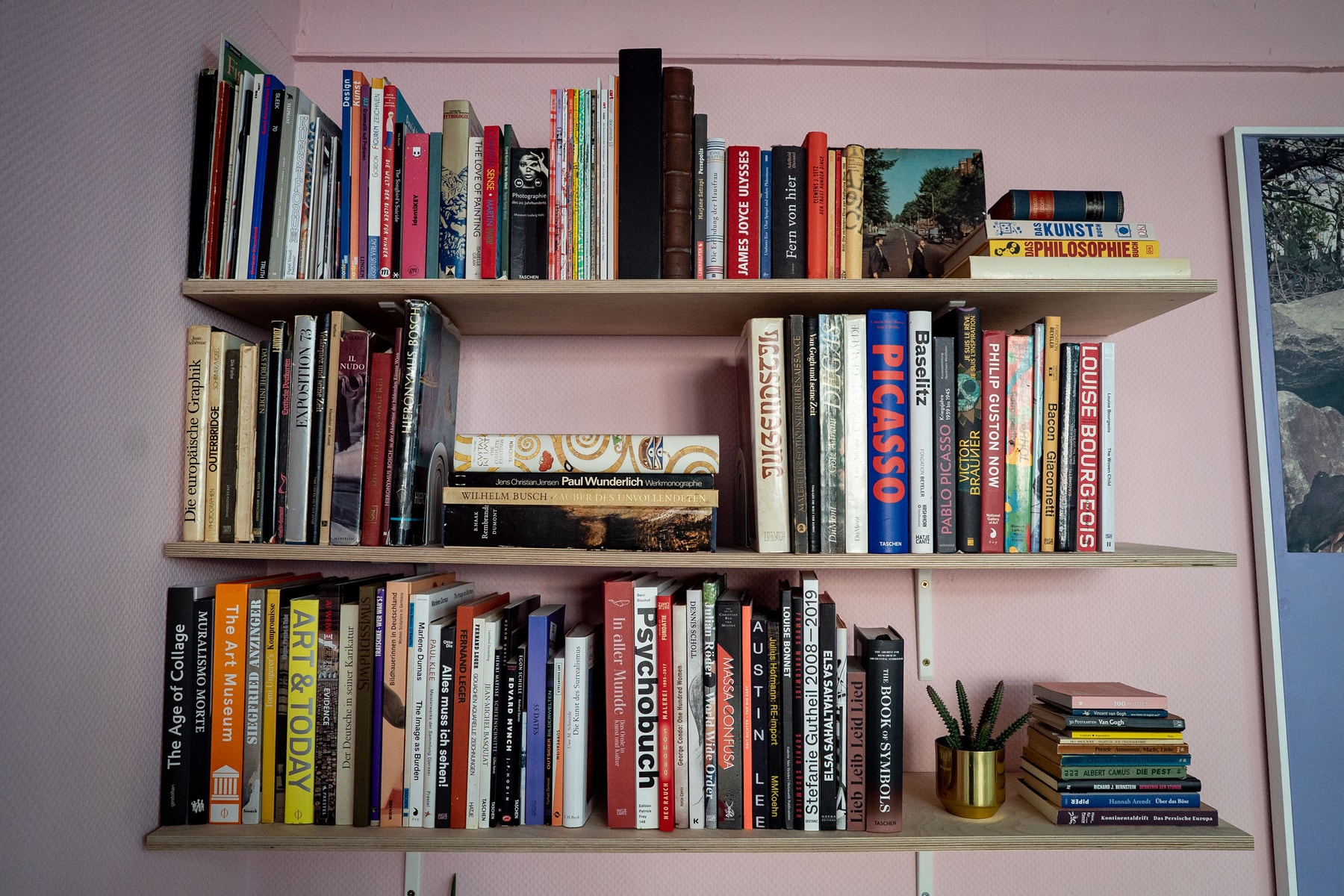 3 of 3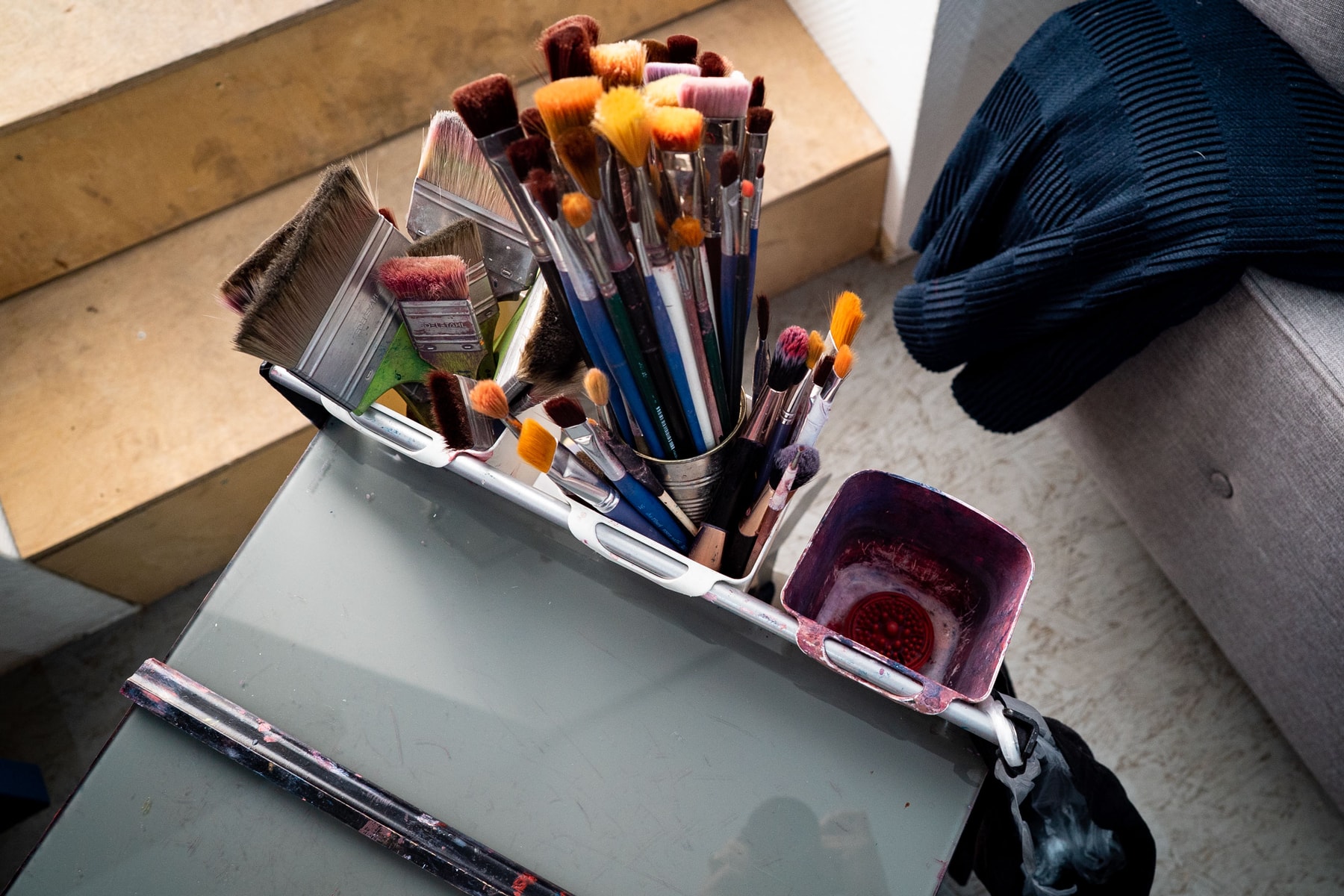 "Even if my art journey faces challenges or uncertainties, I'd rather choose this path than compromise my artistic calling."
It sounds like you had a pivotal moment during your travels.
Absolutely. While we were in Nicaragua, I had a dedicated space to work on my art, and I spent hours immersed in my creative process. This experience was like a breakthrough, and I felt so inspired. Looking back, it's a cherished memory.
That's wonderful. So, after returning, how did you navigate your artistic journey?
Upon returning, I initially went back to advertising, viewing my travels as a nice break from reality. However, about a year and a half later, I had an awakening. I decided to fully commit to my passion and embrace art as my true career. This decision marked a significant turning point in my journey, and I haven't looked back since.
It sounds like you made a firm commitment to pursuing your artistic dreams.
Exactly. I left the world of advertising behind and haven't regretted it. Even if my art journey faces challenges or uncertainties, I'd rather choose this path than compromise my artistic calling.
1 of 4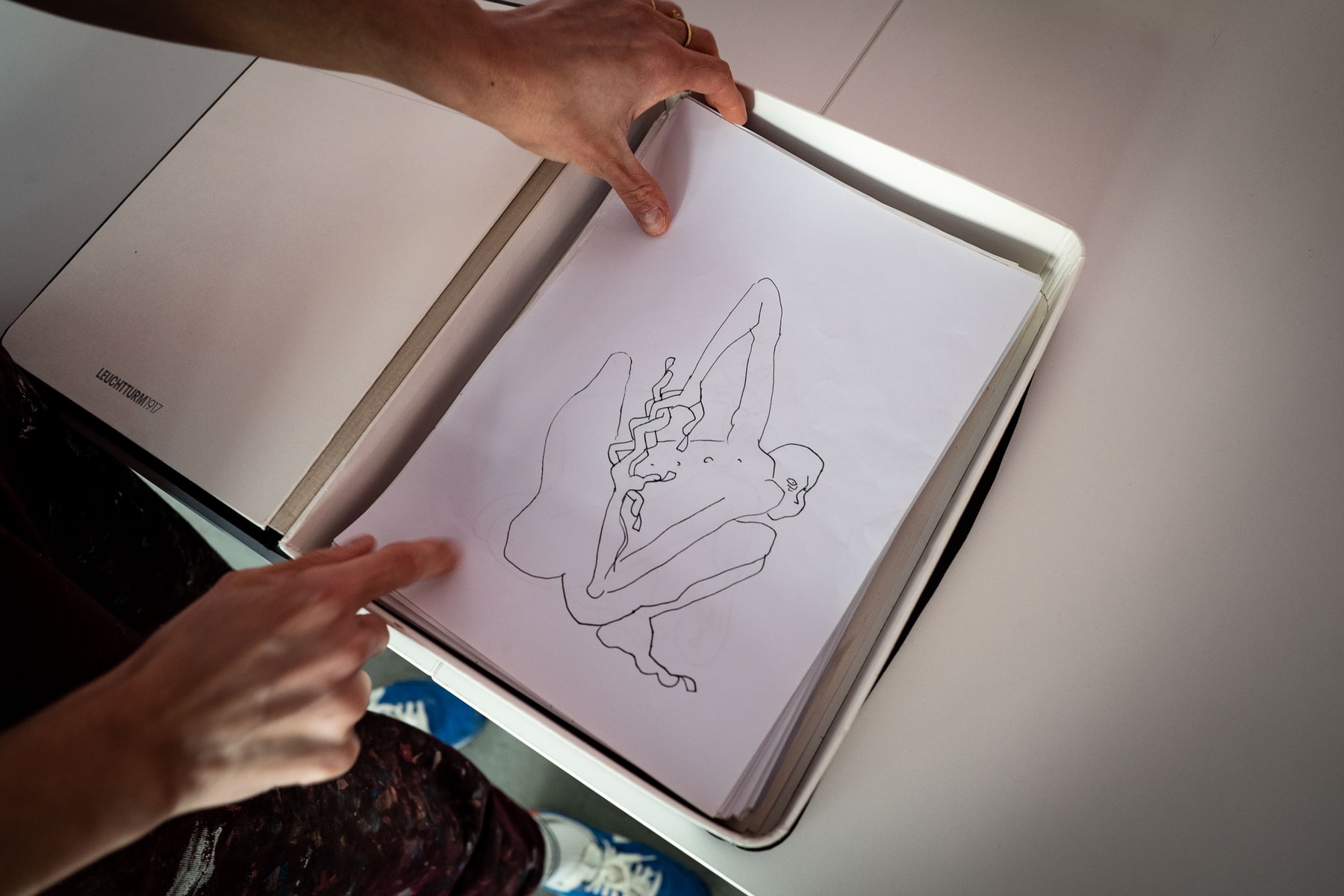 2 of 4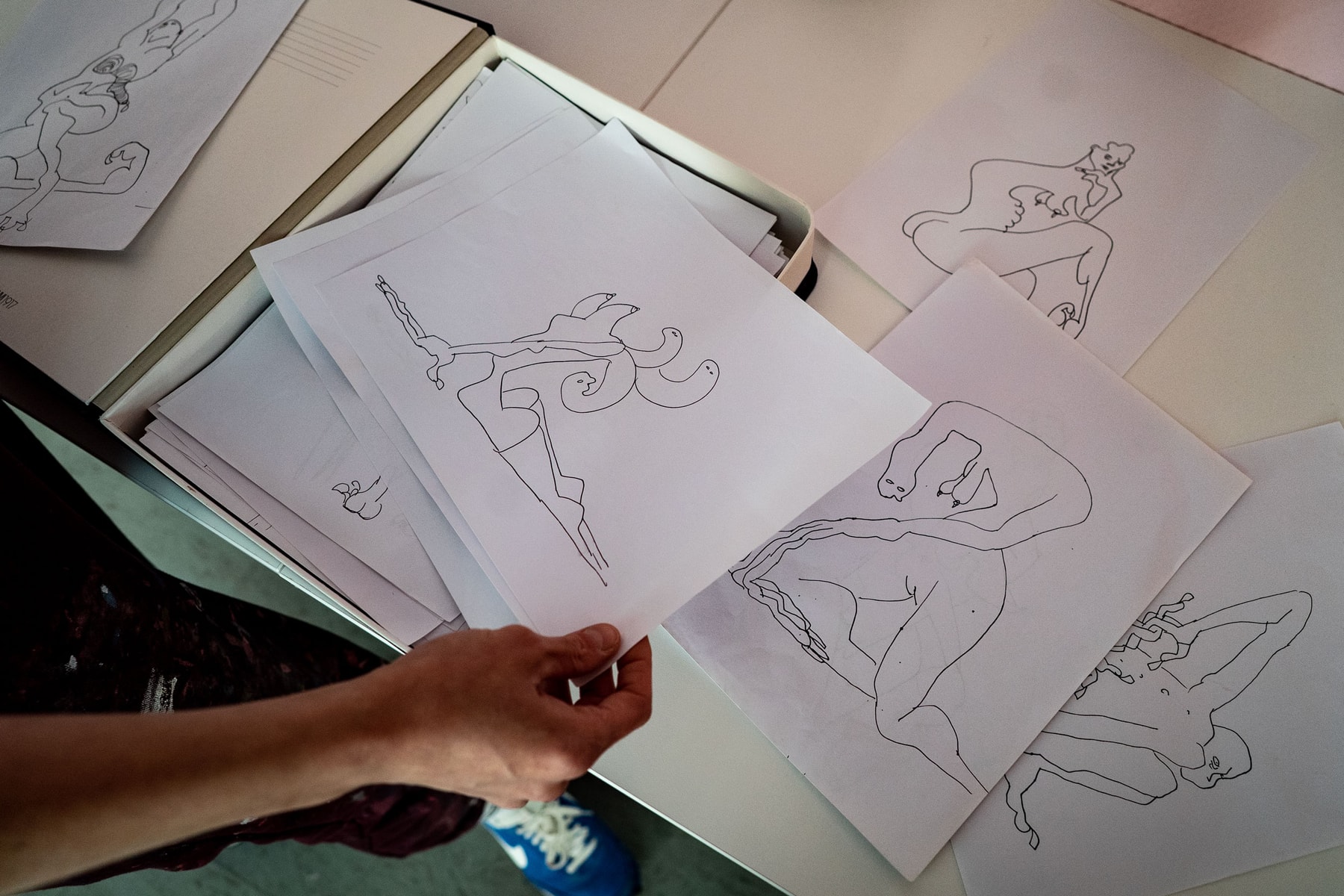 3 of 4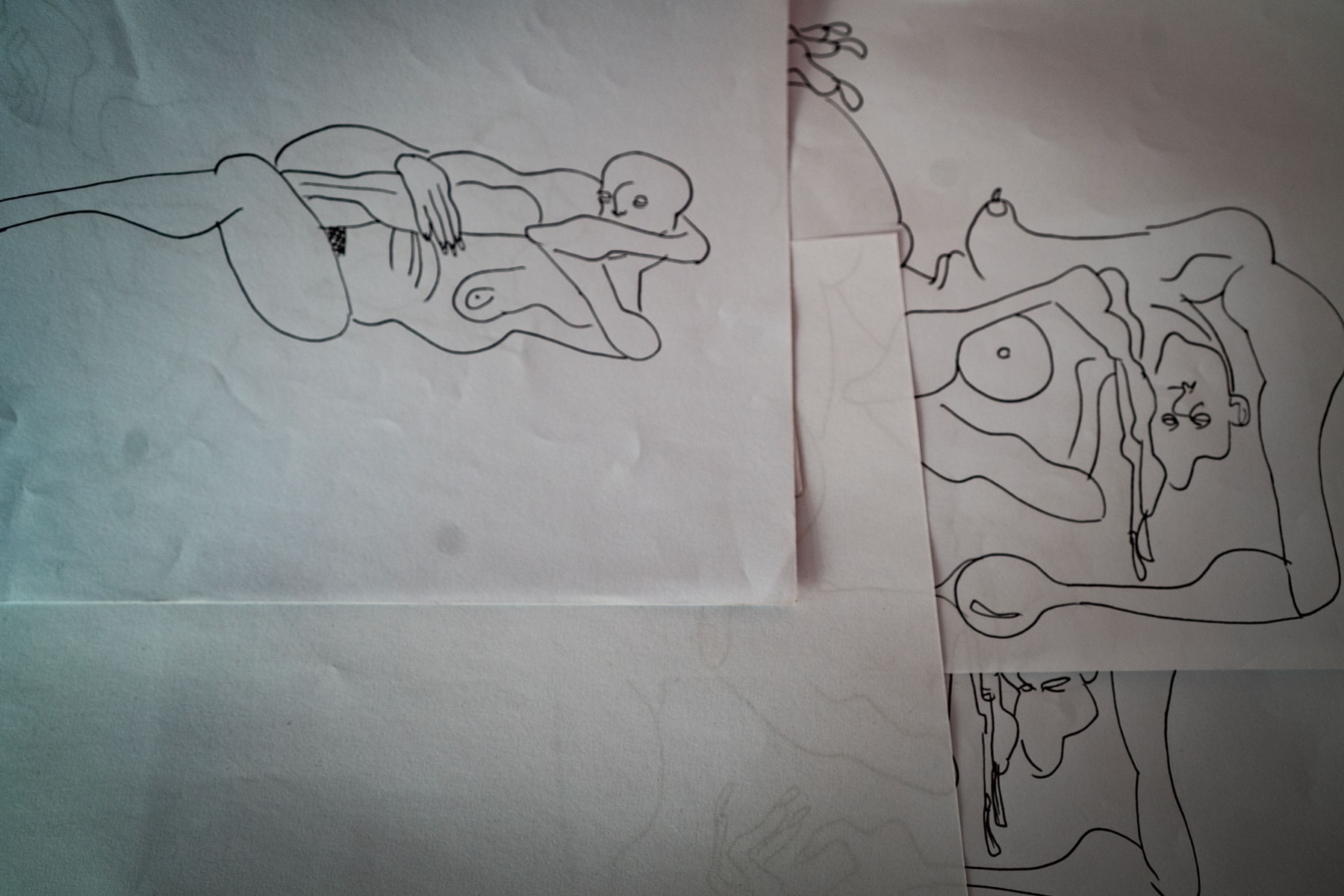 4 of 4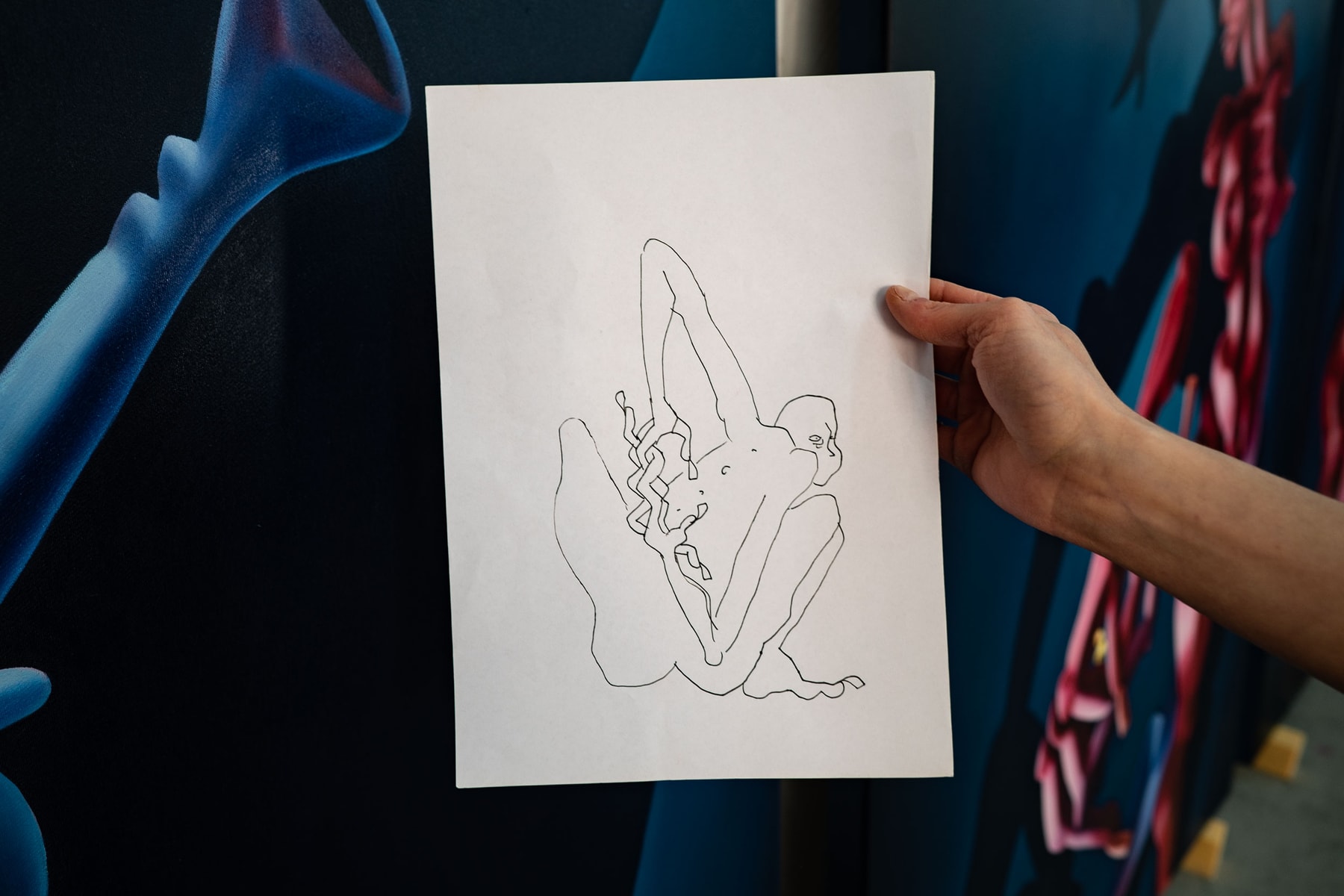 "My interest lies in humanity, particularly how we exist on our planet."
So, let's talk about your artistic process. How do you usually start a painting?
I usually begin with quick sketches using a black pencil, just to get my ideas flowing. I create several studies, then choose one to develop further. Once I have a composition I'm happy with, I translate it digitally on my computer, adding colors and effects to get a sense of the final piece.
And then, how do you bring it from the digital realm to the canvas?
I project the digital composition onto the canvas and use pencil outlines to establish the basic structure. From there, I work on the painting, applying colors and textures. The painting process is a combination of intuition and technique, often challenging yet rewarding.
So, I'd like to learn more about the figures you paint. You mentioned earlier that they were inspired by rock formations and nature, right?
Yes, indeed. My interest lies in humanity, particularly how we exist on our planet. I'm human too, and I see humans even in landscapes. Even in nature, there's a projection. This isn't my primary focus, but I'm often contemplating how we coexist, especially in challenging times. How we live alongside wildlife, landscapes, and nature. How it all affects us emotionally. The larger philosophical questions about existence also intrigue me. This aspect underlies everything for me. I express these ideas through artistic bodies and forms. When I see other artists' work, I find it easier to connect emotionally to a body-like expression, even if it's not the typical human form.
1 of 6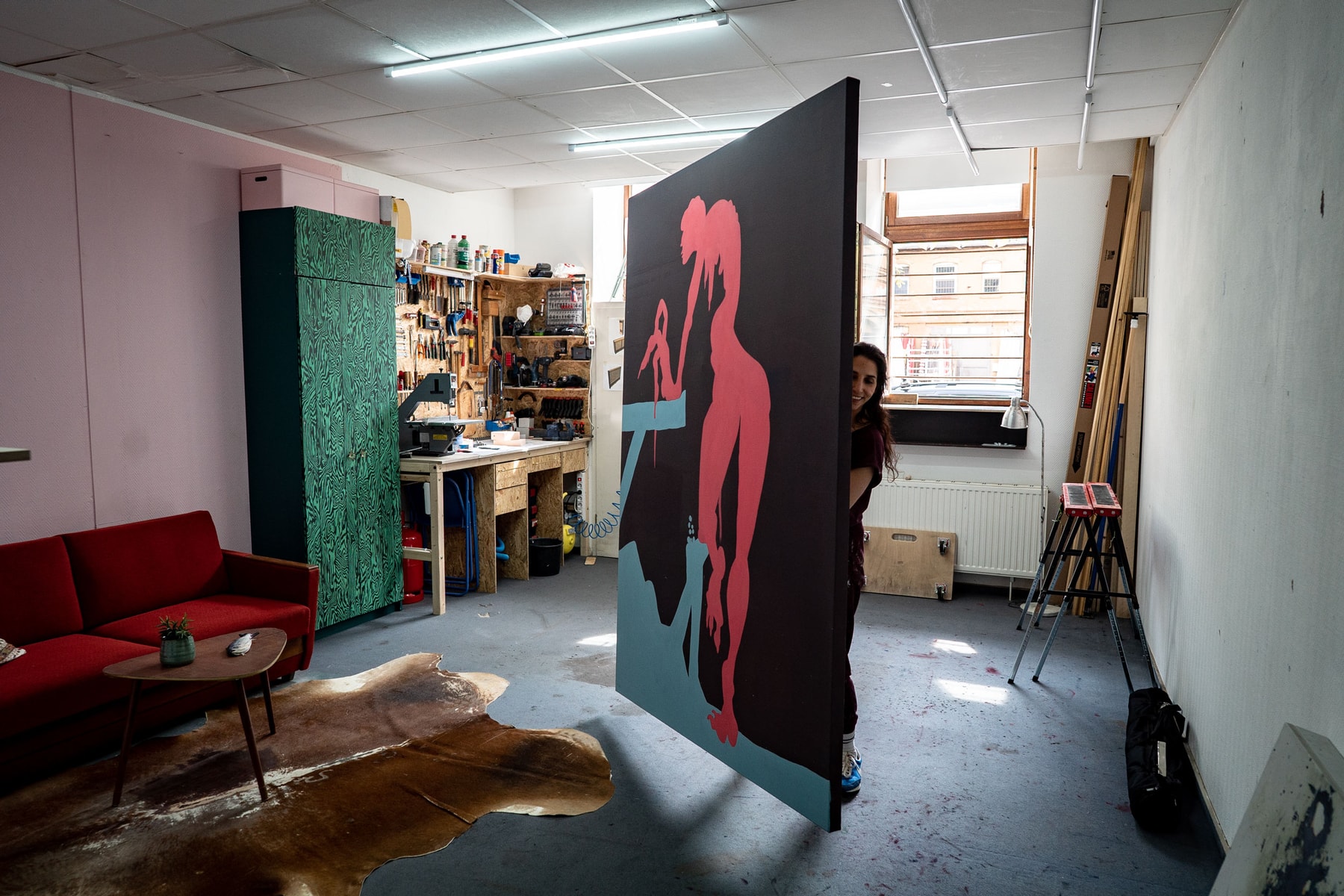 2 of 6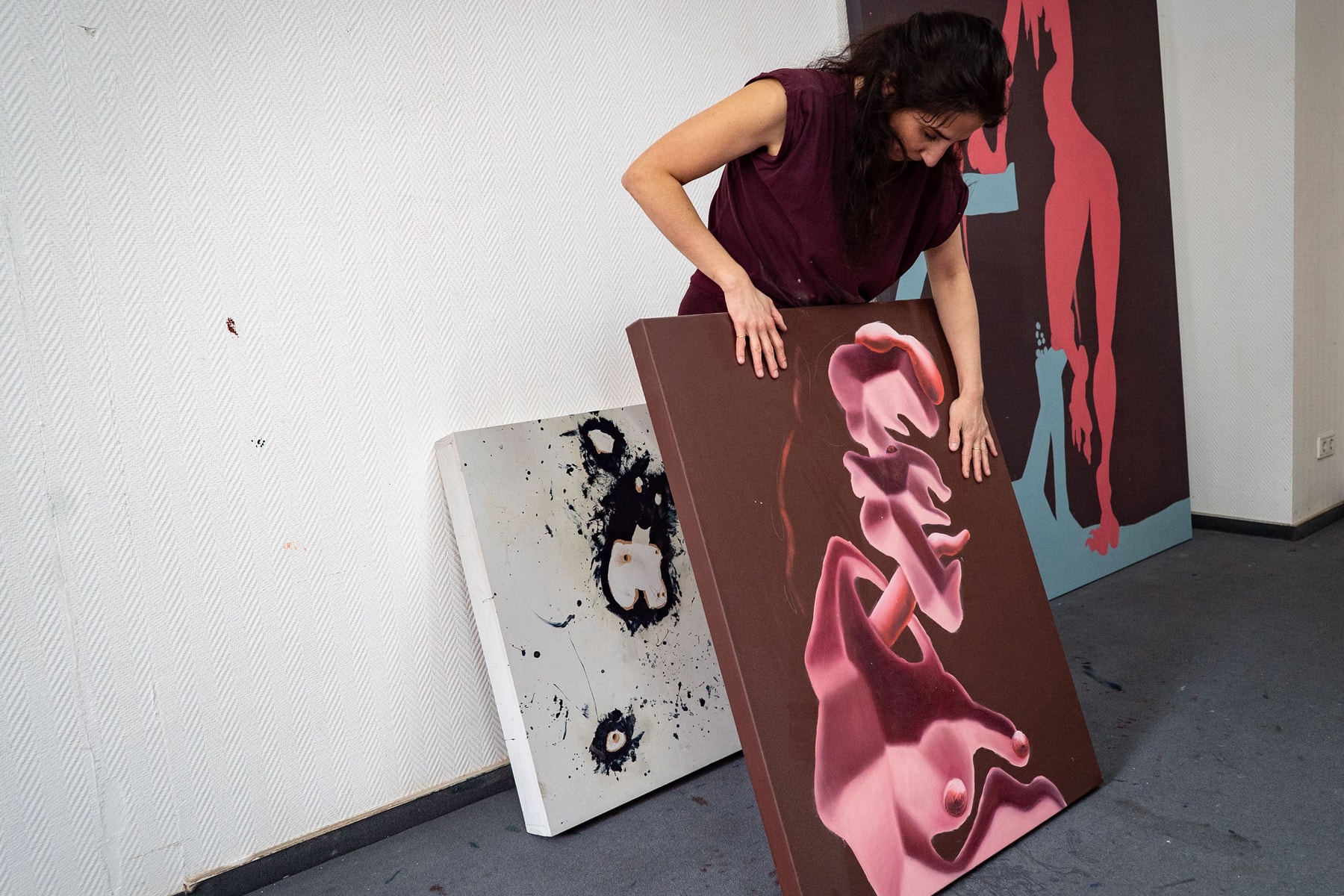 3 of 6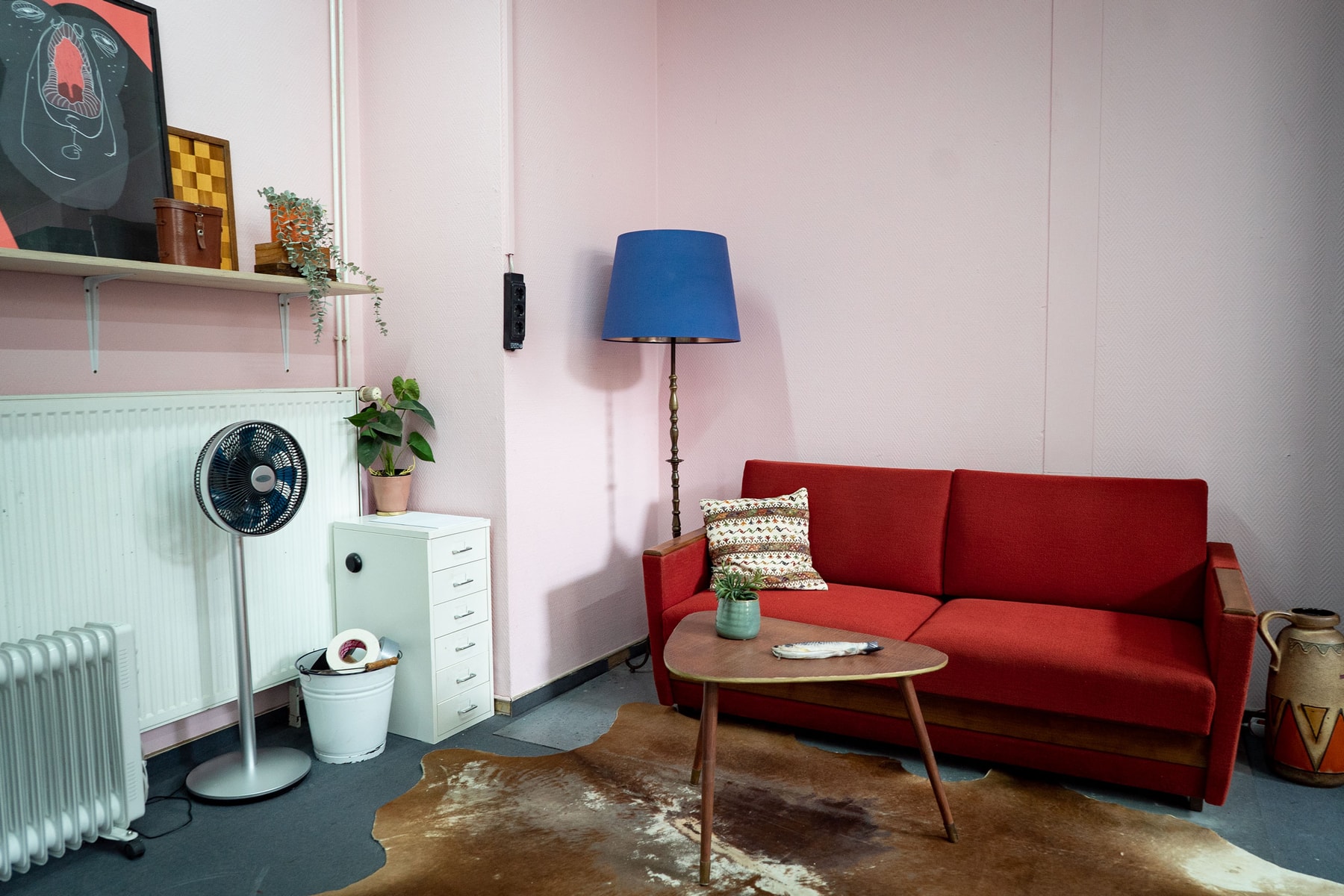 4 of 6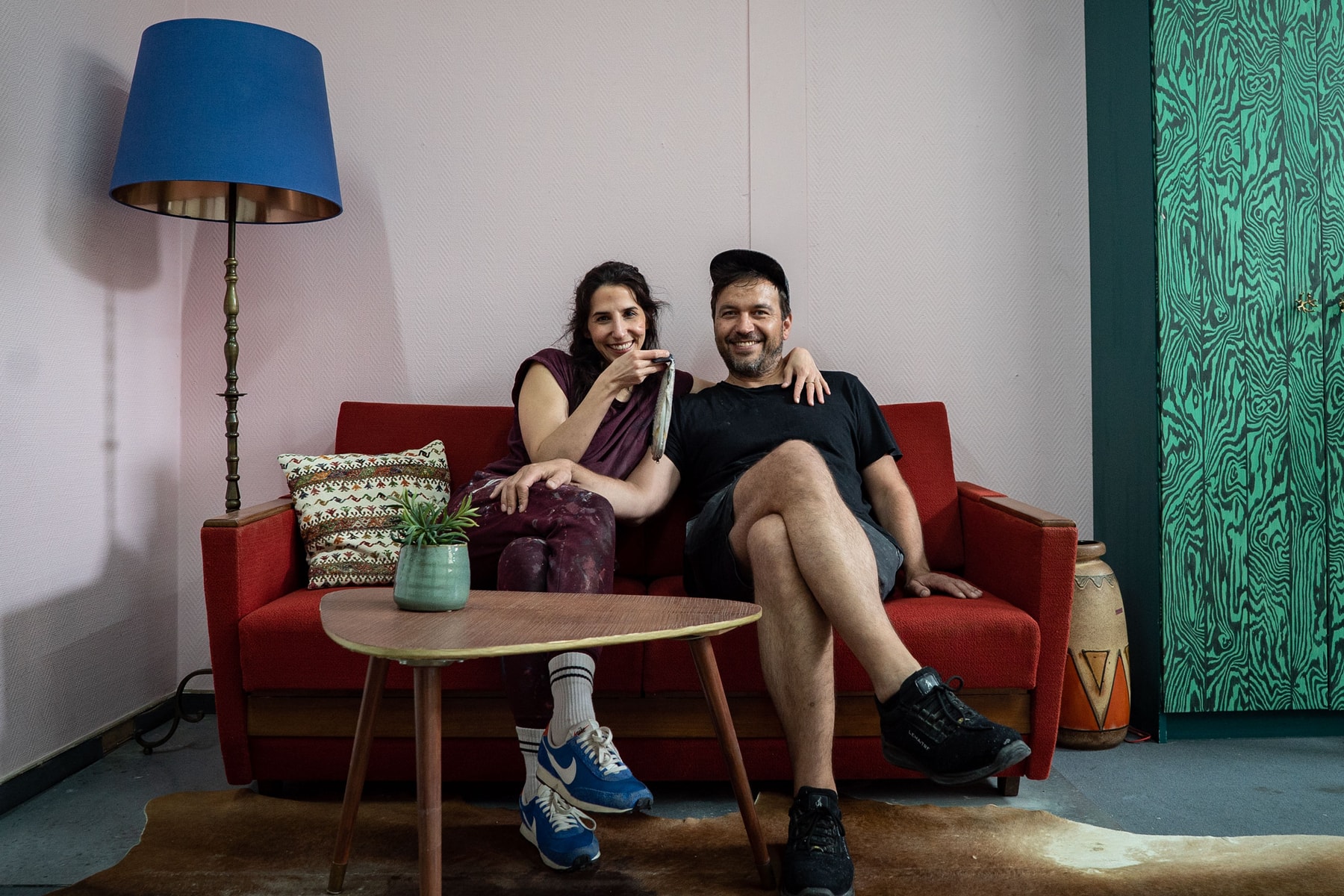 5 of 6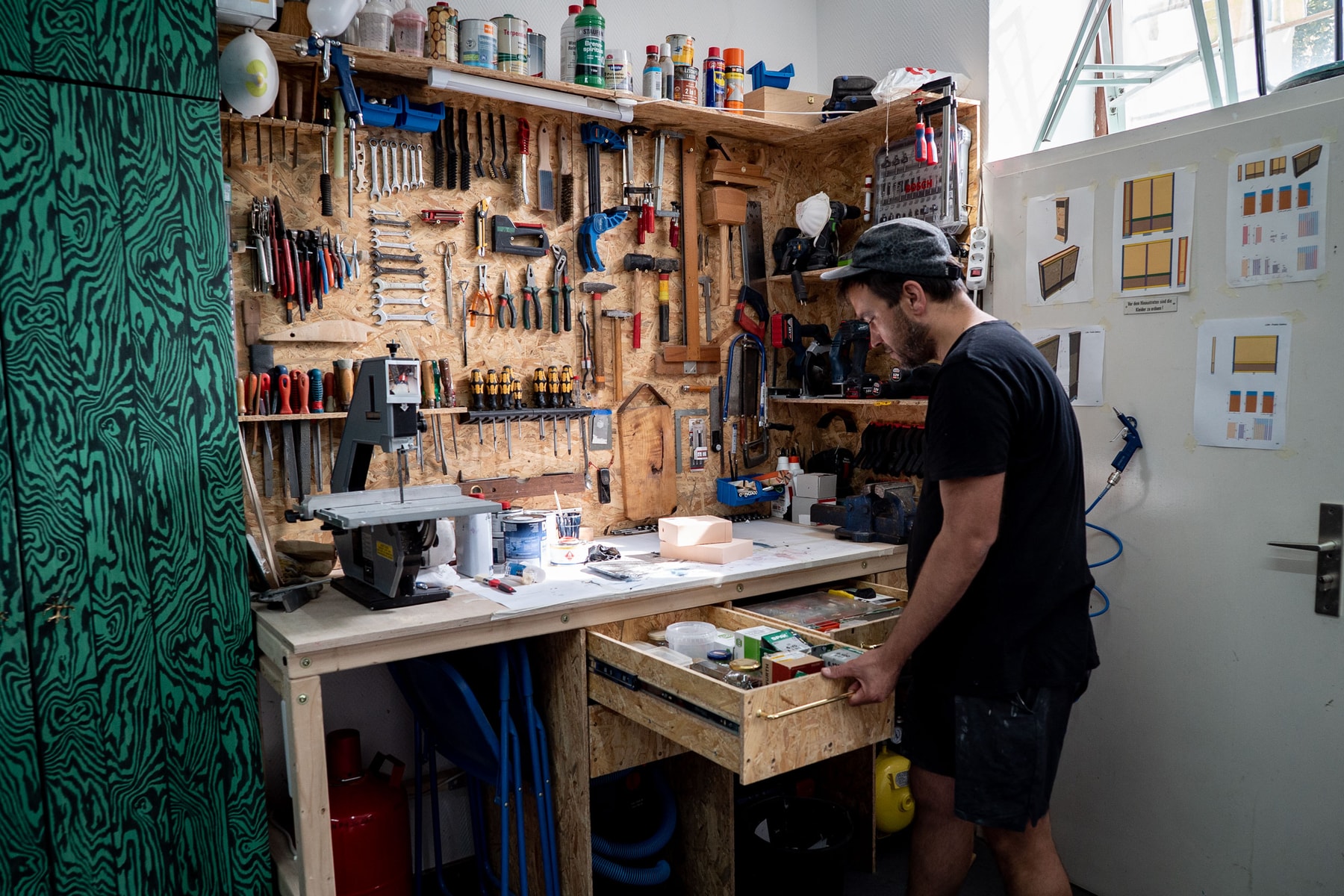 6 of 6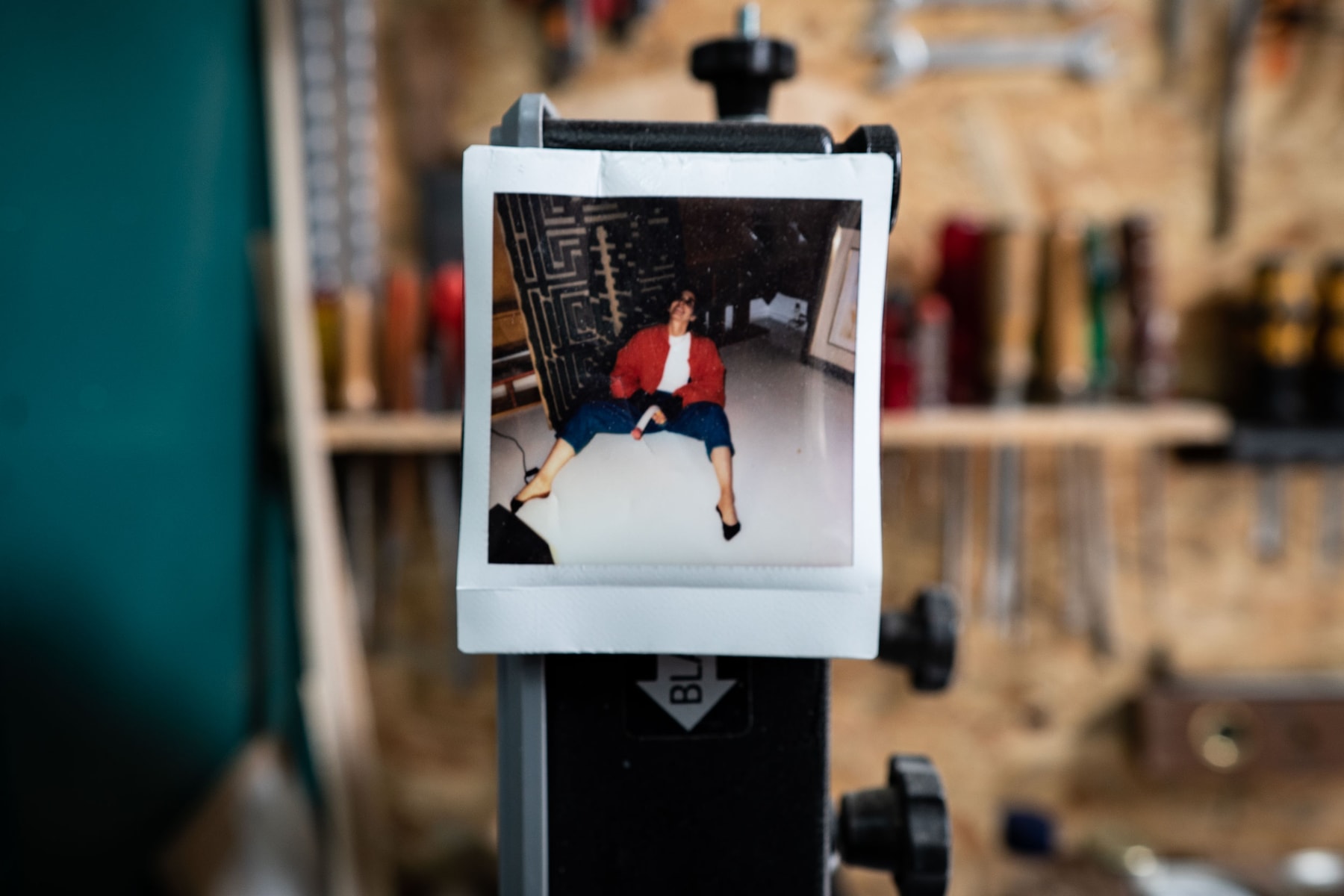 "I often steer clear of skin tones, as I want to avoid distracting from the paintings' broader themes."
So, how do you begin your painting process? What's your creative approach?
Well, usually, I start with a quick black pencil sketch. I do this quickly and then discard it. I create a pile of these sketches, then choose one to work on. After deciding the composition, I transition to my computer and start painting digitally. The digital process helps me bring out a 3D effect through light and shadow, enhancing the illusion. I experiment with this effect, though it's not always fully controlled. There's a push and pull with the software tool. I use Affinity Photo, similar to Photoshop, which adds depth to my brushstrokes.
Your color choices seem vital. What guides your color selections?
I'm intrigued by creating contrasts with colors, utilizing complementary colors like red and blue, orange and blue. It helps create significant visual contrast. I often steer clear of skin tones, as I want to avoid distracting from the paintings' broader themes. I aim for viewers to engage without being preoccupied by racial interpretations. Hence, I use body-like colors that avoid categorization into specific skin tones.
How long does it usually take to complete a painting, and do you work on multiple pieces simultaneously?
Yes, I usually work on multiple paintings concurrently. A session typically spans a day, during which I work on one painting. Since drying time is needed between sessions, a single painting might take about three weeks to complete, considering at least five days before I revisit it.
Do you have any pre-painting rituals?
Yes, I listen to music while sipping coffee. Recently, I've started rope jumping in the morning to get my blood flowing. Then I examine my paintings and motivate myself to start the creative process.
How do you balance painting and sculpture? Which medium draws you more?
I've always seen myself more as a sculptor, even though I never formally studied art. For me, painting is a sculpting process. I began sculpting with soft foam a couple of years ago, allowing me to work on a larger scale. Both mediums are connected by my digital compositions. I always start with a digital sketch, even for sculptures. I need that initial idea to guide me.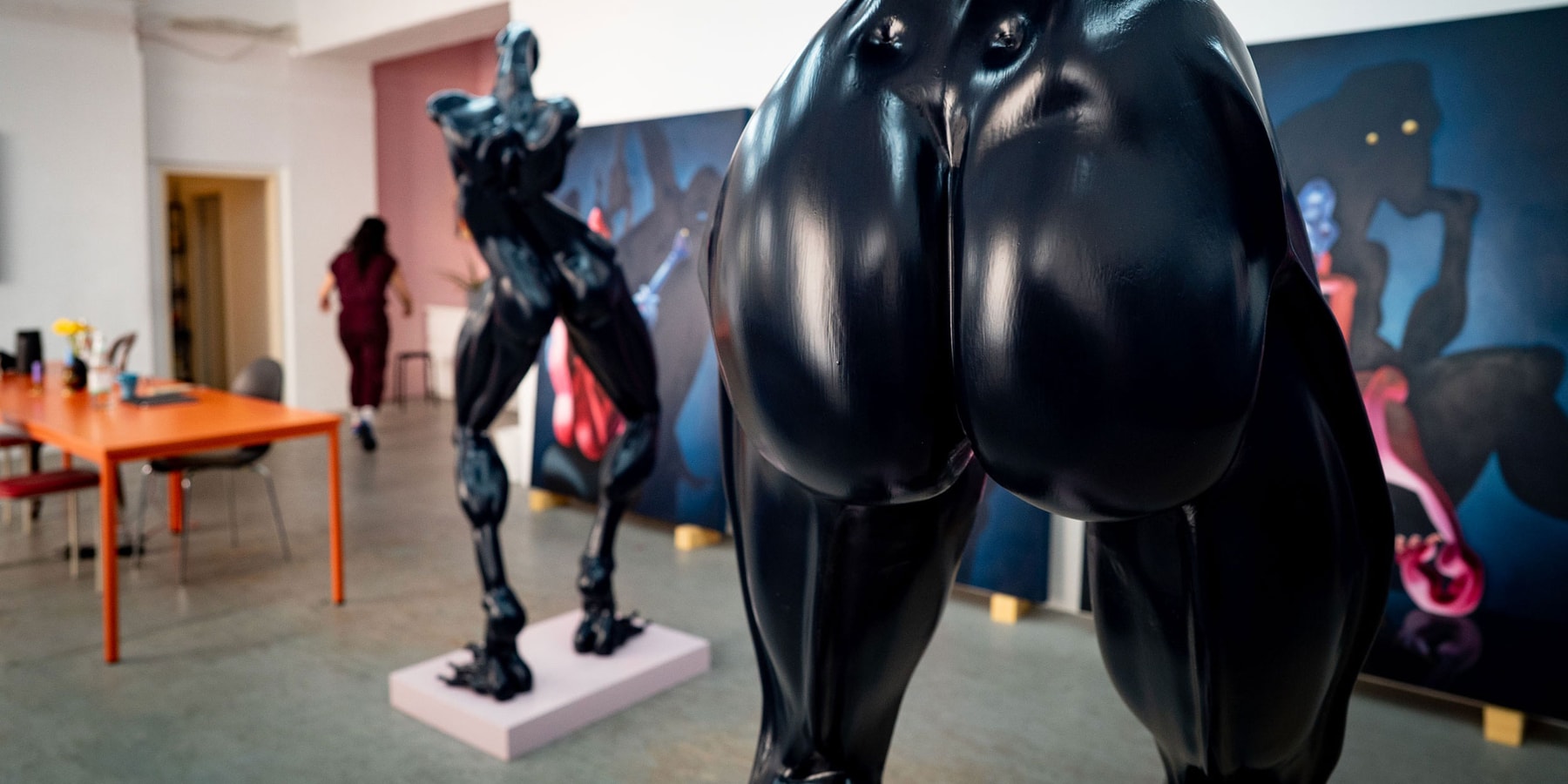 "I find it intriguing to blur the lines between good and bad, light and shadow. "
Are your sculptures mainly monochromatic?
My sculptures have varied approaches. While some are monochromatic, others have highlights or gradients. For instance, I've created sculptures that resemble standing paintings, which are monochromatic, while some wall sculptures feature added highlights or gradients to enhance their form.
Your art seems to play with contrasts and ambiguity. Are you intentionally exploring duality and complex themes?
Indeed. I find it intriguing to blur the lines between good and bad, light and shadow. I aim to create an ambivalence where it's not clear who's good or bad. This allows viewers to question societal notions and their own perceptions.
Your work seems to evoke deeper meanings beyond their visual representation. Are there any specific artists who have influenced you?
I've been influenced by various artists, including Louise Bourgeois and Francis Bacon. Louise's work resonated with me due to her emotional expressions, while Bacon's approach to portraying the body and its voice aligns with my ideas.
Could you discuss your upcoming show at the Armory?
Certainly, I'm excited about my upcoming solo booth at the Armory. Public Gallery is representing me, and it's a significant opportunity to showcase my paintings and sculptures together. The timing is a bit challenging as I'll be attending a wedding right before the show. However, it's an important event for me, and I'll be discussing details with the gallery to determine the best way to present the work.
Photography by Keith Estiler exclusively for Hypeart.
---