"The Entire City is Behind the Design Community": Blond's James Melia on the Magic of Milan Design Week
In the run-up to his studio's "Casa Blond" exhibition, Melia tells us what to expect, and why Milan still makes sense for his London-based firm.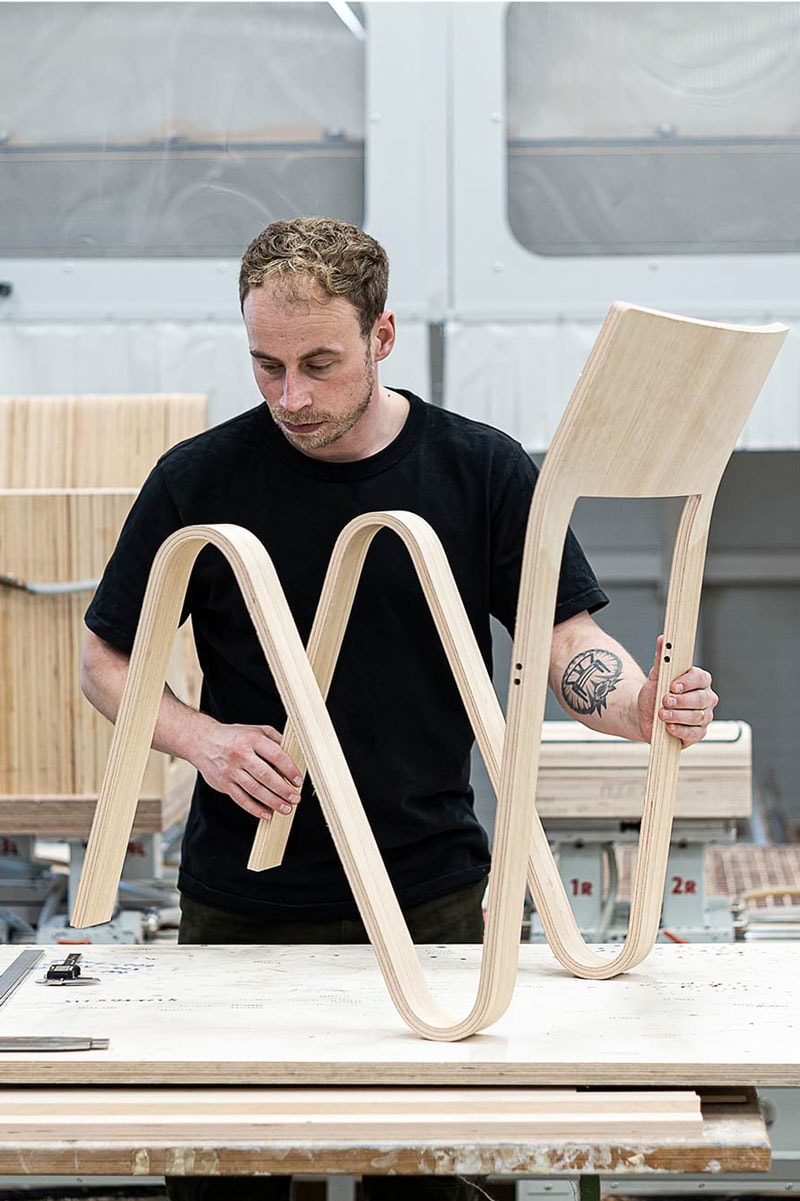 "The Entire City is Behind the Design Community": Blond's James Melia on the Magic of Milan Design Week
In the run-up to his studio's "Casa Blond" exhibition, Melia tells us what to expect, and why Milan still makes sense for his London-based firm.
London-based industrial designer James Melia founded Blond some eight years ago. Starting his own company was a leap of faith of sorts – unlike many creatives able to take risks, he hadn't a large sum of inheritance to fall back on, nor had he the connections that could see him get a back-door pass into the industry. It was a move that saw him working all hours of the day and week – pitching, conceptualizing, creating, and eventually launching products for clients that ranged from homeware brands to tech start-ups.
In the years since its beginnings, Melia and his now 12-person studio have been behind a number of award-winning industrial design, branding, UX & UI design, and packaging projects. No matter the outcome, though, each adheres to the studio's self-penned sustainability manifesto, which outlines six key points for ensuring output is necessary, conscious, and beneficial to the planet.
Now, the designer and his team are gearing up for what might arguably be their biggest moment yet during this year's Milan Design Week – a solo presentation in the Brera district titled "Casa Blond". In anticipation, we caught up with Melia to reflect on his journey up to this point, and to find out more about their presentation.
---
Why is it so important for you to head to Milan?
It's a good question, especially when there are so many trade shows and shows out there, right? I think I grew up reading magazines and hearing about Milan, and it was just described this pinnacle of design. I've been to all these shows over the years, I mean, so many of them, and nothing's quite the same. Milan has this kind of atmosphere that is unmatchable. It feels like the entire city is behind the design community, and their support is intoxicating.
I took a friend one year, not for work – just for a holiday, and when he came back, he was like right, I'm going every year now. It's for everybody. It's not just for designers and brands.
Why have you gone for Brera as your district of choice?
It's always been the area of the city that has blown my socks off. It's just got this atmosphere. I think also because it's the oldest part of the city, it's just lovely. But I think I've always just considered that it would be completely unaffordable. But then I made my mind up and thought, you know what, I think we can try and do this. I said to myself, the worst case will be another district in the city, but we'll try for Brera. Then, I walked around the Salone del Mobile show and bumped into the Creative Director at Sony, who had been to the fair 24 times – just incredible. He told me it was to be Brera, you can't go anywhere else. That was that really – it was decided.
A good location is notoriously hard to find during that week of the year in Milan. How did you stumble across where you will be?
After that, I flew out in December and saw about 10 properties. This one in particular had its own street, full of galleries, so you get this little pocket of shows. It has an amazing courtyard, which is part of the Milanese experience. I always remember walking through Brera, and sometimes more than the shows, remember walking into the yard. When I knew that was the one, it all just kind of fell into place. The space, which we've named "Casa Blond", works so well for us, as we're able to house the clients we're bringing along, and gives us separate areas for each.
This marks a really important moment for the studio, but can you take us on the journey of how Blond came to be? Let's start right at the beginning.
I think growing up, I was always interested in making everything and taking things apart, which is your typical industrial design answer. My family wasn't in the best position financially and still isn't. My mum was a single parent, and she was saying "James, design has got no prospects, you have to do engineering". I was paying a bit of rent to them at the time when I was 17, and I thought, I'll keep her happy and go study Product Engineering.
How was that?
I absolutely hated that. I was quite mathematically minded, so I was fine, but it just wasn't me. So I dropped out and ended up heading down a more artistic route. I was lucky because I was able to find my passion and realize I absolutely loved it. I became completely besotted with design.
What were your first steps out of uni?
I went straight into consulting work and never looked back. I liked the diversity of work that comes through – I like having different problems and having to come up with different solutions. I worked with PriestmanGoode on transportation projects, like large-scale aircraft and things like that. I loved it there.
I realized projects needed a strategy for them to have soul
What did you realize makes you tick as a designer?
I've worked on projects that are more about styling, and I've never really got that – because I feel like you're just creating objects that look pretty for the sake of it. I realized it needed a bit more of a strategy for the project to have a soul, and for it to be attractive to me.
Did that influence the way you embarked on founding Blond?
I wanted to start an agency that was strategically focused, had as much impact as physically possible, and worked on projects that everyone on the team would be happy with and excited about it. I just see that as a prerequisite for good design work. I started Blond in 2015 and worked in my bedroom every weekend. It was a hard slog once again because you can't share any of your previous work, as you can't claim other companies' work as yours.
Consistency is the most important thing. Whatever you're putting out there – there's no quick fix"
How did you go about it, then?
For years, I just worked to build a portfolio so people could trust that we could execute a design. It's not like tech where you see companies get huge funding and go from zero to 100 in seconds. Design studios need time to build a portfolio. I've always thought that consistency is the most important thing, whatever you put out there – there's no quick stuff, it's always the best quality. And that's what we represent. Everything is thorough and thought out. It all has a reason to exist. Staying true to that over many years has put us in a position now where we're trusted by huge corporations and startups alike.
Do you look for different specialisms when you're looking for people to join your team?
I think it's important to have a mixture of different tastes and skill sets. Some are really competent furniture designers and know brands and certain design histories, and they complement the people who have knowledge about injection molding and sustainable plastics, etc. So skill sets are one thing, but knowledge bases are the other – but also a diversity of life experiences and world experiences.
How do you strike a balance between creating something that's recognizably Blond, when it's designed for another client?
This is a really good point. And this is something I've struggled with, I think people will say there's a "Blond style" but I find that incredibly frustrating. It's something I wanted to show in Milan: we've got plywood furniture, aluminum candles, and high-tech stovetops. They're all completely different styles, and you wouldn't be able to tell like it was one design agency.
I think everyone says that business should have a niche, and I think some design agencies have taken that to heart to focus on one particular sector, but in my opinion, a niche should be your process. So Blond's representation of that is to show that our process can yield completely different styles and executions.
Casa Blond will be open from 10 am until 6 pm daily, from April 17 to 23 April.
Casa Blond
Via Pietro Maroncelli, 7
20154 Milano MI, Italy