Best New Tracks: Megan Thee Stallion x Future, Joey Bada$$, Billie Eilish and More
10 music projects to dive into this weekend.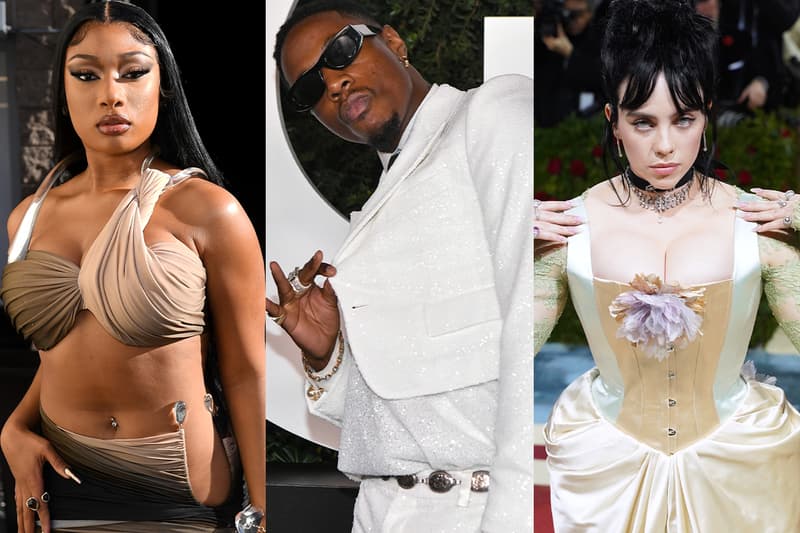 As the week in music comes to a close, HYPEBEAST has rounded up the best projects for the latest installment of Best New Tracks.
This week's list is led by Megan Thee Stallion x Future, Joey Bada$$ and Billie Eilish, who released the collab "Pressurelicious," the album 2000 and the EP Guitar Songs. Also joining this selection are the late Mac Miller, Rico Nasty, Nardo Wick, Flo Milli, RZA, Channel Tres and Wale The Sage.
Megan Thee Stallion x Future – "Pressurelicious"
Megan Thee Stallion and Future join forces for her newest single "Pressurelicious," produced by HitKidd. In her recent Rolling Stone cover story, Megan revealed that Future is one of her favorite rappers. "He just so f*cking ratchet!" she said. "He is unapologetically himself. I appreciate that about anybody who gets up and has to do anything in the public eye. Anybody who has to read about their life online every day and deal with so many energies and can put it out into their music and do it gracefully, I feel like you deserve your flowers."
Listen: Spotify | Apple Music
Joey Bada$$ - 2000
After a short delay, Joey Bada$$ releases his 1999 sequel, 2000. The 14-track record features guest appearances from Diddy, Westside Gunn, Larry June, Chris Brown, Capella Grey and J.I.D., and is his first full-length effort since 2017's All-Amerikkkan Bada$$.
Listen: Spotify | Apple Music
Billie Eilish - Guitar Songs
Billie Eilish surprises fans with her two-track EP Guitar Songs, featuring the cuts "TV" and "The 30th." Speaking to Zane Lowe on Apple Music, she revealed she will "hopefully make another album in the next year." She continued, "I hate to say this because I know it's a disappointment to people that think, 'Oh my God, they're making an album. It's going to come out soon.' TV and The 30th are the only songs that we have. We don't have any other songs. These songs are really current for me, and they're songs that I want to have said right now. I was talking to FINNEAS and I was like, 'You know what, man? I don't want to wait until the next album cycle to put these songs on an album and then it's like, 'Wow, we have these two guitar songs that are two years old.'"
Listen: Spotify | Apple Music
Mac Miller - I Love Life, Thank You
After 11 years, Mac Miller's sixth mixtape I Love Life, Thank You is finally available on streaming services. The mixtape prior to his debut album Blue Slide Park, the project features guest appearances from Sir Michael Rocks, Talib Kweli, The Come Up and Bun B, along with production work from 9th Wonder, Clams Casino, Big Jerm, Cardo, Black Diamond, E Dan, Brandun DeShay and Miller himself.
Listen: Spotify | Apple Music
Rico Nasty - La Ruinas
Rico Nasty delivers her sophomore studio album Las Ruinas about a year and a half since its predecessor, Nightmare Vacation. The 17-track project features guest appearances from Bktherula, Teezo Touchdown, Marshmello and Fred again…. "I had so much fun making this I hope u have just as much fun listening," she wrote on Instagram.
Listen: Spotify | Apple Music
RZA - Bobby Digital and the Pit of Snakes
RZA drops the accompanying soundtrack for his graphic novel of the same name, RZA Presents: Bobby Digital and The Pit of Snakes. The upcoming graphic novel will follow Bobby Digital "as he embraces his id, ego, and superego and embarks on a quest to figure out the nature of his reality and himself," and is set to release on August 13.
Listen: Spotify | Apple Music
Channel Tres – "Just Can't Get Enough"
Channel Tres officially and finally announces his debut studio album Real Cultural Shit with the release of his latest single "Just Can't Get Enough," a funky, '70s-infused single that follow his recent drops "Acid In My Blood" and "Ganzfeld Experiment." In a statement, the artist shared that his dad's roots in Chicago brought him to dance music, "House music was created there, and over time the music got lost in translation. So, when I studied it and I saw that it was African-American people and Latinos and the LGBTQ community I got really inspired by it."
Listen: Spotify | Apple Music
Flo Milli - YOU STILL HERE, HO?
Flo Milli wants to know if YOU STILL HERE, HO? with her debut studio album. The followup to her breakout mixtape Ho, why is you here?, she revealed in a statement, "My album creative is based on early 2000's nostalgia. As queen of Gen-Z, this is the new age of the Roaring 20s. As a woman and creative, I feel so empowered, full of energy and full of life. I've decided to use social media, technology and my resources to uplift and inspire those who look up to me to use what they have, start where they are, and more importantly start today."
Listen: Spotify | Apple Music
Wale The Sage – "4AM in ATL"
Wale The Sage shares his latest single "4AM in ATL," a heartfelt and honest story of hard work. "'4AM in ATL' highlights the struggle of attaining one's dreams in a big city of opportunities," he shared in a statement. "The song depicts a difficult path of one's life, hitting roadblocks after roadblocks. The "4AM" verbiage pertains to working night shifts at dead end jobs, making ends meet. The takeaway of the song is to continue hustling in life, as your greatest opportunity may be one night shift away."
Listen: Spotify | Apple Music
Nardo Wick - Who Is Nardo Wick? (Deluxe)
Nardo Wick shares a deluxe version of his December 2021 debut studio album Who Is Nardo Wick? Clocking in at almost an hour and 30 minutes, the new edition features a total of 12 new tracks that feature guest appearances from The Kid LAROI, Lakeyah and Latto.
Listen: Spotify | Apple Music