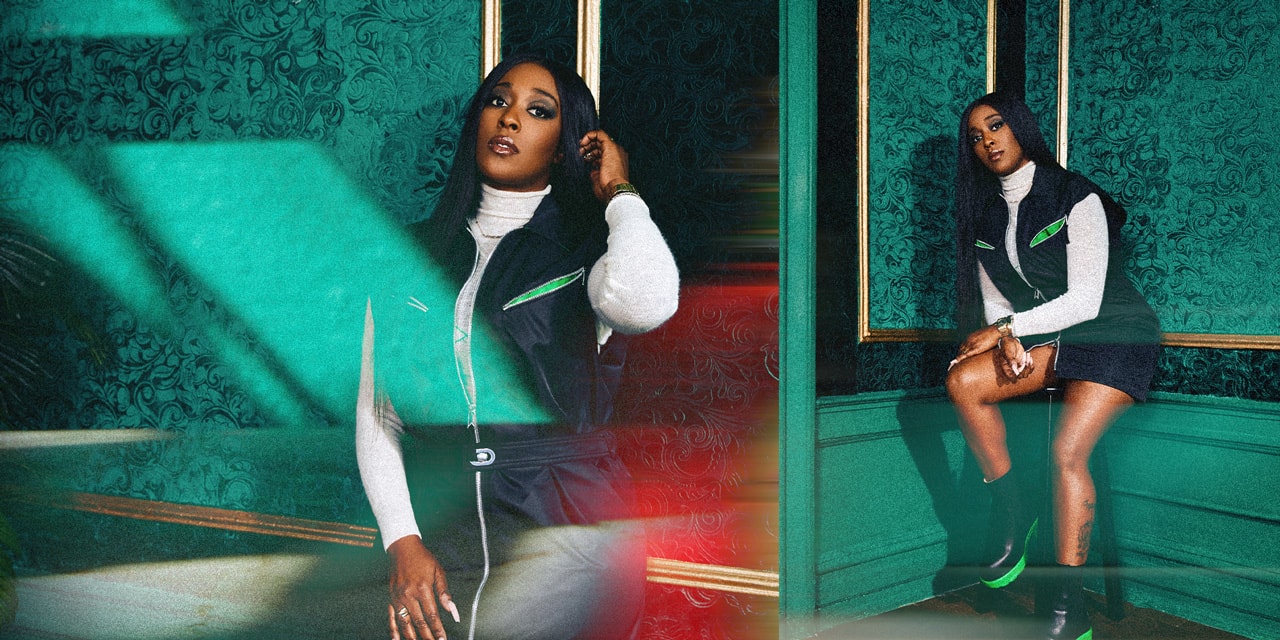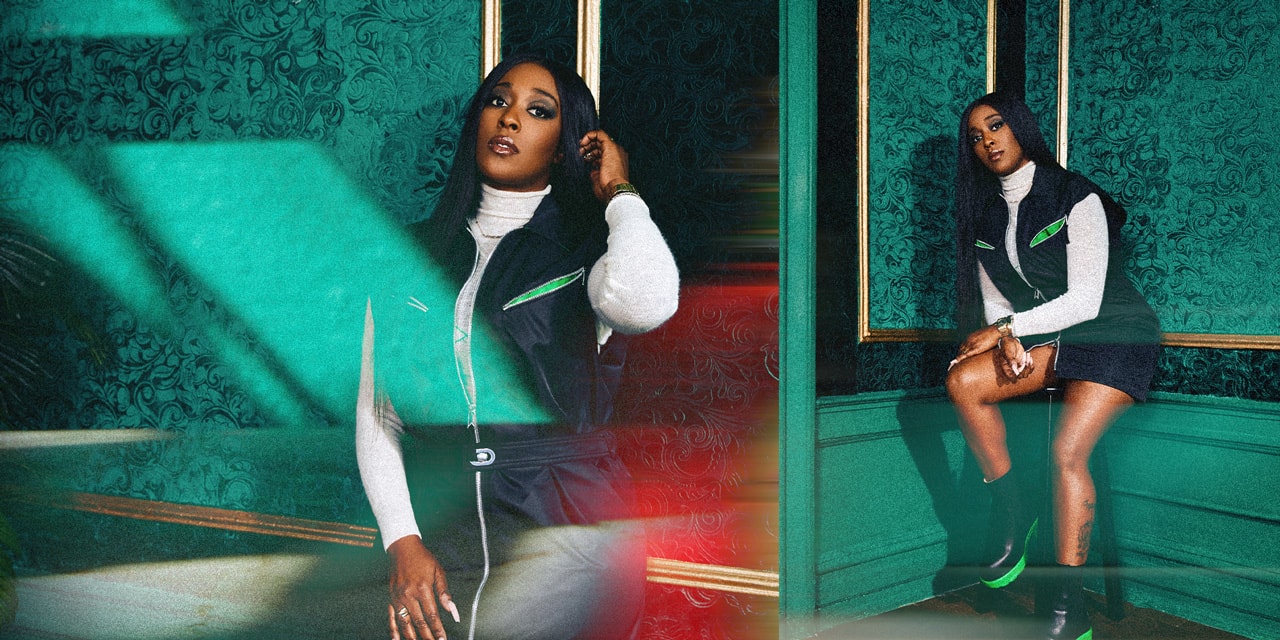 Stylist Kesha McLeod Is Changing the Game for Athletes and Fashion
We teamed up with Crown Royal Regal Apple to speak with the creative about the intersecting worlds of style, sports and entertainment.
Kesha McLeod has always used her sense of style to navigate the world around her. From the early days of working in retail stores, to helping out at talent agency, The B. Lynn Group, to landing her first full-time gig as a showroom assistant for H&M, McLeod has blazed her own trail, evolving at each juncture while remaining true to her own unique approach and style. With a shared commitment to spotlight and uplift culture-makers who are changing the game, we teamed up with Crown Royal Regal Apple to chat with Kesha McLeod about her life and style working across the uniquely fresh worlds of fashion, sports and music. Initially pursing a career as a psychologist, McLeod's original path had nothing to do with fashion. After making her pivot into fashion and styling, the lessons and skills she learned in psych classes became uniquely helpful in developing her singular ability to allow a person to express who they are through what they wear. These days, McLeod's vision comes to life via some of the most recognized faces and photographed athletes in the country. Whether it's Brooklyn Nets superstar James Harden dripped out walking down the Barclays Center tunnel or P.J. Tucker showing out at game five of the NBA Finals in a Jacquemus camp collared shirt and shorts, each look has McLeod's signature styling touch all over it while still uniquely reflecting the player's personality. "I love the nostalgia of what Crown means and the idea of Crown Apple being the new, fresher expression of that." It's this extraordinary blend of contemporary menswear and street style fashion that McLeod brings to the table for her clients, showcasing their personalities and interests off-the-court in ways they aren't able to on the floor. Throughout her career, McLeod has seamlessly navigated the worlds of sports, music and film. Notable clients, such as her first, Vernon Davis, taught her how to style pro athletes who often need custom sizing to fit their unique builds. She's also worked with artists like Rick Ross and Jadakiss to build larger visions and narratives – for example, when styled MMG's Mafia-inspired Self Made Vol. 1 cover, weaving together a complex and style-cohesive narrative. In 2015, McLeod founded her own business, KMCME, which accelerated her rise in the fashion industry as she amassed an all-star list of athlete clients: Chris Bosh, Serge Ibaka and Andre Iguodala to name a few. KMCME has also worked on brand campaigns with the likes of Nike, Beats by Dre, New Era and State Farm. As she celebrates the beginning of the new 2021-2022 NBA season, we discussed what inspires her to tell stories through fashion, her work with top-tier athlete clientele like James Harden and P.J. Tucker, how culture is manifesting itself throughout the intersection of basketball and style, and the ways she is paying it forward in her community.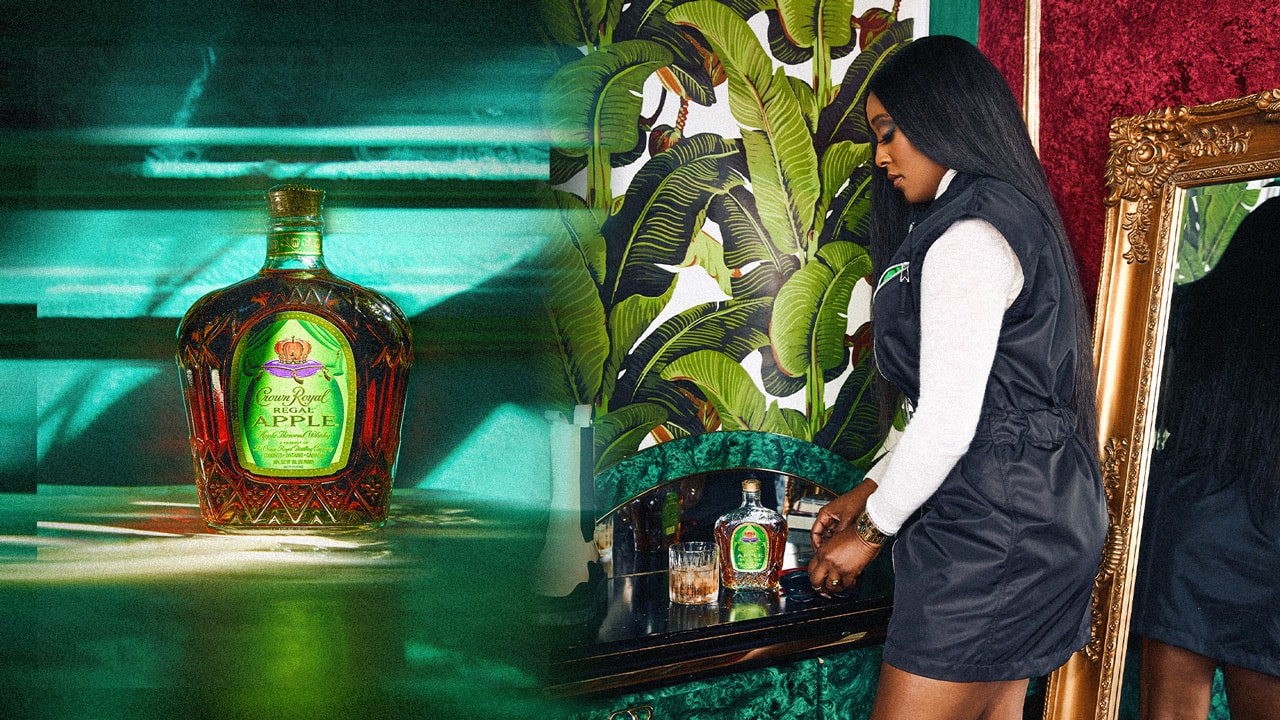 HYPEBEAST: What initially sparked your interest in styling and telling stories through fashion? Kesha McLeod: Well, telling stories through fashion and sparking my interest in styling are two different things honestly. What sparked my interest was, I always was the kid that knew how to dress. I went to a private school and dress down days were Fridays. And I've always had cousins, my mom, my dad, who were all just fashion forward so the apple didn't fall far from the tree. It was definitely innate and it's who I was and high school really brought that out once I went to a public high school. Then, I worked in a clothing store as well, so fashion was what I always fell back on, but I initially wanted to be a psychologist. What I'm doing is kind of a form of psychology, especially in terms of just getting to know the person I'm working with and getting to know their energy, knowing how much they want to give this world. It's a whole creative process that has to deal with the mind as well, so I took that approach. And the storytelling? That started with my mentor, Omar Johnson, whom people are familiar with as the former Chief Marketing Director at Beats. I would always have these accomplishments and be like, "look what I did." He'd be like, "okay and?" It was always, break the glass ceiling and start telling your story! I always tell people when you tell your story, narrate it like Jay-Z has done in "Jigga What, Jigga Who." Over time he laid it down in the studio to where now it's on a track and when he performs it, every single generation is able to ad-lib it, take it away, know what hits, know what works, know the left side is always stronger than the right side.
View this post on Instagram
You mentioned studying psychology and how it has to do with getting to know a person and understanding how they want to be perceived, so when you're going through your own creative process with styling, what does that look like? Where do you draw inspiration from and what's the usual workflow to completion? Tons of conversation, tons of research, leaning on different people like my interns and my assistants and their outlook on things. I've been doing this for years and the instant gratification of what is hot, it doesn't become hot to you anymore. As an intern or an assistant and looking through their lens and using social media and reviewing fashion shows, you get to a point where you kind of just know what the person wants and making him his own individual but still working towards the bigger picture. Those are the kinds of things I observe. It's not just let me go and shop for you. A lot of your clients are NBA players like James Harden and P.J. Tucker. What about working with them appeals to you? Their visibility is just as much as any actor or actress and also we're purchasing these things, so we're actually funding the clothing line. It's like, why don't you show us that appreciation. Why don't you see us in that same light? They're dating the models, they're dating the "it people," they're friends with the photographers, they're friends with the Anna Wintours and different publications. They all have this entire equation and it was up to me and a lot of other stylists that I've worked with to make designers see it differently. People are seeing it now, but it was very overlooked. Absolutely. I mean, you had Rochester Big & Tall as to where to go and you had custom ateliers that would customize things for you, but you never had the actual designer. You never had the actual boutique jacket. You had Dapper Dan-like affiliates back in the day that we're making close copies just for our players to feel like they were part of the normal world because the normal world wouldn't accept them because of their size.
Part of Crown Royal Apple's DNA is continuously evolving while always staying true to its roots, so what about the NBA's fashion culture and the prominence of tunnel fits do you find has this same theme and benefits players' brands overall? After they implemented the dress code in the league, you saw it got really crazy for a while and it was fun, but then it kept getting crazy, so you might see a lot more suits, a lot more of what we know. Especially with this season, style is now a thing at the NBA and everybody is reporting about it. There are sports writers who didn't want to report about it that have to now. ESPN guys have to talk about the crazy high water jeans. All you have to do is trace back to the original DNA and reimagine what this could look like, and that's how entities like Crown Royal and the NBA continue to strive by simply doing this better than everyone else. "It's not just let me go and shop for you. If you're ready for the next big picture of yourself and branding and desire that visibility, I definitely would recommend a client to come to me."The world of basketball intersects with all these different industries now — music, fashion and film — and they are all more connected than ever before. Does that play to your strengths working with different types of clients? It's a huge advantage because I can now take what I was imagining in the clothing stores I used to work at. It's taking the dream to a point where now it's creating brands. So it's not only just being there to lay looks together, it's actually becoming the Creative Director for things and broadening the scope of what a stylist could be, like Omar always told me: not limiting yourself to your part of the ceiling and rather creating a narrative and telling your authentic story through your work.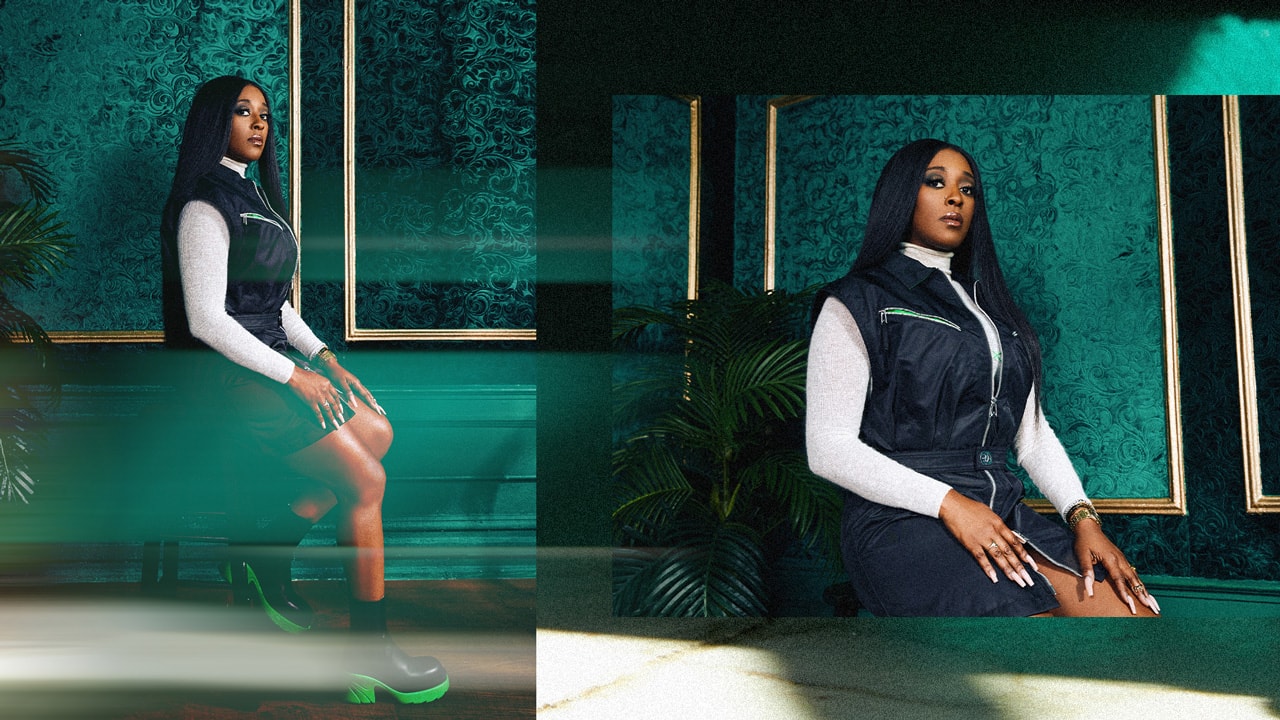 With fashion and styling, there's a lot of unwritten rules and unspoken codes, so how do you pay it forward within the community in an industry that's so secretive and tends to be exclusive? The thing is, I always take gatekeeping as a sort of insecurity. What's meant for you will stay with you. I've had clients since 2010 and they stayed with me throughout. For me, I'm one person that always gives advice and I can't wait to help another. How would I educate my own assistant so I can eventually stop doing this after a while? How would I be able to move on if I'm not teaching the next generation this? I think it's important to somehow pay forward what you've done and your contribution to society. Andre Iguodala — no longer my client, but still a great friend of mine — one of the things he said is, "once you start getting paid for things you do in the physical, that's your profession now. You're now an expert." Like styling and basketball, things with a physical skill and requiring you to be physically there. I can use my mouth to talk about what I do and still get the same amount of pay, if not more. That means I'm an expert. What is a takeaway or something you found interesting about working with such an iconic label? I love the nostalgia of what Crown means and the idea of Crown Apple being the new, fresher expression of that and seeing how we can branch out. One of the things I do when I'm working is realigning. I think, we went this way for so long, so now let's come back and reset out footsteps and see all of the newness behind the people, culture, technology, entertainment, sports and music. How can we now add those into our space? What does that need to look like? It's those types of things to show a different outlook, so that's what I love about this partnership. Breaking it all down, quieting the noise and now broaden it out and make it colorful. "I always tell people when you tell your story, narrate it like Jay-Z has done 'Jigga What, Jigga Who.'"
1 of 2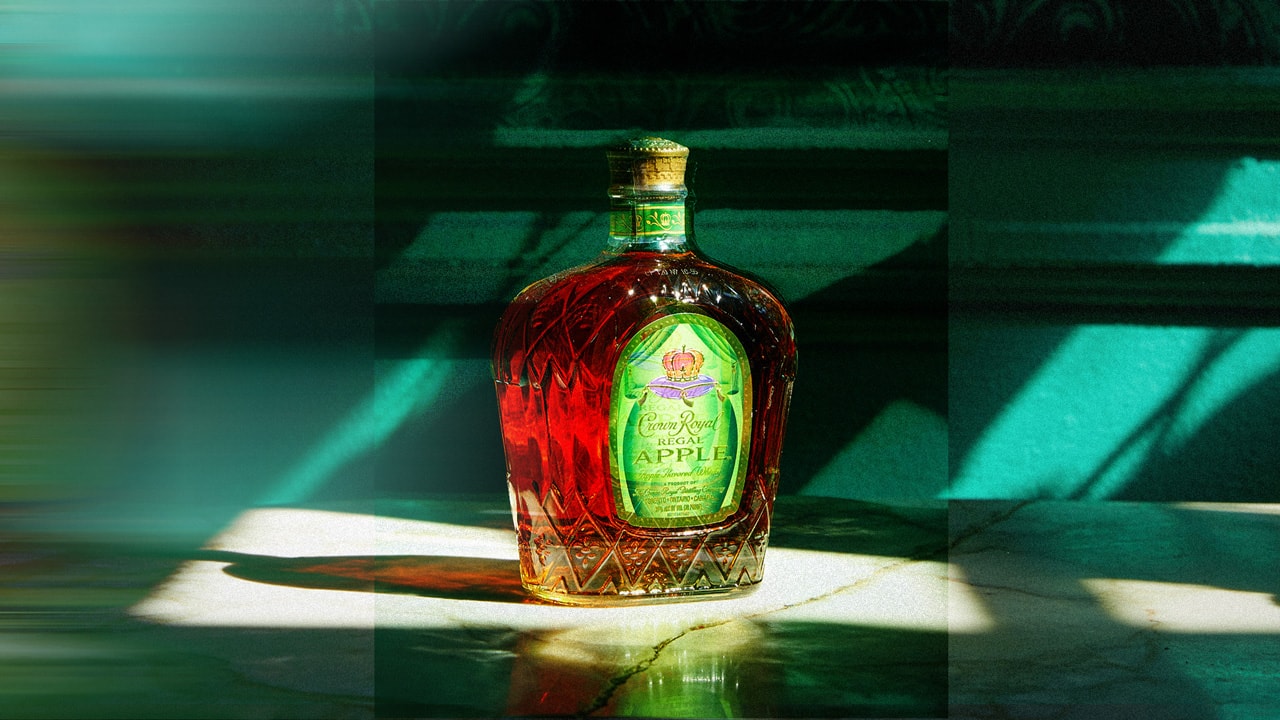 2 of 2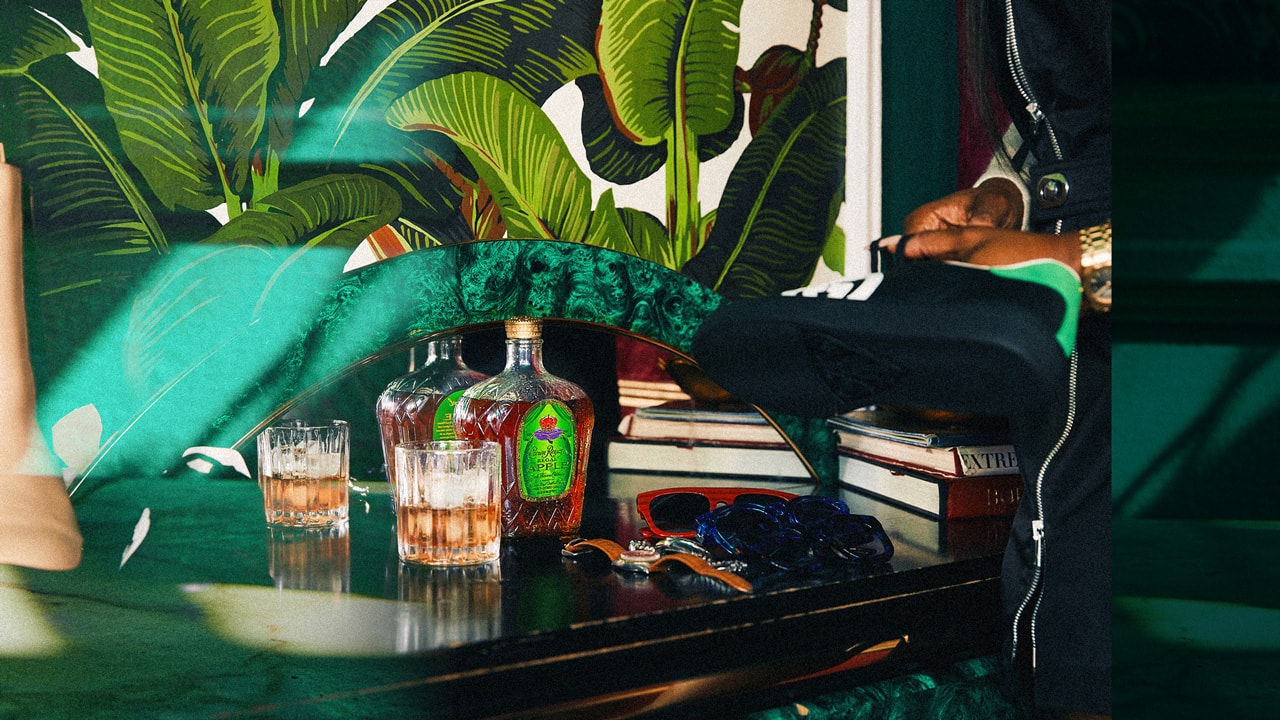 Head to Crown Royal's
website
now to get your own Crown Royal Regal Apple.
DISCLAIMER: We discourage irresponsible and/or underage drinking. Drink responsibly and legally.