Tyler, The Creator Lists His Favorite Moments From Making 'IGOR'
With special shoutouts to Kanye West and Solange's vocals.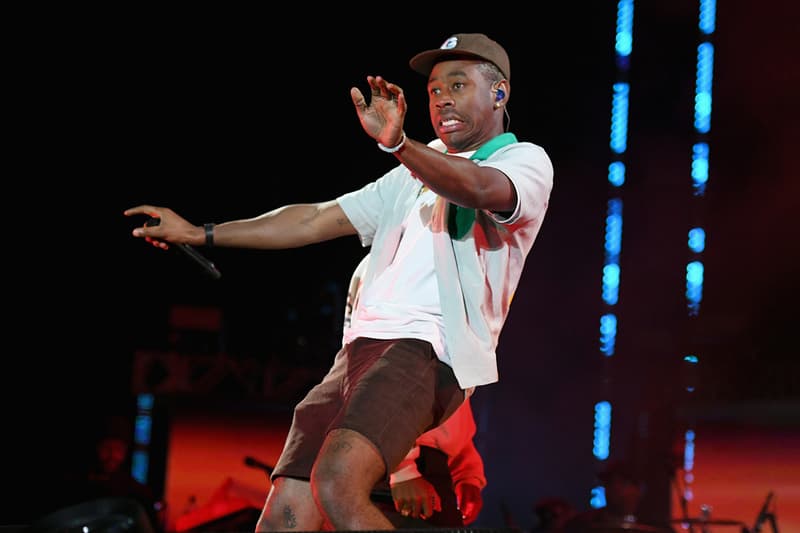 Tyler, The Creator has taken to Twitter to share his favorite moments when making his latest album, IGOR, listing all the times that make his "insides move."
Tyler started by celebrating the opening synths on "IGOR'S THEME," as well as the harmonies on "EARFQUAKE" and Solange's vocals on "A BOY IS A GUN*." Speaking on "NEW MAGIC WAND," Tyler said, "I've also come to the conclusion this is my favorite song I've made. It's so, Tyler: everything I've attempted in one, executed perfectly."
He also praises Kanye West's input on "PUPPET," saying, "the 'la laaa' at 2:52 on "PUPPET" is one of those little sugar vocals I try to add in every song. I love small things like that."
One of the album's standout tracks, "WHAT'S GOOD," got a notable mention from Tyler in which is he said, "the Dracula part on "WHAT'S GOOD" is so screwface, I think we can all agree on that. And the breathing throughout the song is a little detail I implemented on the whole album, makes it human."
You can read all of Tyler, the Creator's tweets below. He will be kicking off is North American IGOR tour at the end of August and will stop by the UK in September.
In other news, Tyler, the Creator has launched a new ice cream flavor called "Snowflake" thanks to Jeni's Splendid.
3:02 on GONE GONE. man, i mean, come on. beautiful. absolutely beautiful. it keeps slanting down. that feeling is, im not sure what that is. need a 4 minute version of just that

— Tyler, The Creator (@tylerthecreator) July 2, 2019
the bridge on I THINK is outta this world but, i love the small runs and ad-libs. specifically at 3:05. the "awww awww" is just perfect.

— Tyler, The Creator (@tylerthecreator) July 2, 2019
2:39 until the end. all the backgrounds on ARE WE STILL FRIENDS. "frenz, fren fren frenz….keep contact!….laaayyytooor…..dont know how u falll…..playyyy ayyy ayyy…still wanna say hiiiiiiii…..cant say goodbyee…yeah yeah la la la laa" fucking love those so much.

— Tyler, The Creator (@tylerthecreator) July 2, 2019
its a chord at 5:20 on THANK YOU that feels like it comes outta nowhere that i fucking LOVE. it sounds like water to me. saturated clearwater blueish, a hint of yellow in it. i didnt wanna ruin it with vocals so i just left it mostly instrumental and keep my voice on the hook.

— Tyler, The Creator (@tylerthecreator) July 2, 2019