Gary Larson Revives 'The Far Side' With New Online Comics
After 25 years of retirement.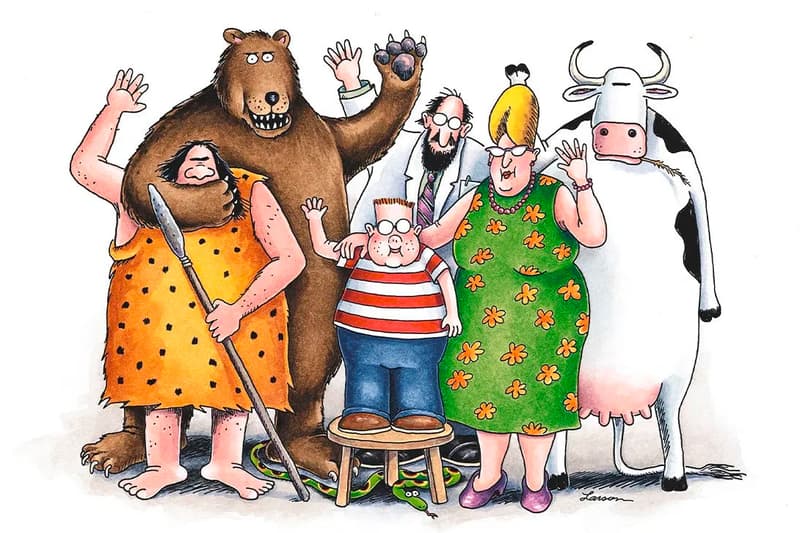 After 25 years of retirement, Gary Larson has taken to the Internet to announce the return of The Far Side in digital form. Known for his surrealistic humor, often involving anthropomorphic animal, Larson's work lived in thousands of newspapers, over forty million books, and can be seen across a number of retail products — you'd be hard-pressed to find someone who hasn't come across one of his whimsical single-panel comics.
Larson commented that although there were a number of reason why it took 25 years for his work to continue into the digital age, it boiled down to technological advancements in security and graphics. While the first is self-explanatory, the later was the most important as he felt that older monitors were not able to do his comics justice, whereas with current technology, every detail and color can be expressed.
Larson ended his letter to his fans with:
I hope you enjoy TheFarSide.com. I'm very grateful to the digital team at AMU, my longtime publisher, for all their input and hard work on this project. And for those of you who are familiar with The Far Side, and perhaps wishing it had been online before now (as opposed to those who are familiar with my work and have an opposing view), thank you for your patience. I hope all the reasons I've given here help explain why I'm so late to this party. But I'm finally here. And I could use a drink.
Fans of The Far Side will not want to miss the new content as well as the archival comics launching on the newly-updated TheFarSide.com
In other entertainment news, here's every Starfighter in Star Wars explained by Lucasfilm.
It's live! Classic The Far Side comics posted daily, sketchbooks, and comic collections, along with a new letter from Gary Larson and the promise of new work coming next year. https://t.co/u34YeMZI4H

— Andy Baio (@waxpancake) 18 December 2019
"The Far Side" returns and I got to ask Gary Larson some questions about it. No surprise, he's very funny. Please check out my piece here: https://t.co/gfydUPPRO2 #TheFarSide #GaryLarson #TheFarSideReturns pic.twitter.com/McokY4rrJT

— George Gene Gustines (@georgegustines) 17 December 2019