Domee Shi is Only the Second Woman to Direct a Pixar Feature Film. What Took So Long?
The animation juggernaut may finally leave the boys club behind.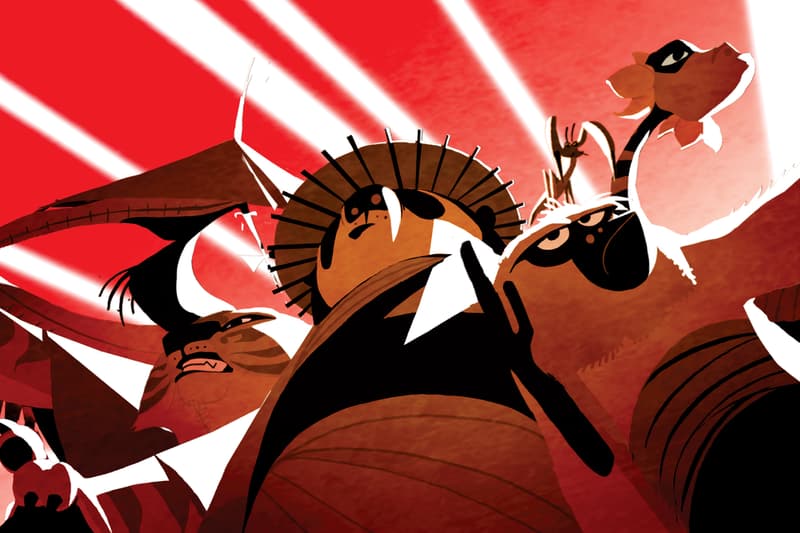 In December 2016, The Hollywood Reporter ran an Animation Roundtable with the headline, "Seth Rogen and 6 More on Avoiding Ethnic Stereotypes and How to 'Break the Mold' of Princesses." Joining Rogen were the likes of Moana director John Musker and Kung Fu Panda director Mark Osborne — all animation veterans, and all white men. They cited visiting foreign countries and interviewing female police officers among their efforts to combat stereotypes on screen.
Almost a year later, the same publication ran a far more sobering headline: "John Lasseter's Pattern of Alleged Misconduct Detailed by Disney/Pixar Insiders." Lasseter began a leave of absence in light of the sexual harassment allegations, with Disney announcing in June 2018 that he would fully exit the company at the end of the year.
Lasseter's exit coincided with another major change for the animation juggernaut. In November 2018, Pixar announced Domee Shi would direct a full-length feature film, making her only the second woman to ever do so in the company's 33-year history. She had previously become the first woman to ever direct a short film for Pixar with the release of Bao, which aired in theaters ahead of Incredibles 2. The movie has since been nominated for the Academy Award for Best Animated Short.
Those headlines — among others — paint a clear picture of the ways in which Disney/Pixar kept women shut out of leadership roles. The subtle, but perhaps more pervasive, way that major studios can simply forget about women and minorities, coupled with blatant harassment from powerful men like John Lasseter, makes it unsurprising that Shi is only the second woman to ever helm a feature film at Pixar. But her appointment as a feature film director may finally signal a more systematic change within Disney/Pixar, and – hopefully — will set the standard for the animation industry as a whole to become more inclusive of diverse voices.
"The fact that a young, Chinese-Canadian woman is being given the opportunity to prove herself as bonafide feature film director at one of the most beloved animation studios in the world, is just incredible news," former Pixar graphic designer Cassandra Smolcic told HYPEBEAST. The news is particularly remarkable, given how far away it is from her own experience at the studio.
Smolcic, who worked in Pixar's graphic design department from 2009 to 2014, detailed the sexual harassment she endured at the company in a 2018 op-ed for Variety. "I white-knuckled my way through many unwelcome, objectifying interactions with [a design department head], with Lasseter, and with other men; was physically groped by another male coworker; and was sidelined from projects by the unofficial boys' club casting system," Smolcic wrote.
"The fact that a young, Chinese-Canadian woman is being given the opportunity to prove herself as bonafide feature film director at one of the most beloved animation studios in the world, is just incredible news."
The boys club that Smolcic refers to is not unique to a large studio like Pixar, but can permeate into the indie side of the animation industry as well. "I did not have any female role models who were directors during [my] first year in the industry, which was discouraging," says London-based animator Anna Ginsburg. Her short films including What is Beauty? and Private Parts grapple with topics like body image and sexuality, and she cites her current company as one of the few with equal female representation. "My production company in London, Strange Beast, is the only one with 50 percent female directors. Most on the other London animation companies have either have no female directors at all, or there's on average about two women to 12 men."
While Pixar may have revolutionized animation, it has lagged behind its rival DreamWorks Animation in its treatment of women. "During my time at DWA, Brenda Chapman, Vicky Jenson, Lorna Cook, Jill Culton, and I were directors and many of the producers were women," Kung Fu Panda 2 director Jennifer Yuh Nelson told HYPEBEAST. "No one thought it was weird to have women directors or women in positions of leadership."
Nelson admits she didn't see herself as a director, due to her introverted personality. "I wanted to make cool things but I thought I didn't match what I myself stereotyped as a director," she says. But it was her colleagues at DreamWorks who encouraged her to direct Kung Fu Panda 2 after she directed the hand-drawn opening sequence in the first installment. That appointment made her the first woman to direct a big-budget animated film, and under Nelson's leadership Kung Fu Panda 2 and Kung Fu Panda 3 collected more than $1 billion USD at the international box office.
Nelson's colleague Brenda Chapman, who directed The Prince of Egypt for DreamWorks, nonetheless found her own difficulties after she joined Pixar in 2003. While Shi will be the second woman to direct a feature film out of Pixar's 20 titles, she may well be the first to actually finish one. Chapman was announced as Pixar's first female director in 2010 for the fairy tale-inspired Brave. Partway through filming however, Chapman was replaced as director by Mark Andrews, due to "creative differences." She managed to maintain a co-directing credit on the film, eventually sharing the Oscar for Best Animated Feature with Andrews.
Smolcic says since her Variety essay was published she has had Pixar employees reach out to her to share their own stories of harassment, with many discussing Chapman's exit as well. "I have heard from several people who worked with Brenda, and they feel because of sexism, she really wasn't supported by the leadership in the studio. And that they, in a way, turned her crew against her." Lasseter served as an executive producer on Brave, and Smolcic cites his subconscious bias as permeating the filmmaking process. "I don't think John is the sole proprietor of that bias, it's a cultural thing, it's much bigger than just him. But the fact that he was the man in charge had an effect on the way everyone else in the crew and in the studio perceives her as a director," she says. Chapman has mostly kept quiet about the exact details of her exit, and her representative declined a request to speak to HYPEBEAST.
Brave made headlines for reasons other than Chapman's exit — the film introduced Scottish princess Merida as its main character, with reviewers praising her wild mane of curly hair. To create that texture and movement, however, Pixar had to develop an entirely new CG hair simulator. Despite the studio's many technological innovations over the years, the kind of characters Pixar had centered until then simply never required the technology to render curly hair – or any texture other than straight hair.
"It's kind of just what they prioritize first," Smolcic says. "A lot of different things in animation are difficult, like fur or hair in general is difficult. That to me says they prioritize the white male lens, and the white male world."
The lack of women behind the scenes seems obvious when looking at the homogeneity of women in Pixar and Disney films in general, with Smolcic citing the same "pinhead on a pear-shaped body" across female characters, from Merida to Elastigirl. "It often seems like an afterthought, the female characters. And that's because you have a room full of mostly men making the movie," she says.
"A lot of different things in animation are difficult, like fur or hair in general is difficult. That to me says they prioritize the white male lens, and the white male world."
Disney's own Lino DiSalvo, head of animation for Frozen, went so far as to say it was "really tough" to animate not just one but two distinct female leads on screen. "Historically speaking, animating female characters are really, really difficult, because they have to go through these range of emotions, but you have to keep them pretty," DiSalvo told blogger Jenna Busch in 2013. The comments drew extensive criticism.
Shi's Bao broke that Pixar mold with its focus on a Chinese-Canadian home. And while she may face an uphill battle as she develops her first Pixar feature, whatever the storyline, the studio has changed since Chapman's time. Smolcic praises Pete Docter, who took over as chief creative officer at Pixar following Lasseter's exit, and producer Jonas Rivera as powerful and progressive allies at the studio, with Docter being one of the first to notice Shi's talent when she was a story artist for Inside Out. "That's the kind of example that we want to set throughout the workforce, not just in the film industry," Smolcic says. "Looking at everyone as our potential equals, our potential teachers, as opposed to this kind of hierarchical system where those who are grandfathered in are given all the say, and the rest of us are just there to execute their vision."
Ginsburg is hopeful that rising female directors may soon have more diverse colleagues across the board. "I now do lectures and workshops at various universities across the UK and see more diversity on the animation courses, so I am really hoping a shift will begin as soon as possible," Ginsburg says. Like Nelson and Smolcic, she emphasizes the importance of mentors, citing Marie-Margaux Tsakiri-Scanatovits of Moth Studio as a source of inspiration and guidance in her own career.
The lack of diversity behind the screen is ultimately harmful not just for those left out of the boys club behind the scenes, but also for audiences craving new stories. "The homogeneity of experience (the industry mainly being 28-year-old middle-class white man with beards) leads to dull work. We need a multiple of experiences, voices and visual approaches to enrich our industry and challenge our audiences," Ginsburg says.
Even while Bao's story left certain white viewers "confused," the short's success suggests viewers are craving stories outside that white male lens. "Entertainment has become more international than ever," Nelson says. "Even going just by box office, considering the demands of a massively more diverse audience is not just about what's right, but about survival."
The animation industry as a whole, however, may not be entirely ready to leave behind its old ways. This month news broke that John Lasseter will become the animation chief for Skydance, a Paramount-affiliated studio founded by David Ellison, son of Oracle billionaire Larry Ellison. Organizations like Time's Up quickly condemned the studio's decision.
"Even going just by box office, considering the demands of a massively more diverse audience is not just about what's right, but about survival."
For these filmmakers, the goal remains to move ahead. Smolcic is developing her own content platform Blue•Tube, which she calls a "hybrid between YouTube and Kickstarter," while Ginsburg plans to release a new short film this summer in collaboration with illustrator Melissa Kitty Jarram. Last year, Chapman signed a deal with Twentieth Century Fox to develop films mixing live action and animation. Nelson has also stepped into live-action directing, with the release of Darkest Minds last summer, and a remake of the South Korean drama A Bittersweet Life, starring none other than Michael B. Jordan, on the horizon.
Whatever the project, Ginsburg emphasizes a need for women to honor their own voice and style, and escape the pressure to imitate the stereotypical domineering — or even abusive — male director. "As a woman, you being your authentic self will liberate others to do the same," Ginsburg says. "There is no set way to direct a film. If you have something to say, say it with your own voice."