Fat Nick Debuts New 'Generation Numb' Single "WTF" & Walks Us Through the Album
The Florida rapper talks addiction, his favorite artists and more.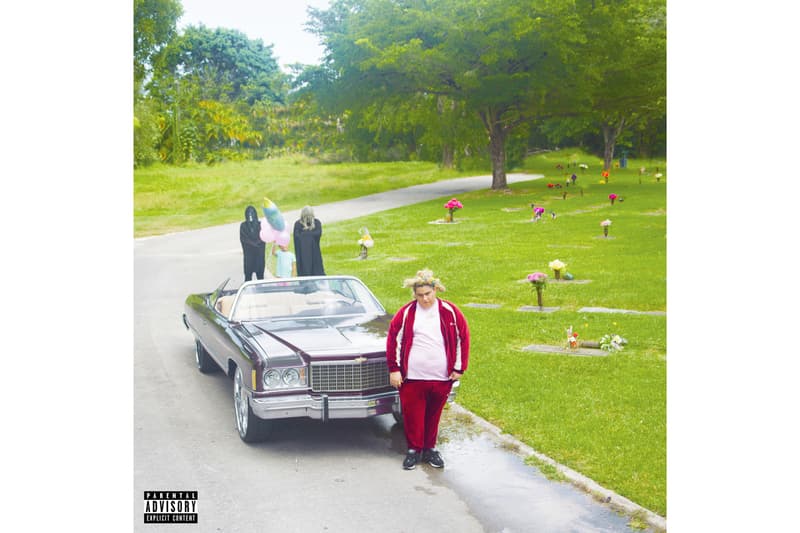 A couple years after his last major full-length, Florida rapper and "Soundcloud rap" star Fat Nick is ready to drop his "most personal project." Titled Generation Numb, the album — described by Fat Nick as his "best" yet — tackles themes of addiction, anxiety and mental illness, using Fat Nick's acrobatic flow as a vehicle to connect with those facing the same struggles.
"This for the kids just like me, the 1's afraid to speak up, the 1 fat kid who won't take off his shirt, the kid who can't make friends at school, the "misguided" the "f*ck ups,'" Fat Nick previously tweeted. "I'm walking these shoes w/ y'all forever."
To introduce the effort, we linked up with Fat Nick to debut its new single "WTF," talk about the eye-catching cover-art, the meaning of the Generation Numb title, what he's listening to now and more. You can check out our exclusive Q&A with Fat Nick and stream "WTF" below. Generation Numb is set to drop on June 8.
Break down the concept of Generation Numb and how you came up with the title and the process behind it.
My whole thing is I do everything for the kids because I genuinely do give a shit about them. I feel like, in the age we live in right now, there's a bunch more kids with anxiety, depression, drug addiction and mental illness; a lot of kids don't know how to deal with it and don't know how to speak up on it, so that's how I came up with Generation Numb. This whole generation is numb over everything and we need to talk shit out.
Why I think it's high right now? I'm not exactly sure. Why I think won't kids speak up on it: "generation now" is nothing like the previous generation at all — you can't compare in any shape or form. When these kids try to speak up or talk about it, they get bashed for it or no one understands.
This is my most personal project yet; my best project yet; my most lit project yet. It's the best f*cking shit in the world.
How did you come up with the cover-art?
My favorite album of all time is the The Devil and God Are Raging Inside Me by Brand New — I listen to it all the time. When I listen to the album … that cover really hits me. It [Generation Numb cover] was influenced by that cover to a certain extent. The Generation Numb cover just fit the name — I'm in a graveyard and there's two grim reapers there, one evil and one good.
The new merch really stands out, especially the Vicodin t-shirt. Talk to me a bit about that and what motivated you to put that shirt out.
That's the Vicodin Varsity t-shirt, and on the back it has the number to an opioid addiction hotline. Nowadays, everyone is on drugs and no matter how hard you try to make them stop, they will never ever stop doing drugs. I don't care what anyone says. Instead of bashing them and telling them not to do it, why don't we educate them? Teach them, don't bash them. Educate them and teach them what to do. You might as well work with them instead of against them. The majority of that money I'm making from that shirt is going to be donated to charity, I'm just figuring out which one works best and actually put the money to the right usage for the kids. I want to donate to kids with anxiety and mental illnesses.
Even in hip-hop, do you feel other artists and rappers have a tendency to judge? How do you feel about those who ask, "why can't you just quit?"
Here's the thing about that: you can say you want to quit a thousand times, but you're not going to quit until you want to. You can say you want to [quit] as many times as you want to, but until you genuinely want to, you won't. When you go through the withdrawals, the physical withdrawals suck ass, but the mental withdrawals are a hundred times worse than that and a lot of people aren't ready for it yet; it's really f*cking hard.
What are the big differences between the 2016 Fat Nick of When the Lean Runs Out and the 2018 Fat Nick of Generation Numb?
Now, I feel like I mastered my craft and just booted up on everything. Now I think I'm f*cking awesome — before I was cool. I'm the f*cking shit right now.
In a previous interview, you said Chief Keef was one of your favorite artists but you also mentioned Immortal Technique. How did you make that transition?
I grew up on Brand New, Taking Back Sunday, Underoath and all that. Then, I transitioned to rap music and the first rapper I really got into was Immortal Technique. I was a young dude … I don't know what I was thinking. I thought it was lit back in the day. Now, no disrespect, I don't listen to that ever. When I really started getting into to the music and getting a passion for it, it was Chief Keef. He was so young and he blew up with all his people. I loved that Chicago music and the movement they had.
What do you listen to nowadays? What are some major new-school artists you really like?
Obviously my home team: Pouya, Suicideboys, Lil Peep and stuff like that. Every day I listen to Blink 182, Sum 41, Avril Lavigne and stuff like that. I like Young Dolph, shout out to Young Dolph. I love pop punk.
With this album, what are some of the standout records on it and what collaborations do you have on it?
The whole thing is produced by Mikey the Magician and Flexatelli. I got Ohgeesy from Shoreline Mafia; I got this song with Bexey; the last one is with me, Makonnen and Lil Peep, and it's my favorite track in the world.
You mentioned Ohgeesy from Shoreline Mafia. Do you listen to a lot of new west coast stuff?
I love Shoreline; I love YG, I think YG's the shit; I think Drakeo the Ruler is cool — he's f*cking hard, that "Flu Flamming" is hard. He [Drakeo] is definitely tight, shout out to him.