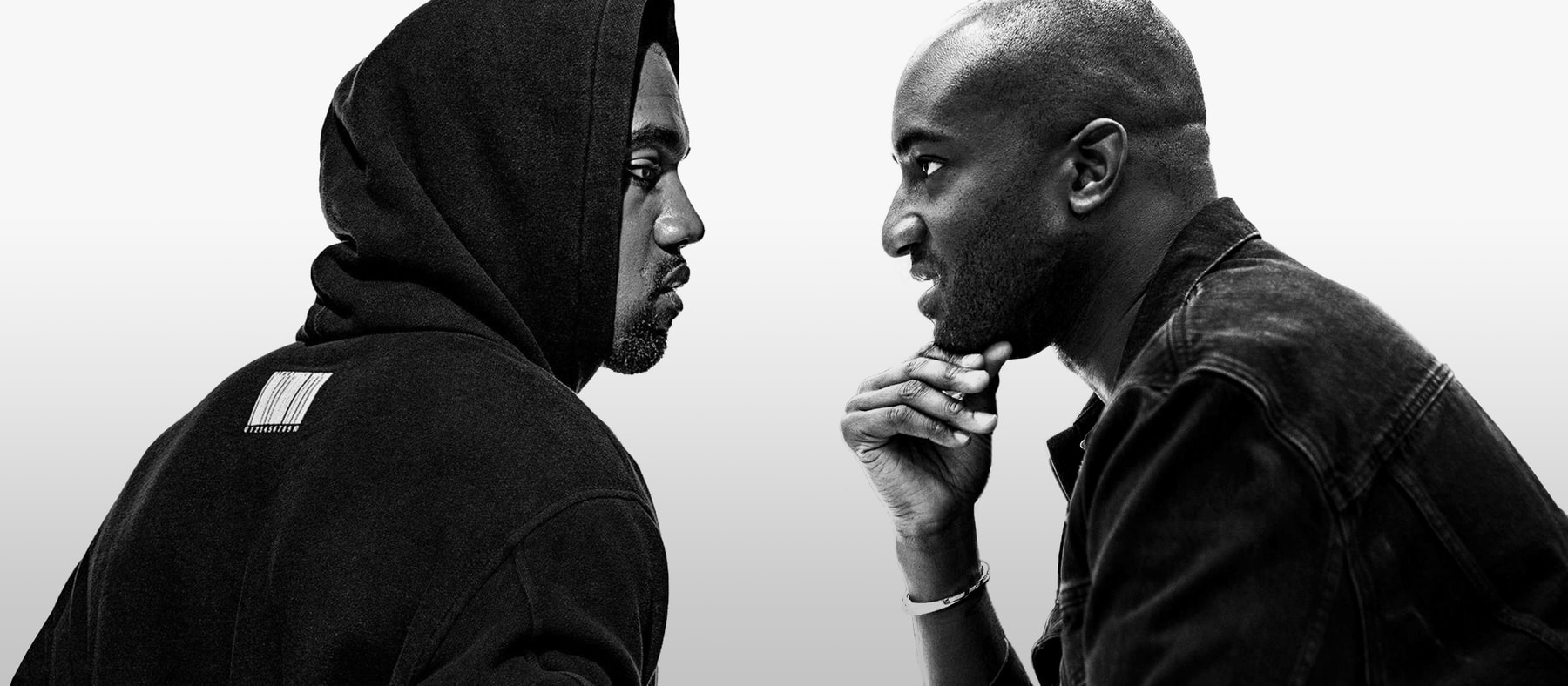 Virgil and Kanye's Rise to Fashion Supremacy
A head-to-head analysis of how the two legends have built their brands.
Kanye West is no stranger to the strength of a creative partnership, launching his music career under the mentorship and guidance of JAY-Z and eventually parting ways to build fame in his own right. A decade and a few Grammys later, West found himself on the other side of the table, bringing Virgil Abloh onto his team as fashion adviser and creative director. And just as West did before him, Abloh would too go his own way, eventually establishing one of the hottest brands of the moment, Off-White™.
While West and Abloh have both had success in their most recent design ventures, both creatives faced a bit of fumbling with their first attempts—West with his failed Pastelle label and A.P.C. joint project, and Abloh with a video titled "A TEAM WITH NO SPORT" that featured PYREX VISION clothing. Yet, as Abloh pointed out in a lecture to Columbia University in February, these initial setbacks were integral to future success. "The only way to get to the end means is to start your domino effect which is basically put out bad work. It was an idea called PYREX VISION… the aftereffect of this (video) is that Off-White™ doesn't exist without it," Abloh said.
While it's hard to pinpoint an inflection point where Abloh gained enough momentum to forge his own path, a huge domino fell when his album design work on Watch the Throne earned a Grammy nomination in 2012. "After a monster hit like that, Kanye had more clout than ever, and Virgil was able to leverage his new fame to launch his Off-White™ label in Milan two years later," says Adam Padilla, co-founder of Brandfire, creative branding agency.
Although Abloh has now gained notoriety in his own right, the two designers stood in very different positions only a few years ago. While West launched his fashion career from the throne of self-proclaimed god and future president, Abloh has built his name and career simultaneously, down-up from more humble beginnings. As a result, the two designers have adopted different yet similar strategies in building their brands. Now, with last week's official announcement of Virgil Abloh's design project for Nike, which strongly mirrors the disruptive adidas YEEZY collaboration, a daunting question looms: will the pupil surpass the mentor?

Two Gods: One Creator, One Designer
With their distinct backgrounds, West as a rapper and producer and Abloh as a designer, the style of their brands have undoubtedly developed along different paths. Although YEEZY Season itself hasn't seen overwhelming success as per industry insiders, West is largely attributed for catapulting a new look into the fashion sphere. Whether or not the trend truly did start from West is hard to pinpoint, but he certainly played a role in amplifying it alongside his power-half, Kim Kardashian. In turn, whether with music, sneakers or monochrome, West's influence has been felt in the form of big, game-changing moves.
"I think Yeezy deserves recognition for starting from scratch and developing what is arguably one of the most sought out sneakers in history."
Meanwhile, Abloh's carefully calculated approach has involved a constant perpetuation of new ideas, leveraging ingenuity in small details and seemingly adding a never-ending layer of ripples to his growing wave. As a result, Abloh has captivated the eyes of streetwear, but has yet to truly crack the masses.
"Off-White has a fully realized unified graphic concept to tie each collection together since the first PYREX collection, whereas YEEZY hadn't applied graphic and font embellishments to the collection until Season 5. YEEZY has been more ambitious with proportion, silhouette, fabrication and deconstruction of ideas of basic forms in apparel since the first collection," says Oliver Mak, founding partner at Bodega, online destination for streetwear.
When looking at West and Abloh's approach with adidas and Nike, respectively, the core of their design approach becomes apparent. Abloh's design for Nike is perhaps the most intricately designed footwear collaboration in recent memory, completely re-imagining 10 of Nike's classic shoes in a manner that will attract sneakerheads and fashionistas alike. West, meanwhile, took one strong shot, introducing a completely new shoe design that disrupted the footwear market.
"I think Yeezy deserves recognition for starting from scratch and developing what is arguably one of the most sought out sneakers in history," adds Point. "I have no doubt in my mind that Virgil will create something from scratch after this launch," he continues. While the full implications of Abloh's play with Nike are still unclear, future collaborations wouldn't be far off the spectrum. In the meanwhile, the collaboration serves as a healthy boost to Abloh's brand and amplifies his name to the public.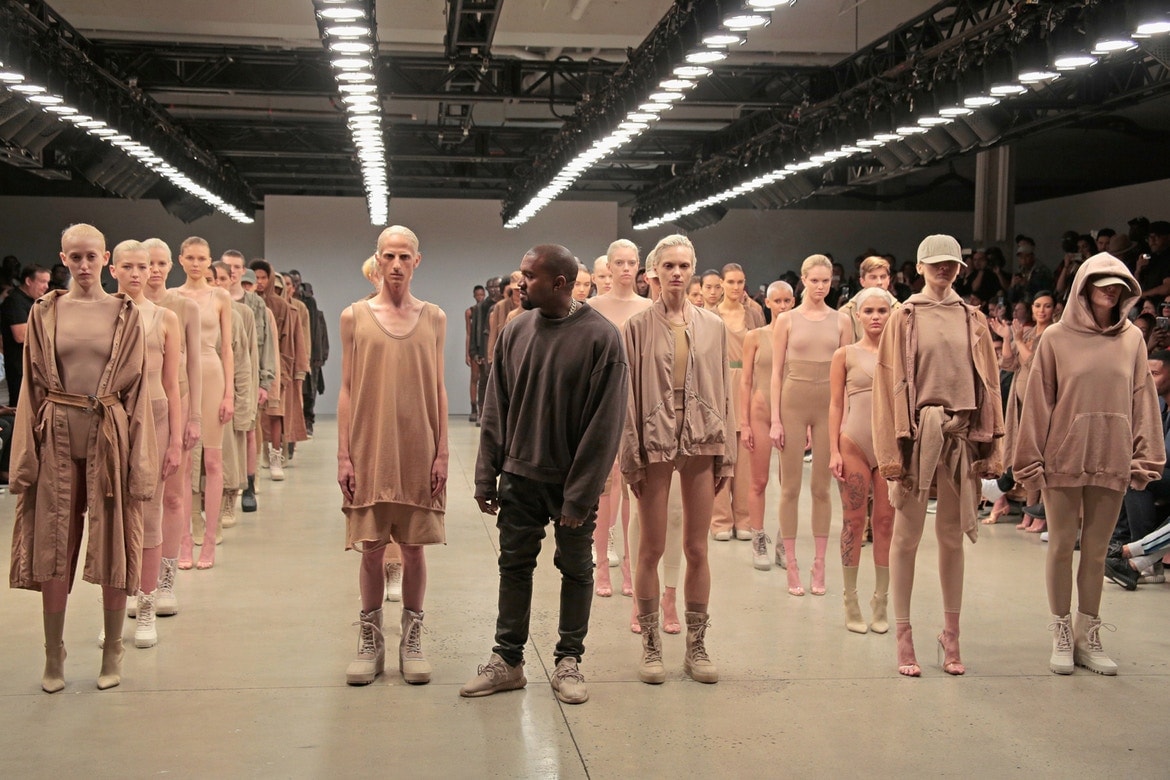 Leveraging The Cult of Personality
While West already possessed a mainstream mass following when he launched his fashion career, Abloh has slowly expanded his following in the past few years. Both, though, have embraced the cult of personality in building their brands. YEEZY is Kanye and Kanye is YEEZY. Similarly, Virgil is Off-White™ and Off-White™ is Virgil, creating all-encompassing super brands. "Each release is part of the zeitgeist and introduces a new chapter for discussion — a lot of times not about the clothes themselves, but the presentation, the models, and the spectacle of YEEZY as public figure. It is truly the cult of personality — YEEZY the brand and YEEZY the individual are inseparable," adds Mak.
Indeed, when we think of the word "YEEZY," it could be referring to the self-proclaimed-god/rapper, his clothing line, or his wildly successful shoe collaboration with adidas. In turn, every move that West takes — whether a huge success or failure — plays into the overall perception of his brand and takes an instrumental role. "YEEZY Season doesn't even have to sell to be a success for the Kanye… it qualifies him as a legitimate fashion designer, which gives his personal brand a tremendous boost," adds Padilla on how the strategy plays out.
"Virgil's brand is all about fashion and design, so like any visual artist his name acts like a signature."
Meanwhile, while Virgil Abloh's name recognition doesn't sit in the same stratosphere as YEEZY, he too rides on a cult of personality. The recent announcement of Virgil Abloh's collaboration with Nike has largely been reported on, circulated on, and discussed as Off-White™ x Nike. Meanwhile, Nike and Abloh are holding a joint event in promotion of the collaboration titled "Off Campus," blurring the lines between Off-White™ and Virgil Abloh even further.
"Virgil's brand is all about fashion and design, so like any visual artist his name acts like a signature. For Nike, it's a smart move to keep his Off-White brand away from the Nike name, instead using the "Virgil Abloh for Nike" tag. Of course, people will call it Off-White x Nike and that's fine. If the consumer is familiar enough to know what Off-White is, Nike gets credit for being avant-garde enough to partner with a trendy Euro brand," Padilla continues.
The strong brand image that follows the designers in turn makes them a desirable partner for collaborations, but also means their influence is only increasingly amplified. For West, this has meant success from the start; while for Abloh, it's served as a long term strategy for the growth of his brand. With more and more collaborations, Abloh is on track to continue to grow his following, especially if he continues to partner with heavyweights like Nike.
Balancing the Collaboration Play
Perhaps Virgil Abloh's biggest strength over Kanye West in fashion is his keen sense for collaborations. Unlike Kanye who tends to only deal with adidas, Abloh in contrast has methodically chosen a wide-range of reputable brands to work with in order to keep himself and Off-White™ constantly connected to different cultures. They span the gamut of streetwear, luxury, sportswear, and music with names that include mastermind JAPAN, fragment design, Moncler, Daft Punk and Levi's to name a few. Now that a partnership alongside Nike is well underway with the upcoming release of "The Ten" sneaker models, Mr. Abloh is sure to cast an even bigger spotlight on his name and his label Off-White™.
"The collaboration will have mass appeal but the extremely limited distribution will keep the market from being over saturated," Oliver Mak, co-owner of Bodega explains. "I just saw the roll out and distribution plan and this collection is one of the most limited Nike offerings Bodega has been a part of in the past decade," he adds.
Even with a release such as this, Abloh is strategic in his execution. There is definitely a control of saturation with the drop as Mak points out but the more important aspect of the release is the collaborative buzz and the demand it would generate. This in turn will keep Abloh and Off-White™ within the trending topics of fashion and footwear for years to come.
Kanye West, meanwhile, has technically kept all of his recent work "in-house" with his own line and the single partnership with adidas. The strategy possibly stems from the perils he's experienced from past collaborations with Nike, A.P.C. and even Louis Vuitton when he designed a sneaker for the French fashion house. Kanye's singular vision and creative control is never at a loss with this mindset and one can conjecture that with West's fashion reputation already being so massive, he stands little to gain from partnering with other labels.
There is definitely a control of saturation… but the more important aspect of the release is the collaborative buzz and the demand it would generate.
But similar to Abloh's limited offering with Nike, the balance between amplification and control becomes vital to success and expansion. West and adidas have implemented a careful drop strategy to secure the longevity of their collaboration. "The whole secondary market is just supply and demand. I think they've (adidas) done a really great job of continuing to release sneakers from adidas where they've slowly increased volumes without going crazy. So, still kept the hype to keep the resale premium and the exclusivity. And Kanye drives an unbelievable amount of demand," says Josh Luber, co-founder of StockX on adidas YEEZY's consistent success.

Footwear, The Final Frontier
As a result of Kanye West's cult of personality and careful execution, the adidas collaboration has seen immense success. According to many footwear experts, the shoe was, in short, disruptive. "In February of 2015, when the first YEEZY released, Nike at that time, including Jordans was 96% of the resell market and adidas was about 1%. Today, it's about 50/50. And obviously it's not just Yeezys, there's Ultraboots and other stuff but it absolutely started with YEEZY," says Josh Luber, CEO and co-founder of StockX, leading online marketplace for buying and selling sneakers. Data analysis from the StockX team reveals that YEEZYs holds 34% of market share in dollars for 2017 year-to-date.
"Some would argue it's still in its infancy so Yeezy hasn't even scratched the surface yet in terms of design, materials and colorways," tells Deon Point, creative director of streetwear boutique Concepts. However, not all footwear experts see eye-to-eye on West's influence. "I saw no impact from West's signing with adidas. Sales were negative in the U.S. for two years after he signed. The shoes that sparked the adidas turnaround were not associated with West," adds Matt Powell, sports industry analyst at NPD Group.
Although it's still too early to determine the influence of Abloh's Nike collaboration, forecasts expect the collaboration to perform well. "With no planned Yeezy release in Q3, Nike/JB should be able to gain market share lead by the Off-White collection. We expect the resell premium will vary by model. StockX already has bid activity well over the $1K level, similar to recent premium Jordan 1s," says Dan Doan, data analyst at StockX.
While Nike doesn't currently stand to gain anywhere near the boost adidas received from Kanye West, the partnership is at least beneficial from a branding perspective. "Since the Nike brand has been so dependent on NBA stars for sales, it's great for them to connect with a designer and a fashion label. The more that Nike can diversify their image away from pro sports, the better for their ultimate longevity," says Padilla.
In the era of collaborations, perhaps the most accurate barometer of a brand's authority is not only who a brand partners with, but what is brought to the table. West established his authority by partnering with adidas and flipping the footwear market on its head. Meanwhile, Abloh's collaboration with Nike doesn't have equal short term implications, but the partnership is certainly affirmation of how far Abloh has come since departing from West. While West's influence is surely not fading out anytime soon, if the ambitious creative doesn't have another sonic boom up his sleeve, Abloh's steady and consistent growth may very well outpace Ye in the long run.