Watch and Stream the 10 Best Releases of This Week: Lil B, A$AP Mob & More
What a time to be alive.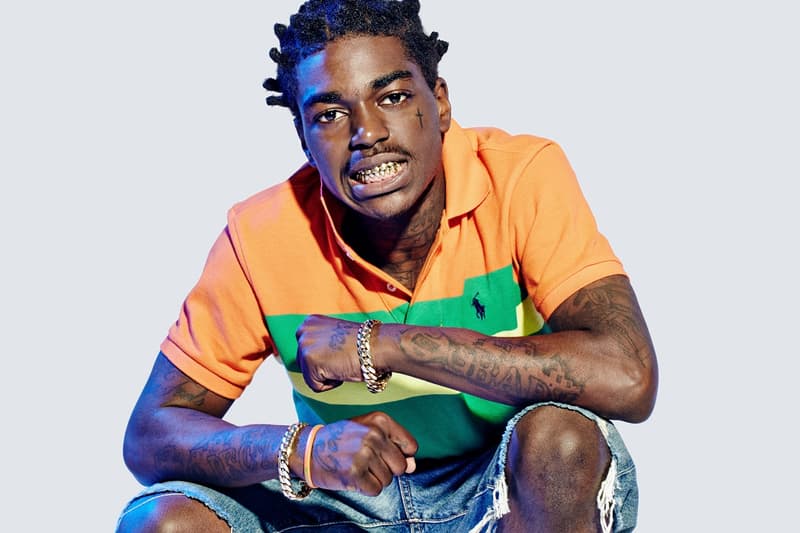 It's been a very good summer for new music. As we've previously documented, huge records from a wide range of superstar artists have made summer 2017 one of the best season for new music in quite some time. From street rap to melodic hip-hop to the current SoundCloud era, there's something for everyone in the warmer months. During this past week-long stretch, the wave of new music releases has continued to produce some solid sounds.
Last week, we were treated to impressive new cuts from Kaytranada, A$AP Ferg, Smokepurpp, Iglooghost, Nessly, 24hrs, Uno the Activist and more; Frank Ocean cranked out a live cover that was so good it should have at least been added to a mixtape tracklist. This time around, the A$AP Mob, Mozzy, Kodak Black, Gucci Mane, Ariel Pink, MF Doom and other fan-favorites produced new songs that warrant many, many replays. In the list below, you can run through our round-up of this week's best music items.
A$AP Mob – "Feels So Good"
When it comes to rap crews and collectives in 2017, A$AP Mob is arguably one of the biggest musical movements on the planet. Even if you aren't fond of every record attached to the A$AP banner, you have to recognize their dominance of the rap game right now. From fashion to radio singles, A$AP Rocky is an absolute superstar; in recent months, artists like Twelvyy and Ferg have spent 2017 trying their hands at all different sides of hip-hop's multi-faceted spectrum, cooking up some excellent records along the way. However, it's those times that Mob comes together that they really steal the spotlight.
With the A%AP Mob's sophomore album as group on the way, a new single in support of Cozy Tapes Vol. 2: Too Cozy has been lighting up the internet. Dubbed "Feels So Good," the song serves as the third official Too Cozy single and sequel to Ferg and Rocky's "Wrong" and the star-studded anthem "RAF." With Ferg's Still Striving dominating headlines right now, a video for the "Feels So Good" has helped bring the A$AP aesthetic to life. If you're an A$AP enthusiast, you have plenty of new content to sift through this weekend.
Gucci Mane & Migos – "I Get The Bag"
Since getting his freedom back and exiting the confines of the penitentiary, Gucci Mane has been on quite the hot streak. As he continues to lay the foundations for his 1017 Eskimos venture and crank out hits as a featured guest-artist, Guwop has plans to follow-up last month's joint project alongside Ralo by serving up a new solo album.
Introducing his new LP Mr. Davis, the Trap God reconnects with Migos for his album's lead single, "I Get The Bag." Besides the record's audio component, Gucci Mane has also linked up with his "I Get The Bags" collaborators to turn up at a luxurious mansion to put together the track's official video. Featuring striking production by Southside, "I Get The Bag" is the type of single that will get plenty of car and club rotation.
Set to arrive on September 15, Gucci Mane's Mr. Davis features songs with ScHoolboy Q, A$AP Rocky, The Weeknd, Nicki Minaj, Big Sean, Ty Dolla $ign and other high-profile stars.
Kodak Black – Project Baby 2
Despite all the controversy surrounding his career, Kodak Black has managed to rise above it all and hold onto his place at the top of contemporary hip-hop. Now, following the unveiling of the colorful "Patty Cake" video earlier this month, the Florida rapper is back with the sequel to one of his biggest releases yet.
Rounding up 19 new tracks, Kodak Black serves up Project Baby 2. Featuring a lean list of guest contributors, Project Baby 2 keeps the focus on telling Kodak Black's trials-and-tribulations-filled story. Fellow Broward country superstar XXXTENTACION shows up for some verse, as does Migos rappers Offset, John Wicks and JackBoy; London on da Track, Murda Beatz and other high-profile, talented beatsmiths provide the project's production.
Peewee Longway – The Blue M&M 3
Peewee Longway came into the game with Young Thug, and has remained one of the entertainingly-weird Atlanta street-rappers who lives up to the "ATLien" name. One of his city's cult-favorite artists, Peewee Longway and his name have become synonymous with the best Atlanta has to offer. With his flows as hard as ever, the MPA rapper returns to the solo circuit with a brand new album.
Continuing his popular Blue M&M mixtape series, Longway serves up the endeavor's third installment. For The Blue M&M 3, he links up with the elusive PARTYNEXTDOOR, Migos rappers Quavo and Offset, Young Dolph and others. Production on the tape is provided by Lil Mister, DunDeal, Cassius Jay, C4, DY 808 Mafia and Lil Skully. The beats on this effort are tailored towards Peewee Longway's unorthdox style, and this 15-track collection delivers a mix of heavy-hitting street salvos, melodic cuts and the sort of forward-thinking, experimental pieces that his friend Young Thug might work with.
Ariel Pink – "Feels Like Heaven"
For several years now, Ariel Pink has been one of the Los Angeles music scene's most talented singer-songwriters. He can craft unique sounds rooted in any genre, and has produced some of indie music's greatest gems. Following a collaborative EP with Weyes Blood, Pink is redirecting his artistic focus, choosing to once again focus on his ever-evolving solo career.
On September 15, Ariel Pink will release the follow-up to 2014's critically-acclaimed magnum opus pom pom. Titled Dedicated to Bobby Johnson, the LP has been supported and its sound has been alluded to with singles such as "Another Weekend." Once again, Ariel Pink has switched up his style, diving headfirst into fresh sonic territory with the release of the more mellow Dedicated to Bobby Johnson record "Feels Like Heaven."
Mozzy – 1 Up Top Ahk
For those "not in the know," Mozzy is arguably Northern California's most talented new-school rapper. With a penchant for the hardest street rap imaginable, the Sacramento native has the rare ability to craft gangbanging anthems and street-seasoned, weary narratives; when it comes to comparisons, Freddie Gibbs is probably the only rapper that can go head-to-head with the "Bladadah" lyricist's style. Mozzy's body of music can produce some of the west coast's best storytelling, and it can make you want to ride out like Tupac. When it comes to the current crop of west coast artists, one could make the case that Mozzy is currently the best California has to offer.
After many solo and collaborative projects, mixtapes and YouTube anthems, Mozzy has finally decided to drop his "official," proper debut studio album. Dubbed 1 Up Top Ahk, the release stands as Mozzy's most cohesive sonic statement yet, tying together all the best aspects of his sound. Included on the LP are 16 new tracks, including collaborations with Boosie Badazz, Lil Durk, Dave East, YFN Lucci, Celly Ru, E Mozzy and others. You cannot sleep on this — don't be surprised to if this ends up being an easy "album of the year" contender.
Lil B – Black Ken
Thank you Based God. After many months of anxious waiting and promotional support, Lil B is back with the heavily-anticipated new studio project Black Ken. Loaded with an impressive 27 tracks, Black Ken is almost exclusively Based bars from Lil B himself. Most notably, iLoveMakonnen is the only artist enlisted for a contribution.
Released as a sort of celebratory tie-in with Lil B's 28th birthday, Black Ken also serves as a tribute to fellow star-artists like Kanye West, Lupe Fiasco and more. Having built up a reputation as of the game's hardest-working acts, let's hope some Based music is on the way. Considering the expansive collection of sounds here, there will be plenty of opportunites to bust out your best cooking dance routines once you press play.
MF DOOM & Jay Electronica – "True Lightyears"
Over the course of 15 weeks, Adult Swim plans to release every single part of a new MF DOOM project known as The Missing Notebook Rhymes. The Cartoon Network outfit initially got the ball rolling on the release series by liberating a DOOM collaboration with Sean Price known as "Negus." This week, they continued the Missing Notebook Rhymes' 15-part drop with the unveiling of a huge new joint record from DOOM and Jay Electronica.
Titled "True Lightyears," DOOM and Jay Electronica's new track together serves as the lead single in support of the new KMD album. As DOOM's die-hard followers know, KMD is the OG rap act that aided in the creation of the masked one's persona and career. Previously, DOOM began his path under the emceeing name Zev Love X; his first body of work with KMD was 1993's Black Bastards. The new DOOM and KMD LP — which stands as the act's first project in nearly a quarter of a century — will be known as Crack In Time and Metalface and Nature Sounds plan to release the album as a joint venture.
Nef The Pharaoh & Slimmy B (SOB x RBE) – "Bling Blaow"
Mozzy isn't the only Northern California artist making his region proud. With a special talent for exploring the melodic side of west coast rap and crafting party-starting anthems, Nef The Pharaoh has built up a reputation as one of California's most promising up-and-comers. Earlier this year, he continued and cemented that approach with The Chang Project, a 15-track full-length that featured guest appearances from SOB x RBE, Ty Dolla $ign, OMB Peezy, Larry June, P-Lo and others. Along with that drop, he also linked up with E-40 and D.R.A.M. for "Slappin" and its subsequent video.
With the "Big Tymin'" single serving as the breakout hit his career needed, Nef The Pharaoh plans to continue his ascent with a new album known as Big Chang Theory. Further building upon the path he has been laying the foundations for, the Bay Area rapper-crooner redirects attention back to The Chang Project for the unveiling of the visual for one of the project's standout selections, "Bling Blaow." Featuring an assist from SOB x RBE's Slimmy B, "Bling Blaow" is easily one of Nef's best recent releases.
BandGang Lonnie Bands & RJ Lamont – Talk That Sh*t 2
When it comes to Detroit's current rap scene, the wealth of talent goes far beyond Tee Grizzley. While the aforementioned rapper is the main artist presently bridging the gap between Detroit's YouTube-centered, street-entrenched local hip-hop and the world at large, there are many other skilled emcees who have the potential to make their mark on rap as a whole and have some serious crossover potential. Most notably, the BandGang crew has produced some of The Motor City's strongest new-school rappers. With affiliated artists and close collaborators like BandGang Masoe, ShredGang Mone, BandGang Paid Will and others currently pouring their heart out into their raps and heating up the local market, BandGang Lonnie Bands stands as one of his city's future superstars.
Following up the release of the criminally-slept-on, excellent Cosign by the Streets, Lonnie Bands reconnects with fellow Motor City talent RJ Lamont — who has been at the forefront of his Detroit rap in recent years — to produce the very impressive Talk That Sh*t 2 tape. Regarding guest contributions, Sada Baby, ShredGang Mone, BandGang Masoe, Philthy Rich and Ice Burgundy come through with some powerful verses. When its come to the new school, Detroit rappers are cooking up some of this generation's best, hardest-hitting records.