See the Most Striking Installations From 2017's Milan Design Week
Featuring OFF-WHITE-branded scissors, floating bubbles and a full-blown festival.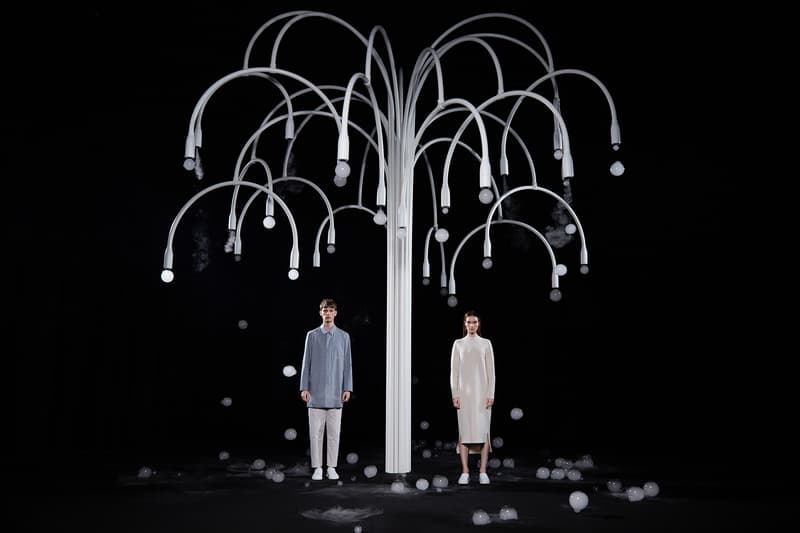 For one week each April, Italy becomes the design capital of the world as Milan Design Week brings more than 300,000 people to the city for five days of aesthetically inspiring activations, showcases and parties. The sprawling event spans the city across spaces that range from gritty warehouses and historic monuments to high-end showrooms and sees brands compete for attention amid an explosion of creativity that bridges the worlds of art, architecture, fashion, design and technology. Here, we pick out 10 visual highlights from this year's event.
'New Spring' by Studio Swine x COS
Stepping into the dimly lit Cinema Arti revealed one of this year's standout installations courtesy of Swedish clothing label COS and the British and Japanese artistic duo Studio Swine. The hypnotic, interactive artwork saw six-meter-high metal tubes create scent-filled bubbles that dropped into the space, bouncing off fabric yet bursting on contact with human skin, diffusing three perfumes into the dark space as a melancholy, moody soundtrack played out. According to Studio Swine's Alexander Groves, the collaboration was inspired by both Japanese blossoms and Milanese design, while the delicate form of the bubbles had the effect of creating an "awareness of impermanence."
Objets Nomades by Louis Vuitton
Luxury fashion house Louis Vuitton presented the latest of its "Objets Nomades" series at Milan Design Week with a range of limited-edition pieces and experimental prototypes on show at Palazzo Bocconi. By teaming up with furniture designers at the top of their game — including the Campana brothers, Maarten Baas, Patricia Urquiola and Marcel Wanders — Louis Vuitton introduced 10 new pieces to the ongoing collection, including a hanging chair, a playful, cloud-like sofa, and a contemporary rocking chair.
'Prototype Research Series 02' by Stone Island
Down among the warehouses in Milan's Zona Tortona district, Stone Island's HQ formed the venue for the apparel brand's latest drop, revealing a typically innovative new fabric in the form of 50 vividly colored jackets. Using Dyneema fabric — said to be the strongest and most durable fabric in the world — the super-lightweight, limited-edition Prototype Research Series 02 jackets feature a reversible design, hand-finished seams and come in 50 colorways. They'll be available from the end of April from the Stone Island website.
'Multiplex' by Tom Dixon
Celebrated British designer Tom Dixon unveiled a typically blockbuster design week appearance for 2017, taking over Milan's historic Teatro Manzoni to showcase his Multiplex exhibition. Throughout the cinema's ornate spaces, including the foyer, bar, screening room and even the outside shopping arcade, Dixon presented several major new launches — including the "Cut" light pictured — a debut furniture collaboration with IKEA, as well as a comprehensive retrospective of his celebrated career.
'Let's Make Room For Life' by IKEA
This year's biggest-scale exhibit was without a doubt IKEA's creation of an entire festival across a vast warehouse in the buzzy district of Lambrate. Called "Let's Make Room For Life," the event attracted thousands of people throughout the week with a revolving schedule of music — including DJs and ad-hoc opera singing — talks, debates and new product launches, while hungry visitors could also embrace the Swedish brand's famous meatballs, which were dished up from food trucks.
'Time Machine' by Lee Broom
Set in an atmospheric vault deep below Milan's Centrale Station, Lee Broom's "Time Machine" presentation celebrated the British contemporary lighting designer's 10th anniversary in the form of a modernist carousel. According to Broom, the rotating artwork laden with his previous works "represents the journey we've been on, while its theatrical form suits the space. There's something pure and poetic about the white pieces against the dark, dank background." In addition to the glowing centerpiece, a moody musical backdrop by contemporary composer Max Richter helped add extra gravitas to Broom's creative milestone.
'Objectextile' by Nendo x Jil Sander
Striking monochrome patterns characterized the sophisticated collaboration between Japanese design outfit Nendo and German design house Jil Sander. Created by photographing layers of objects suspended inside cubes, the four patterns of polka dots stripes, pixels and camouflage have been used in a capsule collection. Meanwhile the collaboration also included a similarly restrained "Invisible Lines" exhibit on display in the same space.
'Passeggiata' by Airbnb
Taking up residence in one of Milan's most revered buildings, Airbnb collaborated with the founder of Italian design magazine Cabana, Martina Mondadori Sartogo, for a series of experiential events. The Casa Degli Atellani — the former residence of Leonardo De Vinci — formed a striking setting for work by a host of up-and-coming designers as well as tailored events that included musicians from La Scala, who performed to visitors in Da Vinci's former vineyard.
'Unpacked' by Horizn
Pulling together an A-list of designers and influencers to reveal their packing essentials, Horizn's "Unpacked" exhibition revealed insights into the creative realms of the likes of Yves Behar, OFF-WHITE founder Virgil Abloh and Brit artist Shantell Martin. With contents featuring everything from notepads and timepieces through to stationery, synths and Abloh's OFF-WHITE-branded scissors, it provided an interesting study on the creative process.
'Unconfined' by Samsung x Zaha Hadid
Just one presentation joining the dots between technology and design at this year's Milan Design Week, Zaha Hadid Architects's collaboration with Samsung and digital design collective Universal Everything took the form of an impressive interactive installation. Visitors could create their own avatars that would then populate the huge curved screens at the heart of this immersive artwork, which referenced the latest Samsung Galaxy S8 design and acted as a floating canvas for the exhibition's digital visuals.