Conor McGregor and Floyd Mayweather Allegedly Reach Agreement for Blockbuster Fight
We'll believe it when we see them in their corners.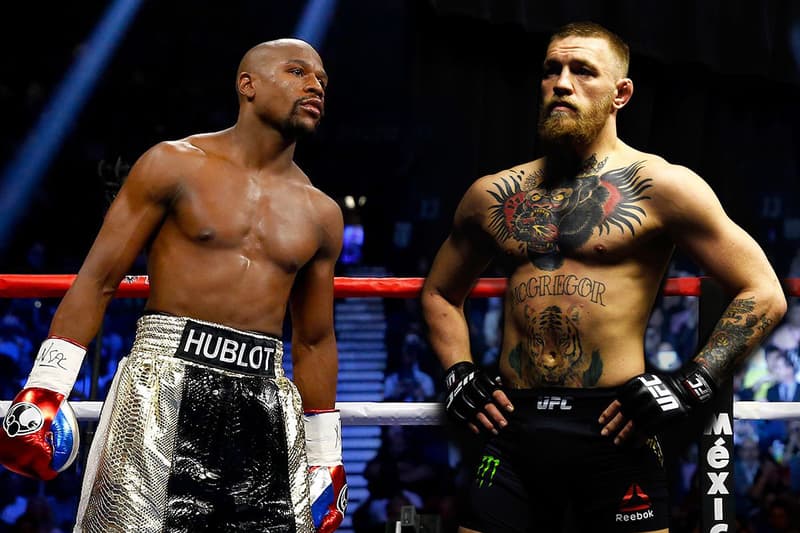 According to UK tabloid The Sun, Conor McGregor and Floyd Mayweather have allegedly agreed to a blockbuster fight. The speculative announcement comes on the heels of McGregor turning down a role in The Predator movie and Dana White saying the fight isn't happening. Evidence for the fight happening comes in the form of The Notorious pulling out of a few scheduled events.
Originally having a meet-and-greet event scheduled in Dublin, McGregor changed his plans in order to fly to the United States to make an anti-bullying video for kids — shooting the video is part of a deal that he struck with the Nevada Sport Commission for throwing a water bottle at Nate Diaz. "Ah no look I'm gonna f*** this whole sh*t up again. I love the Vegas Commission. We've come to an understanding. I'm gonna fly out there and fix it. I'm gonna get my Las Vegas boxing commission and then we'll see where the f*** Floyd's at?!" he said.
McGregor was also scheduled to attend a €100 EUR per person affair on Friday, February 17 but withdrew today due to "an avoidable schedule change." A source close to the MMA star told the Irish Sun that "Conor McGregor and Floyd Mayweather have agreed to a deal to fight and have both settled on their respective fees. The contract hasn't officially been signed yet because of a third party hold-up but all the details have all been agreed on. The fight could even be announced within two week."
John Kavanagh, McGregor's coach tweeted out the following this morning: "Gunni and Queally get a fight. Orly wakes me the right way. Other big announcements imminent. Best. Valentines. Ever. ❤"
Is this enough evidence that a fight is "imminent?" Stay tuned in the following weeks.
Gunni and Queally get a fight. Orly wakes me the right way. Other big announcements imminent. Best. Valentines. Ever. ❤

— Coach Kavanagh (@John_Kavanagh) February 14, 2017