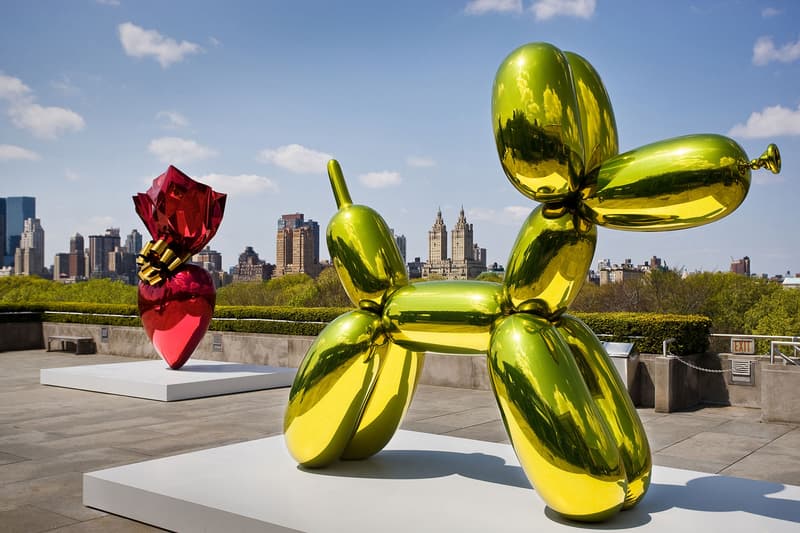 Jeff Koons, Ai Weiwei & More Must-See Art Stories This Week
Polarizing works and collectible pieces up for grabs.
---
In 2013, Jeff Koons' Balloon Dog steel sculpture sold for a record-breaking $58.4 million USD. The piece is considered the most expensive sculpture ever to auction at Christie's by a living artist. Some critics hail the artwork as pure genius while others have labeled it as downright "baloney," as per The Guardian. Conclusively, unconventional works of art will incite strong opposing views. Is one critic's remark right over the other? The answer is never. Art will always be subjective, no matter the creator.
Take a look at a few polarizing works of art below including collectible pieces by some of the most famous names in the industry.
Jeff Koons'Balloon Dog Gets Vandalized in Snapchat
Last week, Snapchat officially launched its augmented reality platform that allows users to view three-dimensional artworks by renowned artists on their phones using the social app. The first artist tapped by the platform is none other than Jeff Koons. A day after the project launched, an artist by the name of Sebastian Errazuriz took it upon himself to vandalize a digital iteration of Koons' Balloon Dog sculpture in Central Park—as "a symbolic stance against imminent AR corporate invasion," said Errazuriz.
Nevertheless, head over to Snapchat's official website to learn more about the project and let us know your thoughts.
KAWS to Launch BFF Vinyl Open Edition This October
KAWS made a splash last week with an Instagram announcement relaying that his long-anticipated BFF Vinyl Open Edition figures will finally hit stores in the coming weeks. The collectible art objects will arrive in distinct blue and black options. Conclusively, the Brooklyn-based artist revealed that both pieces are set to go on sale at KAWSONE.com and MoMA's official website at the end of October. Which one are you looking to cop?
Daniel Arsham's "The Angle of Repose" Solo Exhibition in Paris
This past July, Daniel Arsham announced his upcoming solo show at Galerie Perrotin in Paris, France titled "The Angle of Repose." The exhibition will feature new sand paintings in blue and pink gradients, sculptural casts, as well as an installation. Collectively, the presentation is an extension of the Miami-based artist's renowned "Fictional Archaeologies" project.
"The Angle of Repose" will run from October 18 up until December 23. Visit Galerie Perrotin's official website to learn more.
Galerie Perrotin
76 Rue de Turenne
75003 Paris
France
Ai Weiwei to Release Special Edition Artworks on eBay
Ai Weiwei and the Public Art Fund are going to sell a set of two limited edition artworks at eBay for Charity's official website. The storied artist's iconic Artist's Hand sculpture alongside a print portraying his Odyssey piece will be purveyed on the e-commerce platform. Profits from both pieces will be donated to PAF's monumental Ai Weiwei exhibition "Good Fences Make Good Neighbors" in New York City. The sale will officially begin on October 17.
Head over to the official Ai Weiwei project page to learn more.
Japan's National Art Center Hosts Solo Exhibition for Tadao Ando
The National Art Center in Tokyo, Japan is playing host to a solo exhibition featuring Pritzker Prize-winning architect, Tadao Ando. The extensive presentation is divided into six sections: "Origins/Houses," "Light," "Void Spaces," "Reading the Site," "Building Upon What Exists, Creating That Which Does Not Exist" and "Nurturing." Collectively, the exhibit will boast over 270 models, sketches, drawings, as well as a large-scale replica of his celebrated "Church of Light" chapel design in Ibaraka prefecture.
"Tadao Ando: Endeavors" is currently open to the public up until December 18. Head over to the National Art Center's official website to learn more.
National Art Center
7 Chome-22-2 Roppongi
Minato, Tokyo
Japan 106-8558