A Look Back at the Best BAPESTAs Ever Released
As we approach a possible return of the sneakerhead favorite.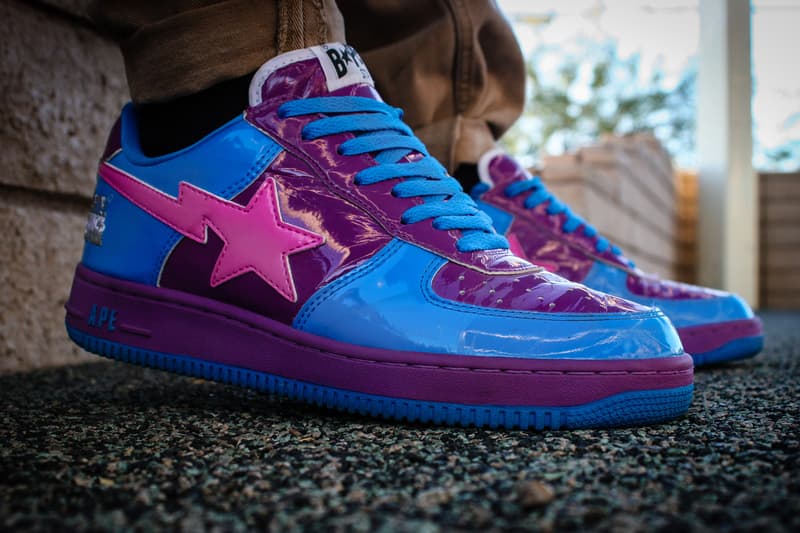 Once the teaser for an upcoming Ronnie Fieg x A Bathing Ape sneaker collaboration came out, fans of both brands anticipated for something worthwhile that would applaud both KITH's vivid understanding of quality urban streetwear, along with A Bathing Ape's long history of limited edition footwear.
The KITH x BAPE collaboration was the result of such anticipation — a return of the classic silhouette, handmade in Portugal with the highest quality suede and tumbled leather uppers and a custom outsole, special packaging and a dual-branded matching dust bag. And while the colorways didn't exactly bring back fond memories of the late 2000s, fans of A Bathing Ape's low-top got a whiff of what they've fantasized about for a decade — a triumphant resurgence of the BAPESTA.
So what made the BAPESTA so popular? To most, it was a replica of Nike's Air Force 1: the almost-identical upper shape; a "Swoosh" STA to skirt copyright claims of the Swoosh; "APE" rather than "AIR" midsole branding; and even the familiar cup sole that took a few double takes to differentiate. And while Nike's original style brought upon decades of on- and off-court fashion to the urbanites, A Bathing Ape's take on the Uptowns brought hip-hop, Japanese streetwear kids and collectors to their knees with its eccentric color palettes, vibrant references to pop culture artifacts and a "no holds barred" approach to coordination and styling.
With a possible revival of the BAPESTA, we've decided to take a look back at some of the most memorable and coveted colorways ever released. Some were a bit under the radar at drop while some were destined to greatness once printed and found in magazine and MOOK pages across Japan.
AM/PM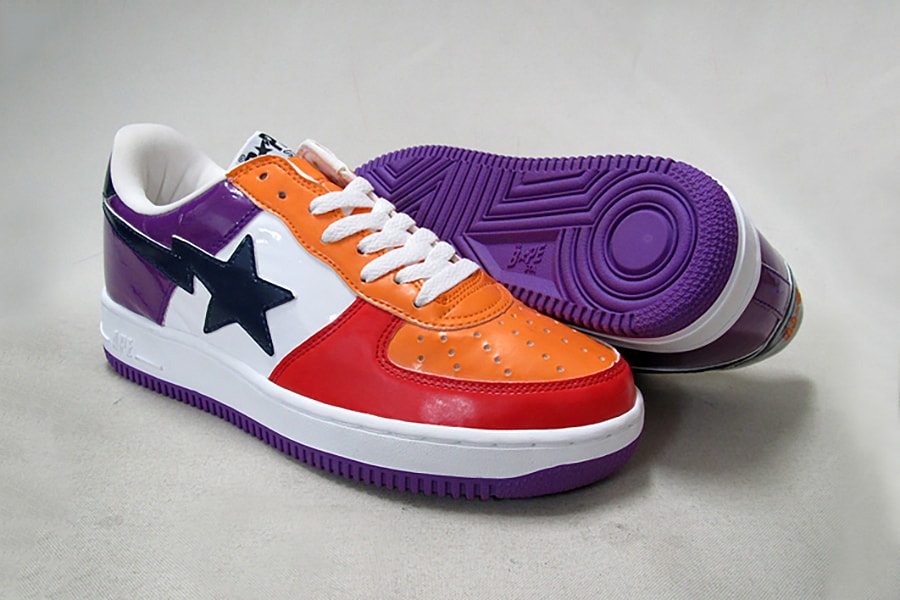 Based off of the colors for the highly popular convenience store found in Japan, its match of purple against orange was instantly recognizable from anyone who ever entered to buy a Pocari Sweat during the sweltering summer days. The colorway originally released in the Fall/Winter 2007 collection and was part of the "Conbini" pack which also saw BAPESTAs that matched LAWSON, 7-11 and Family Mart stores, but the AM/PM was definitely the best of the bunch according to fans.
11th Anniversary Rainbow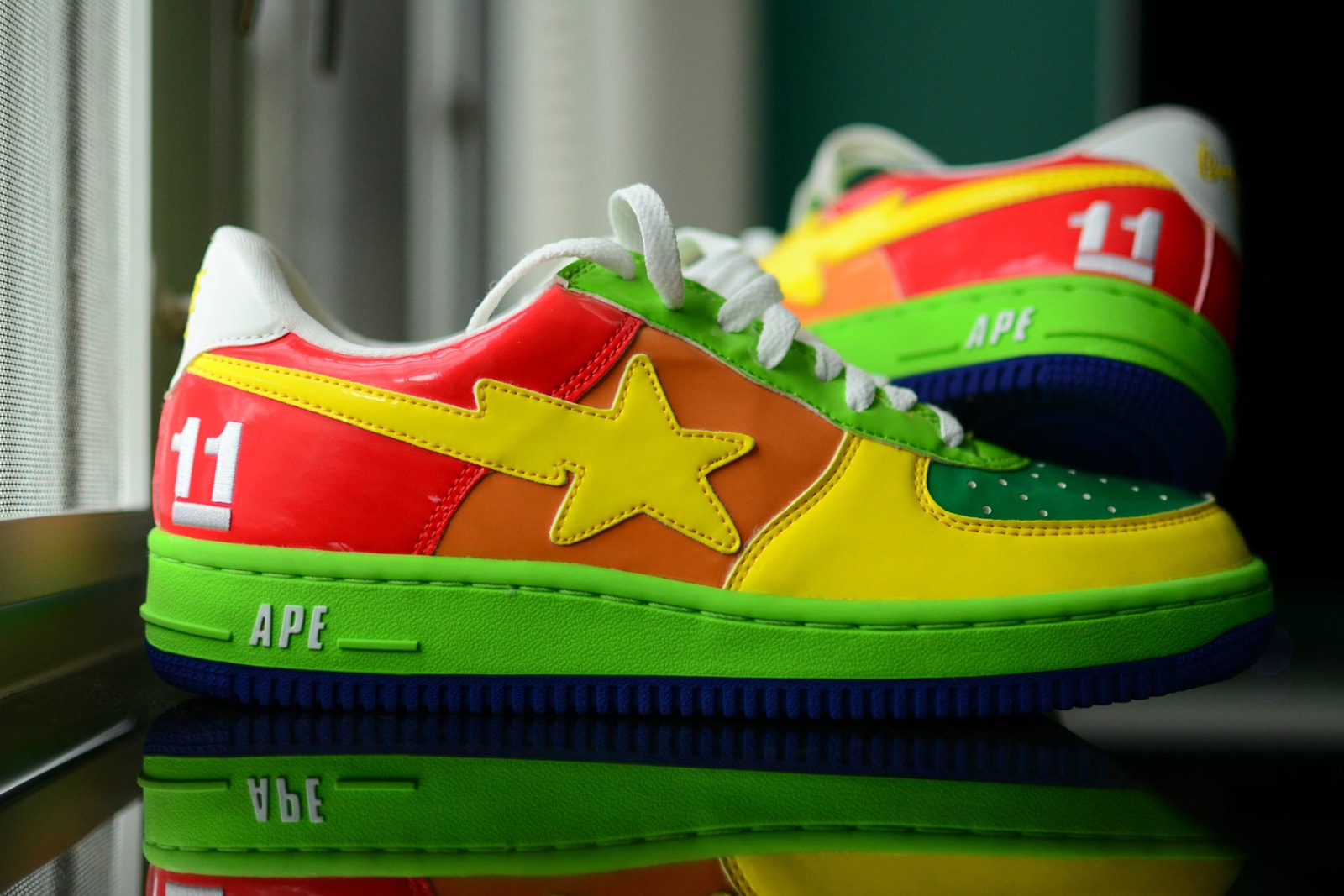 The 11th Anniversary of NOWHERE brought to life the "Rainbow" BAPESTA which, in essence, embodied everything we ever loved about A Bathing Ape and its footwear — a maniacal mix of color, a vivid imagination, and the loud color palette that had the sneakers speak for themselves. Those factors alone made these one of the most highly regarded colorways ever made and a veritable unicorn for collectors.
Daft Punk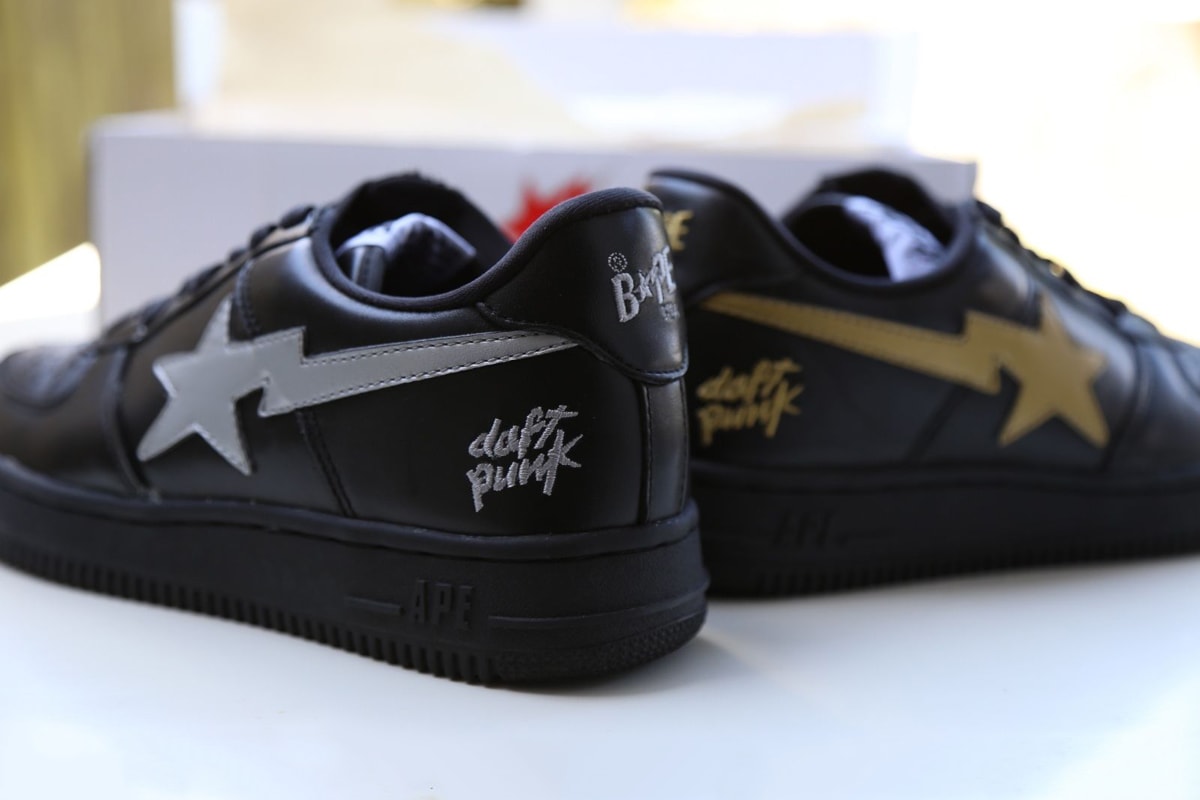 Countering the 11th Anniversary Rainbows, electronic super group Daft Punk collaborated on a pair of BAPESTAs that not only called upon exclusivity (it was only released through the BAPE Mania member's site for domestic residents only) for its rise to "must-cop" status, but a subtle touch of asymmetric style as well — one shoe was colored with a gold Sta while the other was donned with silver. The pair was shown off in the opening scene of the Teriyaki Boyz' "Heartbreaker" video and thus proved they were not just a sample, but in fact real and obtainable, sort of.
Lichtenstein Dots
1 of 2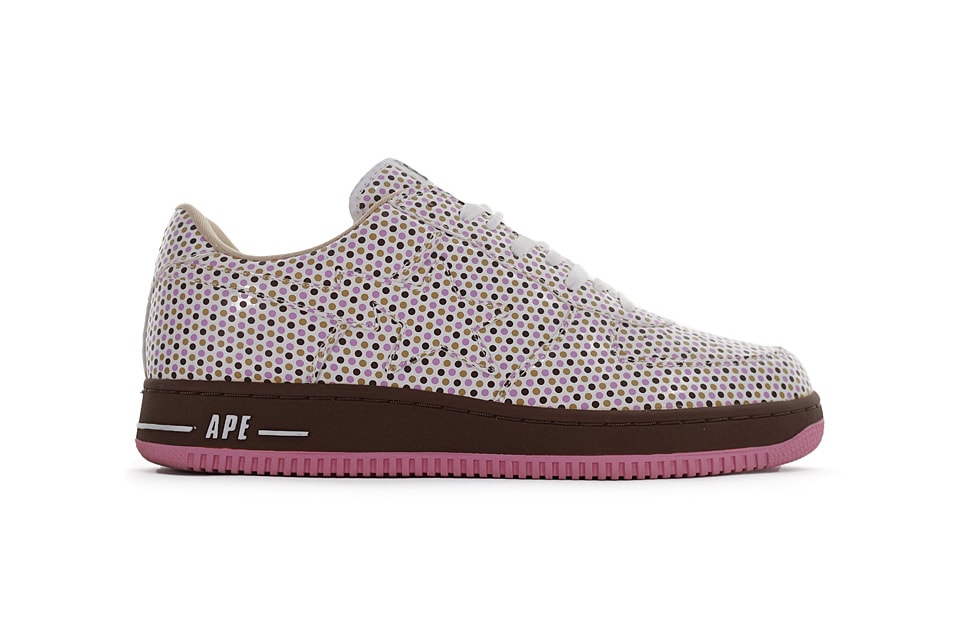 2 of 2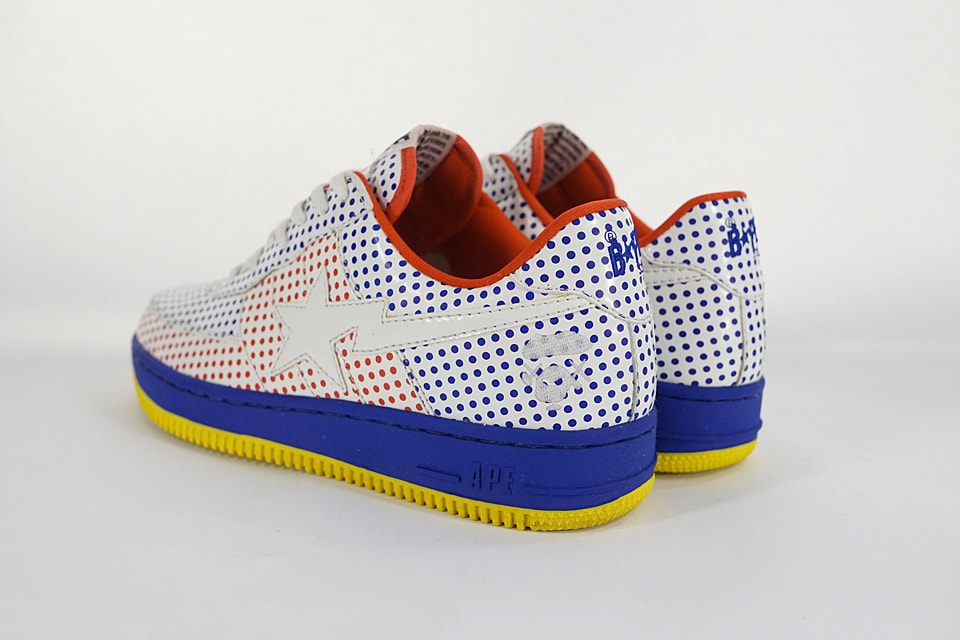 The Lichtenstein BAPES saw their release in a time when NIGO was getting really serious with collecting and appreciating artwork, converting his previous BAPESTA colorways into polka dot renditions in honor of artist Roy Lichtenstein. The classic colorways were not the only to utilize the dot colorways, but street artist KAWS also collaborated with NIGO to produce his own line of dot colorways on his BAPESTA-modifying CHOMPER/KAWSTA line of footwear as well.
City Limited Color Camo
1 of 4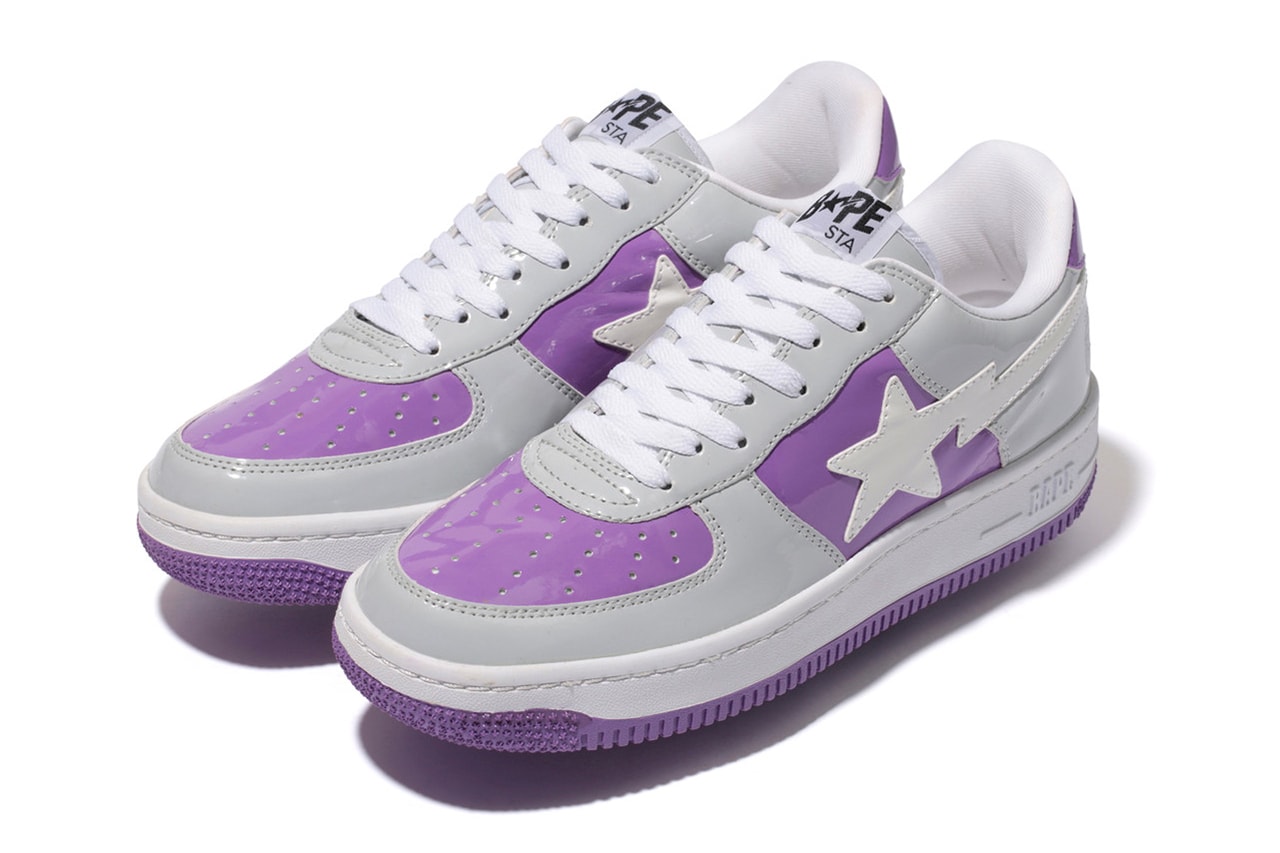 2 of 4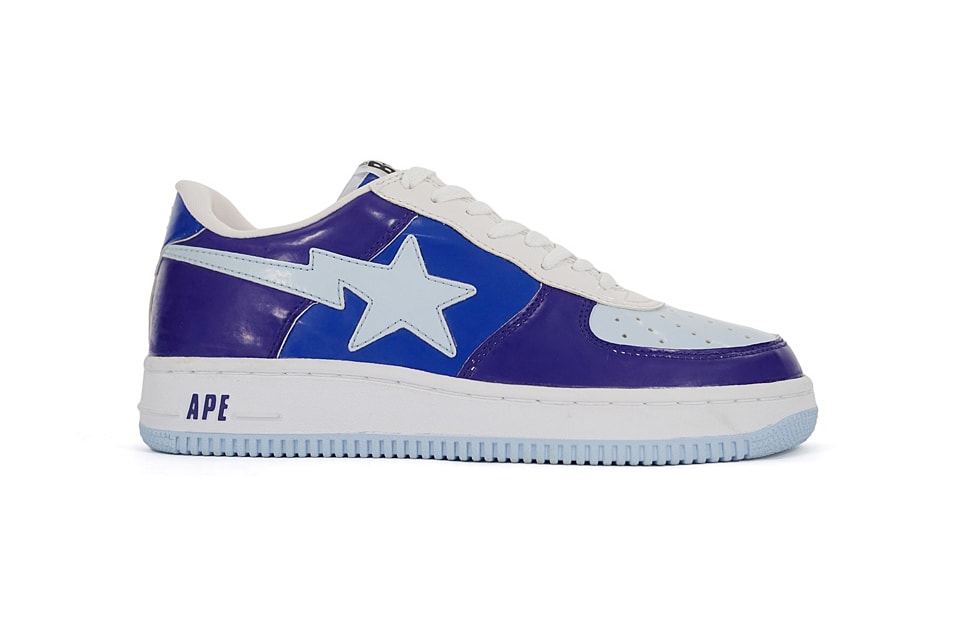 3 of 4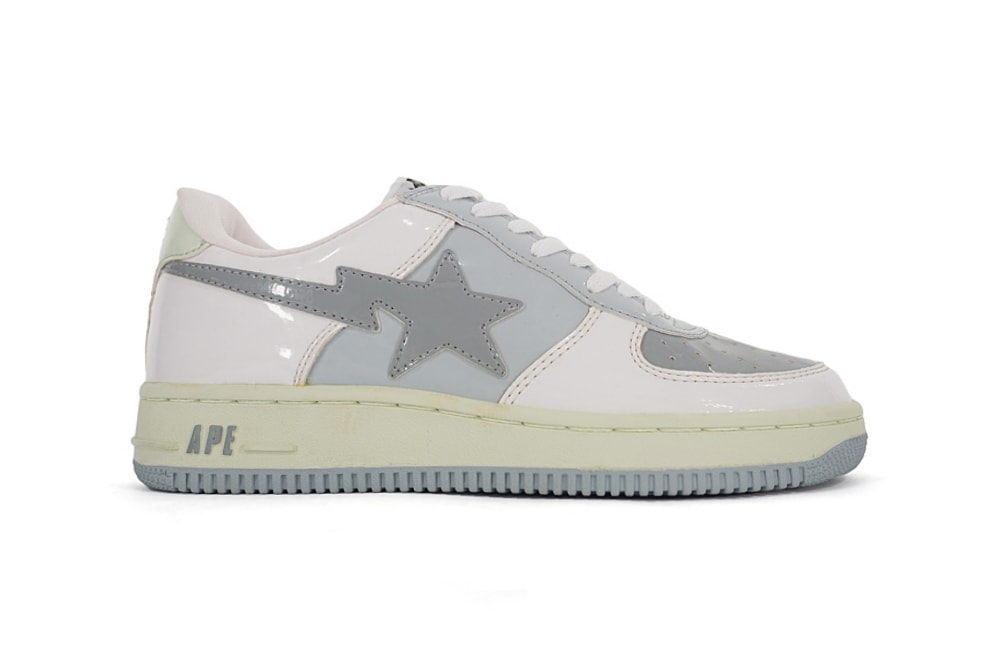 4 of 4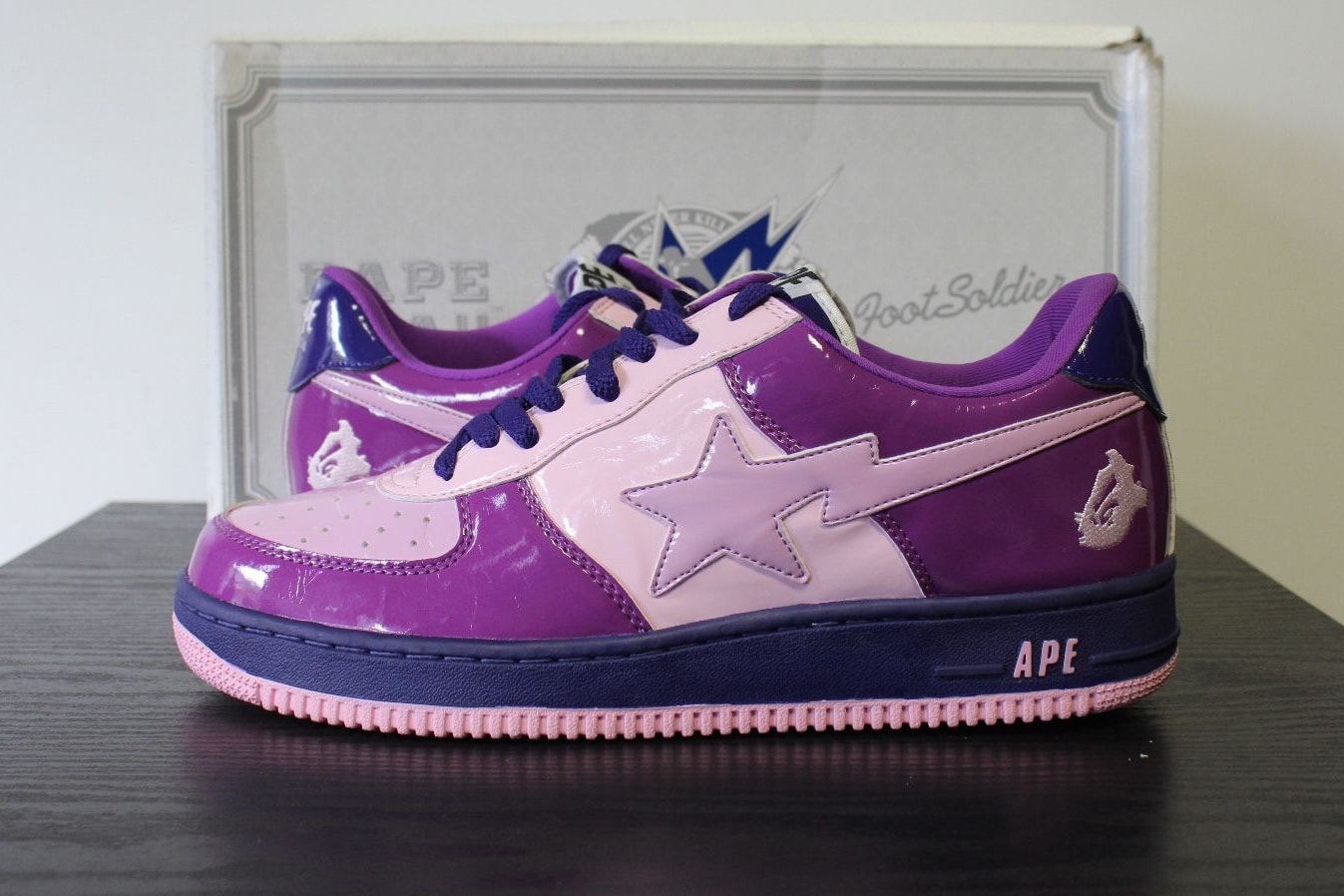 Bape Stores are found all throughout Japan, from the booming metropolitan cities like Tokyo, Kyoto, Osaka, Hiroshima and Nagoya to the smaller rural cities like Sendai and Maebashi (NIGO's hometown). To honor the stores, A Bathing Ape produced a colorway and camo palette for each city, and a pair of BAPESTAs that highlighted each color palette — more than 20 in total released at one time. An expected ROADSTA — the brand's answer to the air-filled sole runner — transition followed, and every city took pride in their colorway, but some more so than others. Standout color combos include the New York grey/purple, Nagoya's purple/blue, Aoyama's ghost green with greys and Taipei's mix of purple hues.
Kanye West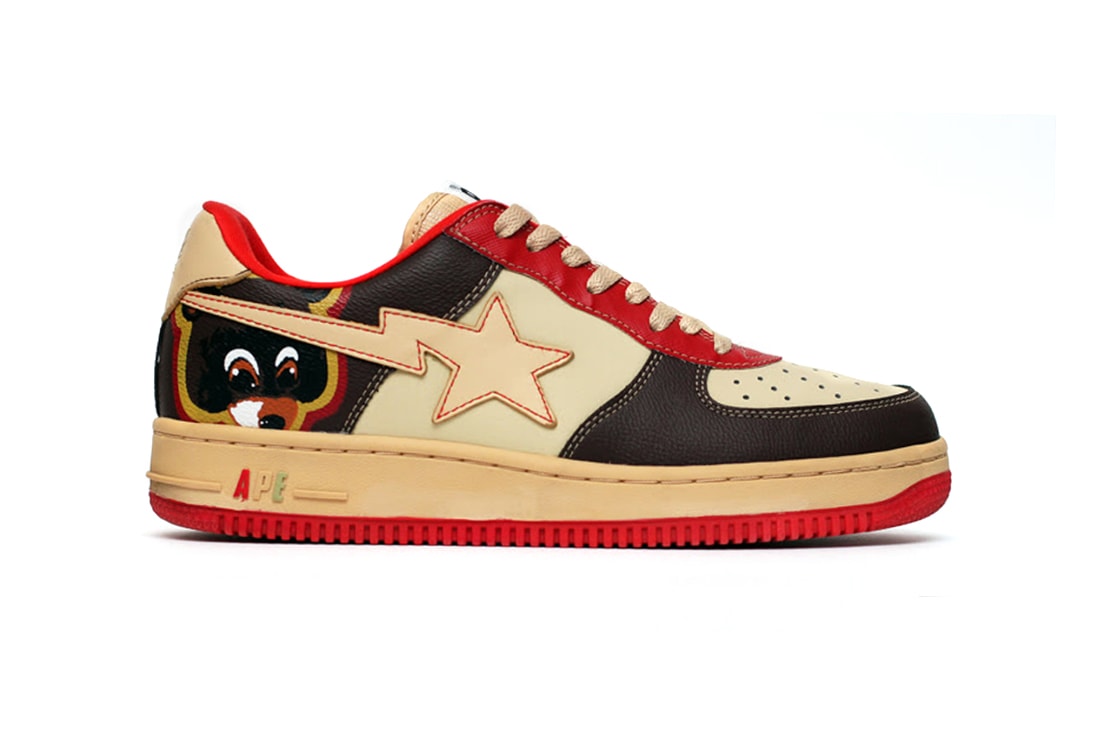 One of the very first sneaker collaborations with the artist, Kanye West lended his hand on a partnership with the Japanese streetwear label for an extremely hyped pair of BAPESTAs that sold out in seconds. The pair, which featured the cartoon mascot bear for Ye's College Dropout and Late Registration albums from 2004-2005, hit the internet hard in 2006 with its strong mix of brown and red textured leather panels, while a colorful "APE" midsole branding sealed the deal for many fans. An attempt to find a pair in deadstock condition for anything less than $1500 USD now will lead to futility.
SpongeBob Squarepants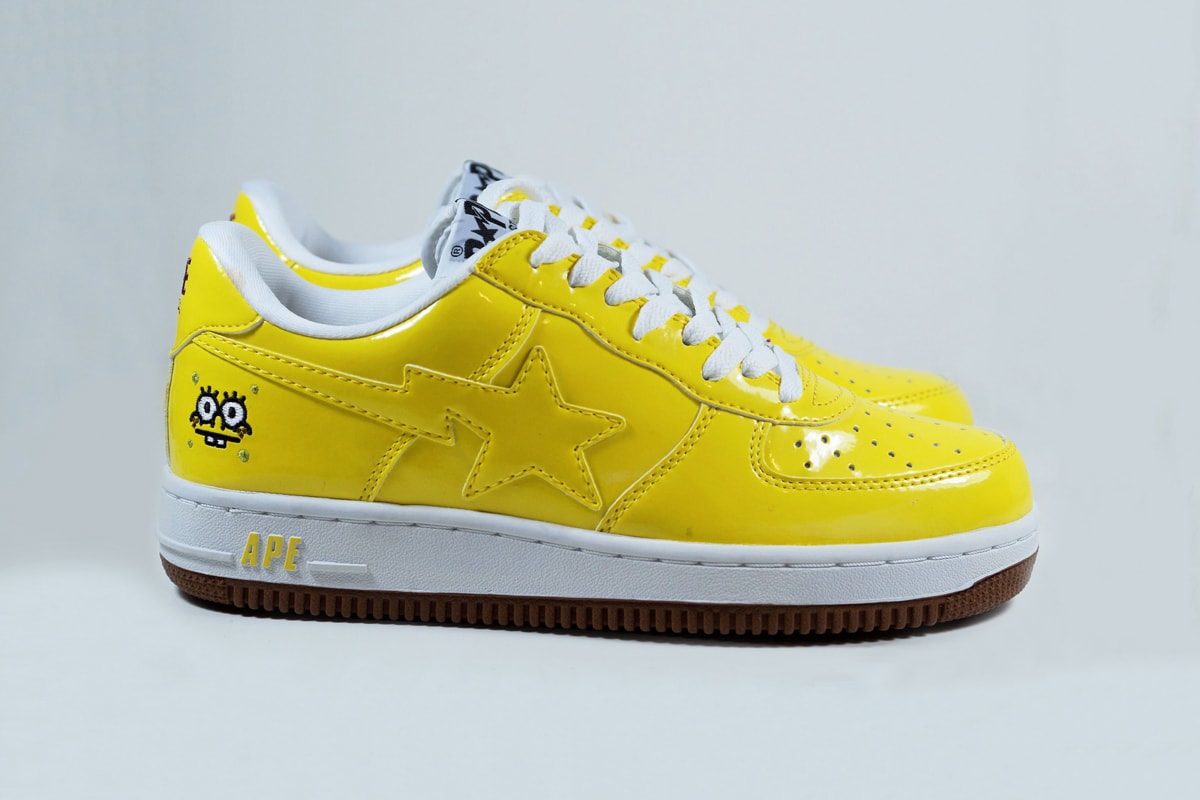 The SpongeBob Squarepants collaboration was during a time when A Bathing Ape fans began to exit, as it was an indication that the brand will perhaps never escape the immaturity and "cartoony" side of the characters and image it was giving its core audience. The SpongeBob Squarepants BAPESTAs, however, were a slight exception to the rule and saw a highly successful release. Its yellow and brown colorway gave the pop color sneaker-bubble a much needed boost, and the special packaging gave collectors a bonus when it dropped back in 2008, along with a special croc-skin version that made a sample appearance on Pharrell Williams the following year.
Snakeskin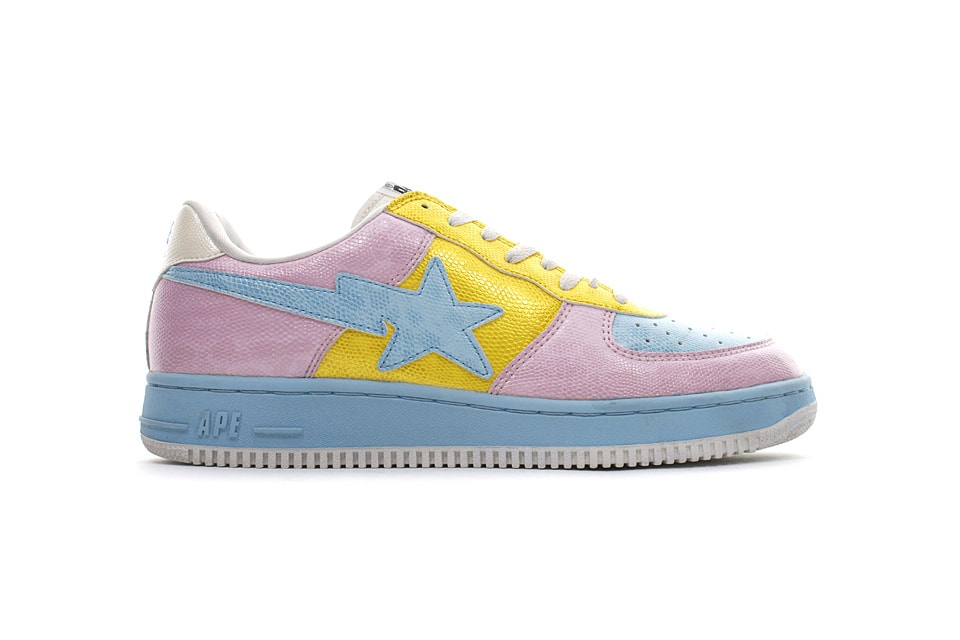 As if patent leather wasn't enough flash, BAPE's foray into "exotic leathers" gave birth to the snakeskin BAPESTAs that first saw the market back in 2006. The textured material allowed for a new life for the eye-popping colorways, with a bit of luxury thrown in. UK trip hop group UNKLE and frontman James Lavelle even collaborated for a few snakeskin BAPESTAs, but fans seem to hover over the in-line renditions a bit more to this day.
N.E.R.D.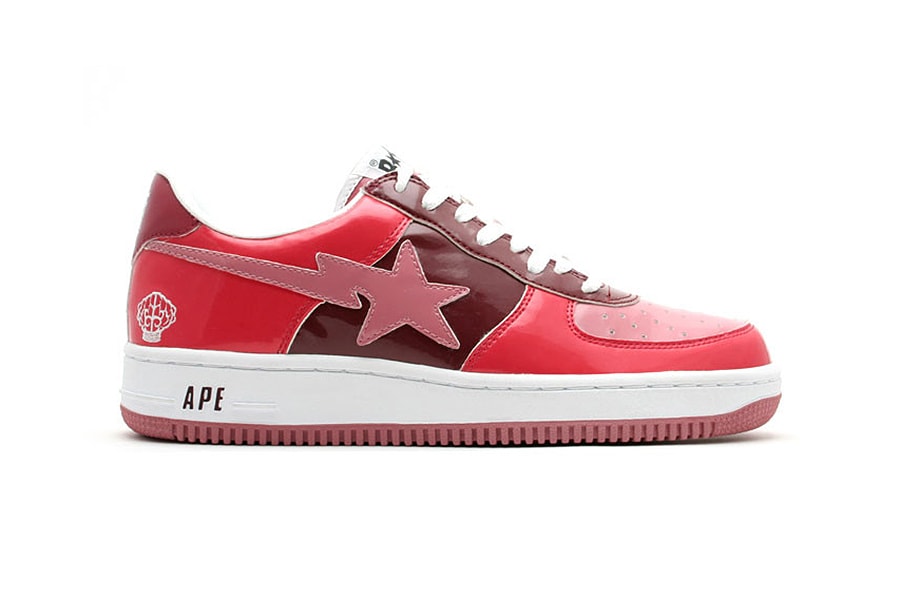 Pharrell Williams perhaps propelled BAPE to streetwear superstardom when he first wore the brand in his 2003 music video "Frontin'" and later in the Snoop Dogg co-starred "Let's Get Blown" — the latter of which had Skateboard P rock an extremely vivid red camo hoodie that would later be known by the streetwear scene as "Pharrell Camo." Naturally, a pair of BAPESTAs with the same colorway would see release to the masses, with the iconic N.E.R.D. brain embroidered into the rear quarter panel. Still considered one of the greatest releases by A Bathing Ape, the N.E.R.D. BAPES are now holy grail status for collectors and are one of the rarest pairs on the resell market today.
Marvel Comics BAPESTAs
1 of 4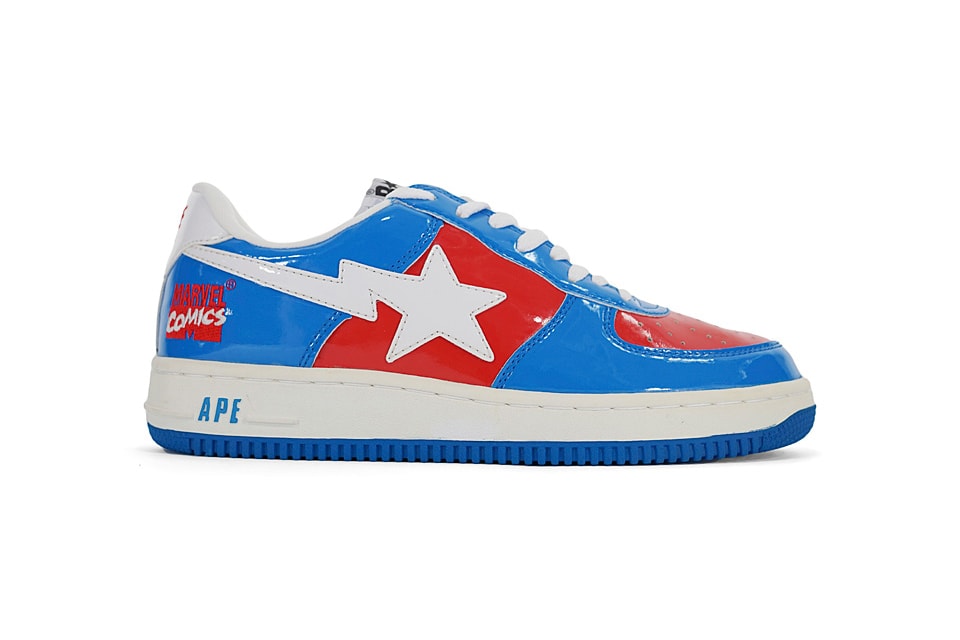 2 of 4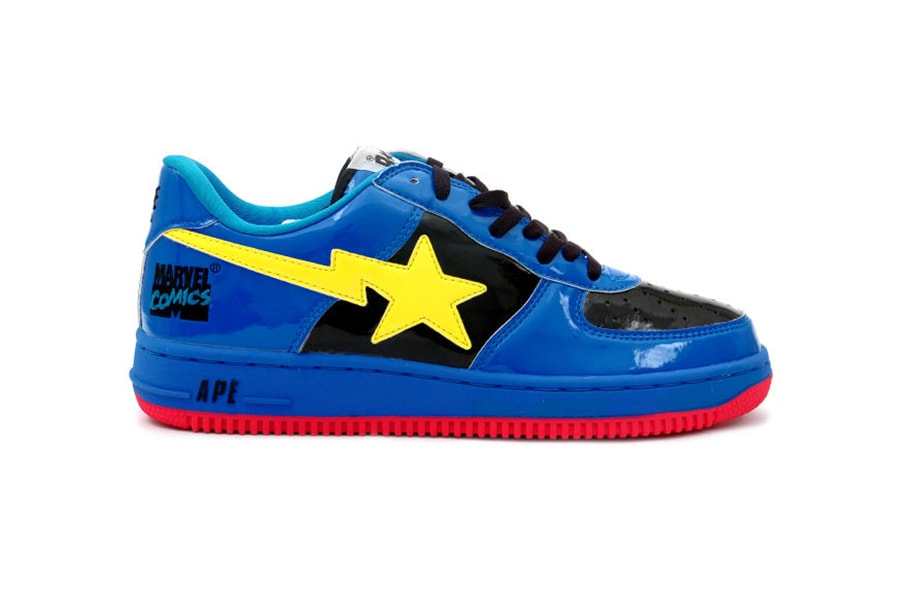 3 of 4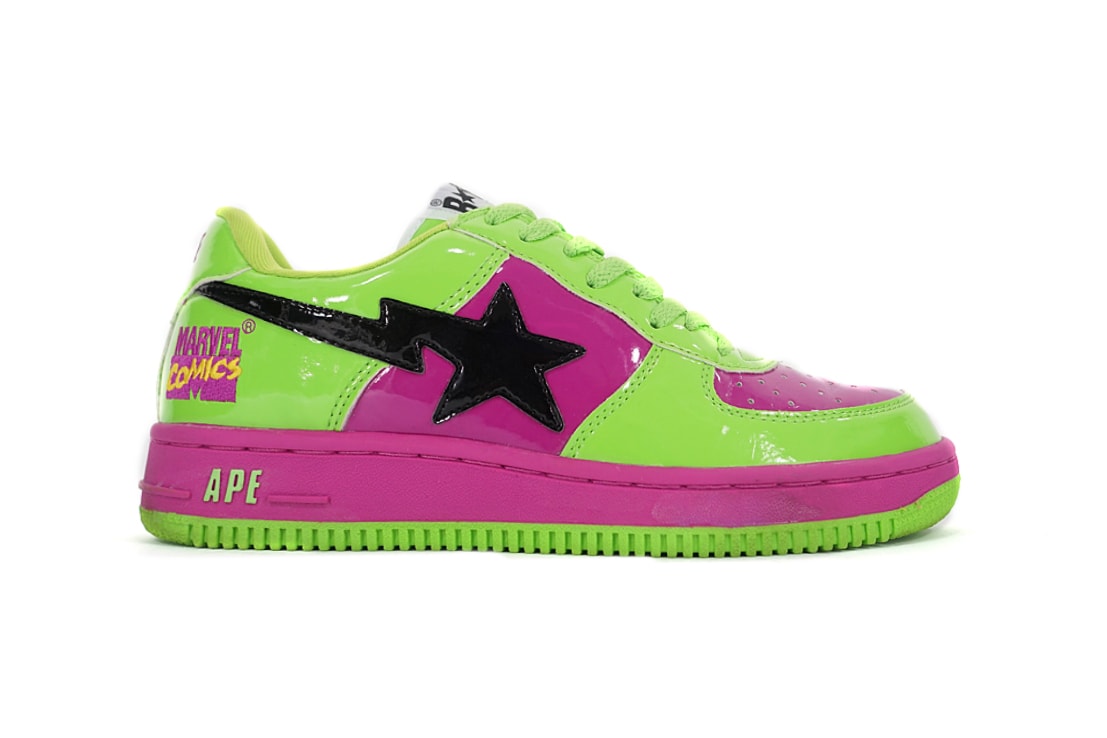 4 of 4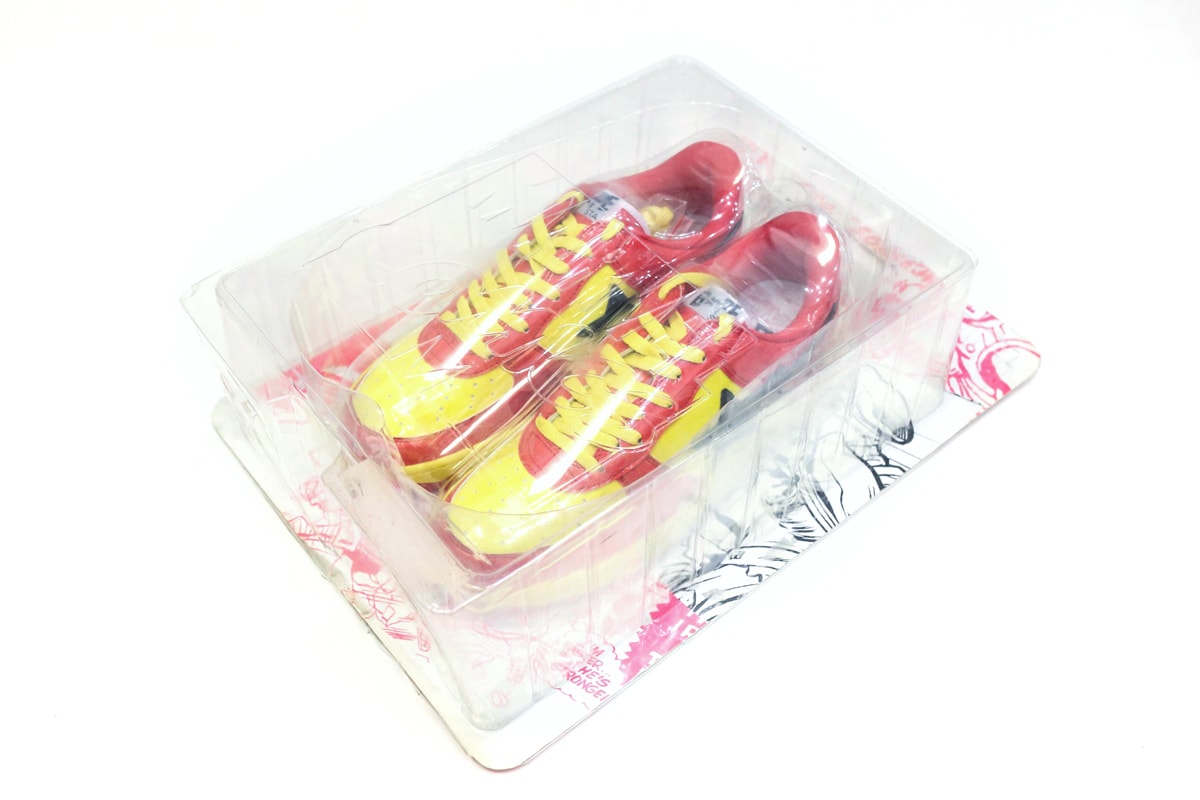 Perhaps one of the most fun collaborations the brand has ever done, A Bathing Ape partnered with Marvel Comics in 2005 on a line of BAPESTAs that not only saw its most famous superhero characters transformed into the hottest sneaker at the time, but were also released in blister packs that mimicked action figures for the ultimate "complete package." Thor, Captain America, Spiderman, and The Human Torch were among the selections but for most, the top three were obvious: Cyclops's pair adopted bright red soles that resembled the X-Men member's optic blast, Silver Surfer actually took on the colors of his master Galactus, and the radioactive Hulk pair donned his iconic mix of green and purple. BAPE continued the comic book pack collections with a DC Comics release, but couldn't stand a chance against the epic Marvel Comics release.