Pizza Hut Introduces the World's First Playable Pizza Box DJ Decks
The unique boxes will be up for grabs at UK Pizza Huts starting this Wednesday.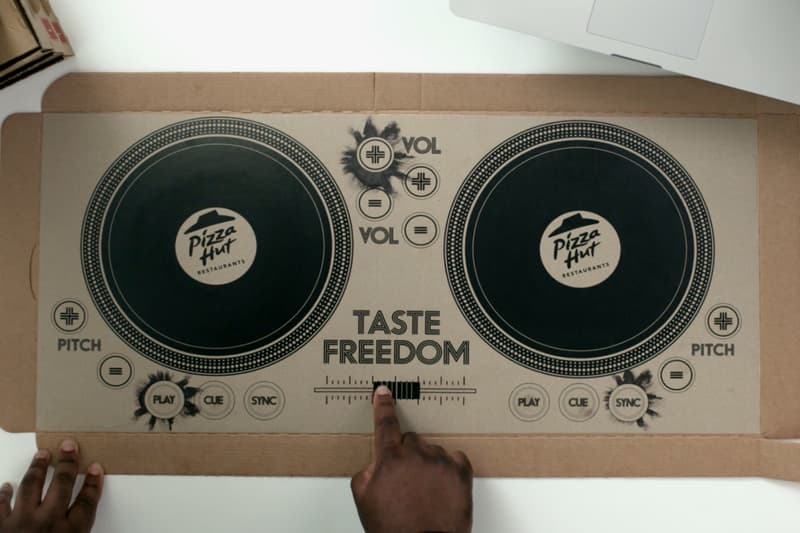 From the Whopperito, Mac 'n' Cheetos, and Sriracha-style burgers to croissant tacos, Cheetos burritos, unlimited fries, and all-you-can-eat fried chicken, the fast food chains have clearly been on one in recent months. But edible foodstuffs aren't the only realm in which they're making headlines. Last year, KFC launched the Tray Typer for grease-free texting before coming through with Watt A Box this summer while McDonald's gave away a nugget of solid gold. Burger King even opened a sauna in Finland.
Now Pizza Hut is getting in on the action, following up the likes of KFC's aforementioned Watt A Box with a music-centric creation of its own: the world's first playable pizza box DJ decks. Created in conjunction with printed electronics experts Novalia, Pizza Hut's unique offering — which works thanks to conductive ink — will allow customers to mix and drop their own beats thanks to the sleek set-up; two turntables are present, as are cross-fader, pitch volumes and cue buttons. The decks can even sync with a users phone or laptop via Bluetooth and are compatible with pro software like Serato.
Check out the decks in action below and stay tuned to Pizza Hut UK's Twitter feed to find out which restaurants will be offering up the decks. Limited to just five boxes in all, the playable decks will launch exclusively at UK Pizza Huts come Wednesday, August 17.