A Beginner's Guide to Stick 'n' Poke Tattoos
From the Yakuza to skate and punk culture, hand-poked tattoos definitely have a vibrant history.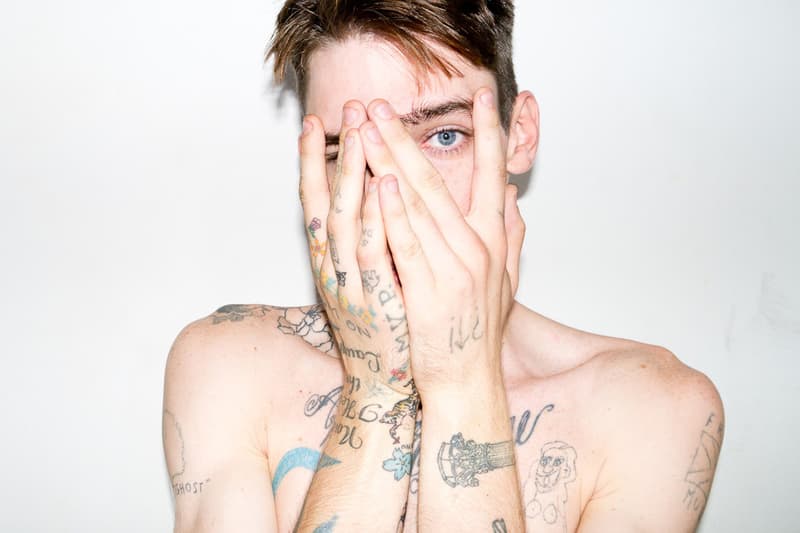 Although historically entrenched within the traditions of countless cultures around the world, tattoos have transcended the confines of ethnic and societal boundaries, disseminating into all corners of contemporary communities. From the traditional Tebori Japanese style of tattooing by hand (often associated with the initiation practices of Japan's mafia, the Yakuza), to the underground Russian prison tattoos administered in squalid conditions, tattoos have an intricate history preceding the standardized machine-tattoos of today. Built on the foundations of indigenous practices such as the Māori's tā moko practice of carving rather than puncturing the skin using chisels and the Thai-style of Yantra tattooing practiced by Buddhist monks, the recorded archive of tattoos is extensive to say the least. For the sake of providing a snapshot of the culture, we will focus on the practice's influence applicable to DIY culture.
In contrast to its vibrant and sometimes disreputable past, hand-poked tattoos have garnered wider acceptance today and have an impactful role within skate and punk culture that is tied directly to its DIY ethos. As part of the "Do It Yourself" mentality that cultivated the home-poke practice, a strong sense of empowerment and desire to bypass the authority of bureaucracy and "experts" is deeply entrenched within this alternative approach to typical tattooing practices.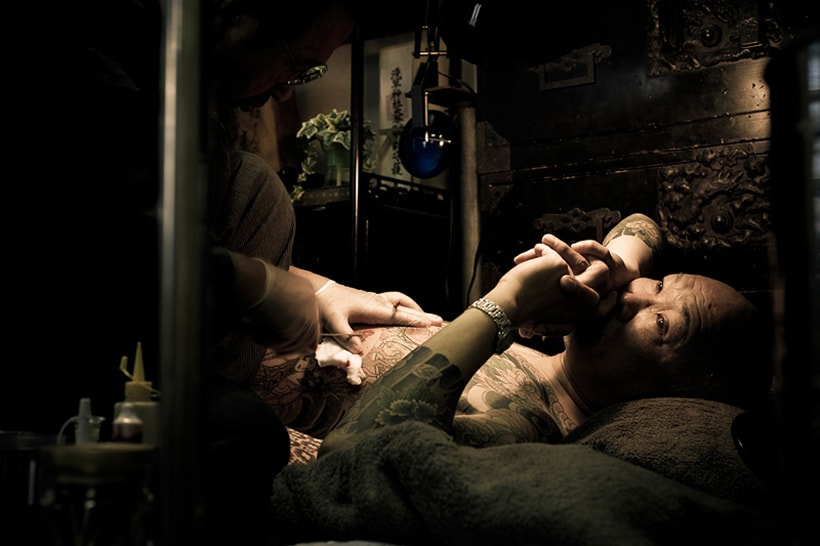 With that being said, despite publications such as Cosmopolitan and Refinery29 having dubbed stick 'n' poke tattoos the fashion trend of 2015, the concept is highly disputable. As Jezebel was quick to point out, one model sporting some stick 'n' poke work does not warrant a trend, nor does two bloggers deeming DIY tattoos "cool" make it a fashion must-have. It is true that hand-poked tattoos have gained merit amongst tattoo artists over the past few years, with many established studios inviting stick 'n' pokers as guest artists such as Internet darling Grace Neutral. However, the so-called "trend" has been prevalent in skate and punk culture for decades.
In fact, a photography volume was released earlier this year, documenting the legacy of Black Flag's iconic insignia. Barred for Life: How Black Flag's Iconic Logo Became Punk Rock's Secret Handshake is a visual catalogue of how the legendary punk band's influence has proliferated across culture and includes images of the group's diehard fans branding themselves with the unmistakable emblem. In describing the work VICE even mused, "Most band tattoos look like complete shit. But Black Flag transcends this rule because even the shoddiest stick 'n' poke versions of the punk band's logo, four rectangular bars, somehow always look great. Having a crooked and faded set of the bars myself, this compilation reminds me of how meeting others who've defaced themselves similarly often means meeting your new best friend or future wife." As apparent within the context of punk and skate culture, stick 'n' poke works are not simply seen as tattoos – they are worn as badges.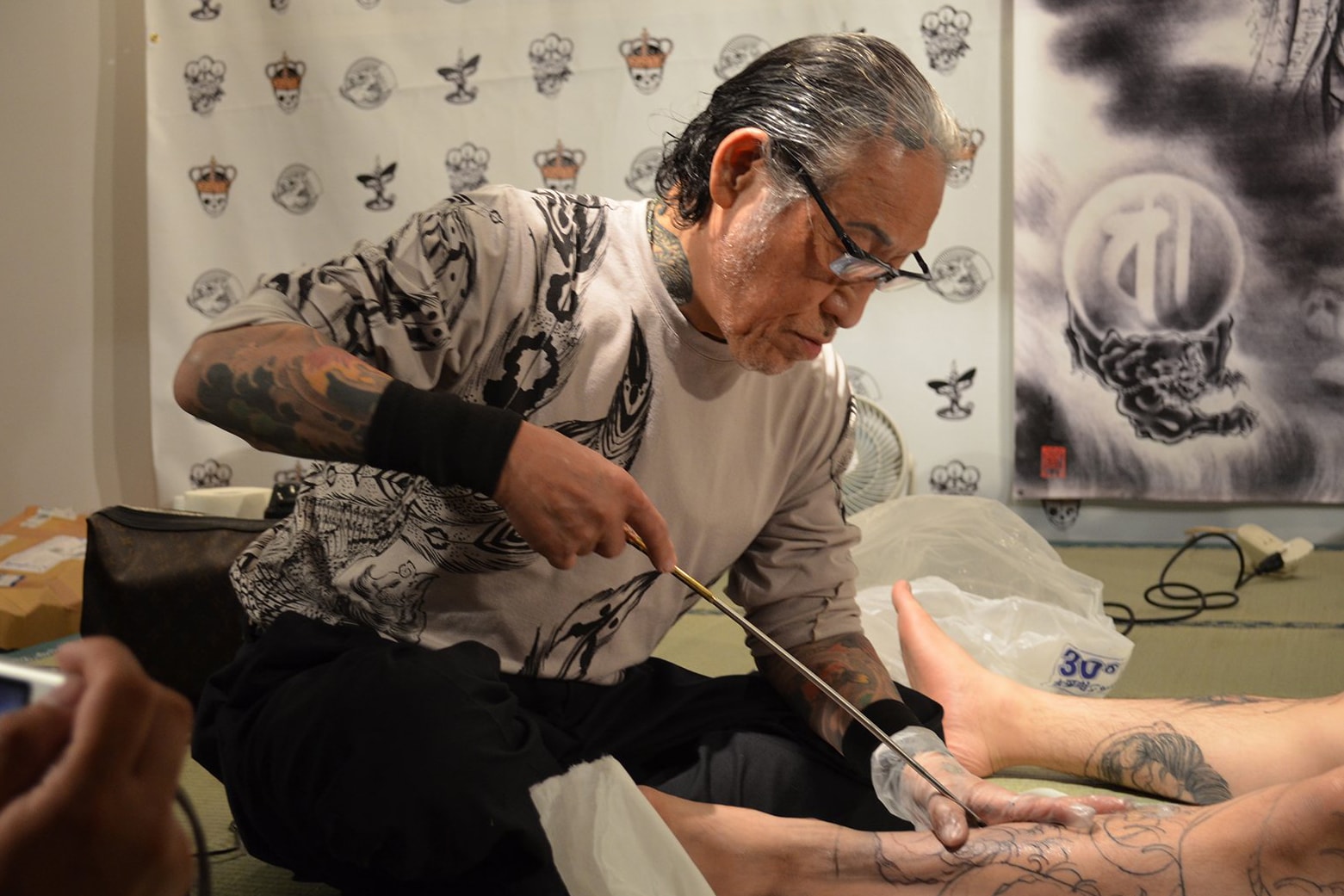 If you're unfamiliar with stick 'n' poke tattoos, the process is fairly straightforward. As the name suggests, the method is slightly more rudimentary than the efficiency of tattoo guns. A needle (preferably sterilized) is used as a tool to repeatedly puncture the skin in an action that mimics the motion of a tattoo gun. Although the process takes significantly longer, the process is less invasive when done correctly. However, due to the nature of the practice, stick 'n' poke tattoos don't usually withstand the rigors of time compared to its machine-assisted counterparts.
The rawness of sentiment is perhaps the most significant aspect of stick 'n' poke tattoos. They are a celebration of camaraderie and transience, given out backstage by Andrew W.K. or by your bud at No Class after a day at the skate park.  Of course, the convention also understandably carries a fair amount of stigma due to its hygienic risks. As a very consequence of its DIY mentality, many stick 'n' poke methods are devised from thrifty solutions that take on an almost MacGyver-like level of ingenuity. From sharing needles to makeshift tattoo guns (believe it or not, there are YouTube videos that provide instruction on how to make one using a modified vibrating toothbrush), the conditions are often remarkably dangerous, especially when you consider unsanitized appliance used on bare flesh. Even so, the dubious nature of stick 'n' poke might also be its most enticing allure. It is perhaps the absurd and spontaneous act of tattooing anywhere and anytime that serves as its greatest appeal to its audience.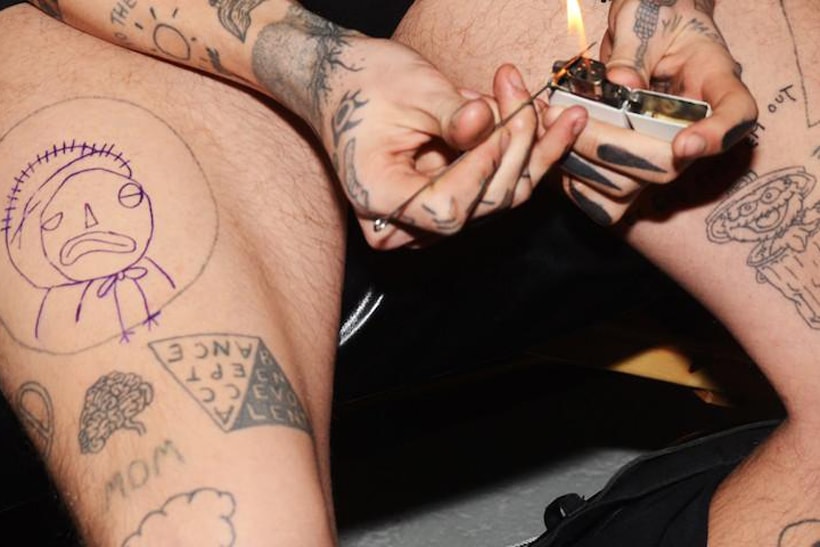 After all, the pitfalls of stick 'n' poke tattoos also serve as its charm for most of its first proponents. Although seedy circumstances were surely not ideal nor intended, the very fabric of DIY culture is based on the concept of self-sufficiency and revolves around the idea that one does not need to rely on the paid advice of an expert. Empowered by alternative, self-derived measures, stick 'n' poke is in perfect alignment with the anti-authoritarian ideals of punk culture. You're not going to find a detailed history account for the art form because this is the kind of thing that happens after-hours in your friend's basement. Of course, this type of "trend" can also be born from a different sort of necessity. As Toronto-based stick 'n' poke iconoclast Homepoke puts it, he first got started with this type of tattooing because he did not find parlors readily accessible to him. As someone who grew up in low-income housing for his entire life, stick 'n' poke was an approachable outlet for him. Apart from the obvious reasons that home tattoos are cheaper and a consequence of some sort of debauchery or another, the combination of the two yield an experience that can't be replicated by a simple label or slapped with the title of a fashion trend.
Nonetheless, stick 'n' poke as an art form has gained traction within the last couple of years and when done correctly, possesses a distinct aesthetic that some individuals actually prefer. With that being said, we've put together our Top 5 stick 'n' poke artists you should know, in case you want to give it a go. Check out our quick picks below.
Top 5 Stick 'n' Poke Artists You Should Know
Charlie Horse (@charlie.horse.tattoos)
1 of 2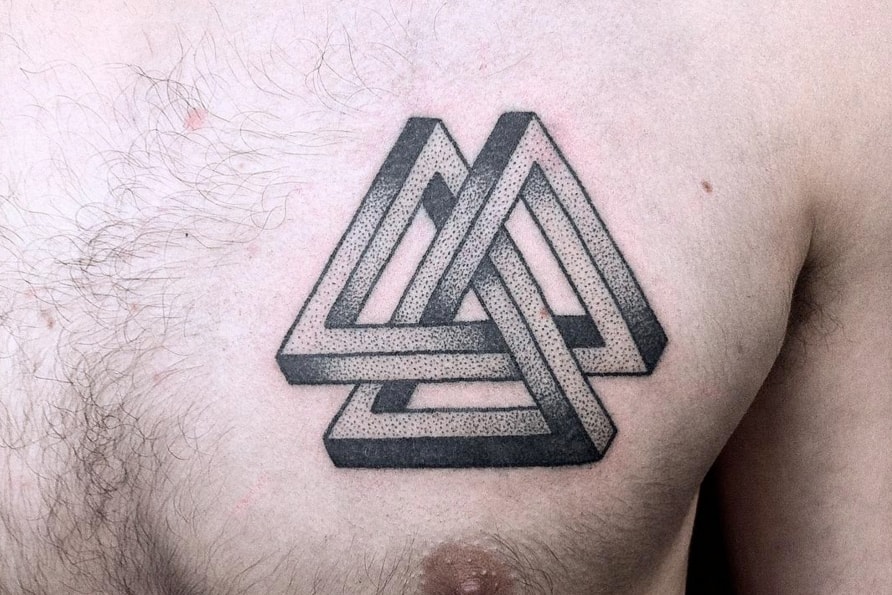 2 of 2
Based in Montreal, Charlie is known for his incredible attention to detail and complex geometric designs.
Jenna Bouma (@slowerblack)
1 of 2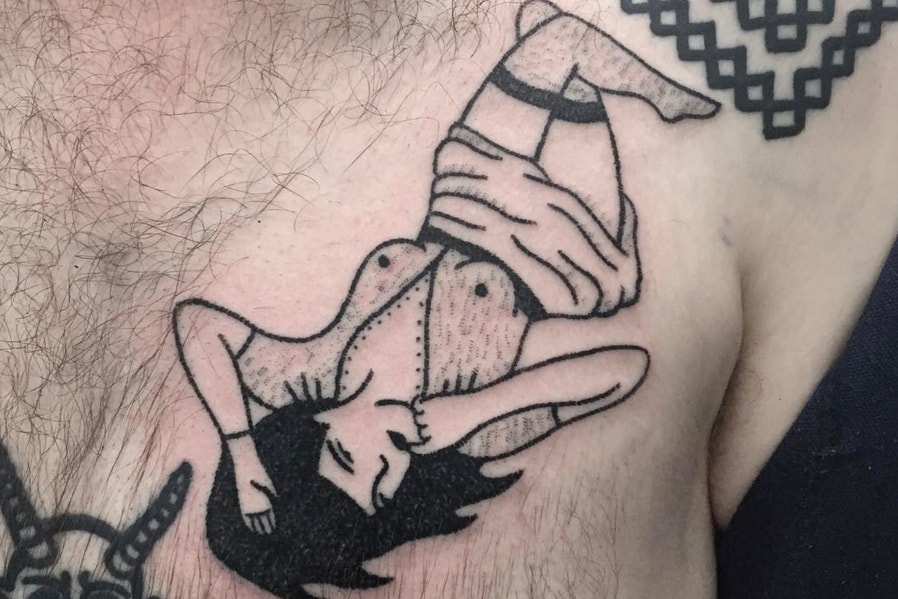 2 of 2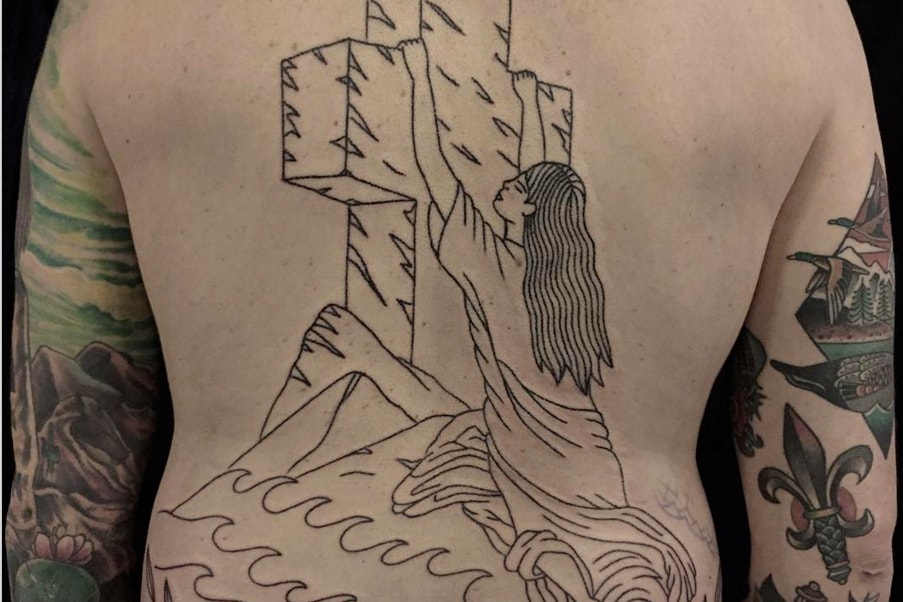 As one of the biggest names in the stick 'n' poke game right now, Brooklyn-based artist Jenna Bouma has become renowned for her thick, black lines and nostalgic pin-up girl designs.
Homepoke (@sallyrosetattoos)
1 of 2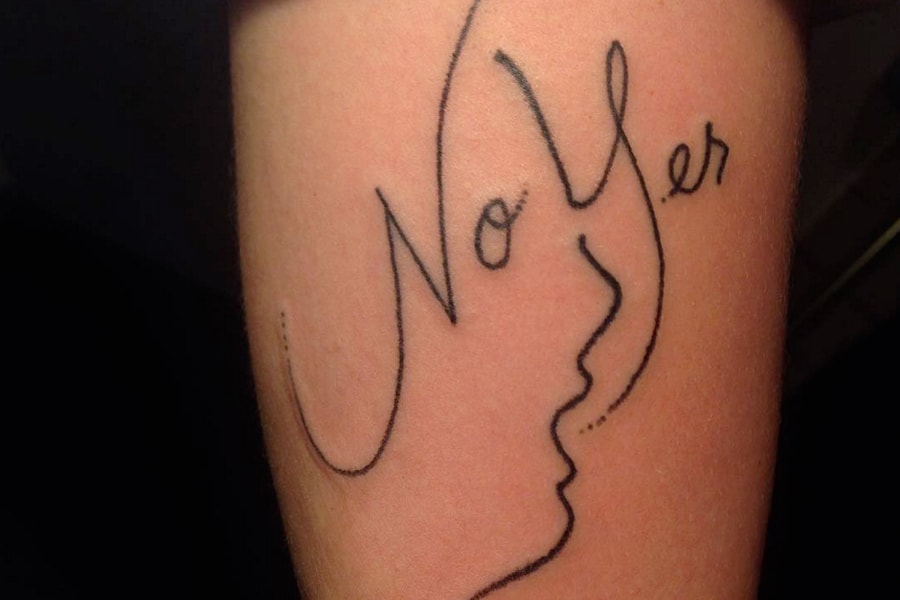 2 of 2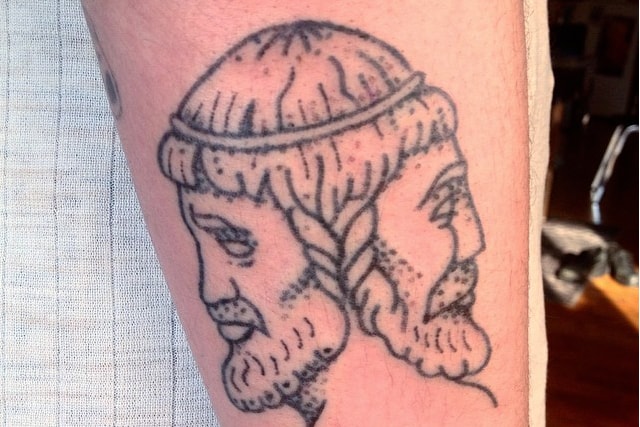 Homepoke is best-known for his mysterious persona. Creating quirky stick 'n' poke art from his home studio in Toronto, the artist has become synonymous with the craft in his hometown.
Eva Bryant (@horseforest)
1 of 2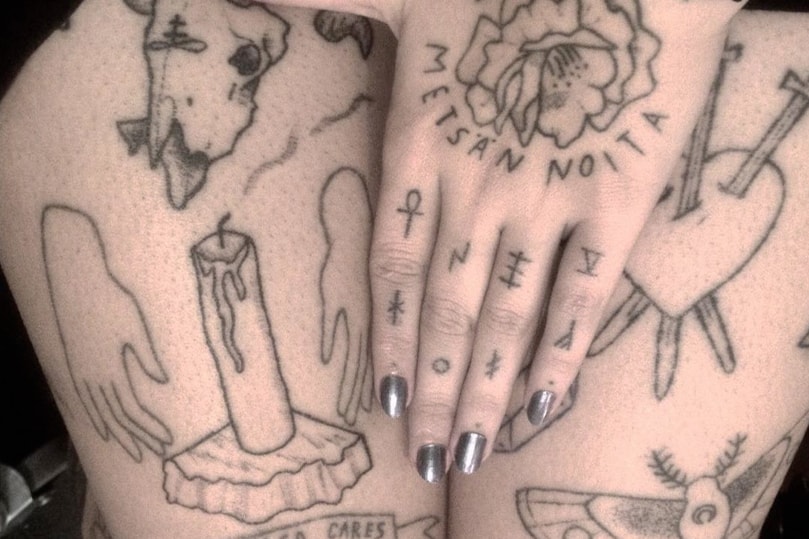 2 of 2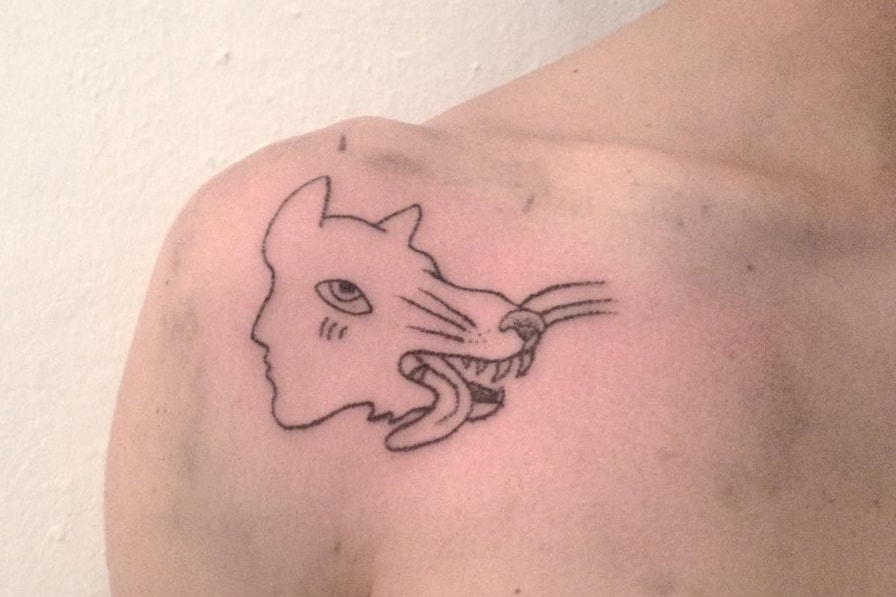 Producing an array of botanical designs, Vancouver-based Eva Bryant is also known for her elegant images of hands. Creating minimalistic stick 'n' poke pieces, she has established herself as the go-to for clean tattoos.
Gross Kid (@grosstattoos)
1 of 2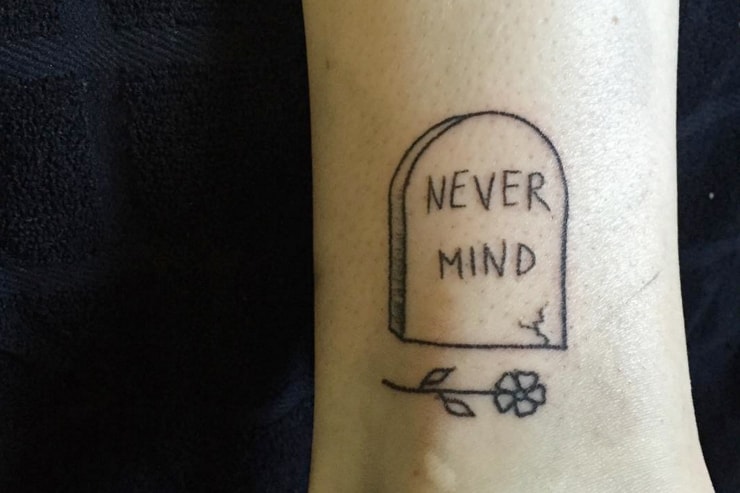 2 of 2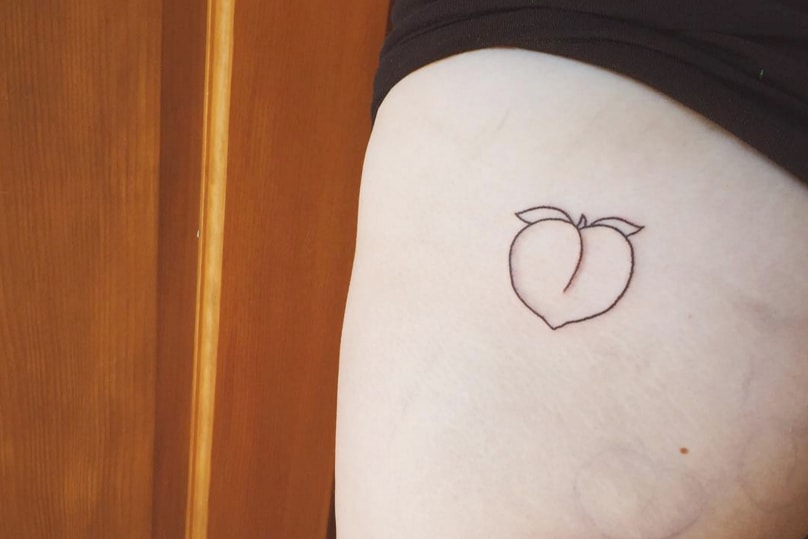 First gaining popularity as a 35mm photographer, Gross Kid now splits his time between San Francisco and Los Angeles where he creates both whimsical and sometimes morbid tattoos.
As a reflection of subcultures in general, stick 'n' poke is seeing a revival with a new breed of music and fashion icons adapting the lost art on their own terms. Gaining audience through success in their respective fields, various creatives have inadvertently become beacons of a burgeoning aesthetic. From Die Antwoord's Ninja and his extensive collection of home-poked tattoos to Patta's Creative Director Vincent van de Wall and his graphic artwork inspired by the stylizations of DIY visuals, the minimalistic composition of stick 'n' poke has seeped its way into pop culture. No matter your preference, it looks like stick 'n' poke isn't fading out anytime soon – and neither is that peace sign. Be safe, kids.