Virgil Abloh and Hiroshi Fujiwara Discuss Their Upcoming Collaboration "OFF-BLACK"
Chicago by way of Tokyo.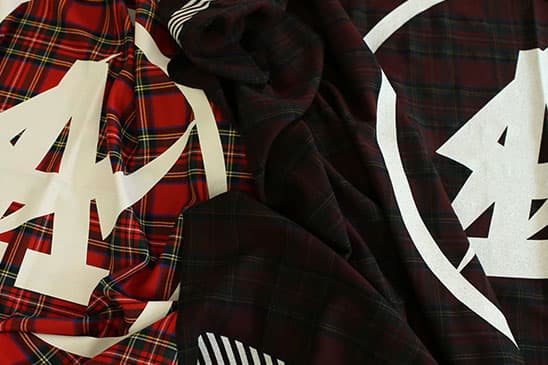 Virgil Abloh and Hiroshi Fujiwara have both had a significant impact on the streetwear culture, but a collaborative project between the two caught many of us by surprise. In anticipation of the upcoming the POOL aoyama x OFF-WHITE c/o Virgil Abloh "OFF-BLACK" capsule collection, the two influencers sat down with honeyee.com to discuss how this joint venture came about, what the main inspiration behind the capsule range was, and the mutual admiration they have for one another. Check out the interview below and stay tuned for more information on the forthcoming collection.
­Is this project considered as a capsule collection named OFF­-BLACK % VIRGIL
ABLOH, not a collaboration?

Hiroshi: Yes. I talked to Virgil about the theme of "the POOL aoyama" which is "MELANISM." We wanted to create something together with a keyword "BLACK", and we also wanted to make that thing not just another collaboration of mine but a collection called "OFF-BLACK."

What was your impression about Virgil Abloh as a designer of OFF­-WHITE before
meeting him? Since he declares that he has been inspired by Japaneses street fashion
and people like you.

Hiroshi: Well, I am happy about I became someone else's inspiration but that happens to anyone in everywhere, just like I get inspired by something out of respect. So I think it is a natural thing to be inspired by things that has been already out there.

Wow did you feel about him as one person after meeting him?

Hiroshi: Very kind and nice person (chuckles), and generous to suggestions so easy to talk to.

Were you aware about what he's been doing in the industry?

Hiroshi: Yes I was. From his choice of materials, I feel he upgraded street fashion to luxury view. It also appeared to me that he is approaching to high­end fashion crowd rather than younger audience. Maybe that was the difference between us. When I started in this industry, I was a little more toward counter­culture attitude, or at least I wasn't making things that attracts specifically rich people. I did wanted to make quality products but I didn't want to go too far, and I still think that way. Actually, I should say I couldn't be care less about those matured adult fashion crowd.

­So, you wanted to make something not "orthodox" in fashion?

Hiroshi: Yes, and I wanted to hold up that I was doing different thing.

Maybe that is a view Virgil's generation cannot have. Even if they start things on a street level, it is so easy to be seen and coexist in high-­end society.

Hiroshi: Maybe. See, that is the thing I didn't have. I feel there was some "virtue" in our street fashion that we stared without formal fashion lectures, and the "virtue" is vanishing now. In other words, I am so not interested in luxury brands making luxury sneakers. It is missing the point to appreciate under the pretty package.

There were brilliant ideas because they didn't have much technical skills, but once people earn the skills, they can easily kill the glory of imaginative minds. In fact, there are so many ideas fell flat and no longer appreciated.

Hiroshi: Even those once were street fashion people started to study things and end up making boring things. And luxury started to bring streetwear under their conscious, that just mede them look questioning to themselves. Under this circumstance, Virgil seems to be pretty "street" to me. He is rough, and reckless in a way, haha. That is why I like him.

Please tell us the story of how this project was realized. In this collaboration there is an overprinted logo of fragment and the letter "A." Does the "A" have a meaning of the independent collection from you, for example "Virgil Abloh meets Hiroshi Fujiwara?" 

Virgil: The collection is a collaborative concept through dicussion with Hiroshi Fujiwara where for a moment my brand took the persona of OFF-BLACK c/o Virgil Abloh. Once we replaced the wording in the back of the garment with "BLACK" the "A" aligned in the middle. In combination with the fragment logo we arrived at a new take on an Anarchy "A."

Please tell us the reason why you use tartan fabric.

Virgil: With Melanism being the theme for the POOL aoyama, where the collection will initially live, I was inspired by Masai Warriors of Kenya and their traditional tartan type fabrics.

What are some of the similarities and differences between yourself and Hiroshi Fujiwara?

Virgil: I'm honored to work with Hiroshi. He specifically contributed to this way of design and culture that I believe in. With his past history of projects and curation I wanted to make something in unison that would carry the tradition of his and my personal legacy with this gender of design and more importantly culture.

Do you have any upcoming projects that you are focusing on at this time?

Virgil: The future is dedicated to being as creative and open minded as possible. Doing a project such as Melanism for  the POOL aoyama keeps my brain sharp outside of the main concepts of my full men's and women's collections. I love the challenge.